Mid Island Co-op, Mid Island Liquor join NightOwls as Community Partners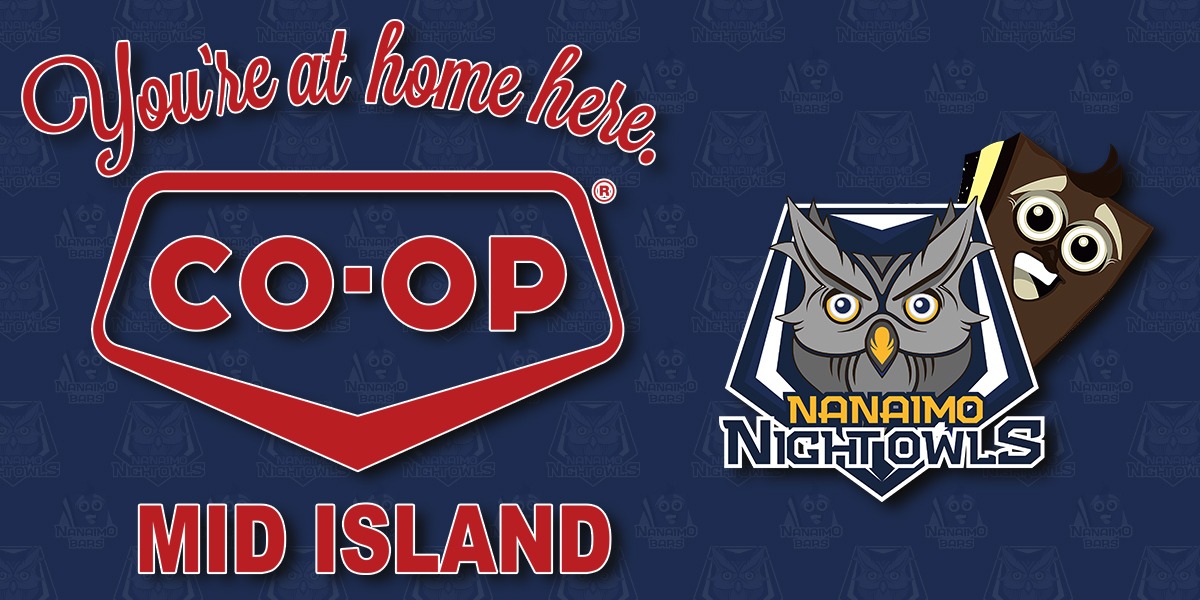 In baseball, and in business, it's all about teamwork, and lining up key players.
Ideally, those players can fill a couple of roles — such is the case with this newest major partner for Nanaimo's new baseball team.
The expansion Nanaimo NightOwls, slated to begin play this summer, have added a major community asset, a new star player, in Mid Island Co-op — both as Official Fuel Supplier, and Mid Island Liquor as Official Liquor Store partner of the West Coast League team, which will call historic Serauxmen Stadium home and represent Nanaimo and area against teams from B.C., Alberta, Washington and Oregon.
"We can't wait for the summer, we can't wait for life to get back to normal, so we can join the NightOwls on a sunny evening — this is great for our Mid Island Co-op communities," said Ian Anderson, CEO of Mid Island Co-op. "Nanaimo is a great baseball city, it loves its sports teams and this is a major addition that we can all get behind — especially when it comes to facing a natural rival like Victoria. This is going to be a lot of fun, and we're excited to be involved."
Mid Island Co-op joins a strong group of major partners for the NightOwls, including Founding Partner, Island Savings, along with Save On Foods, Panago on Fourth, Wilson's Transportation, Snuneymuxw First Nation, and other major community leaders still to be announced.
"Mid Island Co-op is a community leader in so many ways, and we're excited to see them on board with us and so excited, like we are, to witness that first pitch," said Jim Swanson, Managing Partner and GM of the NightOwls. "It's been an absolute pleasure to go over all the ideas we can ponder — so much creativity. Mid Island Co-op's influence in this market, the respect earned with 16 gas bars, and 12 liquor stores, strategically located from Lake Cowichan to Port Hardy, will lend itself well to the team and Mid Island Co-op expanding marketing opportunities that benefit everyone.
"Working with the Mid Island Co-op team has been a blast, and is going to be a lot of fun for our staff when we get on the field."
Victoria HarbourCats – Baseball is Back! Golden Tide Split DH with VIU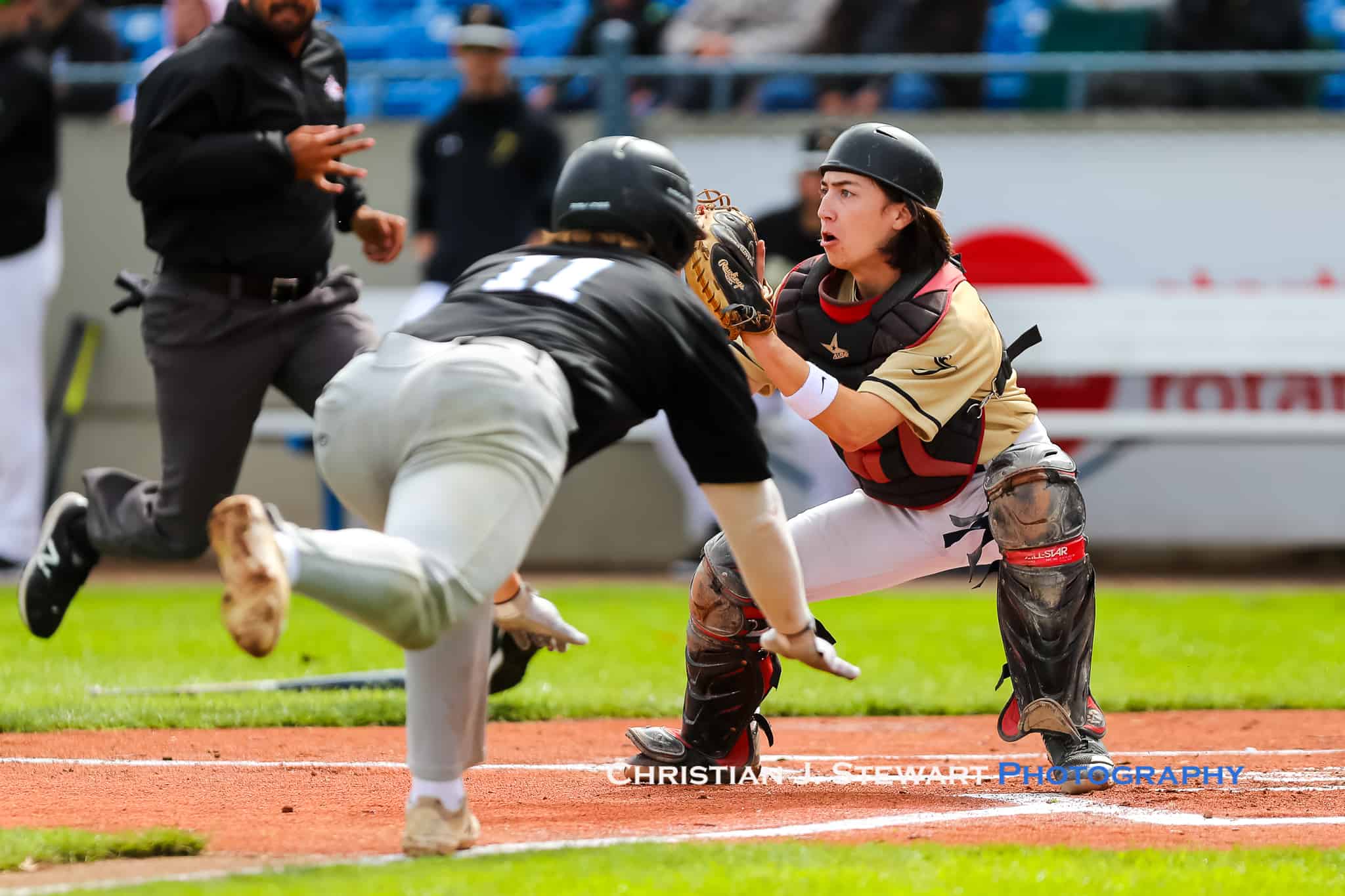 First baseball at Royal Athletic Park in over two years
Story and Photos by Christian J. Stewart
September 19, 2021, Victoria BC – The smell of hot dogs was in the air and the crack of the bat was back, as baseball made it's first appearance at Wilson's Group Stadium in over two years, as the Victoria Golden Tide hosted the Vancouver Island University Mariners in Canadian College Baseball Conference exhibition play.
A pretty decent crowd was on hand Sunday to witness the first baseball back at Royal Athletic Park in over two years (Photo: Christian J. Stewart)
Over 300 fans came out to enjoy the return of baseball on what turned into a beautiful fall day and they got their money's worth, watching an exciting 11-10 Mariners win in game one, with the home team rebounding for a 16-3 win in game two.
The Mariners, including Dillon Bowie were on base early and often against the Tide in game one (Photo: Christian J. Stewart)
In game one, the Mariners came in with their bats hot, vaulting themselves to a 10-2 lead after three innings of play, thanks in part to a second inning grand slam from Keegan Chard-Hill, but then watched as the Tide chipped their way back into the game.
VIUs Keegan Chard-Hill (right) is congratulated after his second inning grand slam in game one (Photo: Christian J. Stewart)
A big part of the Tide rally was their own grand slam homerun in the sixth inning by Alex McLauclan that made the score 10-7 at the time.
The Mariners would score what turned out to be the winning run in the seventh, and then hung on as the Tide scored two in the bottom of the eighth and another in the bottom of the ninth, leaving the tying run on base, as the Mariners escaped with the 11-10 win.
Victoria's Alex McLauclan launches his sixth inning grand slam in game one Sunday (Photo: Christian J. Stewart)
For the Mariners, Chard Hill led the way with his slam and an RBI single. Trevor Nicoll also had a single, triple, home run, four RBI and three runs scored, while Ty Farwell and Max Kolopeniuk added a single and double each.
For the Tide, in addition to his big blast, McLauclan added a single and pair of runs scored. Brady Alexandre, Brendan Morrison and Brandon Green also had a pair of hits each, while Tyler Burton had a double and run scored in the losing effort.
The Golden Tide's Brandon Craven head's to third base during the Tide's 16-3 game two win (Photo: Christian J. Stewart)
Jaden Patrick got the start for the Mariners and was effective through six innings of work, his only real mistake being the grand slam to McLauclan. Carter Chard-Hill, saw action in relief.
For the Tide, Triston Seitz got the start and was roughed up early. Nick Lee, Cameron Dunn and Haldon Craig all saw action in relief.
In game two, the Tide kept their offence rolling, jumping into a 4-1 lead after three innings of play and then cruising to an easy 16-3 win.
The Tide's Nate Horricks delivers a pitch in game two Sunday (Photo: Christian J. Stewart)
Nine of those runs came in the eighth inning, as a short staffed Mariners squad surrendered six walks in the innning, forcing the game to be called as a result of a mercy rule.
Leading the way for the Tide was Andrew Baxter with a single, double and pair of runs scored, while Austin Wall had a pair of hits and an RBI. Jaxson Cordle also had a pair of singles and a run scored.
The Tide's Austin Wall had a pair of hits and an RBI in the game two win (Photo: Christian J. Stewart)
On the mound, Wyatt Mohr-Royer got the start, giving up one run in his three innings of work. Nate Horricks and Ethan Lynn saw work in relief.
The Golden Tide are back in action next Saturday, September 25th as they host University of the Fraser Valley for a doubleheader at Wilson's Group Stadium. First game time is 1:00 pm. Tickets are just 5.00 and 10.00 and are available at the gate or in advance at the HarbourCats office at 101-1814 Vancouver Street, or by calling 778-265-0327.
Victoria HarbourCats – Golden Tide ready to roll
Mark Brennae named PA announcer for Golden Tide
VICTORIA, B.C. — The Victoria Golden Tide are ready to begin their 2021 Canadian College Baseball Conference (CCBC) Fall Season tonight – weather permitting – and when they do, a familiar voice will be the park voice of Victoria's newest sports team.
Mark Brennae (photo, right), well-known from his days on the afternoon drive at CFAX 1070, is as big a baseball fan as they come — he will never give up the dream of his beloved Expos returning to Montreal. A former beat writer for the AAA Ottawa Lynx, then the farm team of the Expos, Brennae covered the NHL and CFL for The Canadian Press for 15 years, and also worked in radio covering a variety of topics in Toronto and Ottawa, including Parliament Hill.
"We're glad to have Mark handling this key role for our new CCBC team, and he's excited to be behind the microphone," said Christian Stewart, Assistant GM of the parent Victoria HarbourCats.
The first game for the Golden Tide, operated by the HarbourCats, presented by Hub International Insurance and led by Head Coach Curtis Pelletier, is slated for tonight (Friday), 6pm first pitch against the Thompson Rivers University Wolfpack at Wilson's Group Stadium at RAP — the first baseball at the historic sports facility since August of 2019, when the HarbourCats played in the WCL final. The Golden Tide also have a doubleheader slated for 1pm on Sunday vs. the Nanaimo-based VIU Mariners. Gates for all games open one hour before the scheduled game time.
Some notes for the first home weekend of Golden Tide baseball:
FOOD TRUCKS AND TIDE GEAR
For a number of reasons, including COVID, there will be no beverage service and less-than-usual food options, but we are glad to announce that Greek on the Street and Little Piggy hotdog stand will be on site on Friday. Fans are welcome to bring their own food to this weekend's games, or take advantage of the food options. Limited merchandise will be available, Golden Tide and HarbourCats.
TICKETS
There will be tickets sold during the day at the HarbourCats office (1814 Vancouver St. or call 778-265-0327), and at the door (gates open 1 hour before game time), for $10 in the covered Main Grandstand, or $5 in the blue seats. Golden Tide Booster Club members have priority seating in the Campbell Club and Diamond Club (front row) seating area. Booster Club memberships are $200 and include admission to all fall and spring 2022 games, plus a free hat and t-shirt (contact chris@harbourcats.com to set up).
COVID CONSIDERATIONS
The Golden Tide and City of Victoria, owner of the facility, will follow the PHO guidelines for outdoor events. Masks are recommended, and vaccination cards are not required. All Golden Tide staff, volunteers, coaches and players are vaccinated, as required internally by the organization. We ask people to act with kind courtesy — we recommend that masks on when not actively eating or drinking, pay attention to distancing, and respect those who may have some discomfort in crowds as the pandemic is now in its 18th month.
WEATHER
Yes, the forecast is iffy. As none of us can control the weather, we wait, watch, and react — and hope the system moves over and douses someone else. In the case of a rainout, all tickets will be honored at a later Golden Tide game.
GOLDEN TIDE FALL HOME SCHEDULE
SEP. 17, 6PM – TRU WOLFPACK
SEP. 19, 1PM – VANCOUVER ISLAND UNIV. (DH*)
SEP. 25, 1PM – FRASER VALLEY (DH)
SEP. 26, 3PM – MID-ISLAND PIRATES (DH)
OCT. 2, 6PM – VICTORIA MARINERS
OCT. 16, 1PM – VAN. ISLE PREP (DH)
OCT. 17, 1PM – UBC (DH)
OCT. 23, 1PM – TBA (DH)
OCT. 24, 1PM – PARKSVILLE ROYALS (DH)
OCT. 26-31 INTERSQUAD WORLD SERIES
*DH = Double Header
Victoria HarbourCats – Rain wins, Friday game cancelled
VICTORIA, B.C. — Unplayable field conditions and an unfavourable forecast have combined to cancel tonight's planned home debut of the Victoria Golden Tide collegiate baseball team.
The Golden Tide's fall home schedule, presented by HUB International Insurance, was slated to open Friday at 6pm at Wilson's Group Stadium at RAP, vs. the Kamloops-based Thompson Rivers University Wolfpack, another team in the eight-team Canadian College Baseball Conference.
The Golden Tide, operated by the Victoria HarbourCats and with Head Coach Curtis Pelletier at the helm, will play a doubleheader on Sunday, Sept. 19, starting at 1pm vs. the Nanaimo-based Vancouver Island University Mariners. Gates open at noon, a hotdog stand will be at the games, fans are welcome to bring their own food.
NOTE — Masks are recommended, distancing will be respected, and all Golden Tide personnel are required to be vaccinated — the organization is following PHO orders for outdoor events, cards will not be required but it is highly recommended that all attendees be vaccinated.All tickets for tonight's game (Friday) will be able to be used at a future Golden Tide game this fall.
SUN SEP. 19, 1PM – VANCOUVER ISLAND UNIV. (DH*)
SAT SEP. 25, 1PM – FRASER VALLEY (DH)
SUN SEP. 26, 3PM – MID-ISLAND PIRATES (DH)
SAT OCT. 2, 6PM – VICTORIA MARINERS
SAT OCT. 16, 1PM – VAN. ISLE PREP (DH)
SUN OCT. 17, 1PM – UBC (DH)
SAT OCT. 23, 1PM – TBA (DH)
SUN OCT. 24, 1PM – PARKSVILLE ROYALS (DH)
OCT. 26-31 INTERSQUAD WORLD SERIES