Pandemic Forces Cancellation of NightOwls, HarbourCats 2021 Schedules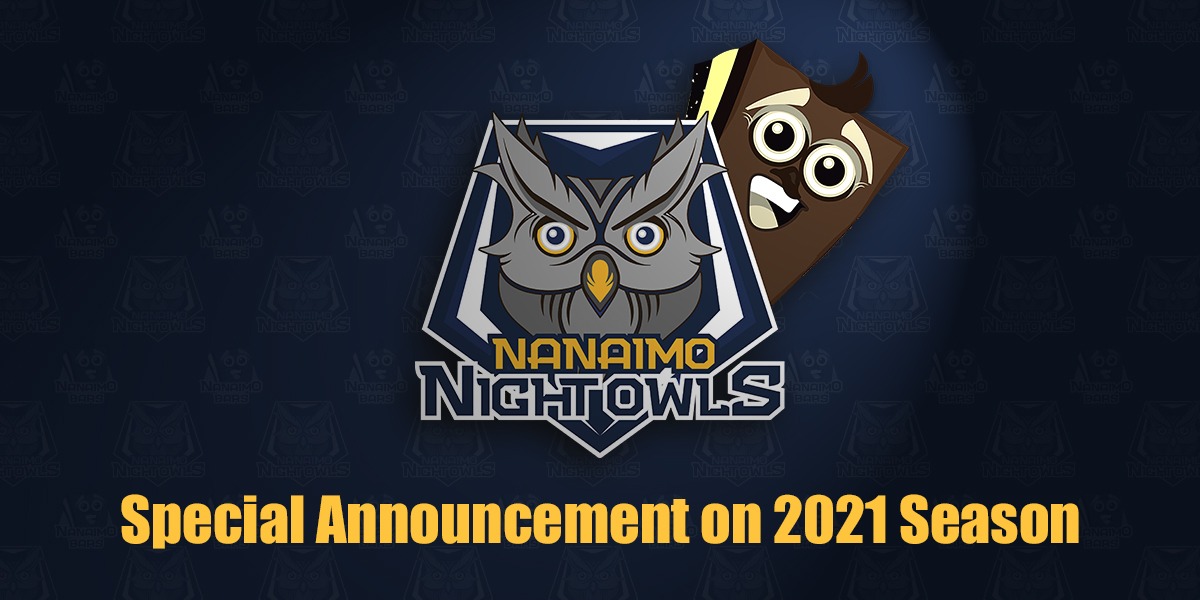 The virus continues to win — in life, and in sports.
With great sadness, following extensive evaluations and consultations with Canadian West Coast League (WCL) teams in Kamloops and Edmonton, the ownership group that leads both the Nanaimo NightOwls and the Victoria HarbourCats is announcing the cancellation of their 2021 seasons due to the continuation of the COVID-19 pandemic.
For the HarbourCats, this will be the second, devastating season in a row with no baseball at Wilson's Group Stadium, while the NightOwls were gearing up and looking forward to their inaugural season in the league under the brand-new lights at historic Serauxmen Stadium in Nanaimo.
The Edmonton Riverhawks and Kamloops NorthPaws were also looking forward to their first year in the league. The Kelowna Falcons previously announced their withdrawal from the 2021 WCL season in March. The 10 U.S.-based WCL teams, thanks to more effective vaccine roll-outs and COVID-19 mitigation efforts in Washington and Oregon, will be playing a modified, U.S.-only schedule, with teams being allowed to have fans in some capacity.
Unfortunately for the Canadian teams, given the ongoing nature of the pandemic — the recent rise in case numbers and variants,  the Provincial Health Officer's guidelines and current and possible future restrictions in both British Columbia and Alberta, along with the ongoing Canadian-US Border closure — ownership felt they had no other choice but to cancel the 2021 season.
"There are simply too many things working against us," said Jim Swanson, currently the GM of both the HarbourCats and the NightOwls. "We certainly appreciate the efforts of the NorthPaws and Riverhawks in truly exploring all options for a 2021 season, they will be great additions to the WCL and the Canadian side of the league, now starting in 2022."
"We are also very appreciative of both our fan base and our sponsorship base, who have continued to support both teams and remain patient," added Swanson.  "The groundswell of support in Nanaimo has been nothing short of tremendous, with major partners such as Island Savings, Save On Foods, Panago on Fourth, and Mid Island Co-op to name a few, coming on board as inaugural partners. And in Victoria, we appreciate that the long-time partners we have cultivated over the last few years, are sticking by our side and will be ready to roll again in 2022.
"This is hard on our staff and coaches, and we now give players time to find places to develop further this summer, likely somewhere in the U.S. Make no mistake — the HarbourCats will be back at Wilson's Group Stadium, and the NightOwls are going to get off the ground in 2022."
Fans who have purchased tickets, or ticket vouchers for both HarbourCats and NightOwls 2021 games, will receive full value for their purchases. Season Ticket holders who have paid in full, will automatically have their tickets rolled over into the 2022 season.  Fans with 2020 or 2021 specific game tickets (HarbourCats) or 2020 or 2021 flex pack vouchers (both teams), will be able to redeem those for tickets into the 2022 season once that schedule is announced.  
With regard to the 2022 schedule, there is hope that the league makes developing that a priority over the next few weeks, despite the fact that the 10 U.S. teams will be playing in 2021.  "One of the best things that the league can do for the Canadian teams right now, in fact for all the teams, " said Christian J. Stewart, the HarbourCats Assistant GM, Ticketing and Media, "is to develop and release a 2022 schedule as early as possible.  In that way, our teams can immediately start marketing and planning for that schedule, rather than having to wait until the late fall, when the WCL schedule is traditionally released."
Both the HarbourCats and the NightOwls will continue to build to what will certainly be a celebratory return to baseball in 2022 and will find ways to add special events when allowed to do so.  Season tickets, 10-game flex packs, gift cards and merchandise will continue to be available for both teams, and new sponsors are of course welcome to join both teams and be part of that celebration.  Substantial stadium improvements will continue in Nanaimo and both teams will continue to be involved as key members of their communities.
"While it will be another tough summer missing our fans, the excitement of the game and the fun things we do at the park," noted Stewart, "we know that our fans and those in Nanaimo will be back in force in 2022 and that is the motivation that we will all use to get us through this.  Opening day in 2022 is going to be one heck of a party and we can't wait to see everyone there!"
Further details and updates on ticket exchanges and timing, as well as other teams updates can be found on the team's respective websites at www.harbourcats.com and www.nanaimonightowls.com. Fans are also urged to sign-up for the e-mail lists of both teams and follow both teams on social media (Facebook, Twitter and Instagram) for all the latest news.
Construction underway on upgrades for safer Serauxmen Stadium
May 3, 2021 11:20 AM
From Nanaimo News Now
NANAIMO — Major renovations are underway at Serauxmen Stadium.
Construction has begun to replace and upgrade the outfield fencing at the facility, including a new 16 foot tall centre field fence designed to provide a visual backdrop behind the pitcher for hitters.
City crews will replace the 24 foot tall "Green Monster" fence, which was removed in 2020 due to safety concerns, along with the remainder of the eight foot tall outfield fencing.
"These fencing and netting improvements make Serauxmen Stadium a safer place to play for athletes, enhance the spectator experience and support the overall stadium improvement plan that will benefit baseball and all other users of this facility," Lorne Goodall, president of the Serauxmen Stadium amateur baseball association, said in a release.
Fencing down the left and right foul lines will be changed to accomodate additional viewing areas while netting will be added to the Green Monster to reduce the chance of home runs hitting people on the neighbouring NDSS Turf Field.
The project is estimated to cost $1.2 million, with partial funding coming from the provincial gas tax fund for community works projects and $150,000 from the Serauxmen amateur baseball association.
Upgrades are expected to be complete by July 2021. Access around the facility will be maintained with flaggers on scene when necessary to manage traffic.
Enhancing the sports zone on Third St. is a primary focus for the city, an initiative which includes development of a medium-sized stadium complex among Serauxmen, the turf field and Rotary Bowl.
In 2020, Serauxmen Stadium upgraded to LED lighting at a cost of approximately $1 million. The project also included a new, bigger scoreboard in left-centre field.
The upgrades come, in part, due to the Nanaimo NightOwls franchise playing out of the stadium during West Coast League play.
The team was scheduled to hold its inaugural season in 2021, however restrictions during the pandemic delayed plans until at least 2022.
Join the conversation. Submit your letter to NanaimoNewsNOW and be included on The Water Cooler, our letters to the editor feature.
info@nanaimonewsnow.com
On Twitter: @NanaimoNewsNOW
Pothakos' Path Covers all the Bases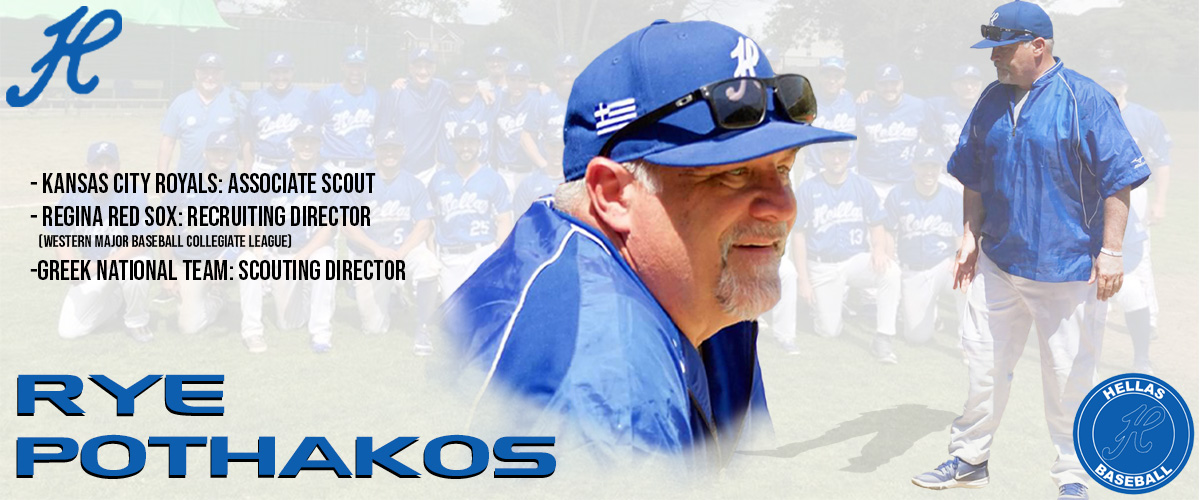 It's not all Greek to him — but it is all baseball, with a few flags mixed in.
The machinery that is the game of baseball runs because of people who largely operate out of the spotlight, popping out when needed, but doing work that is behind the curtain, and Rye Pothakos may just be the best example of that when it comes to the impact Canadians have on the game.
Pothakos, a 62-year-old who lives in Saskatoon, has had his hands in a lot of pies — amateur and college levels, the professional ranks, and the international game. A recruiter, scout, advisor, and advocate for so many, Pothakos' fingerprints are on the careers of many players and coaches — and he has no plans to stop being part of the action.
"It means the world to me, pardon the pun, and the opportunity to help players live out their dreams, it's a dream for me," said Pothakos, who was involved with the Regina Cyclones of the old Prairie League — and is now Director of Recruiting for the Regina Red Sox of the Western Canadian Baseball League.
Among many, many other things.
Pothakos broke into baseball's influential levels in 1992, when he helped the Thunder Bay Whiskey Jacks land an expansion franchise in the Northern League, considered by many as the most notable independent startup league — led by the St. Paul Saints as the flagship operation.
"I've been on the diamond since I was six, and the one thing I always say is to not have any regrets. I have no regrets — take the good with the bad, but you relish your experiences and you learn a lot of things and meet a lot of people. The friendships and the relationships probably mean the most, in the end."
Because he apparently doesn't have enough to do, Pothakos is helping the United Short Professional Baseball League, based in Utica, MI, as a scout, working with the independent loop that is now even more important for filling gaps left when Minor League Baseball contracted significantly this last year, leaving aspiring pro baseball players scrambling for opportunities.
Pothakos was born in Thunder Bay (to date himself, he reminds that it was called Fort William back then), and largely worked in sales — and that sales skillset helped him find the best opportunities for people, to develop those relationships, to foster those opportunities. He's an associate scout for Western Canada for the Kansas City Royals, and isn't unusual for Pothakos to help a player from high school through college and onto the pro ranks, all the steps — the successes, the setbacks, that are part of the game — along the way.
The international role with the Greek National Team started in 2018, and that developed from his efforts working with moving players from the college level to various pro spots, including European pro opportunities. Pothakos took a place on the Greek team coaching staff with Jim Essian — a 14-year MLB player who took Fergie Jenkins deep in his career, then managed the Chicago Cubs in 1991 — and then was named manager of the top team from Greece. Fielding a competitive team and putting a scare into the other top European teams is not just on the horizon, it's already starting to happen.
An announcement will come soon on Greece adding a U23 team, and the men's national team is intent on using its growth to foster the further development of youth teams — right now, there are three Little League teams, playing in Athens. There's an Athens training group, involving late teens and adults, that is seeing slow but steady growth.
Pothakos points to the improvement at the national team level as a key driver in helping Greek baseball interests in the most tangible way — field space. Softball fields exist, and those are used by teams like the Little League-level Alimos Lions.
"I spoke Greek as a kid, a little bit, and I'm working on that more and more now," he laughed. "We have college and indy-pro guys making up what's become a really nice club. The Greek team is close to being in that top-16 in Europe now, and that's a major improvement in the world rankings. We're scheduled to play in Lithuania this summer for the B-pool European championship, but we'll see if the pandemic allows that to happen.
"The baseball stadium from the 2004 Olympics is still up, and the game has held on and grown a bit since the Athens games. I'm in Greece for six or eight weeks at a time each year, spending time with people as we keep working on growing the game."
Canadian Baseball Community Mourns Loss of Umpire Mitch Ball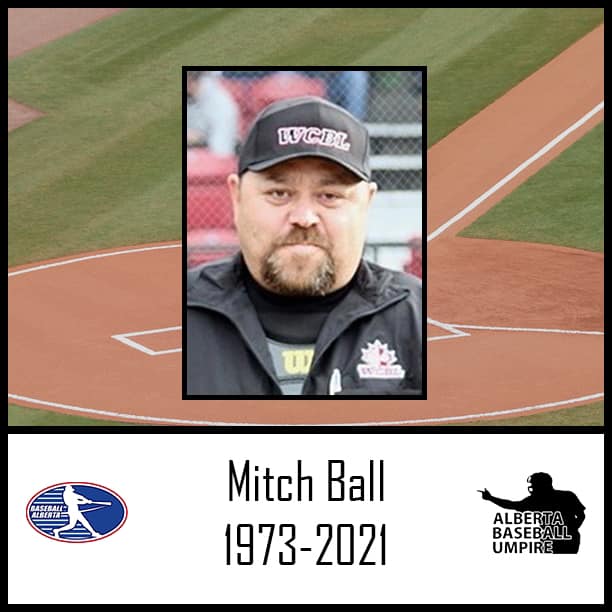 May 3, 2021, Lethbridge, AB – The Alberta and entire Canadian baseball community was saddened this weekend to learn of the passing of umpire Mitch Ball, due to complications from COVID-19.
Mitch was a well-respected umpire in the Western Canadian Baseball League and also participated in many Baseball Canada Championships, including the 2018 Senior Men's Championship in Victoria, where he was behind the plate for the Gold Medal game.
In a statement on their website, Baseball Alberta and the Baseball Alberta Umpire Committee, "wanted to express our deepest condolences to the family and friends after the passing of our member and friend Mitch Ball this past weekend. The loss of Mitch is devastating to the entire Baseball Alberta Umpire fraternity."
"Mitch was loved and admired by all those who were lucky enough to have met him. An amazing umpire on the field, Mitch was an even better person off it. Mitch was kind, humble, generous, and caring. The kind of guy who would do absolutely anything for you. The impact Mitch made on umpires and other individuals across the country cannot be measured."
As an elite senior international umpire, Mitch defined what it meant to be a program umpire. Mitch's contributions included instructing various Alberta NUCP clinics from Level 1 to the Super Clinic, umpiring 7 Baseball Canada Championships, Supervising at 3 Baseball Canada Championships, and umpiring at 3 international events. Mitch has been a Umpire Committee Member since 2010, serving in different capacities including the Level 1-3 Program Portfolio lead and most recently was involved in many special projects.
Our thoughts and prayers are with his wife Jana, their children, and Mitch's countless friends throughout the baseball world. He will be dearly missed.