Canadian Baseball Community Mourns Loss of Umpire Mitch Ball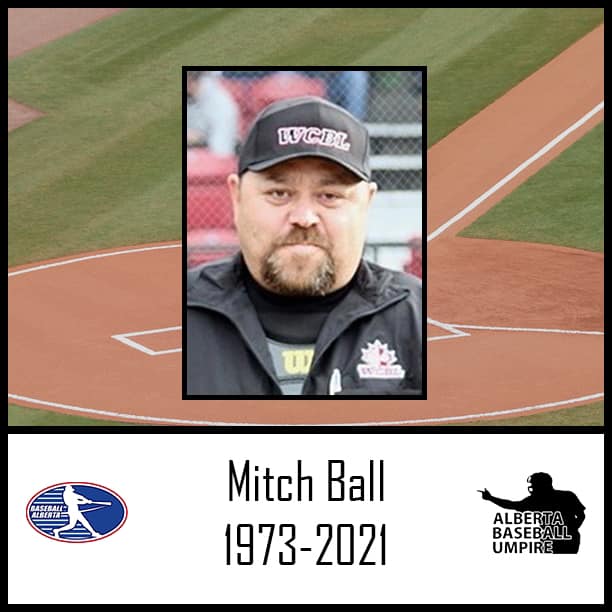 May 3, 2021, Lethbridge, AB – The Alberta and entire Canadian baseball community was saddened this weekend to learn of the passing of umpire Mitch Ball, due to complications from COVID-19.
Mitch was a well-respected umpire in the Western Canadian Baseball League and also participated in many Baseball Canada Championships, including the 2018 Senior Men's Championship in Victoria, where he was behind the plate for the Gold Medal game.
In a statement on their website, Baseball Alberta and the Baseball Alberta Umpire Committee, "wanted to express our deepest condolences to the family and friends after the passing of our member and friend Mitch Ball this past weekend. The loss of Mitch is devastating to the entire Baseball Alberta Umpire fraternity."
"Mitch was loved and admired by all those who were lucky enough to have met him. An amazing umpire on the field, Mitch was an even better person off it. Mitch was kind, humble, generous, and caring. The kind of guy who would do absolutely anything for you. The impact Mitch made on umpires and other individuals across the country cannot be measured."
As an elite senior international umpire, Mitch defined what it meant to be a program umpire. Mitch's contributions included instructing various Alberta NUCP clinics from Level 1 to the Super Clinic, umpiring 7 Baseball Canada Championships, Supervising at 3 Baseball Canada Championships, and umpiring at 3 international events. Mitch has been a Umpire Committee Member since 2010, serving in different capacities including the Level 1-3 Program Portfolio lead and most recently was involved in many special projects.
Our thoughts and prayers are with his wife Jana, their children, and Mitch's countless friends throughout the baseball world. He will be dearly missed.