Moving Pictures – The Alpha Wolf of Baseball Films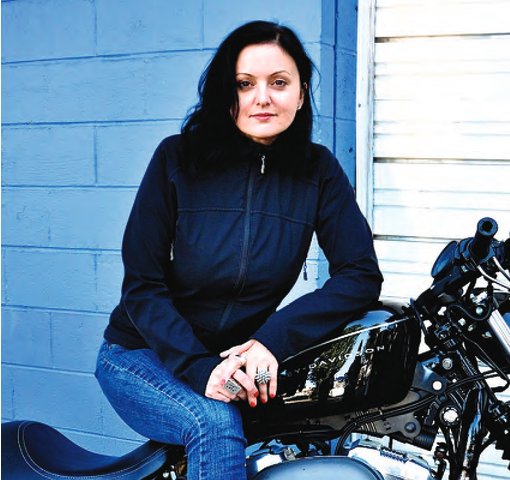 Ani Kyd Wolf is a musician, film director and actor trying to turn a very special double play.
Wolf was on the production team for one of the most acclaimed baseball movies of the past three years. The Silent Natural hit several long-balls on the film festival circuit, as well as with the hearing challenged community. It was an official entry (one of only 10) in the National Baseball Hall of Fame's 14th Annual Film Festival held at the Bullpen Theatre in Cooperstown. It stars Sheree J. Wilson (Walker, Texas Ranger), Sam Jones (Flash Gordon), Vernon Wells (Road Warrior), and deaf actor Miles Barbee in the lead role of William "Dummy" Hoy, the first deaf baseball star in history. Hoy played MLB centre field from 1888 to 1902 starting with the Washington Nationals and most notably for the Cincinnati Reds with whom he retired and is a member of their team Hall of Fame.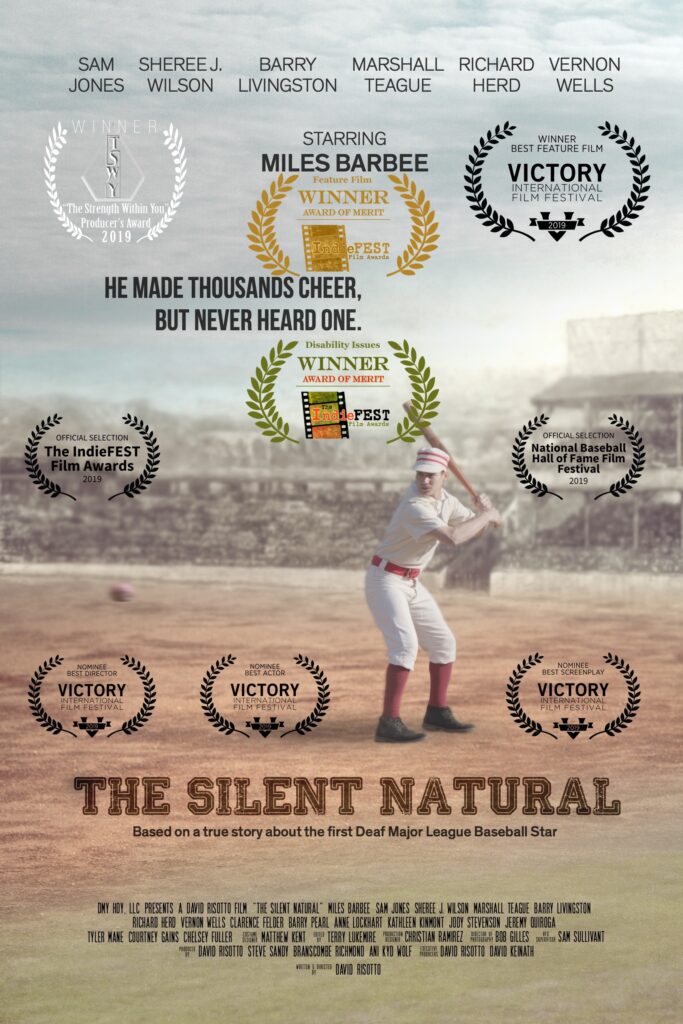 But perhaps Hoy's most enduring legacy is seen at the end of every pitch when umpires gesture different ways for balls or strikes. It is believed he played a role in the development of these hand signals.
What doesn't have to be believed, because the records are clear, is the way he played baseball. During his major league career he hit .288, got more than 2,000 hits, drove in 725 runs, and stole 596 bases. He once threw out three runners at home plate from centre field, unassisted, in a single game. At the age of 99, to a standing ovation he could see and surely feel but not hear, he threw out the first pitch of Game 3 at the 1961 World Series at Crosley Field in Cincinnati.
From that true diamond tale, Wolf is involved in the development of a second baseball biopic. This one depicts the life of ace pitcher Phil Marchildon whose top-of-the-rotation career with the Philadelphia Athletics was interrupted by only 1.1 innings pitched for the Boston Red Sox to end his career and three years hurling machine gun fire from the tail of a Halifax bomber high over Nazi-infested Europe.
Suffering from acute PTSD and the physical trauma of nine months in a hellish prisoner of war camp to close WW2, he came back to anchor the A's pitching staff and finish with a career 3.93 earned run average and 481 strikeouts.
Marchildon was elected to the Canadian Baseball Hall of Fame in 1983, the first year of the organization's existence. He was inducted into the Canadian Sports Hall of Fame in 1976.
That's right, Marchildon was a hero of the Royal Canadian Air Force as well as major league baseball.
He was also a relative of Wolf's, she being born in Hamilton, the daughter of folk singer Dianne Kyd. Her family is largely rooted in Ontario, although Wolf was raised in B.C. from the age of 10.
After the edifying experience of telling the Dummy Hoy story on film, Wolf was hooked on the sport's unique ability to drive in a good human tale. She could think of none better than her own forbearer.
"I come from a baseball family," said Wolf from her home in the hamlet of Hixon, located halfway between Prince George and Quesnel in northern British Columbia. "My younger brother Luke is really into it. He's no major leaguer but he's in his 40s and still just loves to play, and he said 'you know, you've got to read about Phil Marchildon; he's family.' He is our grandmother's first cousin. Luke kept telling me to read his story, so, ok, fine, I'll read his story. And when I dove into his life, I was blown away. I was like 'Can this be real? Is this actually real and a member of my family?' It became immediately important to me to do a film about Phil."
Wolf had grown up knowing of the major leaguer in their family tree. It wasn't an obscure relative, either. Although he passed away in Toronto in 1997 before she could meet him, she knew his direct descendants in the generations closer to her own.
Until her brother pushed his biography into her hands – Ace: Phil Marchildon, Canada's Pitching Sensation and Wartime Hero written by Brian Kendall – she did not grasp just how cinematic his life had been. Wolf admitted she had to look a bunch of facts up as she read the book because she just couldn't believe it all happened to one person, but it was all verifiable.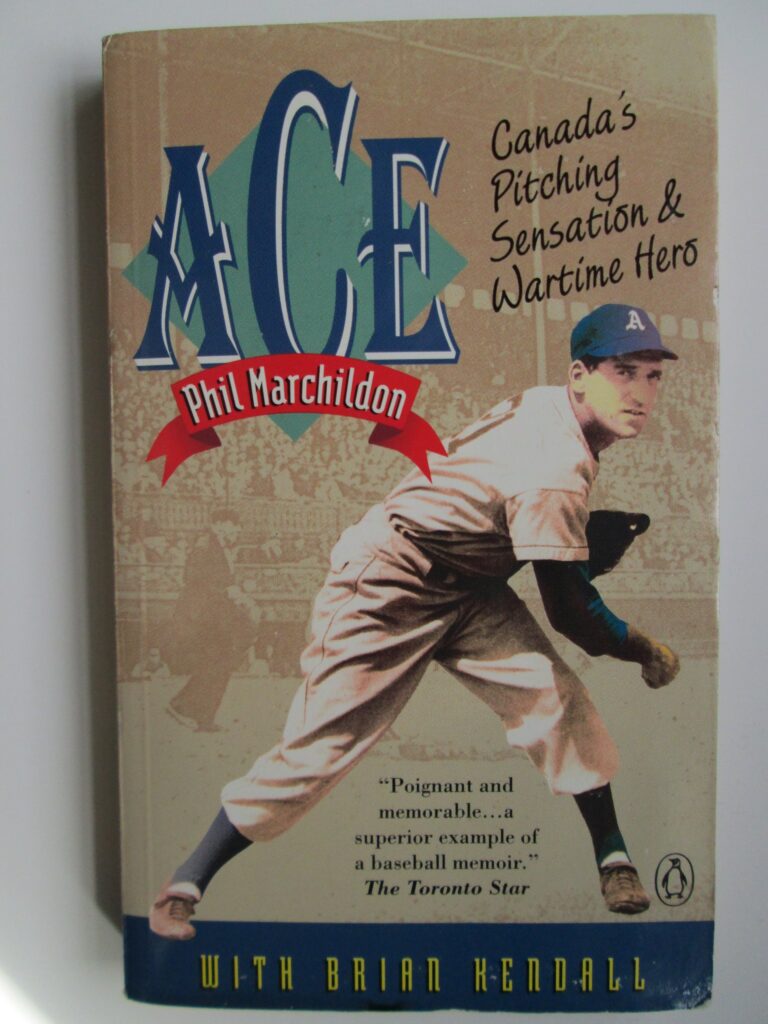 "It is almost like a Forrest Gump story, where one guy goes from famous situation to famous situation, but he always considered himself just a kid from Penatang (the nickname of his small Ontario hometown of Penetanguishene)," said Wolf. "We don't have to warp it for dramatic purposes, we just have to tell it like it happened. The real challenge is going to be what to leave out, because there is so much amazing material to this man's life. That's what we are going through right now. The way Heather has it set up in the script is quite beautifully woven."
Heather Kyd is her aunt, who grew up knowing her cousin Phil. She is also an experienced writer. She has taken on the screenplay duties while Wolf is handling the directing and co-producing roles. Marchildon's daughter Donna is helping flesh out the detailed truths of the story for them.
Marchildon was just a local ball player for his employer's team, Creighton Mines, in the Nickel Belt League. He got a full-ride scholarship after high school for St. Michael's College in Toronto but that was for football.
The pigskin career got fumbled, however, but at age 20 he was a standout pitcher for the Spencer Foundry Rangers back in his hometown and the following year was the ace of the Penetanguishene Foundrymen (also called the Shipbuilders in some reports) who won silver in the 1934 Ontario Baseball Amateur Association championship.
His friends encouraged him to attend a tryout game for the Toronto Maple Leafs of the International Baseball League, a farm system for the major leagues. At the tryout, Marchildon struck out the side in two straight innings and got an immediate offer to pitch in the big city.
The legendary baseball manager Connie Mack watched Marchildon develop in Toronto for a season and called him up to his Philadelphia Athletics team in 1940. His first two rookie outings were disastrous but with a fastball in the 90s and a lively curve ball, the A's knew he just needed some experience. He went 10-15 in 1941, and he was on his way.
The next season the A's only won 55 games, and Marchildon got the W in 17 of them. He was on his way to being a star player, but Marchildon could not sit idly by when the war was underway and every healthy man was hearing the call for duty. He enlisted in the RCAF. He was trained throughout 1943 and was assigned to his first mission in 1944 as part of a seven-man crew. He was given the position of tail gunner, a position not all that different from being a pitcher. You were all alone, your back to your teammates, the enemy was coming for you first, and it was your job to mow 'em down with the best shots you could target at them. Being in the spotlight out on the pitcher's mound was fraught with pressure, but being in the crosshairs as a tail gunner was fraught with peril.
He flew 26 missions. On the last one, all the fears came to pass. Their plane caught fire over northern Germany. Crewmembers had to abandon the bomber. The tail gunner is in a particularly precarious position in such aircraft. They are frequently the first ones targeted by enemy air attack, and if there is any airborne emergency, the tail gunner has to crawl through the tail tube to even consider escape. Somehow Marchildon and one other soldier aboard, George Gill, managed to parachute out of their disabled Halifax. They plunged into the cold, salty waves near Denmark, where four hours later Danish fishers heard their cries.
Denmark was not allied with Germany, but Hitler's establishment considered that country a de facto brother state. The Nazis limited the brutality of their Danish occupation. When the Danes pulled the two Canadians from the water, that was as close to rescue as they would come. Nazis were waiting to collect them on shore.
Marchildon was officially "Missing In Action" while he was imprisoned in the infamous Stalag Luft III prison camp (the setting of post-war movies The Great Escape and The Wooden Horse). For nine months he barely survived malnutrition and other desperate conditions as the war waged. In the final days, he and the other allied inmates were subjected to a death march as their captors forced them out into the winter elements to hike en mass to other POW camps to avoid advancing Soviet troops. They were finally liberated by Allied soldiers only days before the final end of the war.
Marchildon, with an emaciated body and a traumatized mind, was sent home into the waiting embrace of his fiancé Irene. Together, they faced the emotionally crushing aftermath of post-traumatic stress disorder.
The POW camp was liberated in April. Connie Mack was soon contacting him to come pitch for the A's and on August 29 at Shibe Park he was re-introduced to the fans who treated him to Phil Marchildon Night with ceremonies in between that night's double-header. He then took the mound and pitched five innings of one-run ball in the second game.
That was just the beginning of his second act in baseball. In the 1946 season, he won 13 games for the lowly A's, earned a 3.49 ERA and a WHIP of 1.372 – all while still trying to recover some of the 30 pounds he lost in the prison, joint and muscle deterioration, and somehow quiet the demons in his mind that sometimes came to visit him on the mound while tens of thousands of fans were screaming.
His 1947 results were even better. He was the Athletics' opening day pitcher, got 19 wins on a losing ball club, two shutouts, and a 3.22 ERA that year. He faced a career high 1,172 batters for the season, 21 of his starts were complete games, and threw but one wild pitch the entire year. However, he led the majors in walks issued (140) and batters hit by pitches (seven) and at the age of 33, the signs of twilight were starting to glow on the horizon of his career.
It was an impressive career by any estimation. He pitched to future Hall of Famers like Yogi Berra, Ted Williams, George Kell, Joe DiMaggio, Bobby Doerr, Luke Appling, Jimmie Foxx and Joe Cronin.
The next season was notable for another reason. Jackie Robinson may have broken the colour barrier first, but 1947 also saw four others make the jump from the Negro Leagues. Robinson and his fellow Brooklyn Dodger teammate Dan Bankhead played in the National League, so Marchildon never got to face them. However, Marchildon lined up against three of the five that year – the American League colour pioneer Larry Doby of Cleveland, Willard Brown of the St. Louis Browns (both went on to the Hall of Fame), and Hank Thompson also on the Browns.
In the 1948 season, in a July 15 doubleheader with Cleveland, Marchildon pitched game one and the first black pitcher in the American League (Bankhead broke the National League colour barrier for pitchers with Brooklyn the season before), Satchel Paige, pitched in game two. Paige made his majors debut less than a week earlier on his way to the Hall of Fame.
Marchildon also went head to head with future Hall of Fame pitchers like Hal Newhouser and Bob Feller.
Feller was another who interrupted his stellar career to go to war, as did Marchildon's Athletics teammate Dick Fowler who was also away for three years before returning to the Philadelphia starting rotation. Fowler was inducted into the Canadian Baseball Hall of Fame two years after Marchildon – two Ontario boys in the A's rotation at the same time.
The war and the baseball would be inextricable for Marchildon, no matter what the on-field results. He would later say that the war heaped upon him all the worst circumstances his life would encounter and yet he did not regret his service to country and taking on the battle for democratic freedom.
His wife Irene was another element to the Marchildon story. She bore the private weight of his PTSD right alongside him, even if such things were not understood in those times. She and Marchildon carried on together when, in hindsight (again, not a well understood condition at the time), Marchildon tore a rotator cuff but continued to pitch. This amplified the loss in his effectiveness in his last years in baseball. Irene would stand by his side as a true life-partner through it all. Wolf called it "a beautiful love story" underpinning the battles on the ball fields and in the air.
He struggled in 1950 in Triple-A Buffalo, he tried out for the Maple Leafs again in 1951 but couldn't make the team, and sank into a brief depression over his forced retirement from baseball while still a relatively young man.
Once again, though, his fortunes made a strong defensive play. Marchildon got a job at an aviation company – one that was working on a little project he had some background with. It was a little air force project called the Avro Arrow, a prototype Canadian fighter jet that had the world excited. Despite the plane's stellar training flight results, the development program got cancelled due to politics. Marchildon and the Arrow were together as military brothers, both noted for hurtling missiles with speed and precision, both forced to retire before their time for reasons they could not control or overcome.
"So many people have never heard of him, but he has such a compelling story," said Wolf. "The family has said for years 'Phil's story has got to be a film, his life was just mind-blowing' and my brother Luke is the catalyst of this."
Wolf feels ready to take it on now thanks in large part to the storytelling and baseball atmosphere she experienced behind the scenes in The Silent Natural. It was an American story, shot mostly in Kentucky, with an almost entirely American cast and crew (notable fact: all deaf characters in the film were portrayed by deaf actors), but Wolf felt strongly moved by the Dummy Hoy narrative.
She met the movie's director and lead scriptwriter Dave Risotto at the AFM (American Film Market) Convention several years ago and they struck up a working friendship. Wolf was transitioning into the film industry after many years primarily in the music sector, and Risotto had been involved in a number of past endeavours (eight years in the US Air Force including service in Vietnam, acting, film editing and more) leading him towards directing movies. "He needed a producer on board, and I really loved the story," said Wolf. "We got along really well and shared a lot of the same ideas for getting the project from A to B to C."
They linked up on the production team along with Branscombe Richmond (110 episodes of Renegade, among other credits) to assemble all the parts for The Silent Natural.
"It has been doing really well. It was such a cool process, really fun, and the Dummy Hoy story is pretty cool: the first deaf Major League Baseball star," said Wolf. "It looks great, it has some great people in it, great actors, a lot of people really like it, it won a bunch of awards in film festivals. It's still out there doing cool, incredible things."
Risotto insisted that she have a small on-screen part in the film. The only other Canuck in the cast was Canadian film legend Tyler Mane (Sabretooth in the X-Men franchise, Chopper in the TV series of the same name, iconic horror character Michael Myers in the Halloween reboot). The movie tough-guy from Saskatchewan played the part of a protective teammate who sticks up for Hoy when others on the team were hostile to the deaf player in their midst.
"Tyler and I went to a guitar show when we were in Nashville," said Wolf (Nashville was near their filming location). "It was pretty funny, actually. I ended up buying this mandolin / banjo thing that I haven't played since I bought it, pretty much, it's this insane thing. And he bought a really cool acoustic guitar. He's an amazing guitar player, actually. So yeah, the two Canadians on the production, that's it, just the two of us."
In the way a Canadian can feel moved by an American tale, she knows the Marchildon story will be embraced by Americans and the world. An interesting life transcends all borders.
"It's true Canadian history and I feel so strongly that this story be told," she said.
The major challenge she faces is accumulating the funding to roll cameras. She's making pitches of her own, now, everywhere from board rooms to elevators where investors might be. But like Marchildon's fastball, she is confident this film will strike financial success. It's a Canadian project with appeal in the United States, England, and beyond.
"It's my blood. I was literally born to do this. The family has been waiting for some film director to take this on, and it was perfect that it be me. I've got one baseball film under my belt, and it's a really cool period piece, a story about the underdog, and I think this one is just like that, beautiful stuff in it all over the place, and it's my family."
Phil Marchildon On The Field
Baseball fans of every team in the majors would have wanted Phil Marchildon in their uniform, during the mid-1940s. For years, the fireballer from Ontario was one of the only bright spots on a poor Philadelphia Athletics team.
The team's legendary manager Connie Mack believed in Marchildon almost as soon as he laid eyes on the five-foot-11 right-hander. He kept tabs on him for a year of professional development with the Toronto Maple Leafs, the A's farm team in the International League for the 1940-41 seasons. He called Marchildon up to the majors late in the 1940 season and got him into a couple of games. His first was Sept. 22 at Shibe Park, the A's home field. He was a 26-year-old rookie.
The basement-dwelling A's were deeply out of contention. They were facing the Washington Senators, almost as low in the standings. Marchildon took the mound throwing to catcher Frankie Hayes. The opposing Senators pitcher was Ken Chase.
The first batter Marchildon ever faced at the major league level was perennial all-star and stolen base king George Case. Case lobbed an infield fly to second base for the first out of Marchildon's career.
All-star Buddy Lewis came up next and thumped a double, making it the first hit Marchildon ever allowed. Jim Mallory, the next batter, popped out to second. Then Cecil Travis spanked a single that scored Lewis, making that Marchildon's first earned run against. Jimmy Bloodworth hit into a fielder's choice and the first inning in Marchildon's career was over relatively unscathed for a newbie fresh off the farm.
In the second inning, Marchildon threw his first wild pitch to lefty Jake Early. This was repeated in the third inning. Early was also his first major league walk.
He got out of the second with no further Senator scoring and had a 2-1 lead going into the third. That's when he had his first stinker of an inning. With two runners on, Bloodworth took him deep for the first homer he ever surrendered. An RBI single hit by Chase added to the total. The inning ended 5-2 for the Senators (the final score, in fact), chased Marchildon, and ensured he took the loss.
For the impossibly low Athletics, this was no big deal. Marchildon got the call again on Sept. 29 at Fenway Park. The Red Sox would win the game, but the young pitcher would get a moral victory. He recorded his first career strikeout. The batter was none other than Ted Williams. Marchildon pitched the complete game and lost only 4-1.
Mack had seen enough of Marchildon's stuff to know what he had. The rookie broke camp the next season pitching on the big-league squad. He didn't get onto the field, though, until Game 16 of the '41 season. The floundering A's only had four wins at that point, and had used seven starters in three cycles through the rotation.
Marchildon's was officially a spot start, on May 3 when he got the call. He was to go up against Hal Newhouser of Detroit. He pitched the complete game, and lost a 4-3 nail-biter to the future Hall of Famer.
He would finally get into the Win column one week later. He had been inserted into the rotation and would stay there the rest of the season. That first W came May 10 at Griffiths Stadium versus the Senators, taking the game 8-7 from two-time all-star Walt Masterson.
In his third game of that season, he once again faced Newhouser, once again he got the L, but this time it was at home, the first time he had pitched at Shibe Park since his 1940 debut.
His first win at home came June 22 when Marchildon threw a complete game shutout in a 3-0 victory over the Chicago White Sox. The opposing pitcher was Eddie Smith, having the first of his two consecutive all-star years (Smith got the official W for the American League in the '41 All-Star Game).
Marchildon would amass a 10-15 record that first full rookie season, and an ERA of 3.57 – this on a team that finished with a 64-90 record and last place in the American League.
In 1942, armed with experience as well as his prime pitching weapons, Marchildon would come away with a 17-14 record on an A's team that went 55-99 for an even worse showing than the year before.
It is impossible to know what might have been, for Marchildon's baseball results, had the Second World War not taken him out of the uniform of peace and put him into the uniform of a soldier. He was in his pitching prime, he was accelerating his effectiveness, and he was now comfortable on a major league mound no matter who was coming to bat.
But all that would have to wait. History was to play very different cards. He willingly went to war and despite the PTSD he acquired, which dogged him long after his return home, he was proud of his service to humanity.
Another kind of war awaited when he got back home to the mound. It was more subtle, more surreptitious, but the ball field was one of its front lines. It was the war of American civil rights. Long before Martin Luther King and Rosa Parks there was Jackie Robinson and Larry Doby.
Marchildon was there for this watershed moment in American history when black players were allowed on the field of play as equals, only one year after the NFL broke its colour barrier, four years before the NBA would do so, and 11 years before the NHL. Also, this was baseball, America's pastime, and by far the most public gesture of ethnic acceptance seen to that point in the bitterly divided United States.
Marchildon's pitching was in the thick of it and it wasn't the first time. Back in his youth, he pitched against the now famous Chatham All-Stars, an all black team of American and Canadian ball players based in Ontario who were the toast of the nation's baseball community despite the segregation and hostility they were forced to endure in racist Canada.
Marchildon got to witness the racism directly. He pitched in the third and deciding game of the 1934 Ontario Baseball Amateur Association provincial championship. He started for the Penetanguishene Foundrymen (in some reports the team was called the Shipbuilders) against Earl "Flat" Chase, a man three years his senior and of whom many said would be in the major leagues at that time, had he not been born black.
The game was played at neutral site Exhibition Park in Guelph, halfway between the two towns. With Chatham ahead 3-2 with one out in the 11th inning, the umpire crew called off the game due to darkness – an ironic truth, some would remark. You see, it was only 4:30pm. By calling off the game, the umpires also erased the score. A fourth game would be needed the next day, they said. What wasn't said, but everyone understood, was how this would give the white players a better chance to beat the black players for the title.
Marchildon and Chase faced each other again for their respective teams the next day (pitch counts and arm rest weren't considerations in those days). Powered by righteous determination, the Chatham All-Stars pounded out a 13-7 victory to become the first black team to win the OBAA championship.
Marchildon would be further infused into the expanding colour palette of baseball soon after the American League colour barrier was broken. Jackie Robinson was the overall first in baseball, over in the National League right out of spring training on April 15, 1947, but the AL dragged its feet until July 5 of that year before the Cleveland Indians penciled Larry Doby into the lineup against the White Sox for game one of a three-game set in Chicago.
The next series for Cleveland was back at home against the Athletics for a five-game set from July 10-12. Doby was kept on the bench in the opening doubleheader but he came into the game on the 11th and Marchildon got the start that game. Doby didn't face him, as he came in as a late-game pinch hitter and Marchildon was already relieved.
The first black batter Marchildon would throw to came on Aug. 3 at Shibe Park when the St. Louis Browns came to town. Marchildon was still on the mound in the seventh inning when pinch hitter Hank Thompson came to the plate. Marchildon got the formidable hitter to snake a grounder to second baseman Pete Suder who relayed to shortstop Eddie Joost for the force-out at 2B with Jake Early coming from first. Thompson beat out the double play, however, and made it safe to first. Two popouts later and Marchildon's personally historic inning was over en route to his complete game 2-0 shutout.
On Aug. 9 at Shibe Park, Marchildon's next start, he made some more personal history when he took Washington Senators pitcher Sid Hudson deep for his only career home run. That made the score 2-0 in the third inning. Marchildon went on to a complete game 8-1 win that night.
His last game in Shibe Park came against the Red Sox on Sept. 2, 1949. He was injured most of that season, throwing only 16 innings for the year. He gave up 21 earned runs in that tiny window, with an ugly WHIP of 2.688.
He had pitched his last in a Philadelphia uniform. He tried to earn his way back to the club through AAA-Buffalo, but he struggled there, too. Age and injury had caught up with him.
He still got signed to a mid-season flier contract with the Boston Red Sox in 1950, in his age-36 year. He got the deal on July 2 and was brought in to pitch out of the bullpen on July 16. The BoSox were hosting Cleveland for a doubleheader at Fenway Park that day.
Starter Mel Parnell got hammered early and often by the Cleveland bats, giving up three consecutive doubles, a walk, and a homer in the first six batters. With only one out, Marchildon got the call to stop the bleeding.
He got Bob Kennedy to hit a liner to third, then induced a popup in foul territory to end the inning cleanly.
Marchildon came back in the second inning. He gave up a leadoff triple to opposing pitcher Gene Bearden. Ray Boone then popped out to the second baseman. Next batter Joe Gordon also hit a fly ball but it was deep enough to sacrifice Bearden in from third. Marchildon then issued consecutive walks to Luke Easter and Al Rosen.
With hot-hitting Larry Doby on deck batting from the left side, and Marchildon noted for his slightly-higher-than-sidearm pitching slot from the right, he got the hook. It was Marchildon's last major league walk from the mound to the dugout. He was released by the Red Sox five days later. He had thrown his last professional pitch.
All told, Marchildon pitched in 185 MLB games, getting the win in 68 of them and even a couple of saves. He struck out 481 batters across 1,214.1 accumulated innings. His ERA was a healthy 3.93, his career WHIP a highly respectable 1.46, and his WAR rating was a sparkling 9.7 (source: Baseball Reference). It bears repeating that his whole career was spent on teams woeful in the standings.
They could take his MLB uniform, but they could never take his legacy. Marchildon went back to Ontario and led a fulfilling life of family and regular jobs. He was forever seen in as a baseball ambassador and one of Canada's leading sports figures (not involving a puck) of his generation.
He was inducted into Canada's Sports Hall of Fame in 1976 and was among the inaugural inductees into the Canadian Baseball Hall of Fame the day its first names were announced in 1983.
Phil Marchildon died on Jan. 10, 1997 at the age of 83. Witnesses said he still had zip on his fastball even then.
Joey Votto opens up about life and starting 2023 at AAA Louisville on rehab assignment
Baseball fans interested in a different side of a potential future Hall of Famer will want to check out a new interview with Toronto native and Cincinnati Reds first baseman Joey Votto.
In a one-on-one sitdown with the CBC's Ian Hanomansing, Votto opens up about dealing with depression and anger following the death of his father in 2008 and how he became a better version of himself as a person and athlete by attending therapy. He also touches on his developing love of chess and the fun he's having playing around on social media, noting however, that both can be distractions that take his focus away from baseball.
Votto, who describes himself as intensely competitive and focused, is now 39 and playing his 17th season in MLB. Given his singular focus on being the best he can be at baseball, one senses he was deeply affected by an uncharacteristically poor 2022 season, one in which he was hampered by a nagging rotator cuff injury.
He had surgery last summer to repair that and a torn biceps muscle.
In the interview, the career Reds player talks candidly about overcoming challenges, especially as a veteran athlete still looking to contribute to his team's success.
His commitment to that goal was evident when he agreed to open the 2023 season in a rehab assignment with the Louisville Bats, the Reds' AAA-level Minor League affiliate in the International League. His goal? To get himself back into game shape, mainly his swing and his legs, he told redlegnation.com last week.
While it came against a Minor League pitcher, Votto used his first at bat with Louisville on Saturday (April 1) to smack a 448-foot homer to right field, part of a 1-for-3 day at the plate.
Now remember, this is a guy who, despite the off year, still entered this season with career numbers on par with many Hall of Fame players: a .297 batting average, 342 home runs and 1,106 runs batted in.
Something tells us Joey Votto will come back with a vengeance this season.
You can watch his interview on the episode of It Changed Everything on CBC's YouTube channel by clicking here.
Hawkins takes big first step in chasing big league dreams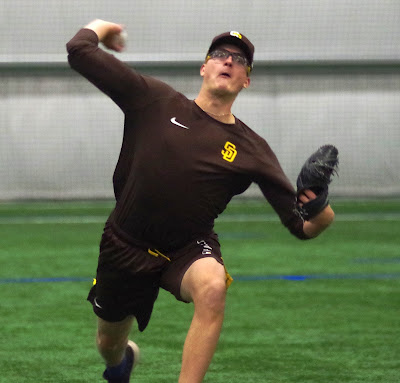 By Darren Steinke – Howe Happenings
Garrett Hawkins was ready to jump into the next level of work when he was drafted into the MLB.
On the second day the 2021 MLB Draft this past July 12, the hard-throwing right-handed pitcher from Biggar, Sask., was selected in the ninth round and 280th overall by the San Diego Padres. The draft selection was a huge highlight for the 21-year-old, but he knew the long journey to try and become an everyday MLB player continued.
"It was pretty exciting just knowing that all the hard work had paid off," said Hawkins, who towers on the mound at 6-foot-5 and weighs 230 pounds. "You kind of got to a point that you're just proud of yourself and proud of everyone that kind of contributed to it.
"Not to say that the work isn't done. There is still a lot more to do, but it is a good first step for sure."
Hawkins, who trains in the off-season at the Gordie Howe Sports Complex, had been playing for the New Jersey state capital-based Trenton Thunder of the MLB Draft league at the time he was selected by the Padres.
With the Thunder, Hawkins started six games posting a 1-0 record, a 2.63 ERA, 32 strikeouts while giving up two walks in 24 innings of work.
Shortly after being drafted, Hawkins traveled to Peoria, Arizona, to join the Padres rookie team that plays in the 18-club Arizona Complex League.
With the ACL Padres, Hawkins put up solid numbers. The graduate of the Saskatoon Giants under-18 AAA program appeared in seven games with the ACL Padres posting a 3-1 record, a 2.35 ERA, 27 strikeouts while giving up two walks in 15.1 innings.
"I enjoyed it," said Hawkins, whose main pitches are the fastball, slider and change up. "I just kind of got my toes wet in how it all works going forward.
"I got to meet a lot of people, see lots of like different cultures like lots of Latin players that I haven't had a chance to be around a ton and kind of just meeting all the new draftees that got picked in my year also. It was pretty good, and I am excited to kind of get going again and move my way up."
Hawkins said he benefitted from the fact he got some real good coaching with the ACL Padres, which he thought helped his performance on the field.
"I think I just kind of maybe took another step once I got there," said Hawkins, who can throw his fastball at 93 to 95 miles per hour. "Eventually, something stuck, and I kind of just used it to my advantage.
"I think just the increased input from the coaching staff and all that helped a lot."
Throughout his life, Hawkins said baseball was the sport he was always the most passionate about. That passion took root from simple beginnings.
"I kind of just started playing baseball at a young age playing catch with my dad (Ian Hawkins) at home," said Hawkins. "Eventually, I was just playing minor baseball.
"All my friends were kind of doing it at the time."
When he started playing minor baseball, Hawkins said he started to experience success on the mound early on.
"I'd say it happened right away," said Hawkins. "Obviously, I hit and pitched at a younger age, but I kind of had a knack for pitching when I was younger."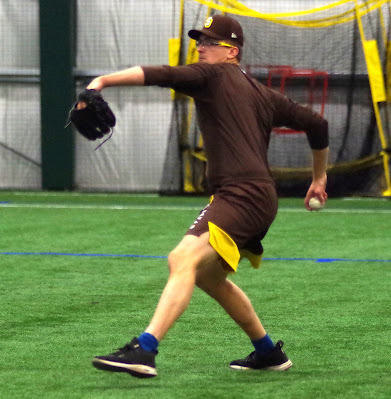 Hawkins ultimately caught the eyes of the high-performance coaches with Baseball Sask. He helped Saskatchewan win gold at the 2016 Baseball Canada Cup in Fort McMurray, Alta., and at the 2017 Canada Summer Games in Winnipeg.
The standout hurler credited Greg Brons, who is the High Performance Director for Baseball Sask, with getting a core group of players playing together or against each other on younger teams and training together in the years heading into those gold medal wins. Hawkins said the players became good friends and a realization grew that they might be able to accomplish big goals together.
"We had a core group of guys that (Greg) Brons kind of brought up together and kind of knew we had the potential to do something like that," said Hawkins. "That group had been together for maybe three years before that, so when it came time to put it all together, I just kind of remember all the guys that we had and just how good we were and how ready we were to kind of be on that stage.
"It was exciting."
Besides those gold medal wins on a national stage, Hawkins enjoyed playing against and with a number of his provincial team teammates in the provincial under-18 AAA league. He has lots of good memories throwing for the Saskatoon Giants at Cairns Field and Leakos Field.
"I enjoyed it just because most of the time it is like Saskatoon team versus a Saskatoon team, so you kind of want to beat the other one," said Hawkins. "I enjoyed my time playing here for sure."
After his season wrapped up with the ACL Padres, Hawkins elected to live in Saskatoon during the off-season in order to train at the Gordie Howe Sports Complex. On top of doing his own training, Hawkins will help out the crew at the Going Yard Training Centre coach young pitchers.
Jordan Draeger, who is one of Going Yard's top instructors, was one of Hawkins past coaches.
"It is pretty cool just seeing (the young pitchers), because I was in those guys shoes kind of when I was in high school," said Hawkins. "It is kind of cool seeing those guys build up and be around them as much as I can trying to help out, if they need it.
"I like going in there and doing my work and getting to watch some other guys do theirs, so it is pretty cool."
Hawkins, who will turn 22-years-old in February, said all the coaches he had through the years have had a big impact in allowing him to have the success he has had.
Going into his second season as a professional, Hawkins said his main focus is improving his consistency.
"I kind of like where my pitches are at now," said Hawkins. "I think just continuing to learn about hitters and stuff like that and just trust myself.
"I just have to continue to get better each day and try and move up."
Comox Valley ball player enters professional ranks
By Scott Stanfield, Comox Valley Record
Adam McKillican of the Comox Valley has joined the ranks of ball players from the University of British Columbia who have been drafted by a Major League Baseball club. Last summer, the 6'5" pitcher signed a free agent deal with the Texas Rangers.
A former Parksville Royals ace, the 23-year-old McKillican played at UBC until 2020. He switched to Georgia Gwinnett College for the 2021 season, helping the Grizzlies win the NAIA (National Association of Intercollegiate Athletics) World Series Championship in June.
Maryland became his home from early-June to mid-July of this year when McKillican played for the Frederick Keys, a collegiate summer team of the MLB Draft League. He then negotiated a contract with the Quebec Capitales in the Frontier League, which he said aims to secure as many professional contracts as possible for players through the draft and free agent/independent league signings. He was in Quebec when he got the call from the Rangers in August.
He pitched for the Arizona Rangers in a minor league game against the Cincinnati Reds, then was called up to the Hickory Crawdads in North Carolina — the high A affiliate of the Rangers — where he finished the season. The final game was canceled due to a COVID outbreak on the team. McKillican was supposed to fly home Sept. 17, but his COVID test came back positive, which forced a 14-day quarantine before flying to Canada.
"That was a very strange end to the year for me," he said. "Spent nine months in the U.S. and was able to dodge COVID until the very last day. Thankfully the season was over by then and I didn't miss any playing time."
McKillican said the level of play is "definitely a step up" from college ball.
"There are not as many holes in lineups and each guy you face is capable of hitting a mistake 400 feet," he said. "I think the biggest difference for me was the hitters' ability to foul off tough pitches. I had some good battles in college, won some and lost some, but those types of hitters came around once or twice every couple months. At this level, every lineup has at least one guy who is not going to chase a bad pitch and will fight off anything close. I'm excited to keep working on my repertoire and finding ways to get those guys out consistently."
When he left for Georgia, McKillican was four courses shy of graduating from university. He is finishing his degree online during the off-season.