Baseball Canada cancels 2021 National Championships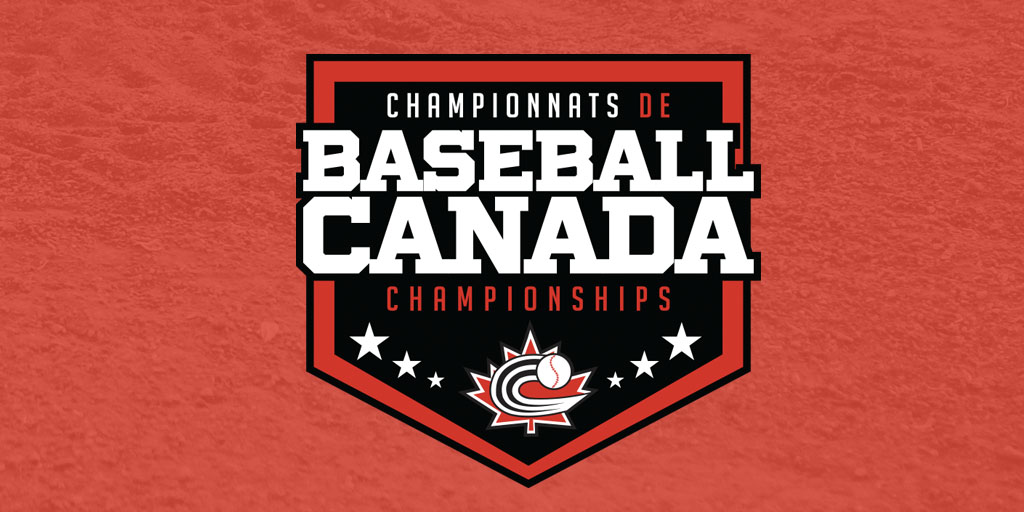 OTTAWA- Due to the ongoing concerns surrounding the Covid-19 pandemic and taking into consideration the realities of hosting national level competitions for communities, Baseball Canada's Board of Directors have made the difficult decision to cancel all 2021 Baseball Canada National Championships scheduled for August and September.
A complete list of the National Championships can be found here.
"The health and safety of all of our members is our first priority and with that said we felt that there was no other choice but to cancel all of our national tournaments for 2021," said Baseball Canada President Jason Dickson. "When you consider all of the elements that go into a national championship including provincial qualification events, inter-provincial travel, shared accommodations and the strain that running championships in a safe manner would entail for host committees, this was the best decision for all parties involved."
Although Baseball Canada has made the decision to cancel national championships for a second consecutive year, the federation would like to clearly state that baseball is not cancelled by any means across the country.
"Our provincial members and local associations proved in 2020 that by working with their local health officials in providing a safe environment that a baseball experience can be enjoyed for participants," added Dickson. "We are confident that our membership can enjoy our sport again in 2021."
The excitement for baseball across the country has not waned over the past year and it has been encouraging to see the teamwork and creativity that people have displayed in order for the game to be enjoyed.
The Major League Baseball season is now underway and our partners, the Toronto Blue Jays through the Blue Jays Baseball Academy, have provided some excellent resources for families including a "League Finder" interactive map to make it easier to find where baseball is played in Canada.
Registration for baseball is open in many parts of the country and we encourage all families to visit the map here.
Baseball Canada will now focus its national championship efforts on the year 2022 where we anticipate the return of our full slate of championships that will be highlighted by the Canada Games baseball competition in the Niagara region.
"We realize that the decision to cancel our championships for a second time in as many years is not ideal for the athletes and teams that have been working hard with the goal of playing in them," said Dickson. "We encourage you all to stay focussed on the things that you can control and create an environment that will still allow you to achieve your individual and team goals.
"We look forward to the day that our championships can resume!"
Ridge Meadows Rises to Championship Form!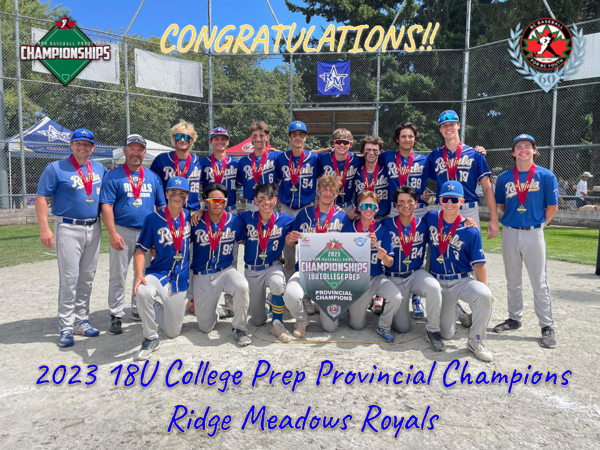 It would be fitting to see the top two teams from the Regular season' the #1 North Fraser Nationals and the #2 Ridge Meadows Royals, go head-to-head for the 2023 18U College Prep Provincial Championship! 
North Fraser entered the final tilt undefeated through the round-robin and their semi-final match, while Ridge Meadows had only stumbled once on the way there. 
In the end, it was Ridge Meadows and their ability to push runs across the dish that put them on top 6-1 when the dust finally settled handing North Fraser their only loss of the weekend. 
Congratulations to the Ridge Meadows Royals and all of their fans and supporters. You are the 2023 18U College Prep Provincial Champions!
Congratulations to the North Fraser Nationals and all of their fans and supporters on a stellar run to the top of the Regular Season Standings. 
Congratulations to all of our 2023 18U College Prep Players, Coaches, and Families. It's been a ride! See you in the Fall!
Ladner takes the 2023 John Main 13U Invitation Crown!
Ladner takes the 2023 John Main 13U Invitation Crown!
By BCMBA, 05/28/23, 4:00PM PDT
Share
Cole Hudie finishes it with a 3-run shot to lift Ladner to a 5-2 W over Chilliwack and claim the BCMBA 2023 John Main 13U Invitational Championship Title! Thank you to our hosts and their families, Ridge Meadows and Cloverdale, our BCMBA Volunteer Directors, and everyone who participated!!
The 2023 John Main 13U Invitational is underway!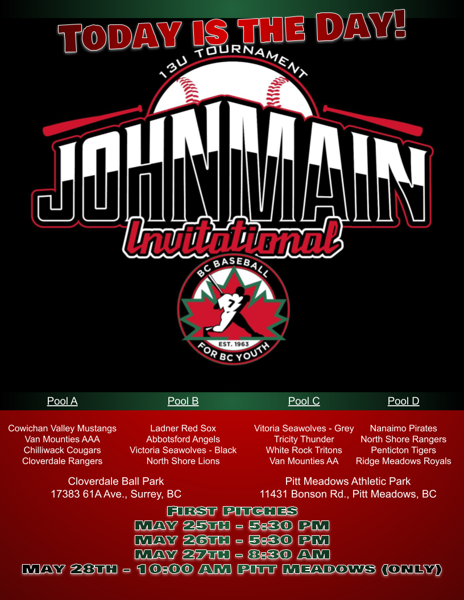 The 2023 John Main 13U Invitational is underway!
By BCMBA, 05/25/23, 9:00AM PDT
Share
The 2023 BC Minor Baseball John Main 13U Invitational has arrived. All weekend long, come down and check out some of the future stars of our game! Dates, times, locations, and results can be found here:
2023 John Main 13U Invitational