Jim Baba set to retire as Baseball Canada's Executive Director
OTTAWA – After 21 years as Baseball Canada's Executive Director, Jim Baba will be retiring from the post he's held for over two decades later this year.
The Moose Jaw, Saskatchewan native has been involved with Baseball Canada dating back to 1990 when he was a guest coach with the men's national team which evolved into stints as head coach of the program from 1993-1998 and again in 2003 and 2005.
In 2000, Baba left his native Saskatchewan and his post as Executive Director with Baseball Saskatchewan for the nation's capital and the role of Manager, Baseball Operations with Baseball Canada. Shortly thereafter, he transitioned to the role of Executive Director where he has overseen the federation's Ottawa office operations for the last 21 years.
"When you think of Baseball Canada a select few names come to mind and Jim Baba is definitely one of them," said Baseball Canada President Jason Dickson. "The impact he has had on baseball in Canada from his role as Executive Director has been immeasurable across all areas of our sport."
During Baba's tenure, Baseball Canada has achieved unparalleled success at the National Teams level in qualifying for a pair of Olympic Games (2004, 2008), the implementation of the Women's National Team program in 2004 that sits today as the No. 2 ranked program in the world, winning back-to-back Pan Am Games gold medals (2011, 2015) for the men's national team program and witnessing the growth of a Junior National Team program that is renowned as one of the best of its kind in the world.
On the grassroots side, Baseball Canada has introduced successful programs Rally Cap and Winterball for initiation players and coaches over Baba's watch that are now widely popular throughout the country.
Baseball Canada's National Coaching Certification Program (NCCP) has experienced tremendous growth over the last 20 years both in terms of the number of certified baseball coaches across the country and the way in which we register, track and deliver coach education.
Baba was one of the main players in Baseball Canada adopting Challenger Baseball for athletes with physical and cognitive disabilities in 2012 and seeing the program's growth to today where a partnership between Baseball Canada, Little League Canada and Jays Care Foundation delivers programming to hundreds of Canadians each year.
Not only has Baba's impact on baseball been felt across Canada but his reach extends globally through his work with the World Baseball Softball Confederation (WBSC). A key figure with the international federation's Technical Commissioners Team, Baba has instructed at "TC" clinics throughout the world and has been Technical Director at numerous Baseball World Cups, the 2015 Pan Am Games in Toronto, both Premier12 events and is scheduled to serve as Technical Director for the upcoming Tokyo Olympics.
"It's incredible to look at everything that Jim has played a role in during his time as Executive Director," added Dickson. "The organization is in a tremendous place right now and we have him to thank for that.
"The respect that Jim Baba has in the Canadian baseball community and throughout the world is fully deserved and a testament to Jim as a person and how he's conducted himself throughout his career with class and dignity."
Baba is also a cherished member of both the Saskatchewan Baseball Hall of Fame and the Moose Jaw Sports Hall of Fame.
A search for his replacement will commence in the near future with Baba transitioning into retirement by the end of the calendar year.
Ridge Meadows Rises to Championship Form!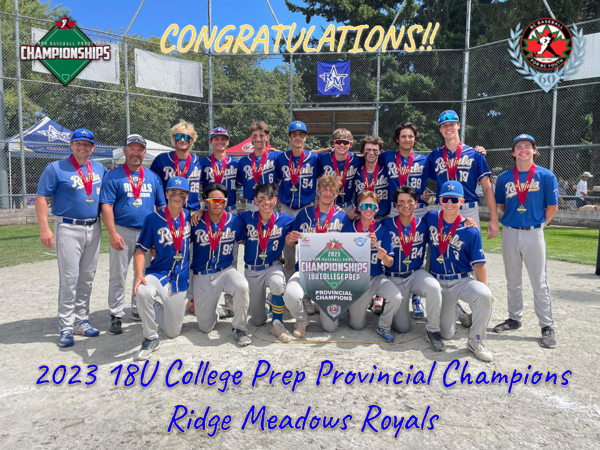 It would be fitting to see the top two teams from the Regular season' the #1 North Fraser Nationals and the #2 Ridge Meadows Royals, go head-to-head for the 2023 18U College Prep Provincial Championship! 
North Fraser entered the final tilt undefeated through the round-robin and their semi-final match, while Ridge Meadows had only stumbled once on the way there. 
In the end, it was Ridge Meadows and their ability to push runs across the dish that put them on top 6-1 when the dust finally settled handing North Fraser their only loss of the weekend. 
Congratulations to the Ridge Meadows Royals and all of their fans and supporters. You are the 2023 18U College Prep Provincial Champions!
Congratulations to the North Fraser Nationals and all of their fans and supporters on a stellar run to the top of the Regular Season Standings. 
Congratulations to all of our 2023 18U College Prep Players, Coaches, and Families. It's been a ride! See you in the Fall!
Ladner takes the 2023 John Main 13U Invitation Crown!
Ladner takes the 2023 John Main 13U Invitation Crown!
By BCMBA, 05/28/23, 4:00PM PDT
Share
Cole Hudie finishes it with a 3-run shot to lift Ladner to a 5-2 W over Chilliwack and claim the BCMBA 2023 John Main 13U Invitational Championship Title! Thank you to our hosts and their families, Ridge Meadows and Cloverdale, our BCMBA Volunteer Directors, and everyone who participated!!
The 2023 John Main 13U Invitational is underway!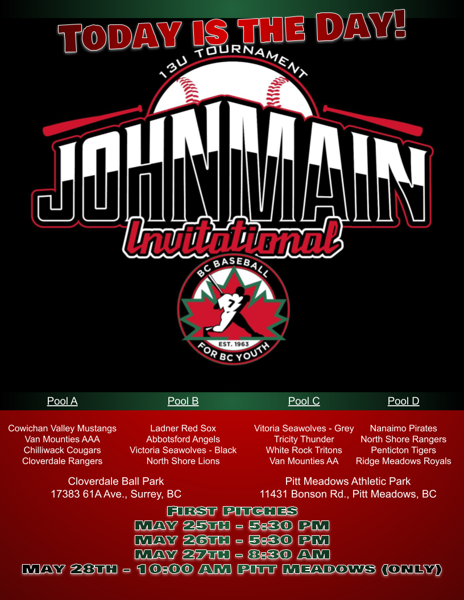 The 2023 John Main 13U Invitational is underway!
By BCMBA, 05/25/23, 9:00AM PDT
Share
The 2023 BC Minor Baseball John Main 13U Invitational has arrived. All weekend long, come down and check out some of the future stars of our game! Dates, times, locations, and results can be found here:
2023 John Main 13U Invitational