Photographing Baseball is A Lot Like Fishing
With very little baseball to go out and photograph over the course of the last year (thanks to COVID-19), it has been a good time for me to reflect on the games I have covered over the last 15 years – everything from house league T-Ball, Mosquito (9-10 year olds) right on up through elite high school leagues, to our summer collegiate team – the Victoria HarbourCats – to the 2017 World Junior Championships and finally to the MLB level, covering the Seattle Mariners at Safeco Field, as well as in Spring Training in Arizona.
I am apparently a rare breed here in Victoria, in that I REALLY, REALLY enjoy shooting baseball.  Some of our local press photographers don't like baseball assignments mainly because they have a limited time to shoot a game and always want the "big play" images to happen in the first inning – double plays at second, plays at the plate – plays that do NOT always happen early in a game, if at all, or at least by their deadline.
I tell them that shooting baseball is a lot like fishing….you sit quietly and patiently for long periods of time, waiting for that big nibble, or the fish to take your line, and when it does, you have to be ready to reel it in (i.e. snap away and capture the big play) before it is gone. Sometimes those nibbles come early and rapidly, sometimes they don't come at all.
Fortunately, I like fishing, and with most of the work I do with the HarbourCats or with other on-line media agencies, we rarely have to worry about hard print deadlines and can stay for the full length of most games, allowing for more time to catch that big fish, and capture a key image or series of images from a particular game.
And just like an expert fisherman who knows where and when to get the big fish, anticipating and understanding when that big play is going to happen in a baseball game is key.
While sometimes it can be obvious, I find that because I have played and coached the game, and am a connoisseur of baseball's finer points, there are times when I can anticipate what is going to happen and set myself up for a better angle and photo.
For example, knowing a bunt situation and turning to photograph the player bunting, or knowing a certain batter's tendencies and focusing on a fielder that he has a high percentage of hitting the ball to.
This latter example worked out well for me in the image of the diving third baseman shown below. Three previous batters, including the guy at the plate this time, had all earlier scorched line drives down the line. So this time around, I focused on the third baseman and sure enough, the same batter hit another down the line and I captured the resulting image.
Or stealing signs from coaches or infielders and being in position (with my lens) to capture a pick-off attempt or a player stealing a base.
Plays at second are also big on a baseball photographer's hit list, especially when a shortstop or second baseman attempts to turn a double play in the face of a sliding runner. Ideally you want to capture this from the first base side, with the defensive player leaping over the sliding runner and at the same time releasing the ball toward first. Of course, given how infrequently double plays happen (well at least at the level of games I have been covering) and when they do, the fact that sometimes you are on the third base side, capturing such an iconic image can be difficult.
Fortunately for me, one time when covering the Blue Jays at Seattle a few years back, the "perfect storm" occurred in the very last game I shot of the three-game series, and I got TWO such images in the same game, the second of which (below), is probably the best such photo of this type of play that I have ever captured!
In lieu of the big plays, one often has to resort to other ways to capture images that make the game interesting for the readers and viewers of the images. One way I like to do this is by using close-up shots of, for example, pitchers as they deliver the ball to the plate. With the right lighting and background, these can be very powerful images, especially if that pitcher ends up throwing a good game.
Another good sight line I like is from behind the plate. Either a close up that really captures the exertion on a pitcher's face, or in the case of the first photo below, the stress on his arm, or in the case of the second photo below, shooting a bit wider to give the viewer more context for the game and situation.
Capturing shots of batters is always another dilemma for baseball photographers. Many like to capture the batter at the time of impact, when the ball hits the bat. These are called BOB (bat on ball) shots and many photographers seem overly elated to get them, but for me, I don't like them because in most instances you don't see the face of the batter.
My preference is to capture the batter as he comes out of his swing and his eyes begin to follow the ball as he follows through on his swing and begins to move toward first base. Most times, such shots are best from the third base side, photographing right handed batters who pull the ball, but lefties from this side will also work well. Cropping closely in post (like the Jose Bautista shot below) is another way to add variety to the shot.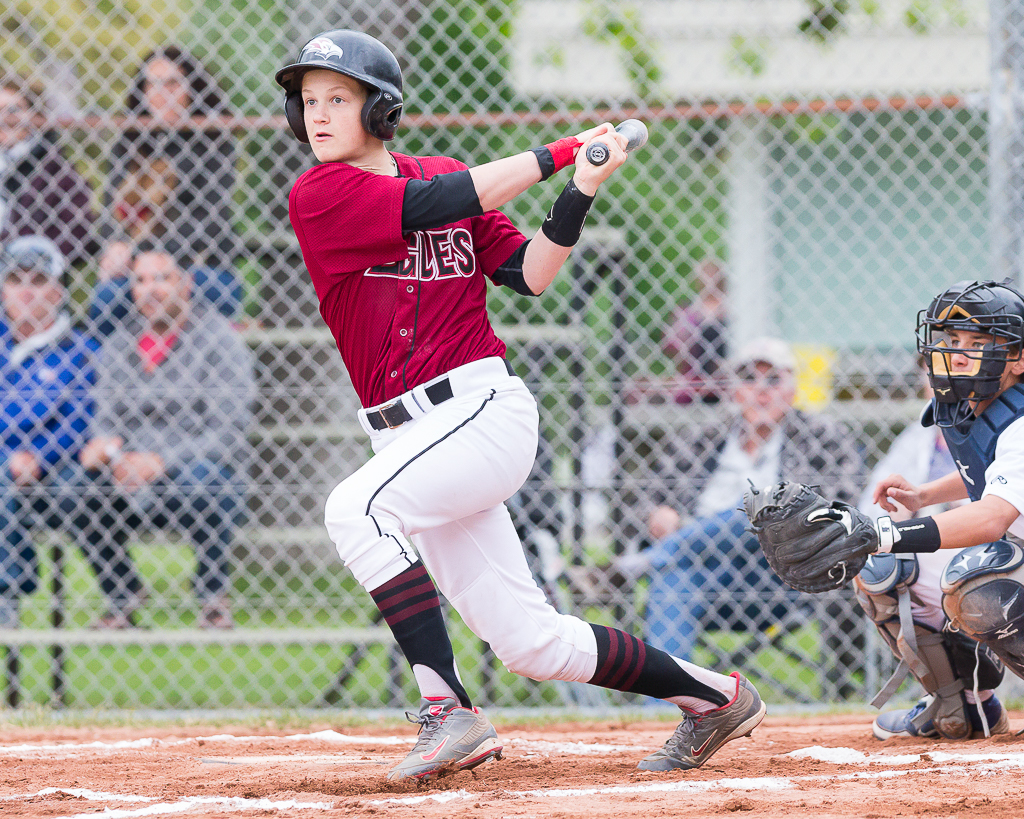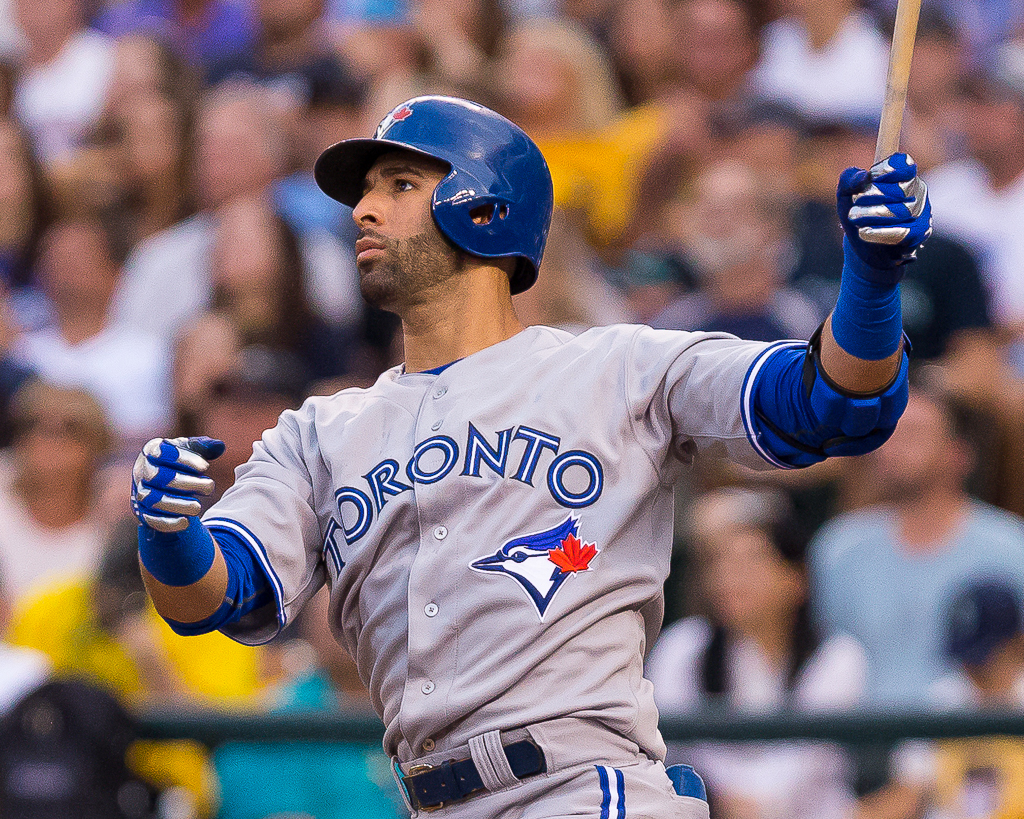 Outfielders are another challenge for baseball photographers and often get ignored, unless you are using a fairly long telephoto lens and are specifically shooting them. Fortunately, there are times when turning to shoot an outfielder works out OK, especially if you are using a newer camera with sufficient megapixels on the sensor to allow close cropping of the image in post-processing. The images below are such examples and can be nice catches (pun intended) if you get them!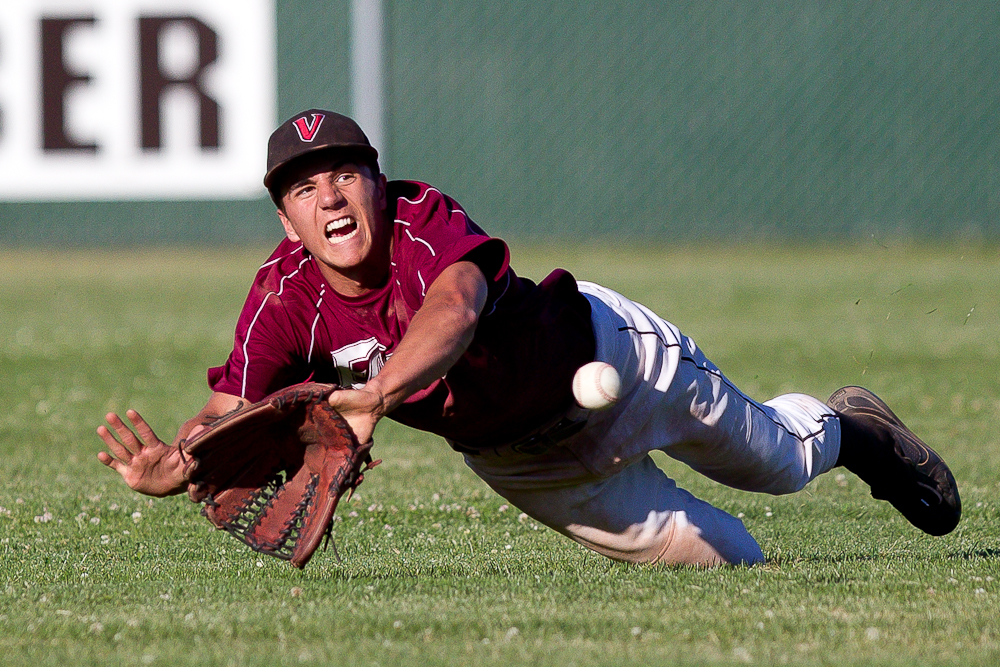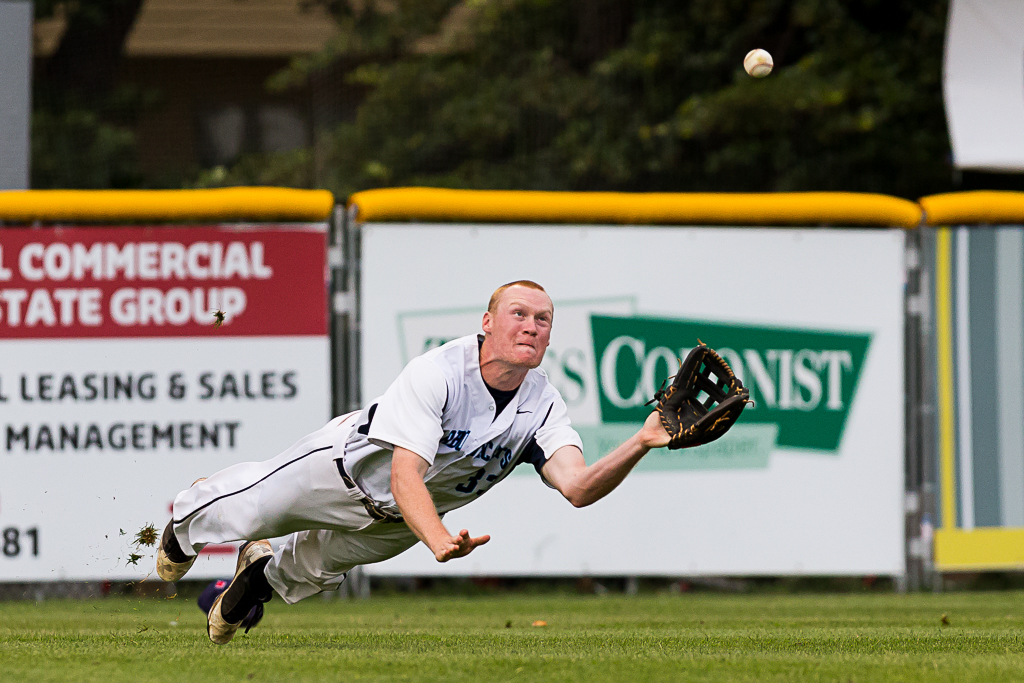 Finally, sometimes the biggest fish can be caught off the field of play. Look for shots of fans or other promotions happening during the game that can make compelling, interesting or just plain weird photos. Depending on the game and the level of action, these may be the best images of the evening, so try not to ignore them!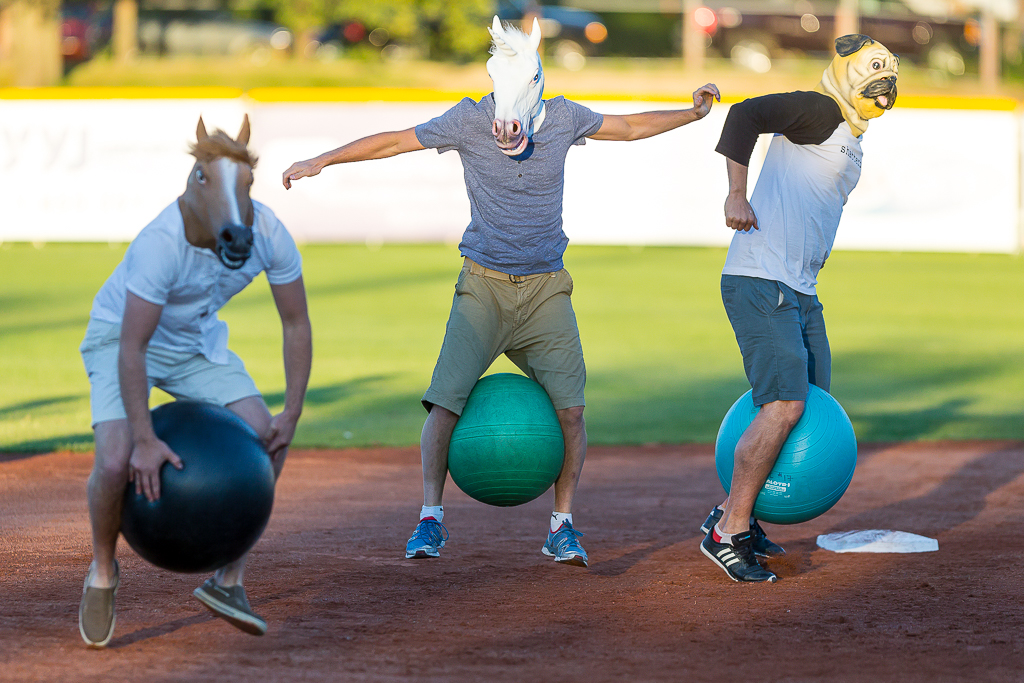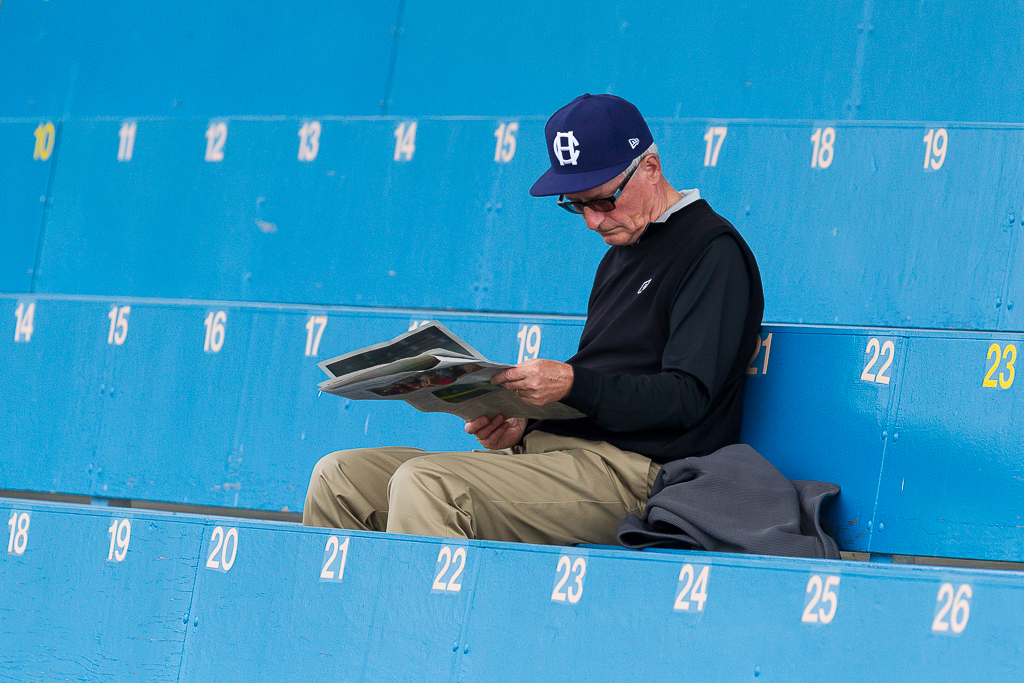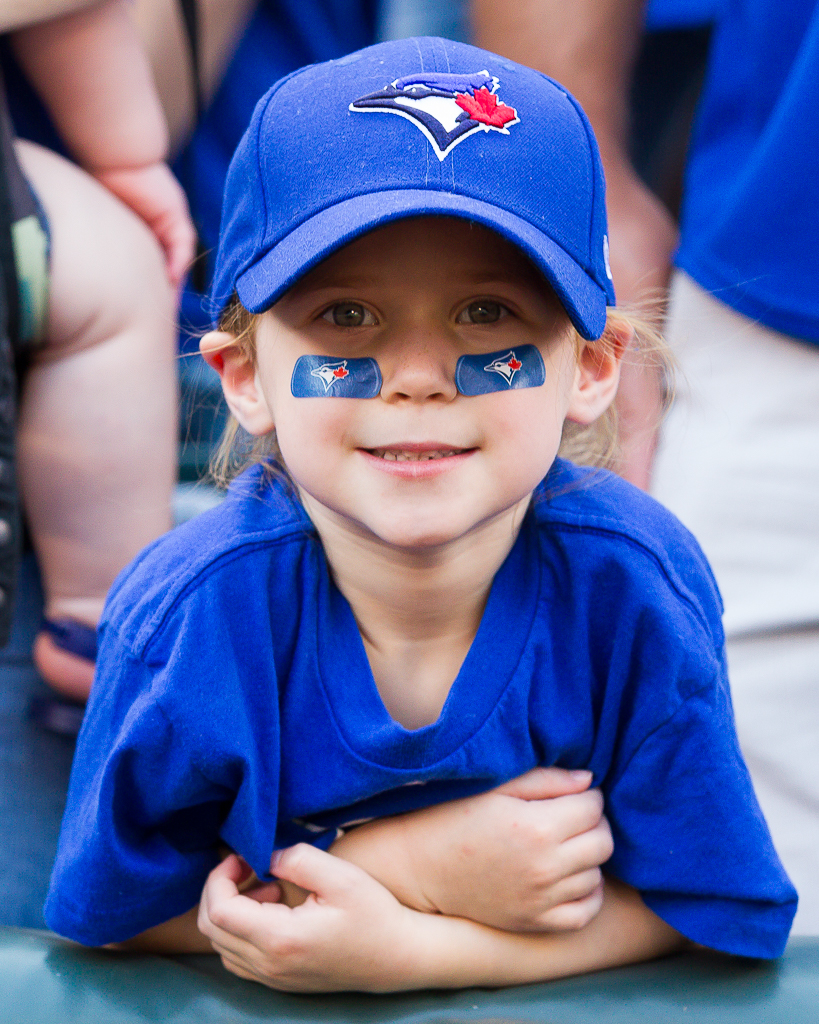 And when in doubt, if there is ever a coach – umpire argument, be sure to capture it!  They can be priceless!
More of Christian J. Stewart's baseball photography can be found at: https://christianjstewart.zenfolio.com/baseball
Construction underway on upgrades for safer Serauxmen Stadium
May 3, 2021 11:20 AM
From Nanaimo News Now
NANAIMO — Major renovations are underway at Serauxmen Stadium.
Construction has begun to replace and upgrade the outfield fencing at the facility, including a new 16 foot tall centre field fence designed to provide a visual backdrop behind the pitcher for hitters.
City crews will replace the 24 foot tall "Green Monster" fence, which was removed in 2020 due to safety concerns, along with the remainder of the eight foot tall outfield fencing.
"These fencing and netting improvements make Serauxmen Stadium a safer place to play for athletes, enhance the spectator experience and support the overall stadium improvement plan that will benefit baseball and all other users of this facility," Lorne Goodall, president of the Serauxmen Stadium amateur baseball association, said in a release.
Fencing down the left and right foul lines will be changed to accomodate additional viewing areas while netting will be added to the Green Monster to reduce the chance of home runs hitting people on the neighbouring NDSS Turf Field.
The project is estimated to cost $1.2 million, with partial funding coming from the provincial gas tax fund for community works projects and $150,000 from the Serauxmen amateur baseball association.
Upgrades are expected to be complete by July 2021. Access around the facility will be maintained with flaggers on scene when necessary to manage traffic.
Enhancing the sports zone on Third St. is a primary focus for the city, an initiative which includes development of a medium-sized stadium complex among Serauxmen, the turf field and Rotary Bowl.
In 2020, Serauxmen Stadium upgraded to LED lighting at a cost of approximately $1 million. The project also included a new, bigger scoreboard in left-centre field.
The upgrades come, in part, due to the Nanaimo NightOwls franchise playing out of the stadium during West Coast League play.
The team was scheduled to hold its inaugural season in 2021, however restrictions during the pandemic delayed plans until at least 2022.
Join the conversation. Submit your letter to NanaimoNewsNOW and be included on The Water Cooler, our letters to the editor feature.
info@nanaimonewsnow.com
On Twitter: @NanaimoNewsNOW
NorthPaws Inaugural Ticket Drive Shifts to 2022
NorthPaws tickets are now available for the 2022 season.
The inaugural season ticketing packages have been extended so NorthPaws fans can take advantage of the best value well ahead of the team's opening season.
Season tickets are available for $400 per seat.
The 10-Game Flex Plans are also available for $250. Fans can reserve one ticket for 10 games, 10 tickets at one game or anything in between.
All fans purchasing early-bird tickets will receive a $100 voucher for food and beverage or merchandise at Norbrock Stadium.
"We're thrilled to already have a loyal fan base who share in our excitement to see West Coast League baseball in Kamloops," says co-owner Jon Pankuch. "The majority of our ticket holders decided to keep their tickets as our inaugural season shifts to 2022. We can't wait to see the atmosphere at Norbrock Stadium for our first season as our fan base continues to grow."
Tickets are available online at https://tickets.northpawsbaseball.ca.
The Kamloops NorthPaws are an expansion West Coast League franchise bringing the highest calibre baseball Canada's Tournament Capital has ever seen. The West Coast League, founded in 2005, has 16 teams across Oregon, Washington, British Columbia and Alberta featuring some of the top collegiate players during a 54-game summer season. Find the NorthPaws online at www.northpawsbaseball.ca, @northpawsbaseball on Instagram and Facebook, or @northpawsbb on Twitter.
WCL Adds Springfield Drifters as Newest Member Team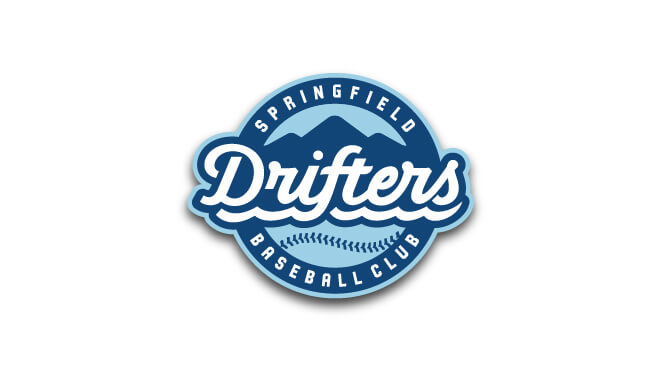 Thursday, the West Coast League announced the addition of the expansion Springfield Drifters as the league's 16th member team. The Drifters will join the Bend Elks, Corvallis Knights, and Portland Pickles as the league's fourth Oregon-based team.
"When you look at a map," said WCL Commissioner Rob Neyer, "adding another team in the Willamette Valley is an easy call for us. We were simply waiting for the perfect situation, and with the Springfield Baseball Project, that's now exactly what we've got."
The Drifters, Bushnell University, and Huddle Up Foundation comprise the Springfield Baseball Project, which is partnering with Springfield Public Schools to renovate the Hamlin Sports Complex baseball field, located at Hamlin Middle School. Beginning in 2022, both the Drifters and the Bushnell Beacons will call the Hamlin Sports Complex home in their inaugural seasons.
"Bringing the high-level play of the West Coast League to Springfield is a baseball dream come true," said Drifters General Manager Jamie Christopher. "Through the Springfield Baseball Project and Springfield Public Schools' partnership, we are not only building a first-class baseball facility; we're also bringing a community facility to an under-served youth population."
The Drifters join the Edmonton Riverhawks, Kamloops NorthPaws and Nanaimo NightOwls as the four expansion teams set to begin play in 2022. Edmonton, Kamloops and Nanaimo, along with the Victoria HarbourCats and Kelowna Falcons, are gearing up for the 2022 campaign after withdrawing from the 2021 season due to continuing pandemic-related border and gathering limitations.
Springfield's ownership team of Ike Olsson, from Olsson Industrial Electric; and Kelly Richardson of Richardson Sports, have been planning this venture for a year. "In partnership with the school district," said Olsson, "we are honored to present our community with another phenomenal baseball complex that builds upon Huddle Up Foundation's success with Rich Schwab Field at Maple Elementary School. This new project will continue Huddle Up's mission of providing mentorship and after-school programs to underserved local youth."
"The Springfield School District has been an ideal partner. Without their cooperation and shared vision, the Drifters Baseball Club and this new facility would not be possible," said Richardson. "We are excited to bring collegiate baseball to the Springfield community and provide a first-class facility for local kids to use and be proud of."
Fans can follow the team on social media: @driftersbball on Facebook and Twitter.