They say every good party ends up in the kitchen.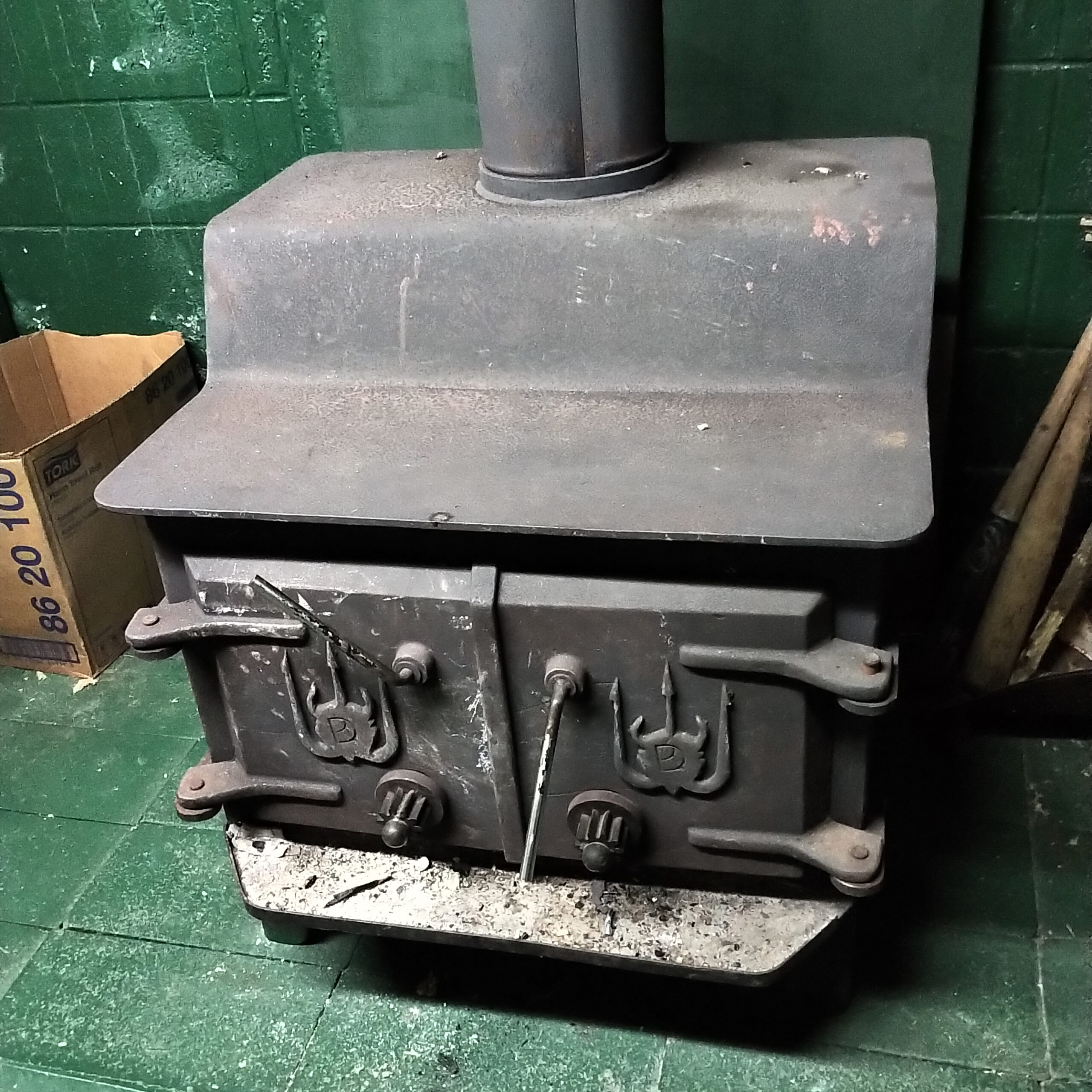 Well, baseball is a party, and in Nanaimo the gathering spot was the big wood stove down the hall from Kent's Kitchen where former players, coaches, officials, volunteers and fans would all congregate.
The stove was the centrepiece of the Hall Of Fame Room in the bowels of Serauxmen Stadium. That stove is due to be rolled out the door this spring to make way for a new kind of baseball party – the Nanaimo NightOwls Baseball Club of the West Coast League, and the new team's office space.
It was not sadness that trailed after that symbol of warmth and camaraderie, however. All those same players, coaches, officials, volunteers and fans had worked hard to someday attract a WCL team to their city so to see the space repurposed for such high-calibre ball was a treat, not a gripe.
"We'd have all these old guys come in and just B.S. about baseball," said Kent Malpass, the man for whom the kitchen was unofficially named. He was one of the young guys who cozied up to that fire, when it first got kindled, and now he is the godfather of these goodfellas.
"If that room had ears, it would have lots of things to talk about. So many great people have worked to keep baseball in Nanaimo going and growing, and a lot of them ended up in that room having those conversations. So many of them have passed on now, great names, great people. Some are in a home now. That's the way time works. And we're in the middle of Covid and when that hit, it really shut it all down anyway."
It was always Thursday morning that the regular gathering would happen, whether there was a ball game on that day or not.
"I'd get there at seven o'clock, and sometimes there were already people waiting to get in," Malpass said. "They'd show up at 7:30, 8:00, trickling in, but there would often be a dozen of us just here for the conversation and seeing each other, talking about baseball and life."
The big stove was never the point of these visits, but it was always the unspoken host. Even when there was a lull in the conversation, the crackle of the wood fire would evoke the crack of the bat.
"It's a big stove. Huge," Malpass said. "I've put wood in that thing at three o'clock in the afternoon and come back at 11 or 12 o'clock the next day and it would still be going."
Kent and his Serauxmen Service Club members are much the same way. The Nanaimo charity group formed in 1967 over some beers and centennial cheers at the Tally Ho Pub. To this day, it is going strong and Nanaimo is its one and only chapter. They raise tens of thousands of dollars a year for all-local causes. They also pour tens of thousands of dollars worth of in-kind contributions and volunteerism into their community, and baseball is one of their chief loves.
Baseball brings people together, said Malpass, and baseball never ceases to draw in new people but never let go of anyone as they age. It's something that grows with you no matter who you are or where you are, he said.
When Nanaimo seemed set to take a step up in the baseball world, back in the 1970s, Malpass and the Serauxmen were gleeful. Their club's name is on the stadium because they took it upon themselves to lead the fundraising and logistics efforts to convert the former coal mine site into a ballpark that is still one of the best in B.C.
It opened in 1976 with a slate of celebrities on-site to throw the first pitches and cut all the ribbons. Malpass still glows at the memory of the top name on that fundraising ticket: the legendary superstar Mickey Mantle. Joining the Yankee Comet was another golden name from baseball's history, Red Sox Gold-Glover and two-time all-star Jim Piersall.
"We took them fishing and showed them a good time," said Malpass. "It cost the Serauxmen $5,000 to bring them in, which was a lot of money in 1976, but it worked really well. The place was packed."
But that wasn't the end of the Serauxmen commitment to Nanaimo baseball.
"Doug Rogers started the Nanaimo Pirates (of the BC Premier Baseball League) so his brother Danny and I used to do the equipment," Malpass said, and that volunteer effort carried over into the whole youth baseball league where they would outfit up to 800 kids each year with uniforms, belts, helmets, socks, the whole kit. He would go on buying trips that needed a truck. "It was like Christmas for us, but everything was for the kids."
A lot of the equipment distribution happened in that same room that eventually became the meeting space.
Malpass wore a lot of different volunteer caps over the years. He would paint the weathered spots on the fence, fix the broken boards on the bleachers, sweep the spilled popcorn, and he was a fixture in the concession kitchen. He grew up in the grocery industry and cooked in restaurants so this was his wheelhouse, but he also sold furniture, assembled satellite antennae, and other career moves that he always turned into a baseball double-play.
"I just love being at the stadium, being around baseball, being with baseball people, it's a special thing," he said. He pointed to the example of his friend Burt Lansdale who passed away and wanted his ashes scattered on the pitcher's mound at the stadium. As the ceremony was going on, as the congregation bowed their heads in prayer, the automatic sprinklers suddenly popped on without warning. Malpass chuckled that even the stadium itself wanted to pay respects to someone who loved being there so much.
"People have a connection to this sport, because it's more than a sport," he said.
"Look at what Jim's done (NightOwls General Manager Jim Swanson) with the team. The Owls were a team in Nanaimo in the 1920s which is where he dug up the name. It's paying respect, it's embracing tradition even when you're doing something new."
Malpass is excited to see the new team, the new league, and the new level of baseball Nanaimo has grown to embrace. He feels he, his friends, his neighbours, and the Serauxmen club members all had a hand in earning it. He'll gladly sacrifice more volunteer time and work on the home stadium to make it happen. It'll keep him as warm as any wood stove whose time has now passed.
That stove is not going to the scrap heap, though. Like the Owls name, it is just changing its context. The stove was a popular item for buildings that still could use that crackling heat, and it will be finding a home that will be fully aware of the history that comes with it.
Victoria HarbourCats – Baseball is Back! Golden Tide Split DH with VIU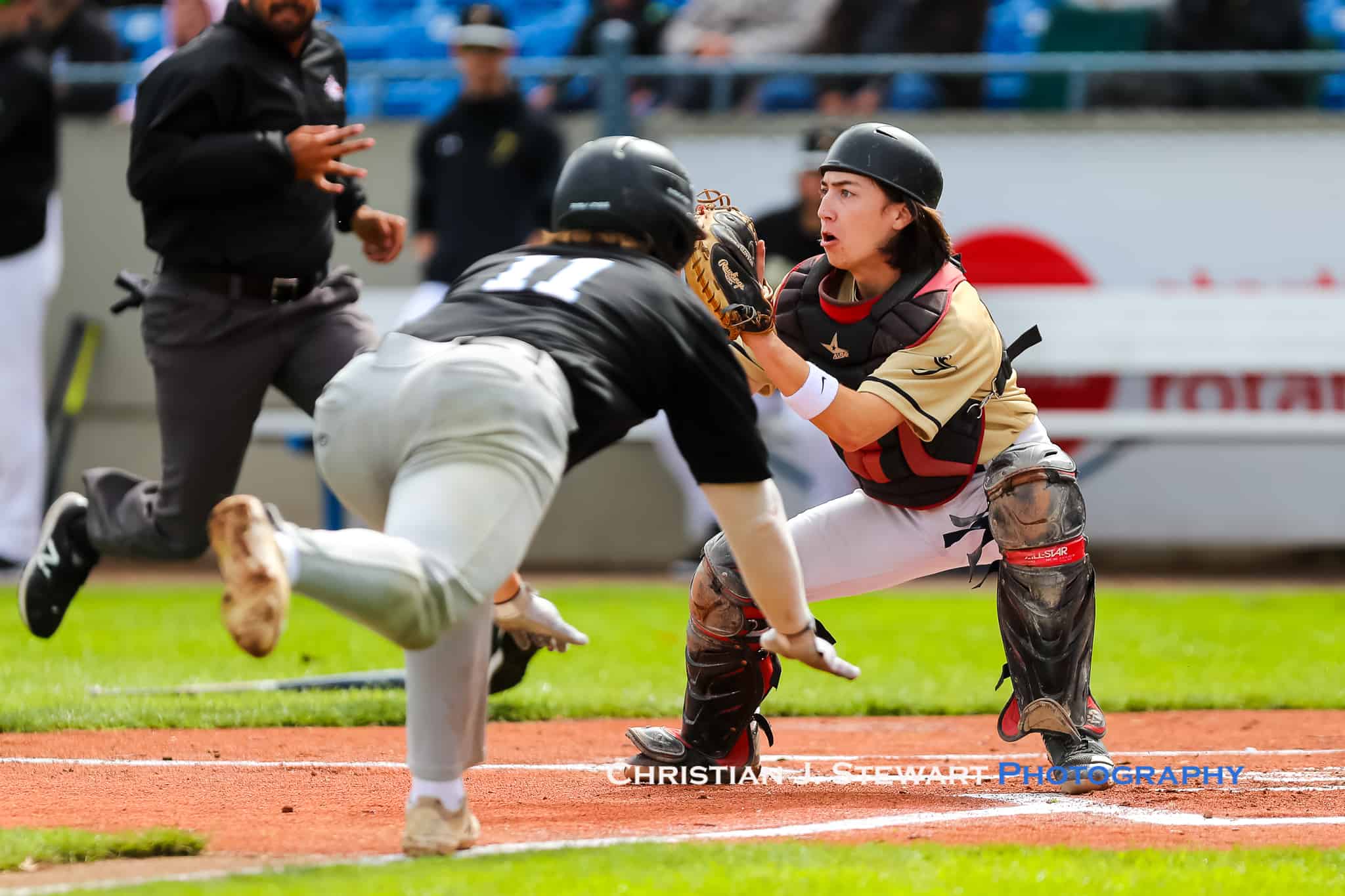 First baseball at Royal Athletic Park in over two years
Story and Photos by Christian J. Stewart
September 19, 2021, Victoria BC – The smell of hot dogs was in the air and the crack of the bat was back, as baseball made it's first appearance at Wilson's Group Stadium in over two years, as the Victoria Golden Tide hosted the Vancouver Island University Mariners in Canadian College Baseball Conference exhibition play.
A pretty decent crowd was on hand Sunday to witness the first baseball back at Royal Athletic Park in over two years (Photo: Christian J. Stewart)
Over 300 fans came out to enjoy the return of baseball on what turned into a beautiful fall day and they got their money's worth, watching an exciting 11-10 Mariners win in game one, with the home team rebounding for a 16-3 win in game two.
The Mariners, including Dillon Bowie were on base early and often against the Tide in game one (Photo: Christian J. Stewart)
In game one, the Mariners came in with their bats hot, vaulting themselves to a 10-2 lead after three innings of play, thanks in part to a second inning grand slam from Keegan Chard-Hill, but then watched as the Tide chipped their way back into the game.
VIUs Keegan Chard-Hill (right) is congratulated after his second inning grand slam in game one (Photo: Christian J. Stewart)
A big part of the Tide rally was their own grand slam homerun in the sixth inning by Alex McLauclan that made the score 10-7 at the time.
The Mariners would score what turned out to be the winning run in the seventh, and then hung on as the Tide scored two in the bottom of the eighth and another in the bottom of the ninth, leaving the tying run on base, as the Mariners escaped with the 11-10 win.
Victoria's Alex McLauclan launches his sixth inning grand slam in game one Sunday (Photo: Christian J. Stewart)
For the Mariners, Chard Hill led the way with his slam and an RBI single. Trevor Nicoll also had a single, triple, home run, four RBI and three runs scored, while Ty Farwell and Max Kolopeniuk added a single and double each.
For the Tide, in addition to his big blast, McLauclan added a single and pair of runs scored. Brady Alexandre, Brendan Morrison and Brandon Green also had a pair of hits each, while Tyler Burton had a double and run scored in the losing effort.
The Golden Tide's Brandon Craven head's to third base during the Tide's 16-3 game two win (Photo: Christian J. Stewart)
Jaden Patrick got the start for the Mariners and was effective through six innings of work, his only real mistake being the grand slam to McLauclan. Carter Chard-Hill, saw action in relief.
For the Tide, Triston Seitz got the start and was roughed up early. Nick Lee, Cameron Dunn and Haldon Craig all saw action in relief.
In game two, the Tide kept their offence rolling, jumping into a 4-1 lead after three innings of play and then cruising to an easy 16-3 win.
The Tide's Nate Horricks delivers a pitch in game two Sunday (Photo: Christian J. Stewart)
Nine of those runs came in the eighth inning, as a short staffed Mariners squad surrendered six walks in the innning, forcing the game to be called as a result of a mercy rule.
Leading the way for the Tide was Andrew Baxter with a single, double and pair of runs scored, while Austin Wall had a pair of hits and an RBI. Jaxson Cordle also had a pair of singles and a run scored.
The Tide's Austin Wall had a pair of hits and an RBI in the game two win (Photo: Christian J. Stewart)
On the mound, Wyatt Mohr-Royer got the start, giving up one run in his three innings of work. Nate Horricks and Ethan Lynn saw work in relief.
The Golden Tide are back in action next Saturday, September 25th as they host University of the Fraser Valley for a doubleheader at Wilson's Group Stadium. First game time is 1:00 pm. Tickets are just 5.00 and 10.00 and are available at the gate or in advance at the HarbourCats office at 101-1814 Vancouver Street, or by calling 778-265-0327.
Victoria HarbourCats – Golden Tide ready to roll
Mark Brennae named PA announcer for Golden Tide
VICTORIA, B.C. — The Victoria Golden Tide are ready to begin their 2021 Canadian College Baseball Conference (CCBC) Fall Season tonight – weather permitting – and when they do, a familiar voice will be the park voice of Victoria's newest sports team.
Mark Brennae (photo, right), well-known from his days on the afternoon drive at CFAX 1070, is as big a baseball fan as they come — he will never give up the dream of his beloved Expos returning to Montreal. A former beat writer for the AAA Ottawa Lynx, then the farm team of the Expos, Brennae covered the NHL and CFL for The Canadian Press for 15 years, and also worked in radio covering a variety of topics in Toronto and Ottawa, including Parliament Hill.
"We're glad to have Mark handling this key role for our new CCBC team, and he's excited to be behind the microphone," said Christian Stewart, Assistant GM of the parent Victoria HarbourCats.
The first game for the Golden Tide, operated by the HarbourCats, presented by Hub International Insurance and led by Head Coach Curtis Pelletier, is slated for tonight (Friday), 6pm first pitch against the Thompson Rivers University Wolfpack at Wilson's Group Stadium at RAP — the first baseball at the historic sports facility since August of 2019, when the HarbourCats played in the WCL final. The Golden Tide also have a doubleheader slated for 1pm on Sunday vs. the Nanaimo-based VIU Mariners. Gates for all games open one hour before the scheduled game time.
Some notes for the first home weekend of Golden Tide baseball:
FOOD TRUCKS AND TIDE GEAR
For a number of reasons, including COVID, there will be no beverage service and less-than-usual food options, but we are glad to announce that Greek on the Street and Little Piggy hotdog stand will be on site on Friday. Fans are welcome to bring their own food to this weekend's games, or take advantage of the food options. Limited merchandise will be available, Golden Tide and HarbourCats.
TICKETS
There will be tickets sold during the day at the HarbourCats office (1814 Vancouver St. or call 778-265-0327), and at the door (gates open 1 hour before game time), for $10 in the covered Main Grandstand, or $5 in the blue seats. Golden Tide Booster Club members have priority seating in the Campbell Club and Diamond Club (front row) seating area. Booster Club memberships are $200 and include admission to all fall and spring 2022 games, plus a free hat and t-shirt (contact chris@harbourcats.com to set up).
COVID CONSIDERATIONS
The Golden Tide and City of Victoria, owner of the facility, will follow the PHO guidelines for outdoor events. Masks are recommended, and vaccination cards are not required. All Golden Tide staff, volunteers, coaches and players are vaccinated, as required internally by the organization. We ask people to act with kind courtesy — we recommend that masks on when not actively eating or drinking, pay attention to distancing, and respect those who may have some discomfort in crowds as the pandemic is now in its 18th month.
WEATHER
Yes, the forecast is iffy. As none of us can control the weather, we wait, watch, and react — and hope the system moves over and douses someone else. In the case of a rainout, all tickets will be honored at a later Golden Tide game.
GOLDEN TIDE FALL HOME SCHEDULE
SEP. 17, 6PM – TRU WOLFPACK
SEP. 19, 1PM – VANCOUVER ISLAND UNIV. (DH*)
SEP. 25, 1PM – FRASER VALLEY (DH)
SEP. 26, 3PM – MID-ISLAND PIRATES (DH)
OCT. 2, 6PM – VICTORIA MARINERS
OCT. 16, 1PM – VAN. ISLE PREP (DH)
OCT. 17, 1PM – UBC (DH)
OCT. 23, 1PM – TBA (DH)
OCT. 24, 1PM – PARKSVILLE ROYALS (DH)
OCT. 26-31 INTERSQUAD WORLD SERIES
*DH = Double Header
Victoria HarbourCats – Rain wins, Friday game cancelled
VICTORIA, B.C. — Unplayable field conditions and an unfavourable forecast have combined to cancel tonight's planned home debut of the Victoria Golden Tide collegiate baseball team.
The Golden Tide's fall home schedule, presented by HUB International Insurance, was slated to open Friday at 6pm at Wilson's Group Stadium at RAP, vs. the Kamloops-based Thompson Rivers University Wolfpack, another team in the eight-team Canadian College Baseball Conference.
The Golden Tide, operated by the Victoria HarbourCats and with Head Coach Curtis Pelletier at the helm, will play a doubleheader on Sunday, Sept. 19, starting at 1pm vs. the Nanaimo-based Vancouver Island University Mariners. Gates open at noon, a hotdog stand will be at the games, fans are welcome to bring their own food.
NOTE — Masks are recommended, distancing will be respected, and all Golden Tide personnel are required to be vaccinated — the organization is following PHO orders for outdoor events, cards will not be required but it is highly recommended that all attendees be vaccinated.All tickets for tonight's game (Friday) will be able to be used at a future Golden Tide game this fall.
SUN SEP. 19, 1PM – VANCOUVER ISLAND UNIV. (DH*)
SAT SEP. 25, 1PM – FRASER VALLEY (DH)
SUN SEP. 26, 3PM – MID-ISLAND PIRATES (DH)
SAT OCT. 2, 6PM – VICTORIA MARINERS
SAT OCT. 16, 1PM – VAN. ISLE PREP (DH)
SUN OCT. 17, 1PM – UBC (DH)
SAT OCT. 23, 1PM – TBA (DH)
SUN OCT. 24, 1PM – PARKSVILLE ROYALS (DH)
OCT. 26-31 INTERSQUAD WORLD SERIES