Canada's Olympic hopes dashed after tough loss to Dominican Republic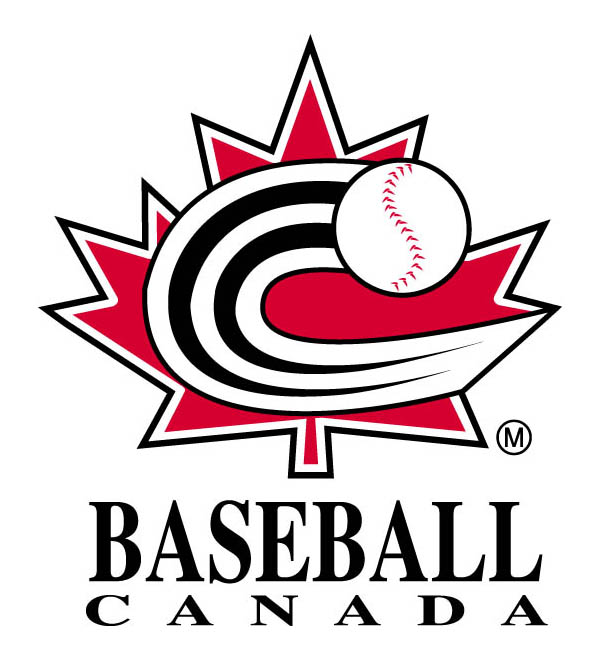 PORT ST. LUCIE, Florida – Canada's hopes of playing in the Tokyo 2020 Olympics are done after suffering a heartbreaking, 6-5 loss Saturday to the Dominican Republic on the final day of competition at the WBSC Baseball Americas Olympic Qualifier.
Canada had taken a 5-4 lead in the top of the eighth on a Daniel Pinero (Toronto, ON) RBI single, but the Dominicans replied with a pair of runs in the home half of the inning with the game-winning hit coming on a Julio Rodríguez two-out single to centre to give them a 6-5 lead.
Pinero led Canada's offence with four RBI including a two-run homer in the first that gave Canada a 3-0 lead before adding a solo blast in the sixth that drew Canada even after the Dominicans scored four unanswered runs to take a one-run lead after five innings.
The loss means that Canada will finish fourth in the Super Round standings with an 0-3 record and out of contention of continuing on a path to secure a spot in the Tokyo Olympics.  On Friday night, Canada kept things close against the USA, trailing 3-1 in the eighth, but ended up with a 10-1 loss after an unusual call, and subsequent eighth inning protest, ultimately resulted in the USA scoring seven runs in the bottom of the inning and putting the game out of reach.
"Needless to say, we're disappointed," said Canadian Manager Ernie Whitt. "I will say this, I'm very proud of all the guys, the effort they put forth.
"We left everything on the field, and that's something that Team Canada has always done. I know that's all we ask them to come and give it their best, and if we fall short, then that's the way it was meant to be."
"Our guys have nothing to hang their heads about," continued Whitt. "I'm very proud of the way they played. They conducted themselves extremely well.
"It's a great group of guys that seems like (Director of Men's National Teams) Greg Hamilton's always bringing together for us and they get along, it's almost like a fraternity. Everyone has their back and that's just the way that this organization is built."
Starting pitcher Andrew Albers (North Battleford, SK) battled through four innings on the mound where he allowed three runs on seven and three walks with two strikeouts.
Veteran arms Dustin Molleken (Regina, SK), Evan Rutckyj (Windsor, ON), Scott Mathieson (Aldergrove, BC) and John Axford (Port Dover, ON) followed with Mathieson taking the loss.
"I'm sure you know all the guys in the clubhouse but those veteran guys, they're our leaders, all of them," said Pinero after the game. "They're all leaders. And I know this might be their last time pitching on a big stage like this, and I can't thank them enough for what they've done for me and all the younger guys on this team.
"Scott Richmond, Axford, Mathieson, all those guys, and a lot more. They all take care of us. They lead this team. Without them, we wouldn't have gotten this far, that's for sure. On and off the field."
Ridge Meadows Rises to Championship Form!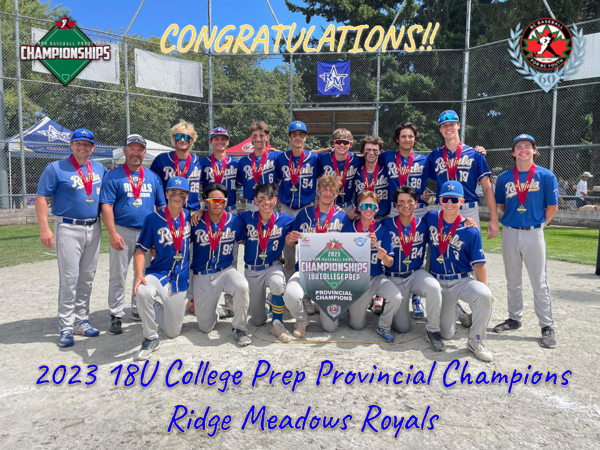 It would be fitting to see the top two teams from the Regular season' the #1 North Fraser Nationals and the #2 Ridge Meadows Royals, go head-to-head for the 2023 18U College Prep Provincial Championship! 
North Fraser entered the final tilt undefeated through the round-robin and their semi-final match, while Ridge Meadows had only stumbled once on the way there. 
In the end, it was Ridge Meadows and their ability to push runs across the dish that put them on top 6-1 when the dust finally settled handing North Fraser their only loss of the weekend. 
Congratulations to the Ridge Meadows Royals and all of their fans and supporters. You are the 2023 18U College Prep Provincial Champions!
Congratulations to the North Fraser Nationals and all of their fans and supporters on a stellar run to the top of the Regular Season Standings. 
Congratulations to all of our 2023 18U College Prep Players, Coaches, and Families. It's been a ride! See you in the Fall!
Ladner takes the 2023 John Main 13U Invitation Crown!
Ladner takes the 2023 John Main 13U Invitation Crown!
By BCMBA, 05/28/23, 4:00PM PDT
Share
Cole Hudie finishes it with a 3-run shot to lift Ladner to a 5-2 W over Chilliwack and claim the BCMBA 2023 John Main 13U Invitational Championship Title! Thank you to our hosts and their families, Ridge Meadows and Cloverdale, our BCMBA Volunteer Directors, and everyone who participated!!
The 2023 John Main 13U Invitational is underway!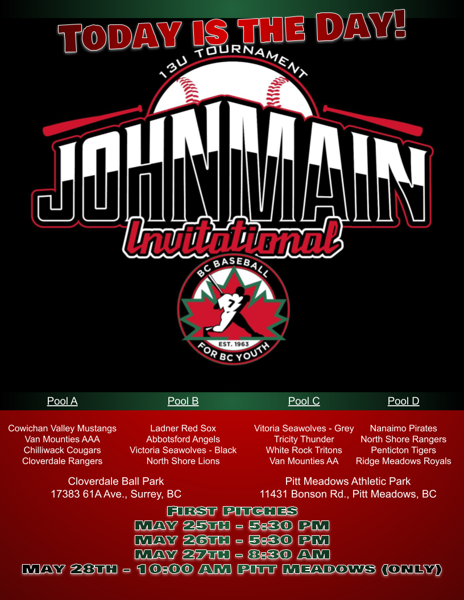 The 2023 John Main 13U Invitational is underway!
By BCMBA, 05/25/23, 9:00AM PDT
Share
The 2023 BC Minor Baseball John Main 13U Invitational has arrived. All weekend long, come down and check out some of the future stars of our game! Dates, times, locations, and results can be found here:
2023 John Main 13U Invitational