Canada begins Olympic Qualifiers with no-hitter over Columbia
WEST PALM BEACH, Florida – Larry Walker made Canadian baseball history becoming just the second Canadian-born player elected to the National Baseball Hall of Fame in January 2020.
He threw out the ceremonial first pitch Monday night before Canada's opening game at the WBSC Baseball Americas Olympic Qualifier against Colombia, sat down in the stands and watched history unfold as three Canadian pitchers combined to throw a no-hitter as part of a 7-0 win.
Veteran hurler Andrew Albers (North Battleford, SK) was brilliant on the mound working seven innings with  seven strikeouts and retiring 20 batters in a row after a one-out hit-by-pitch in the top of the first inning.
"I can't say enough about (Albers)," said Canada manager Ernie Whitt. "He commanded the strike zone, changed speeds and had their hitters off balance and when they did put the ball in play we defended very well."
Relievers Brendan McGuigan and Ben Onyshko (Winnipeg, MB) both tossed scoreless innings in the eighth and ninth to preserve the no-hitter and win for Canada.
The no-hitter is the first thrown in Baseball Canada national team history since London, Onatrio's Harry Muir no-hit France, 10-0, at the World Youth (U18) Championships in Cuba in 1990.
"It was a great way to start the tournament," said Albers. "It's really nice when the offence goes out and puts up six runs for you and we played great defence behind me so all in all it's a great night for us and a great start."
Canada's offence was led by Jacob Robson (Windsor, ON) who collected three hits including a bases clearing triple in the second inning to put Canada in front by five after he scored a run as part of a two-run first.
Connor Panas (Etobicoke, ON) followed with a single to centre to score Robson and chase Colombia starting pitcher Erling Moreno from the game.
In the seventh, Canada's Eric Wood (Oshawa, ON) drilled a monster solo home run to left that gave Canada a 7-0 lead.
"We've been talking about cutting (our) swings down and putting the ball in play so that things can happen (offensively)," said Whitt. "Colombia had three errors today and walks so that helped too."
The story of the game was Albers who has pitched in some big contests over the last ten years with a national team uniform on including picking up the win when Canada won a gold medal at the 2011 Pan Am Games.
At 35-years-old, he's counted on as a leader in Canada's clubhouse.
"It's nice coming here, getting into this environment where everything that goes on during a game, good or bad, it doesn't matter as long as you win," he said.
Canada will travel to St. Lucie tomorrow to face Cuba (0-1) at Clover Park with the first pitch set for 7PM ET.
The game can be seen on the CBC Sports streaming platform in Canada and ESPN + in the United States.
Links:
WBSC Baseball Americas Olympic Qualifier website
CANADA Roster
CANADA Bios
Follow Team Canada on Social:
Ridge Meadows Rises to Championship Form!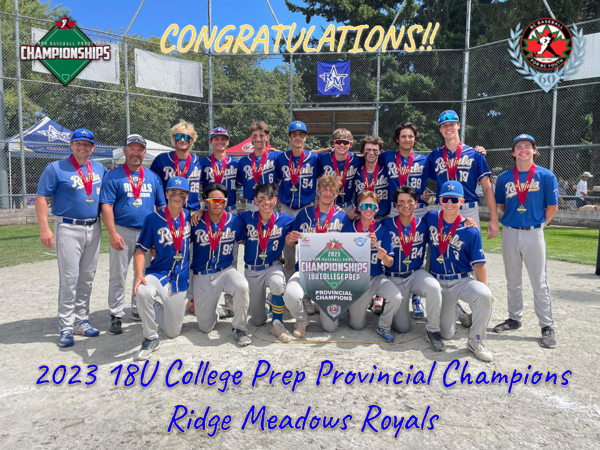 It would be fitting to see the top two teams from the Regular season' the #1 North Fraser Nationals and the #2 Ridge Meadows Royals, go head-to-head for the 2023 18U College Prep Provincial Championship! 
North Fraser entered the final tilt undefeated through the round-robin and their semi-final match, while Ridge Meadows had only stumbled once on the way there. 
In the end, it was Ridge Meadows and their ability to push runs across the dish that put them on top 6-1 when the dust finally settled handing North Fraser their only loss of the weekend. 
Congratulations to the Ridge Meadows Royals and all of their fans and supporters. You are the 2023 18U College Prep Provincial Champions!
Congratulations to the North Fraser Nationals and all of their fans and supporters on a stellar run to the top of the Regular Season Standings. 
Congratulations to all of our 2023 18U College Prep Players, Coaches, and Families. It's been a ride! See you in the Fall!
Ladner takes the 2023 John Main 13U Invitation Crown!
Ladner takes the 2023 John Main 13U Invitation Crown!
By BCMBA, 05/28/23, 4:00PM PDT
Share
Cole Hudie finishes it with a 3-run shot to lift Ladner to a 5-2 W over Chilliwack and claim the BCMBA 2023 John Main 13U Invitational Championship Title! Thank you to our hosts and their families, Ridge Meadows and Cloverdale, our BCMBA Volunteer Directors, and everyone who participated!!
The 2023 John Main 13U Invitational is underway!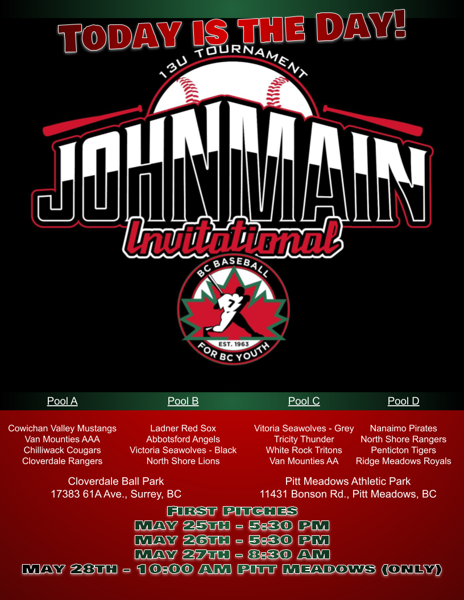 The 2023 John Main 13U Invitational is underway!
By BCMBA, 05/25/23, 9:00AM PDT
Share
The 2023 BC Minor Baseball John Main 13U Invitational has arrived. All weekend long, come down and check out some of the future stars of our game! Dates, times, locations, and results can be found here:
2023 John Main 13U Invitational