There is no good reason for your Managers, Coaches, Players and/or Parents/Guardians to be ejected from any baseball games played this year… or any year actually. So, if they decide to push that button, I'd like to introduce Ryan Hall, BCMBA Director and Discipline Chair. Ryan is a trained and experienced Discipline Authority within administrative law. Ryan will be receiving all ejection reports this year and will be following up with Association Presidents as per Rule 13.13. If when they made the decision to leave the game and abandon their team they will get the usual one game suspension for minor infractions (See Rule 13.02) but if they take it to the major infraction level (See Rule 13.03) they will be inviting Ryan into your world.
You can contact Ryan at any time through our web site at;
https://www.bcminorbaseball.org/baseball-executives.
Being ejected is a terrible message to send to youth athletes and fans. It provides zero educational value in teaching our young athletes how to deal with adversity. Just like players and coaches, umpires are not perfect. They are trying their best to be neutral and make the right call(s).
BCMBA, the BCBUA and Baseball BC are working together this year in hopes of delivering a safe place for everyone attending and participating in our baseball events. To be clear, the umpires and/or any game official, are not to be disrespected, bullied or put in a position where they no longer find themselves in a safe environment and/or place. Just like everyone else involved, they are learning their craft and can only do that in a safe place.
Coaches should all by now have taken the Safe Sport Module of the NCCP Coaching Certification requirements. It is a requirement for all coaches, if they haven't, here is the link. https://coach.ca/safe-sport-training
Please, everyone, read through Rule 13 as many times as needed to be familiar with it, thank you. Also, if you see something going on during an event/game that may lead to an incident it's up to you to step up and be part of the Safe Sport team.
Ridge Meadows Rises to Championship Form!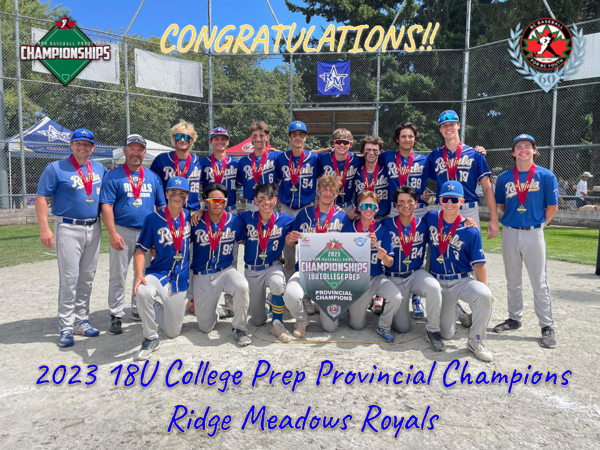 It would be fitting to see the top two teams from the Regular season' the #1 North Fraser Nationals and the #2 Ridge Meadows Royals, go head-to-head for the 2023 18U College Prep Provincial Championship! 
North Fraser entered the final tilt undefeated through the round-robin and their semi-final match, while Ridge Meadows had only stumbled once on the way there. 
In the end, it was Ridge Meadows and their ability to push runs across the dish that put them on top 6-1 when the dust finally settled handing North Fraser their only loss of the weekend. 
Congratulations to the Ridge Meadows Royals and all of their fans and supporters. You are the 2023 18U College Prep Provincial Champions!
Congratulations to the North Fraser Nationals and all of their fans and supporters on a stellar run to the top of the Regular Season Standings. 
Congratulations to all of our 2023 18U College Prep Players, Coaches, and Families. It's been a ride! See you in the Fall!
Ladner takes the 2023 John Main 13U Invitation Crown!
Ladner takes the 2023 John Main 13U Invitation Crown!
By BCMBA, 05/28/23, 4:00PM PDT
Share
Cole Hudie finishes it with a 3-run shot to lift Ladner to a 5-2 W over Chilliwack and claim the BCMBA 2023 John Main 13U Invitational Championship Title! Thank you to our hosts and their families, Ridge Meadows and Cloverdale, our BCMBA Volunteer Directors, and everyone who participated!!
The 2023 John Main 13U Invitational is underway!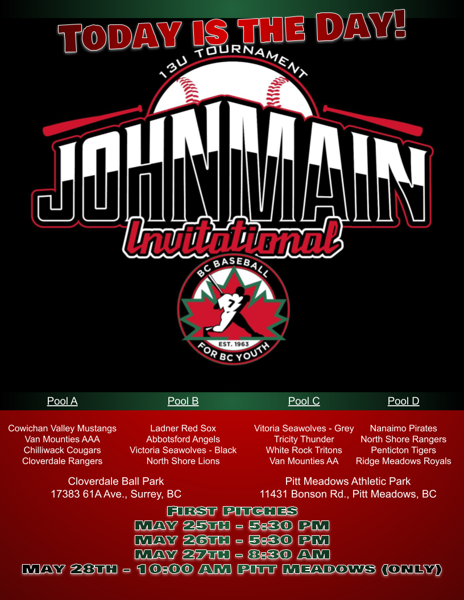 The 2023 John Main 13U Invitational is underway!
By BCMBA, 05/25/23, 9:00AM PDT
Share
The 2023 BC Minor Baseball John Main 13U Invitational has arrived. All weekend long, come down and check out some of the future stars of our game! Dates, times, locations, and results can be found here:
2023 John Main 13U Invitational