Victoria HarbourCats | Anawim House Sock Toss to be held July 15, 2021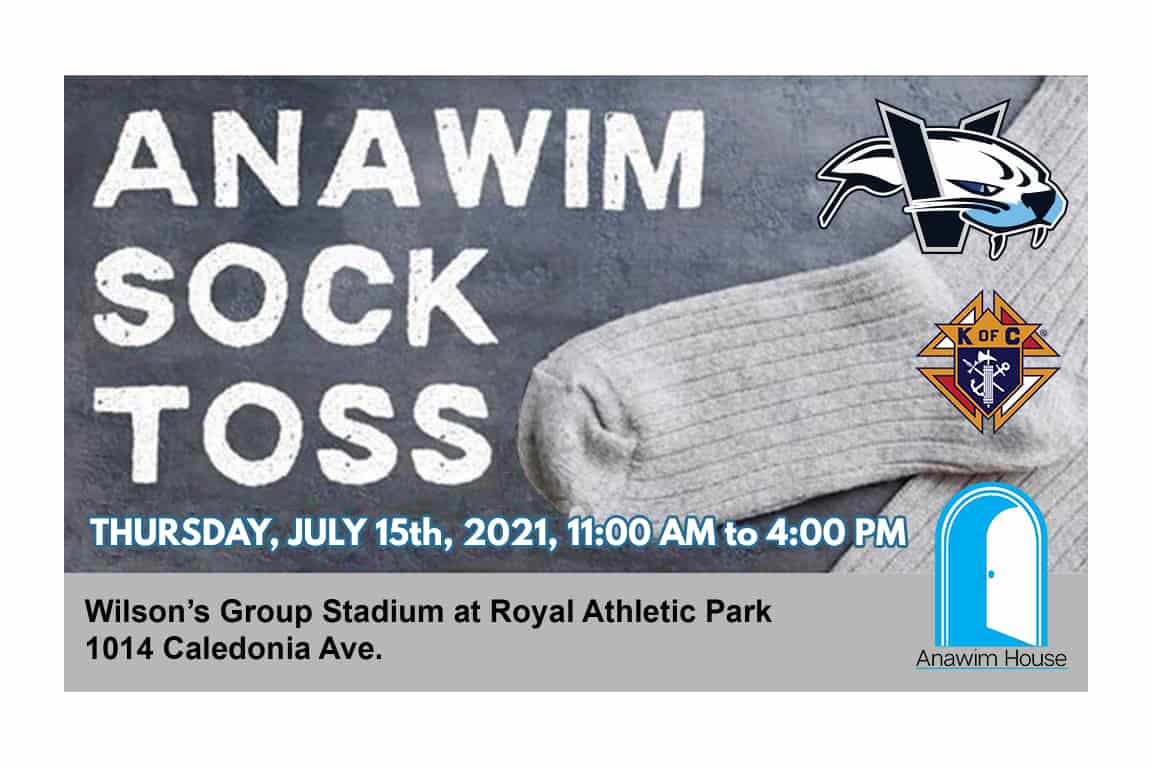 Despite loss of season, HarbourCats once again providing support to local community organizations
FOR IMMEDIATE RELEASE
July 6, 2021
VICTORIA, B.C. — It is that time of year again, even without a season, when the Victoria HarbourCats do their part to support the local community and with the help of the Knights of Columbus Council 13356, from St. Joseph The Worker, the HarbourCats will be holding their annual SOCK TOSS for Anawim House on Thursday July 15, from 11:00am to 4:00pm.
Normally an event held during a HarbourCats game, this year's event, as it was last year, will be held just outside the home plate gates of Wilson's Group Stadium at Royal Athletic Park, along Caledonia Avenue, where fans will be able to toss new or used/laundered socks over the fence of the stadium toward numbered prize buckets, with the socks going to use with Anawim's programs. People can also make cash donations that day to Anawim's efforts.
Last year's event raised over $650.00 for Anawim House and resulted in 400 pairs of socks being donated and the HarbourCats, Anawim House and the Knights of Columbus hope to exceed those totals this year.
"Anawim is truly a leader in the North Park neighbourhood and we are proud to be their neighbours and to work so closely with them," said Jim Swanson, Managing Partner of the HarbourCats. "The people who run Anawim, they get it. They see the needs, and they work to address them. We are sad that we can't be doing this event in the park again this year, but last year's event, in the middle of a pandemic, was amazing and we hope to top those efforts this year."
Fans can bring their own used or new socks to toss, but socks will also be available for purchase at the booth on the day, with all proceeds going to Anawim House. Prizes available will include, but not be limited to HarbourCats tickets and merchandise, golf passes to local courses, gift cards from local businesses and other items donated by the community.
The HarbourCats, Knights of Columbus and Anawim House challenge everyone to make time on Thursday, July 15, to come to Wilson's Group Stadium and throw socks over the fence and support a great cause!
For details on Anawim House and their mission and programs, please visit https://www.anawimhouse.com/
SUPPORT YOUR HARBOURCATS! WE NEED YOUR HELP MORE THAN EVER!
Two summers in a row without baseball has been simply devastating for us, but we are confident that there will be a celebratory return to the diamond and the ballpark in 2022. To help us get there, we need your support. If you have been doing well throughout this pandemic, please consider supporting us in any of the following ways:
2022 Season tickets — "We're Brand New in 2022!" Or as the saying goes, "What's old is new again!" New players, some new coaches, some new seating changes, new promotions! Come and jump on the HarbourCats bandwagon and see the "new" team in town! Purchasing season tickets is the best way to help, one that guarantees you seats to all our games (usually 35 per year or so) plus other season ticket holder perks. Contact chris@harbourcats.com for details.
10-Game Flex Packs / Vouchers — Don't want to commit, or can't commit to season tickets? Consider 10-game flex packs – anytime vouchers that can be used in any combination…10 tickets at one game, 1 ticket at 10 games or anything in between. For you, for your friends, for your staff. Season ticket voucher equivalents are also available. Flex Packs can be purchased at the office and are also available on-line at THE CAT SHOP.
Corporate Partnerships – Want to put your company name or brand in front of our 80,000-100,000 fans we anticipate in 2022? Or know someone who does? Consider joining us as a partner. From a simple program ad, to the most complex of game day sponsorship, complete with signage and tickets, we will customize any campaign to suit your needs and budget. And with our new HCATS.TV platform and our ownership group's expansion of a new team in Nanaimo in 2022, the opportunities are now Island wide! Contact john@harbourcats.com for details.
Fundraising / 50-50 – Have an organization that needs to raise funds now? A $1000 investment buys you 100 anytime 2022 game vouchers for our Premium Reserved seats that you can then turn around and sell NOW for $20 each, earning you your investment back, plus another $1000 in return. We will then hold a 50-50 date for you in 2022 and you can bring your group to the park to sell that game, taking home 50% of the proceeds. Contact chris@harbourcats.com for details.
Merchandise – Consider a HarbourCats merchandise purchase from our store at 1814 Vancouver Street, or from our on-line store, THE CAT SHOP. We have lots of stock that needs to go!
OFFICE HOURS
We are officially open Monday through Friday 10:00 am to 5:00 pm, but may be away at meetings, or dealing with other issues. Best to call 778-265-0327 before venturing over to make sure. Closed Saturday and Sunday.
Victoria HarbourCats – You're Invited!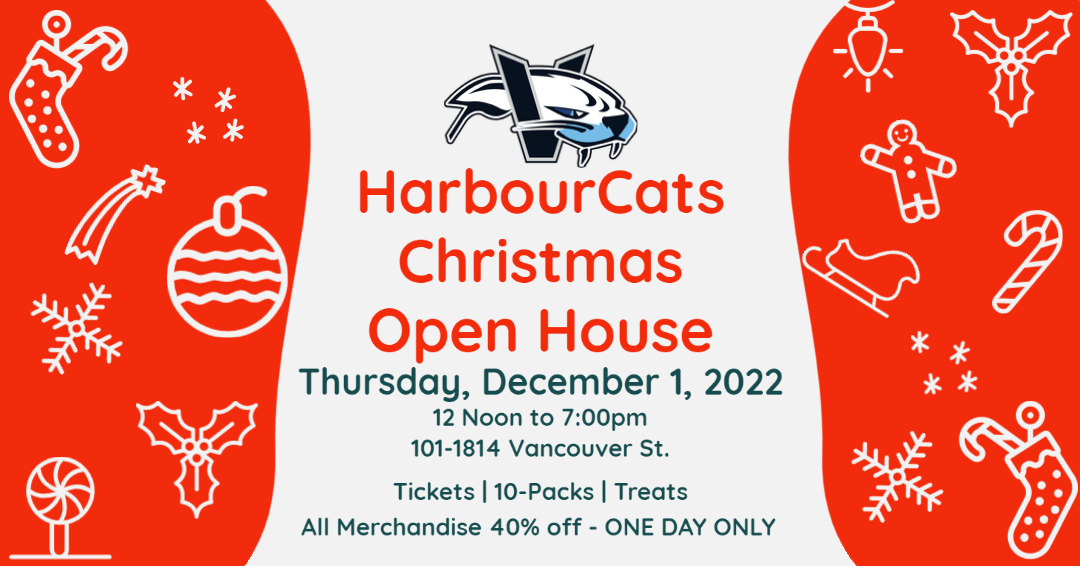 Please join us at the office on Thursday, December 1, 2022 from 12 Noon to 7:00 pm for our annual Christmas Open House!
Join us for some Christmas cheer and to grab Christmas gifts for all the HarbourCats fans on your Christmas list!  Renew or purchase 2023 season tickets, grab some 10-game flex packs, or purchase single-game tickets for 2023 which also go on sale that day too!  Plus ALL MERCHANDISE on sale for 40% off – ONE DAY ONLY!
2023 Single-Game Tickets Also on Sale!
2022 Christmas Flex-Pass Special Now Available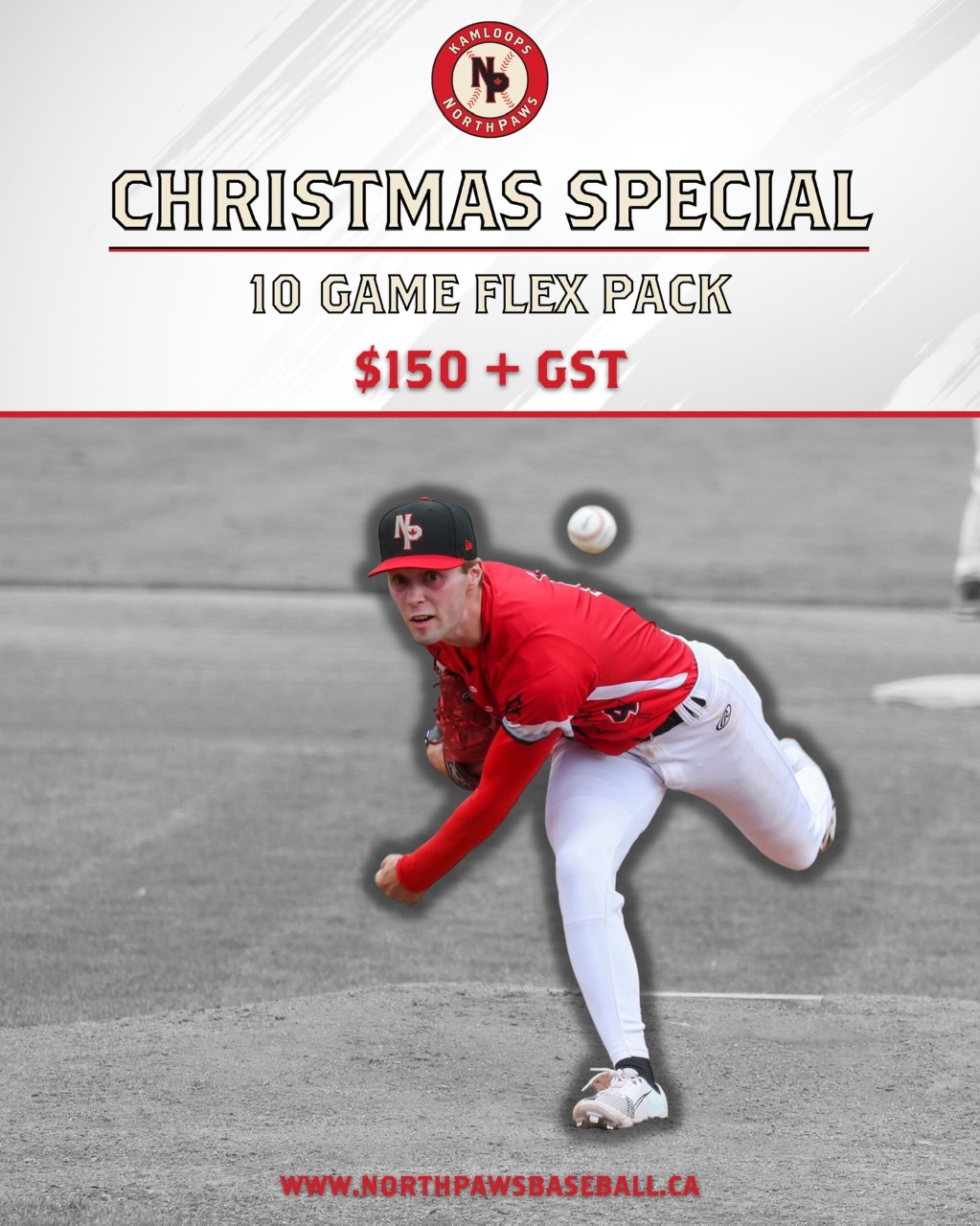 2022 Christmas Special is here! You can buy a 10-Game Flex Plan for the 2023 season. Similar to a season ticket but more like a discounted Northpaws Value Card, a Flex Plan is a way to buy early and at a discount.
Purchasing Flex Plan tickets will give you the option to choose the games that you would like to attend, along with the seats that you would like to choose.
Flex Plan holders will be able to use our ticket portal to choose games for the season. Seat and game selection will be done on a first come, first served basis. Flex Plan holders will be able to choose their seats before Game Day tickets go on sale.
Spend $150.00 (plus tax) for a 10-game Flex Plan and receive credit to purchase 10 seats for the games you want.
A receipt is issued upon purchase and your account will have a balance you can use to buy future tickets.
Please contact info@northpawsbaseball.ca for any inquiries.
https://tickets.northpawsbaseball.ca/events/23828-christmas-10-game-flex-plan
Victoria HarbourCats – In 2023, HarbourCats celebrating 10th Anniversary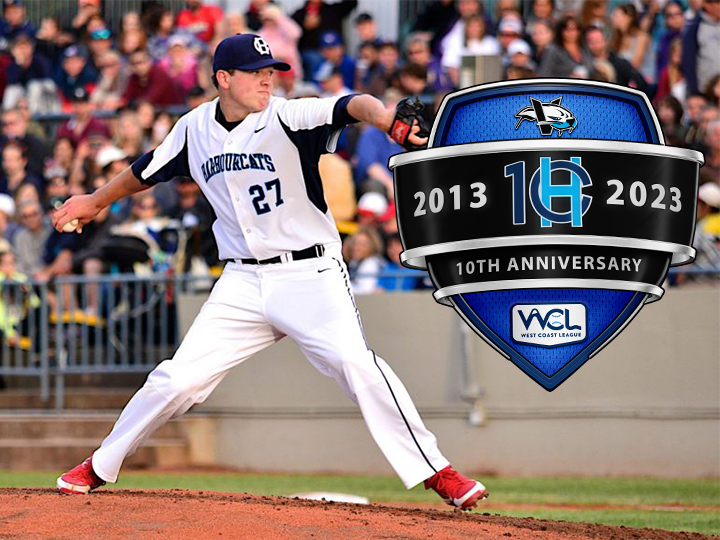 Above: Nick Pivetta throws the first pitch in HarbourCats history on June 5, 2013 (Photo David Nicholls)
For immediate release
November 22, 2023
VICTORIA, B.C. — It's the first truly major milestone for your Victoria HarbourCats, and it's well worth celebrating.
The West Coast League team will be marking 10 years since inception, that first season in 2013, when the team takes the field in June of 2023. And the HarbourCats will do it while both harkening back to the roots of the baseball club and officially recognizing part of what has become the fabric of the 'Cats, along with welcoming a new twist.
"No one can say these 10 years have been boring, that's for sure," said HarbourCats Managing Partner/GM Jim Swanson. "From that eventful first season including hosting the All-Star Game, to setting attendance and win-streak records, to an ownership shift and welcoming new partners, to making regular trips deep into the playoffs — the list of accomplishments is very long.
"The league is now in an official partnership with Major League Baseball as well. Cap that with three of our players making the MLB level (Nick Pivetta, Andrew Vaughn and Alex DeGoti), and the HarbourCats continue to be a success in Victoria in every way.
"We look forward to the next 10 years at Wilson's Group Stadium at RAP, and beyond."
The team is proud to unveil a 10-year anniversary patch, that will be used on uniforms and merchandise this year — one that takes the team's traditional HC cap logo and adds an intertwining twist with the letters. The traditional HC will remain the primary cap logo, the historic foundation, with the new twist a look to the future and another sharp option.
The HarbourCats are also officially adding the colour red to the team's palette, something that grew out of ongoing work with Rawlings Canada in 2016 and the unveiling of the wildly-popular red CATS jerseys, originally planned to do little more than recognize Canada Day — but became such a smash with players and fans alike, they kept making their way to the field. The adoption of red replaces a spot colour of yellow that was supposed to be part of the original uniform options, but outside of one small run of caps, was never used.
The team will continue to proudly wear the Canada-tinged RED CATS jerseys both home and away, as that popular eye-popping alternate. White home jerseys, the highly-acclaimed all-baby blue set, the road navy HC jerseys, and the VicPD Forces Friday version will help celebrate the 10-year mark on the field in 2023. The white home jerseys are planned for the annual Odlum Brown Jersey Off Your Backs giveaway set, so a new white version will be revealed in 2024. (Early plans are for the red Cats set to be given away to fans late in the 2024 season, with a new replacement set in place for 2025.)
The HarbourCats red jerseys are being officially incorporated into the team's colour scheme in 2023.
The bright addition of red — shown so prominently by co-owner Helen Edwards everywhere she goes, in her red/white HC cap — is also joined by the official recognition of the V-Cat hat logo as a secondary logo. The on-field cap for 2023 will be the Expos-inspired tri-colour fitted New Era cap with the V-Cat emblem (see below), a nod to HarbourCats Head Coach Todd Haney, who made his MLB debut with the Expos in 1992. Haney is the longest-serving manager in team history, in charge of the lineup since 2019 and signed through the summer of 2026.
"This is an important time to plan and get ahead of the curve, and we are excited about some of the new things that will thrill fans in 2023 — the two years away due to the pandemic have rekindled our energies, both at the field and with our online platforms," said Swanson.
The HarbourCats have a number of special promotional days lined up to help celebrate the 10th Anniversary season in 2023.  Some of those special events, the Top 10 of the HarbourCats 2023 promotions if you will, include:
1. 10th ANNIVERSARY OPENING NIGHT, Friday June 2, 2023, 6:35pm against the Kamloops NorthPaws
2. FIREWORKS, with The Wilson's Group of Companies, Saturday June 3, 2023, 6:35pm against the Kamloops NorthPaws
3. SCHOOL SPIRIT GAME, with Mayfair Optometric Clinic, Wednesday, June 7, 2023, 11:05am against the Walla Walla Sweets
4. FATHER's DAY GAME, Sunday, June 18, 2023, 1:05pm against the Yakima Valley Pippins
5. CANADA DAY FIREWORKS, Friday, June 30, 2023, 6:35pm against the Bellingham Bells
6. CANADA DAY MATINEE, Saturday, July 1, 2023, 1:05pm against the Bellingham Bells
7. HARVEY's 10th BIRTHDAY CELEBRATION, Saturday, July 15, 2023, 6:35pm against the Wenatchee AppleSox
8. BARK IN THE PARK, with Bosley's on Yates, Sunday, July 16, 2023, 1:05pm, against the Wenatchee AppleSox
9. 10th ANNIVERSARY CELEBRATION FIREWORKS, Saturday, July 29, 6:35pm against the Kelowna Falcons
10. 10th ANNIVERSARY JERSEY OFF OUR BACKS NIGHT, with Odlum Brown, Wednesday, August 2, 6:35pm against the Nanaimo NightOwls
2023 Season Tickets
Season ticket renewals and new season ticket sales are now underway for 2023, the HarbourCats 10th Anniversary season!  Lock in the best seats in the house by the end of November prior to single-game tickets going on sale. Existing Season Ticket holders should also renew their seats by the end of the month!  Contact chris@harbourcats.com or call the office at 778-265-0327 for details or to renew your existing seats!
2023 Flex-Packs
2023 10-Game and Season Ticket Equivalent Flex Pack vouchers are also now on sale! These can be purchased at the office in-person or by phone and can also be ordered on-line via The Cat Shop at https://victoria-harbourcats-official.myshopify.com/products/10-game-flex-pack-general-admission.    All flex pack vouchers will be eligible to be exchanged for games in the 2023 season once single-game tickets are available (see below).
2023 Single Game Tickets
Single-game tickets for the HarbourCats 10th Anniversary season will be available both on-line and in person at the HarbourCats office starting at 10:00am December 1, 2022. At that time, 10-game flex pack vouchers will be eligible to be exchanged for games in the 2023 season.
Stay tuned to all of our social media for updates and details as they become available.
Web: www.harbourcats.com
Facebook: https://www.facebook.com/harbourcats
Facebook Fan Community: https://www.facebook.com/groups/harbourcats
Twitter: https://twitter.com/harbourcats
Instagram: https://www.instagram.com/harbourcats