Victoria HarbourCats | HarbourCats send six to pro ranks via 2021 MLB Entry Draft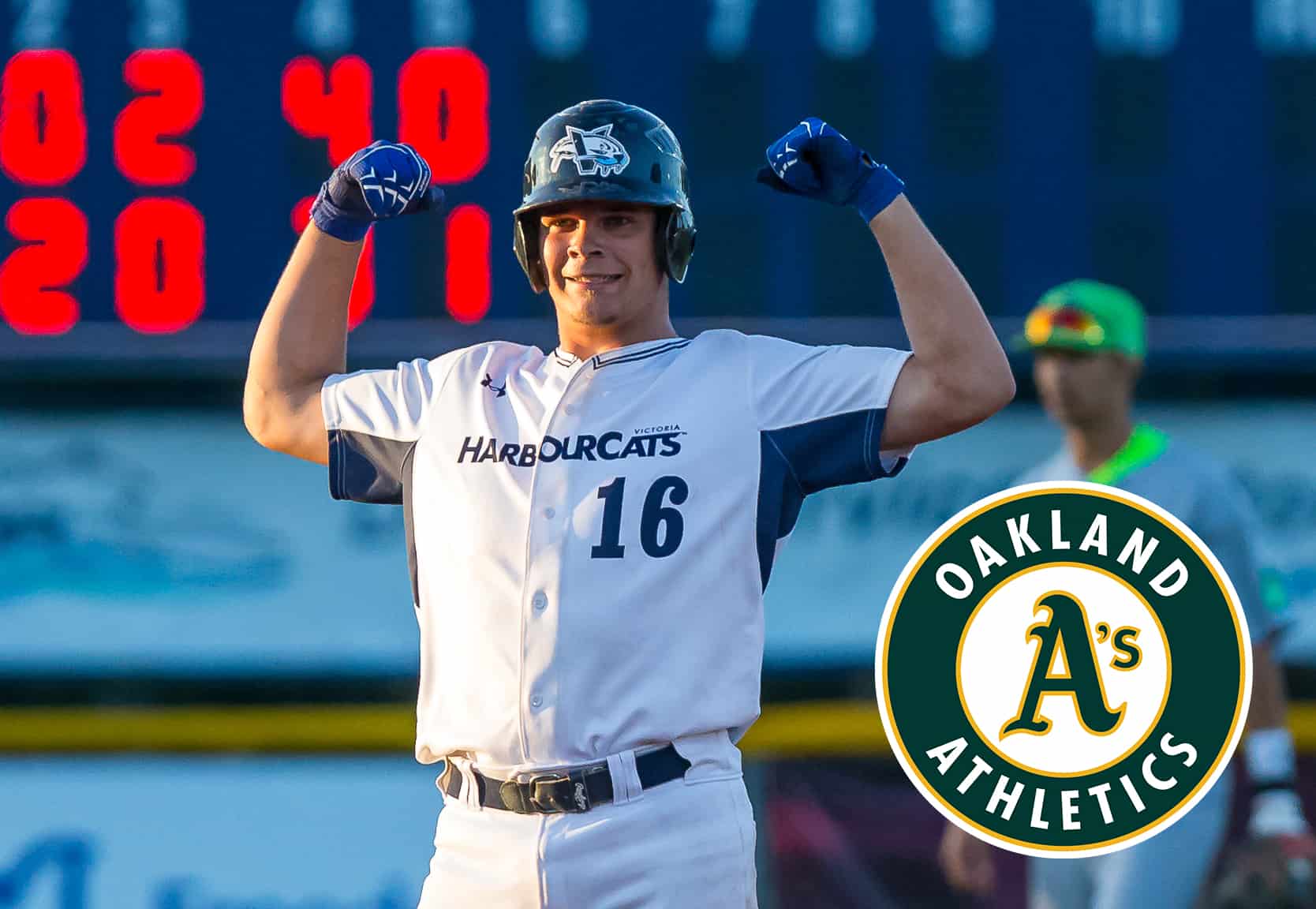 2017 Player of the Year Shane McGuire (above) heads up 2021 MLB Draft class
For Immediate Release
July 13, 2021
Victoria, BC – The Victoria HarbourCats are very proud to announce today that six former Victoria HarbourCats have been selected in the 2021 Major League Baseball (MLB) entry draft.
Today's draft result is a direct testimony to the quality of player development that the HarbourCats have emphasized over the years and along with the other players drafted from the West Coast League (40 overall), is a testament to the quality of baseball that the league provides for its fans.
Leading the way in the 2021 draft was 2017 Player of the Year Shane McGuire (San Diego), who was selected in the 9th round of the MLB Draft (278th overall) by the Oakland Athletics. McGuire came to the HarbourCats as an incoming freshman and simply dominated, hitting .451 with four home runs and 32 RBI in 26 games. He was perhaps the best catcher and one of the most well-rounded players in HarbourCats team history.
Rowdey Jordan
Other HarbourCats drafted this year include:
2018 HarbourCat Rowdey Jordan, OF (Mississippi State) who was drafted by the New York Mets in the 11th round (322nd overall);
2019 HarbourCat Jack Neely, RHP (Ohio State) who was drafted by the New York Yankees in the 11th round (333rd overall);
2018 HarbourCat Owen Sharts, RHP (Nevada) selected by the Pittsburgh Pirates in the 13th round (373rd overall);
Former HarbourCat Wyatt Young, IF (Pepperdine) who was selected by the New York Mets in the 15th round (442nd overall); and
2017 HarbourCat Luke Boyd, RHP (Baylor) who was drafted by the San Diego Padres in the 17th round (520th overall).
Jack Neely
Also selected in the draft were three players who were signed to play for the HarbourCats, but for various reasons, COVID included, did not make their way to Victoria. These include:
Aaron Davenport, RHP (Hawaii), 6th round (186th overall) by Cleveland Indians;
Marcos Castanon, IF (UCSB), 12th round (370th overall) by San Diego Padres; and
Damiano Palmegiani, OF (Southern Nevada), 14th round (422nd overall) by Toronto Blue Jays.
"With only 20 rounds in this draft, down from 40 in 2019, this is a tremendous draft for so many in our organization," said HarbourCats Managing Partner Jim Swanson. "These young men are tremendous ambassadors for their schools, their families, and our organization, and they have worked very hard to earn a pro opportunity like this. The HarbourCats program is second to none on Vancouver Island for development of top athletes and people."
Owen Sharts
The Victoria HarbourCats will continue their quest to develop more MLB draft picks in 2022 when they resume play in the West Coast League following two years off due to the COVID pandemic. Season tickets and 10-game flex packs are now on sale. The 2022 schedule is anticipated to be released in October at which time single-game tickets will go on sale.
Full details on all West Coast League players drafted in 2021 can be found at https://westcoastleague.com/
Wyatt Young
Luke Boyd
SUPPORT YOUR HARBOURCATS! WE NEED YOUR HELP MORE THAN EVER!
Two summers in a row without baseball has been simply devastating for us, but we are confident that there will be a celebratory return to the diamond and the ballpark in 2022. To help us get there, we need your support. If you have been doing well throughout this pandemic, please consider supporting us in any of the following ways:
2022 Season tickets — "We're Brand New in 2022!" Or as the saying goes, "What's old is new again!" New players, some new coaches, some new seating changes, new promotions! Come and jump on the HarbourCats bandwagon and see the "new" team in town! Purchasing season tickets is the best way to help, one that guarantees you seats to all our games (usually 35 per year or so) plus other season ticket holder perks. Contact chris@harbourcats.com for details.
10-Game Flex Packs / Vouchers — Don't want to commit, or can't commit to season tickets? Consider 10-game flex packs – anytime vouchers that can be used in any combination…10 tickets at one game, 1 ticket at 10 games or anything in between. For you, for your friends, for your staff. Season ticket voucher equivalents are also available. Flex Packs can be purchased at the office and are also available on-line at THE CAT SHOP.
Corporate Partnerships – Want to put your company name or brand in front of our 80,000-100,000 fans we anticipate in 2022? Or know someone who does? Consider joining us as a partner. From a simple program ad, to the most complex of game day sponsorship, complete with signage and tickets, we will customize any campaign to suit your needs and budget. And with our new HCATS.TV platform and our ownership group's expansion of a new team in Nanaimo in 2022, the opportunities are now Island wide! Contact john@harbourcats.com for details.
Fundraising / 50-50 – Have an organization that needs to raise funds now? A $1000 investment buys you 100 anytime 2022 game vouchers for our Premium Reserved seats that you can then turn around and sell NOW for $20 each, earning you your investment back, plus another $1000 in return. We will then hold a 50-50 date for you in 2022 and you can bring your group to the park to sell that game, taking home 50% of the proceeds. Contact chris@harbourcats.com for details.
Merchandise – Consider a HarbourCats merchandise purchase from our store at 1814 Vancouver Street, or from our on-line store, THE CAT SHOP. We have lots of stock that needs to go!
OFFICE HOURS
We are officially open Monday through Friday 10:00 am to 5:00 pm, but may be away at meetings, or dealing with other issues. Best to call 778-265-0327 before venturing over to make sure. Closed Saturday and Sunday.
NorthPaws Single-Game Tickets Available for 2022 Season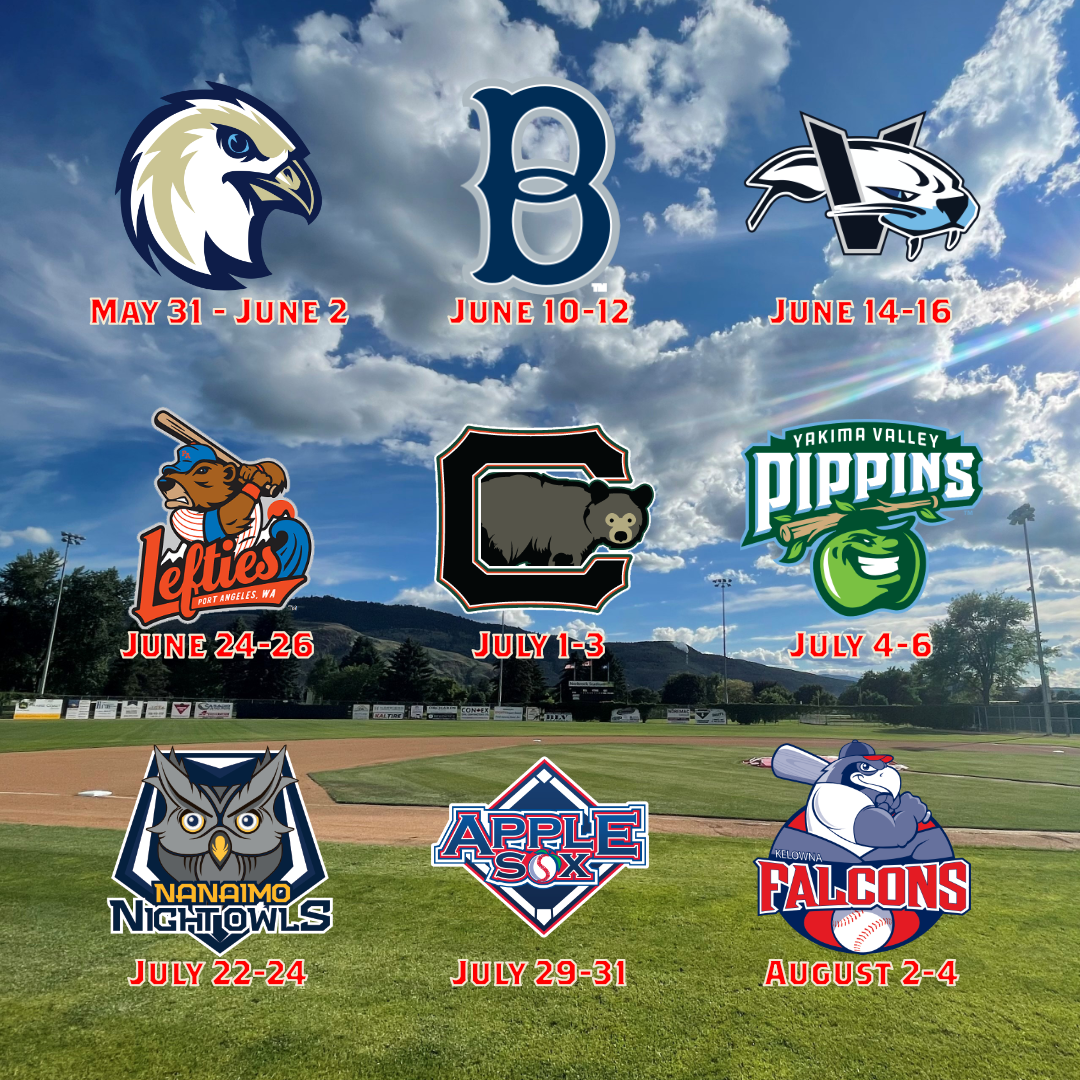 Tickets for the Kamloops NorthPaws 2022 regular season are now available. The inaugural season schedule features nine three-game series from the end of May through the beginning of August. Highlighted […]

Source
Victoria HarbourCats – HarbourCats start 2022 signings with local talent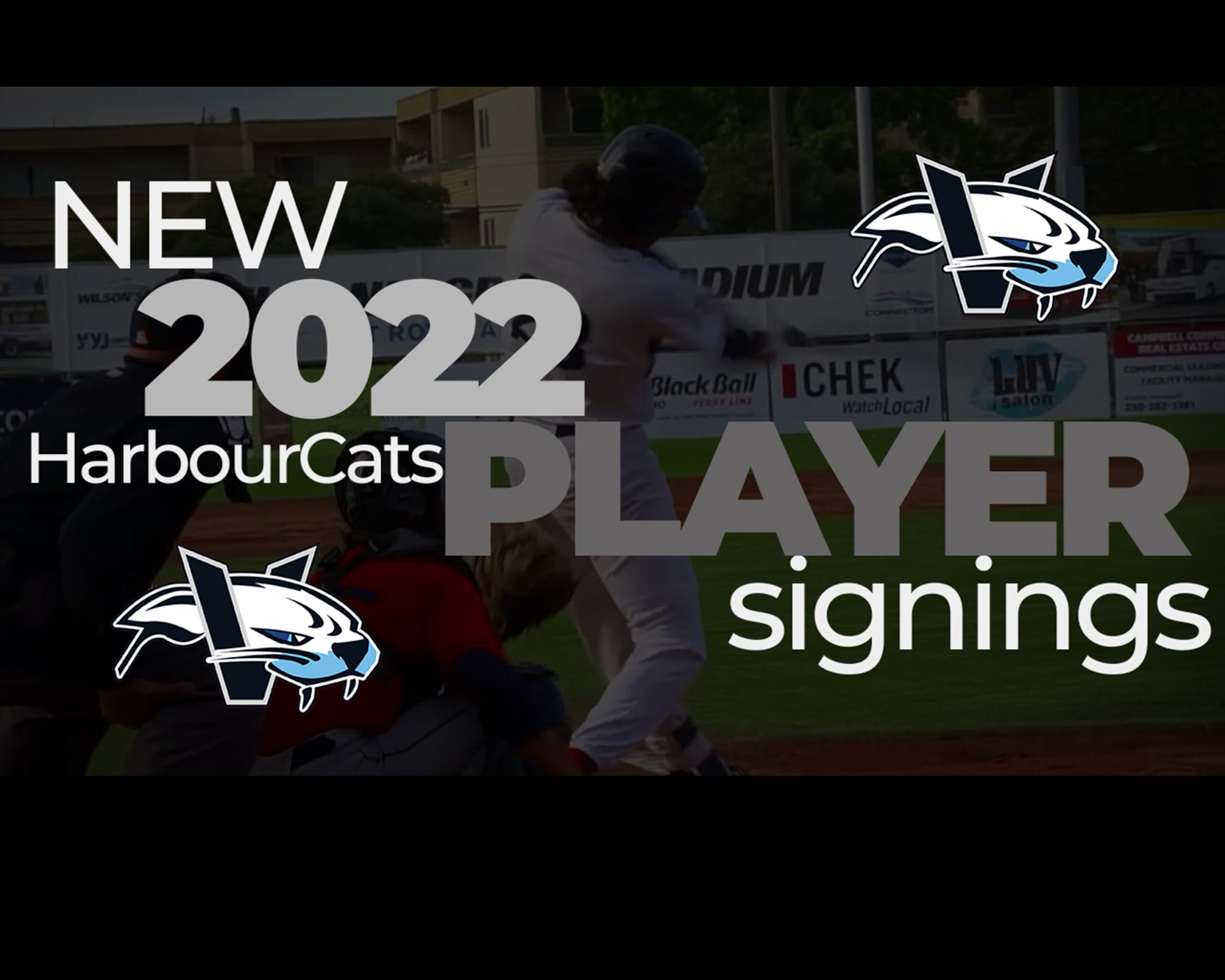 Nine from Victoria, including Golden Tide standouts, lined up for WCL season
January 6, 2022
For Immediate Release
VICTORIA, B.C. –– There's a lot of baseball talent in the southern tip of Vancouver Island.
The Victoria HarbourCats are pleased to announce the first nine signings — yep, a full lineup, from Victoria — for the 2022 West Coast League season, and all have strong Victoria roots.
The players range from NCAA Division-1 players to those who showed their skills and work ethic with the Victoria Golden Tide, the new Canadian College Baseball Conference (CCBC) team that plays out of Wilson's Group Stadium at RAP.
Tide pitcher Haldon Craig will join the HarbourCats in 2022 (Photo: Christian J. Stewart)
"Developing local talent from the ground up has been my goal since I came on board with the HarbourCats in 2018," said Curtis Pelletier, the team GM who was an assistant coach and recruiting coordinator for four years with the HarbourCats and is also the Head Coach of the Golden Tide. "The kids in the stands all hope to wear the HC one day and we're making that a reality now. We have put together a phenomenal group of coaches to train the Golden Tide and Players Club athletes with the goal of signing them to the HarbourCats. Get used to seeing local players on the field here in the summer as there is some serious talent coming through our programs."
Golden Tide's Daniel Sawchyn, will bring speed to the HarbourCats outfield and base paths in 2022 (Photo: Christian J. Stewart)
The nine players are:
• RHP Noah Takacs, Sacramento State, 6-3/200
• OF Josh Walker, Sacramento State, 6-1/175
• LHP/1B Eric Luchies, Lower Columbia College, 6-3/200
• RHP Owen Luchies, Lower Columbia College, 6-2/195
• RHP Dawson Hurford, Western Nebraska College, 6-3/195
• RHP Haldon Craig, Victoria Golden Tide, 6-3/215
• LHP Jacob Popadynec, Victoria Golden Tide, 5-11/175
• IF Jordan Bond, Victoria Golden Tide, 6-0/185
• OF Daniel Sawchyn, Victoria Golden Tide, 6-0/170
Takacs, a product of the Victoria Eagles of the BC Premier Baseball League (PBL), had a 4.82 ERA and made four starts for the Hornets in 2021. Sacramento State teammate Walker, a lefty hitter who came through the Victoria Mariners PBL program, has appeared in 13 games over two spring seasons.
The Luchies brothers, Eric and Owen, are both from the Eagles PBL program and are making the big jump, one year apart, to the Lower Columbia program, a junior college in the NWAC. Both bring a power game and tremendous potential. Hurford, from Victoria but a product of the PBL's Langley Blaze, has made 18 appearances, including 11 starts for the WNC Cougars.
Pitcher Owen Luchies throwing for the Golden Tide in exhibition play last fall (Photo: Christian J. Stewart)
Bond, Sawchyn, Craig and Popadynec are all local products (Bond and Popadynec from the Eagles, Craig from the AAA Capitals, and Sawchyn from the Mariners) who got their first college action this last fall with the Golden Tide, and will provide valuable depth — Bond and Sawchyn for their bat and defence, Popadynec and Craig off the mound.
Jordan Bond had a strong fall season with the Golden Tide (Photo: Christian J. Stewart)
Takacs is thrilled to have the chance to play summer collegiate baseball in his hometown. "It means the world to me… I wanted to play HarbourCats baseball all my life and finally, through all the pandemic problems, myself and a few others will get that opportunity. Victoria is a small baseball town but at the heart of it has some of the most dedicated individuals you'll ever meet. Whenever I come home to train I know that I will have the right dudes around me to push me to get better every day. Without the people I met in Victoria I wouldn't be the player or person I am today."
The HarbourCats will begin their 2022 West Coast League campaign with their Home Opener on Tuesday May 31, 2022 at 6:35 pm against the Port Angeles Lefties, the first of 34 home games that will be played at Wilson's Group Stadium at Royal Athletic Park.
Golden Tide pitcher Jacob Popadynec will be a nice left-handed option for the HarbourCats in 2022 (Photo: Christian J. Stewart)
Season Tickets, 2022 single-game tickets, 10-game flex packs, gift cards and HarbourCats merchandise are now on sale at the HarbourCats office at 101-1814 Vancouver Street, or by calling 778-265-0327. Single-game tickets may also be purchased directly on-line at www.harbourcats.com/tickets.
Fans holding unused tickets or flex-pack vouchers from the cancelled 2020 and 2021 seasons may also now exchange these for tickets for any 2022 regular season game. This can be done at the HarbourCats office.
For more details and to keep up with the latest news on the 2022 season, please visit the HarbourCats website at www.harbourcats.com.
Seven New NightOwls Have Been Signed
It's a good thing the new uniform sets have some bigger sizes, with the seven players the Nanaimo NightOwls are pleased to announce today.
With the three pitchers coming from California Baptist University (CBU), and four position players from the University of Hawaii (UH), the expansion NightOwls will have plenty of size on the field when the team starts play in the West Coast League.
The hallmarks of the players signed — power arms, power bats, and athleticism.
LHP Mason McGarvey, CBU, 6-4/235
RHP Carson Olsen, CBU, 6-5/225
RHP Will St. Marseille, CBU, 6-0/205
1B/3B Grant MacArthur, UH, 6-4/240
OF Tobey Jackson, UH, 5-11/165
IF Xander Sielken, UH, 5-10/175
OF Logan Gibson, UH, 5-10/160
"I'm excited to see these guys at historic Serauxmen Stadium — there's a lot of talent in the smaller guys, and big-body power in the monsters on the hill," said Jim Swanson, GM of the NightOwls, who will open at home on June 3 after the team debuts on the road at Portland on May 31.
"We really like the network we have with top schools, and those programs are excited to have their players with our coaches, Head Coach Greg Frady and Pitching Coach Gorm Heimueller. It's a big piece of the puzzle. Scouts we talked to for references had strong words about their college and pro potential."
CBU is one of the true emerging programs in NCAA-D1 baseball, becoming a perennial power under highly-respected coach Gary Adcock. The UH Bows are now led by former University of San Diego Head Coach Rich Hill, a 1,000-game winner intent on turning Hawaii into a program that rolls toward the College World Series every year.
The schedule for the 2022 Nanaimo NightOwls (and Bars!) season is posted at nanaimonightowls.com — where fans can also find team merchandise, and get information on tickets and season memberships, which are moving fast.
"It's exciting to see all the work being done at Serauxmen Stadium, getting ready for all the user groups, we think fans are going to enjoy the enhancements and the atmosphere of the West Coast League, and how it all ties into the community," said Swanson.