Oregon State Duo Joins NorthPaws with Eyes on College World Series
The Kamloops NorthPaws is looking to an NCAA program with a rich history of success to continue building the inaugural roster.
Oregon State University's sophomore outfielder Wade Meckler and freshman utility player Brady Kasper have signed with the NorthPaws for 2021.
"We're fortunate to have guys from a program like Oregon State. We want to create a winning culture in Kamloops and it starts with bringing in players who know how to win," said head coach Cole Armstrong.
The team's history of success was a key factor in both players' commitments to Oregon State.
"When I committed, they were just coming off I think the highest win total in Pac-12 history. They went 27-3 in the Pac-12 and the year I committed here they won a national championship, so it was one of the best overall programs in the country," Meckler said. "That's the goal, to get to Omaha and win the whole thing."
"When I was younger, I would watch them on tv with my dad because they were in the College World Series or Super Regionals almost every year. I just remember watching them all the time and thinking I want to go there," Kasper said.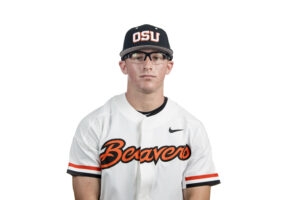 Wade Meckler | Photo Credit: OSU Athletics
Meckler, from Yorba Linda, Calif., was slated to play in the West Coast League with Corvallis in 2020 before the season was cancelled and is excited about another opportunity to play in the league.
"I wanted to stay on the West Coast. My coaches believe that the West Coast League is one of the best leagues competition wise in the country, so they wanted me to stay out here," Meckler said. "I think the West Coast League is surpassing a lot of these other leagues that are historically known as the best leagues. I really think this is the biggest up and coming league in the country."
For his 2021 collegiate season, Meckler said he wants to reach 80 hits and have good plate discipline, earning walks for at least 10 per cent of his at bats.
"I feel like if I do both of those things, I'm putting myself in a good position to be one of the best leadoff hitters in the country," he said.
"If I had to use one phrase to use the way I play, its 'high-octane.' It's full-go, it's high-intensity, it might cause some scraps with the other team but at the end of the day I'm an extremely competitive person and it shows in the way I play, everything is 100 per cent."
"He's a veteran presence who will provide experience and leadership to go with a top of the order bat," Armstrong said of the outfielder.
Kasper, from Mission Viejo, Calif., will get his first taste of summer collegiate baseball in Kamloops after the pandemic impacted his senior high school season.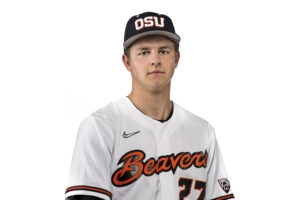 Brady Kasper | Photo Credit: OSU Athletics
"Kamloops, I saw pictures of it and it just looks awesome. I saw the golf courses and the rivers for fishing, the town looks awesome, the field looks awesome and I didn't need to look anywhere else. That looks like somewhere I want to be for the summer," Kasper said.
Kasper is slated as a player who can slide into multiple positions and provide some versatility to the NorthPaws lineup.
"He's a loud, left-handed bat who could provide a presence in the middle of our batting order," Armstrong said of the freshman.
Before they can turn their focus on Kamloops, Meckler and Kasper are set on proving the pundits wrong. Oregon State was ranked fourth in the Pac-12 in preseason polls.
"I think we're going to be a threat this year. We've been ranked a little lower in the polls than we think we should've been and I think we're going to prove a lot of people wrong this year," Meckler said.
"I feel like we just need to take it game by game and prove everyone wrong. I don't think rankings matter very much to us, it is just a little bit more fuel to the fire just because they did rank us so low," Kasper echoed. "It pissed some guys off, so we're going to come out strong and we're going to come out ready to win."
Oregon State is off to a strong start to the 2021 season with a 4-1 record through the first week of the season. Meckler and Kasper are locked in a four-game series this weekend against their future NorthPaws teammates, including week one NCAA hits leader Ryland Zaborowski, with Grand Canyon University.
The Kamloops NorthPaws are an expansion West Coast League franchise bringing the highest calibre baseball Canada's Tournament Capital has ever seen. The West Coast League, founded in 2005, has 15 teams across Oregon, Washington, British Columbia and Alberta featuring some of the top collegiate players during a 54-game summer season. Find the NorthPaws online at www.northpawsbaseball.ca, @northpawsbaseball on Instagram and Facebook, or @northpawsbb on Twitter.
Victoria HarbourCats – You're Invited!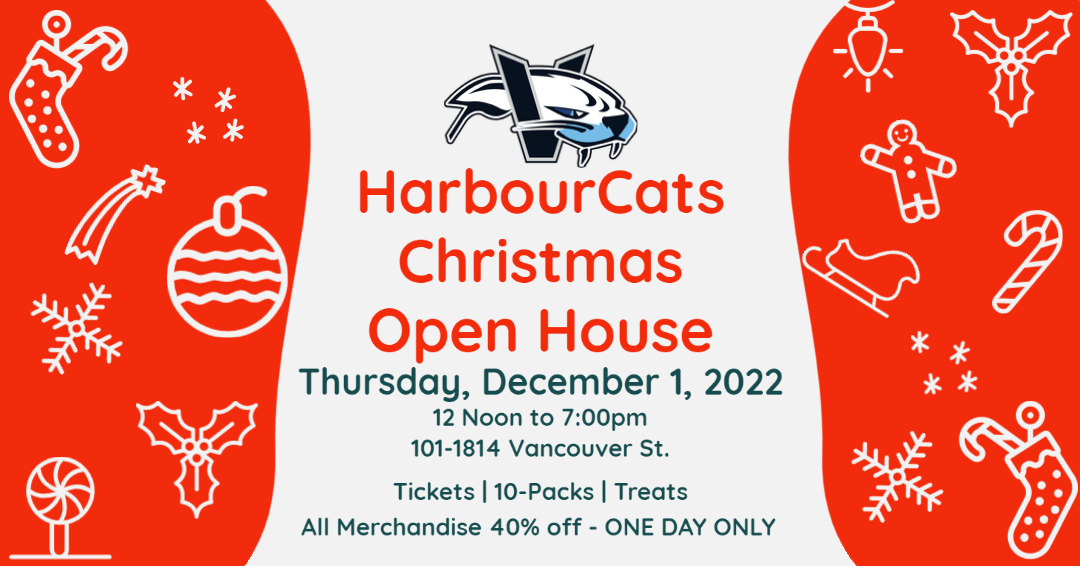 Please join us at the office on Thursday, December 1, 2022 from 12 Noon to 7:00 pm for our annual Christmas Open House!
Join us for some Christmas cheer and to grab Christmas gifts for all the HarbourCats fans on your Christmas list!  Renew or purchase 2023 season tickets, grab some 10-game flex packs, or purchase single-game tickets for 2023 which also go on sale that day too!  Plus ALL MERCHANDISE on sale for 40% off – ONE DAY ONLY!
2023 Single-Game Tickets Also on Sale!
2022 Christmas Flex-Pass Special Now Available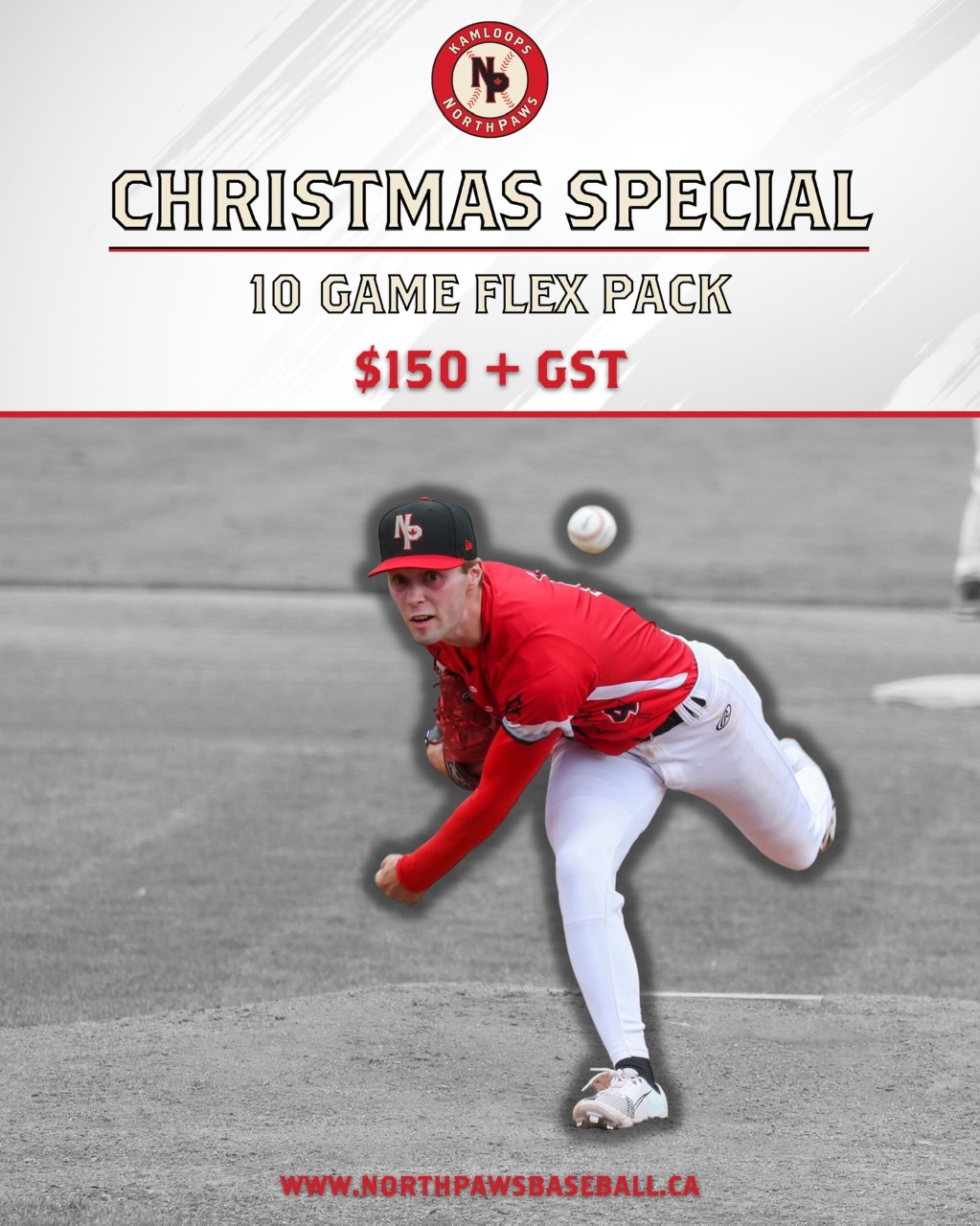 2022 Christmas Special is here! You can buy a 10-Game Flex Plan for the 2023 season. Similar to a season ticket but more like a discounted Northpaws Value Card, a Flex Plan is a way to buy early and at a discount.
Purchasing Flex Plan tickets will give you the option to choose the games that you would like to attend, along with the seats that you would like to choose.
Flex Plan holders will be able to use our ticket portal to choose games for the season. Seat and game selection will be done on a first come, first served basis. Flex Plan holders will be able to choose their seats before Game Day tickets go on sale.
Spend $150.00 (plus tax) for a 10-game Flex Plan and receive credit to purchase 10 seats for the games you want.
A receipt is issued upon purchase and your account will have a balance you can use to buy future tickets.
Please contact info@northpawsbaseball.ca for any inquiries.
https://tickets.northpawsbaseball.ca/events/23828-christmas-10-game-flex-plan
Victoria HarbourCats – In 2023, HarbourCats celebrating 10th Anniversary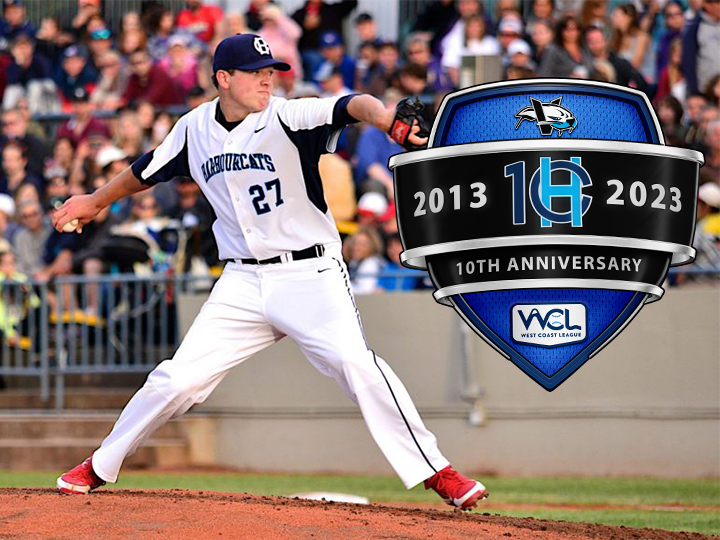 Above: Nick Pivetta throws the first pitch in HarbourCats history on June 5, 2013 (Photo David Nicholls)
For immediate release
November 22, 2023
VICTORIA, B.C. — It's the first truly major milestone for your Victoria HarbourCats, and it's well worth celebrating.
The West Coast League team will be marking 10 years since inception, that first season in 2013, when the team takes the field in June of 2023. And the HarbourCats will do it while both harkening back to the roots of the baseball club and officially recognizing part of what has become the fabric of the 'Cats, along with welcoming a new twist.
"No one can say these 10 years have been boring, that's for sure," said HarbourCats Managing Partner/GM Jim Swanson. "From that eventful first season including hosting the All-Star Game, to setting attendance and win-streak records, to an ownership shift and welcoming new partners, to making regular trips deep into the playoffs — the list of accomplishments is very long.
"The league is now in an official partnership with Major League Baseball as well. Cap that with three of our players making the MLB level (Nick Pivetta, Andrew Vaughn and Alex DeGoti), and the HarbourCats continue to be a success in Victoria in every way.
"We look forward to the next 10 years at Wilson's Group Stadium at RAP, and beyond."
The team is proud to unveil a 10-year anniversary patch, that will be used on uniforms and merchandise this year — one that takes the team's traditional HC cap logo and adds an intertwining twist with the letters. The traditional HC will remain the primary cap logo, the historic foundation, with the new twist a look to the future and another sharp option.
The HarbourCats are also officially adding the colour red to the team's palette, something that grew out of ongoing work with Rawlings Canada in 2016 and the unveiling of the wildly-popular red CATS jerseys, originally planned to do little more than recognize Canada Day — but became such a smash with players and fans alike, they kept making their way to the field. The adoption of red replaces a spot colour of yellow that was supposed to be part of the original uniform options, but outside of one small run of caps, was never used.
The team will continue to proudly wear the Canada-tinged RED CATS jerseys both home and away, as that popular eye-popping alternate. White home jerseys, the highly-acclaimed all-baby blue set, the road navy HC jerseys, and the VicPD Forces Friday version will help celebrate the 10-year mark on the field in 2023. The white home jerseys are planned for the annual Odlum Brown Jersey Off Your Backs giveaway set, so a new white version will be revealed in 2024. (Early plans are for the red Cats set to be given away to fans late in the 2024 season, with a new replacement set in place for 2025.)
The HarbourCats red jerseys are being officially incorporated into the team's colour scheme in 2023.
The bright addition of red — shown so prominently by co-owner Helen Edwards everywhere she goes, in her red/white HC cap — is also joined by the official recognition of the V-Cat hat logo as a secondary logo. The on-field cap for 2023 will be the Expos-inspired tri-colour fitted New Era cap with the V-Cat emblem (see below), a nod to HarbourCats Head Coach Todd Haney, who made his MLB debut with the Expos in 1992. Haney is the longest-serving manager in team history, in charge of the lineup since 2019 and signed through the summer of 2026.
"This is an important time to plan and get ahead of the curve, and we are excited about some of the new things that will thrill fans in 2023 — the two years away due to the pandemic have rekindled our energies, both at the field and with our online platforms," said Swanson.
The HarbourCats have a number of special promotional days lined up to help celebrate the 10th Anniversary season in 2023.  Some of those special events, the Top 10 of the HarbourCats 2023 promotions if you will, include:
1. 10th ANNIVERSARY OPENING NIGHT, Friday June 2, 2023, 6:35pm against the Kamloops NorthPaws
2. FIREWORKS, with The Wilson's Group of Companies, Saturday June 3, 2023, 6:35pm against the Kamloops NorthPaws
3. SCHOOL SPIRIT GAME, with Mayfair Optometric Clinic, Wednesday, June 7, 2023, 11:05am against the Walla Walla Sweets
4. FATHER's DAY GAME, Sunday, June 18, 2023, 1:05pm against the Yakima Valley Pippins
5. CANADA DAY FIREWORKS, Friday, June 30, 2023, 6:35pm against the Bellingham Bells
6. CANADA DAY MATINEE, Saturday, July 1, 2023, 1:05pm against the Bellingham Bells
7. HARVEY's 10th BIRTHDAY CELEBRATION, Saturday, July 15, 2023, 6:35pm against the Wenatchee AppleSox
8. BARK IN THE PARK, with Bosley's on Yates, Sunday, July 16, 2023, 1:05pm, against the Wenatchee AppleSox
9. 10th ANNIVERSARY CELEBRATION FIREWORKS, Saturday, July 29, 6:35pm against the Kelowna Falcons
10. 10th ANNIVERSARY JERSEY OFF OUR BACKS NIGHT, with Odlum Brown, Wednesday, August 2, 6:35pm against the Nanaimo NightOwls
2023 Season Tickets
Season ticket renewals and new season ticket sales are now underway for 2023, the HarbourCats 10th Anniversary season!  Lock in the best seats in the house by the end of November prior to single-game tickets going on sale. Existing Season Ticket holders should also renew their seats by the end of the month!  Contact chris@harbourcats.com or call the office at 778-265-0327 for details or to renew your existing seats!
2023 Flex-Packs
2023 10-Game and Season Ticket Equivalent Flex Pack vouchers are also now on sale! These can be purchased at the office in-person or by phone and can also be ordered on-line via The Cat Shop at https://victoria-harbourcats-official.myshopify.com/products/10-game-flex-pack-general-admission.    All flex pack vouchers will be eligible to be exchanged for games in the 2023 season once single-game tickets are available (see below).
2023 Single Game Tickets
Single-game tickets for the HarbourCats 10th Anniversary season will be available both on-line and in person at the HarbourCats office starting at 10:00am December 1, 2022. At that time, 10-game flex pack vouchers will be eligible to be exchanged for games in the 2023 season.
Stay tuned to all of our social media for updates and details as they become available.
Web: www.harbourcats.com
Facebook: https://www.facebook.com/harbourcats
Facebook Fan Community: https://www.facebook.com/groups/harbourcats
Twitter: https://twitter.com/harbourcats
Instagram: https://www.instagram.com/harbourcats