Sarnia ballplayer commits to Big Ten school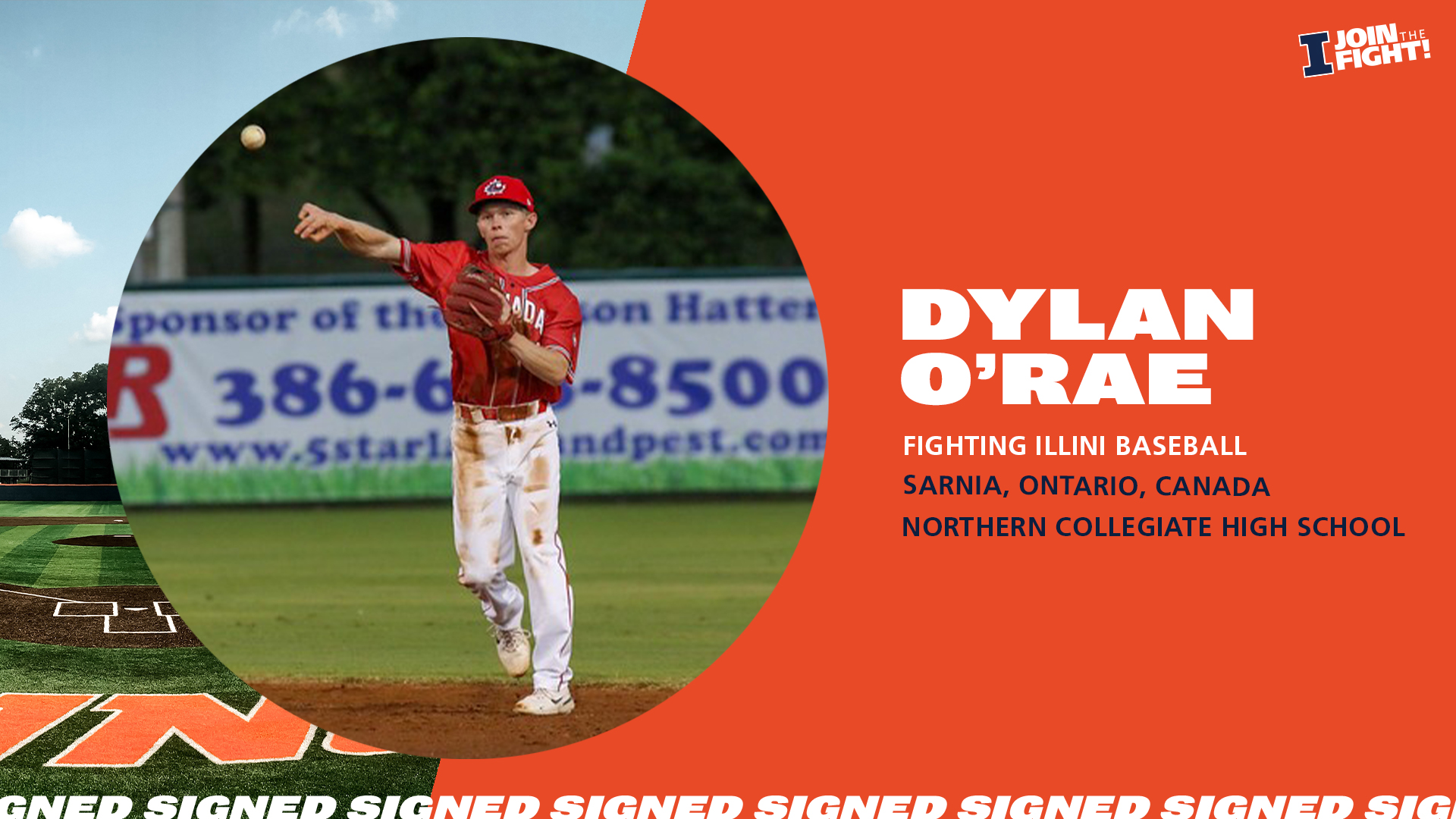 By Colin Gowdy, Sarnia News Today
A Sarnia ballplayer has committed to play the sport and continue his education at a Big Ten school in the U.S.
Dylan O'Rae, a Grade 11 student at Northern high school, will play ball at the University of Illinois.
The 16-year-old shortstop from the Great Lakes Canadians, based out of London, said it's been a goal of his to compete at the Power Five level.
"And to be able to do that with Illinois and the Big Ten is just a dream come true," he said.  "I plan on getting my business degree from Illinois and working on getting drafted to play some pro-ball, hopefully."
O'Rae said some of his strengths on the ball diamond include his speed and knowledge of the game, adding that he's received a lot of help from one of his instructors in particular, former big-leaguer Adam Stern.
"He attended the University of Nebraska and played professionally as well. He's really helped me develop and become the player I am right now."
FROM THE UNIVERSITY OF ILLINOIS WEBSITE
Dylan O'Rae / INF
5-9 / 160 / L/R
Sarnia, Ontario, Can. / Northern Collegiate High School 
No. 9-ranked prospect in Ontario by Prep Baseball Report
No. 2-ranked SS in Ontario by Prep Baseball Report
Member of the Team Canada Junior National Team
Played summer ball for the Great Lake Canadians
Hit .550 with 55 hits, 4 HR, 38 RBI, and 20 SB with the Great Lake Canadians in 2021
CPBL League 2021 All-Star game MVP
Chose Illinois because "Illinois felt like a great fit for me as a baseball player and student. The culture of the Illinois baseball team was something I really wanted to be a part of."
Has plans to become a financial advisor
Illinois baseball alum Chris Robinson was his summer team coach
Son of Charlie and Tammy O'Rae
Committed to Illinois December 2020
Canadians thrive at JUCO schools in U.S.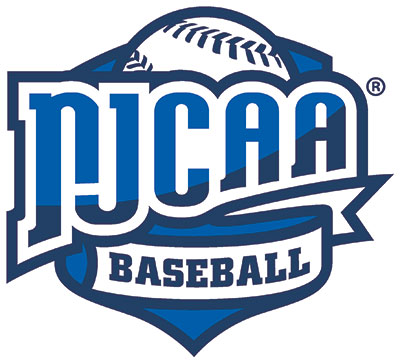 The numbers continue to pile up in the tabulation of Canadian collegiate players at the JUCO level, even just the D1 level of the NJCAA.
Even in a time when games and workouts were hard to come by over the past 18 months, making it hard for players to show themselves, Canada has provided 102 players to 31 schools at the top JC level — in lists compiled by Canadians In College Baseball, at cbplayers.com and @CollegeBaseba12.
Schools such as Cloud County and Colby have nine of those players each, while Bossier Parish and Western Nebraska have eight apiece, and Mineral Area has seven Canadians. But leading the way on an impressive list is Three Rivers, a Missouri school which might as well clad the Raiders team in red and white, with 10 Canadians on the roster. Head coach Tyler Smith has attracted players from all across Canada — and even sprinkled in some Australian talent, making for a varied team this fall and spring.
For the complete list, as well as other divisions, see the info provided here:
https://cbplayers.com/reportview/NJCAA_1/
https://twitter.com/CollegeBaseba12/status/1448619596051800067?s=20
Canadian Content on NAIA rosters continues to grow
The Canadian content on NAIA baseball rosters continues to grow, and grow, and grow — with the total up to 61 Canadian players now listed on NAIA squads.
The Canadians in College Baseball report on Twitter (@CollegeBaseba12), gathered religiously by Kevin Wall, who has been compiling info for years, even through the challenges many players faced during COVID and the uncertainties around being an international student.
The most impressive part of the 61 in NAIA is an astounding 11 players with the Lourdes University in the WHAC (Wolverine-Hoosier Athletic Conference). Lourdes is located in Sylvania, OH, and the Gray Wolves baseball program is under the leadership of Head Coach Josh Bradford, a former University of Toledo coach who clearly knows his way around a map of Ontario, as all 11 hail from Canada's most populated province.
For more info on Canadians in college baseball, follow @CollegeBaseba12 on Twitter and check out https://cbplayers.com/, and look for additional info here at TheDugout.ca
23 Canadians participating in D1-D3 National JUCO World Series tournaments
The 2021 National Junior College Athletic Association (NJCAA) will  begin their various Division World Series Tournaments this weekend and in total, 23 Canadians will be looking to help their teams to their respective championship title.
In Division I, which will take place at Sam Suplizio Field in Grand Junction, Colorado, 11 Canadians will participate, including six players from Indian Hills JC in Ottumwa, Iowa (Maxime Adam, Pier-Oliver Boucher, Samuel Fortier,  Justin L'archeveque, Charles Lefebvre, and Ryan Telenko),  two players from Cowley County (Felix Chenier-Rondeau and  Oliver Laroque) and three players from Crowder College (Simon Grinberg, Adamo Stornello and Nick Tremblay).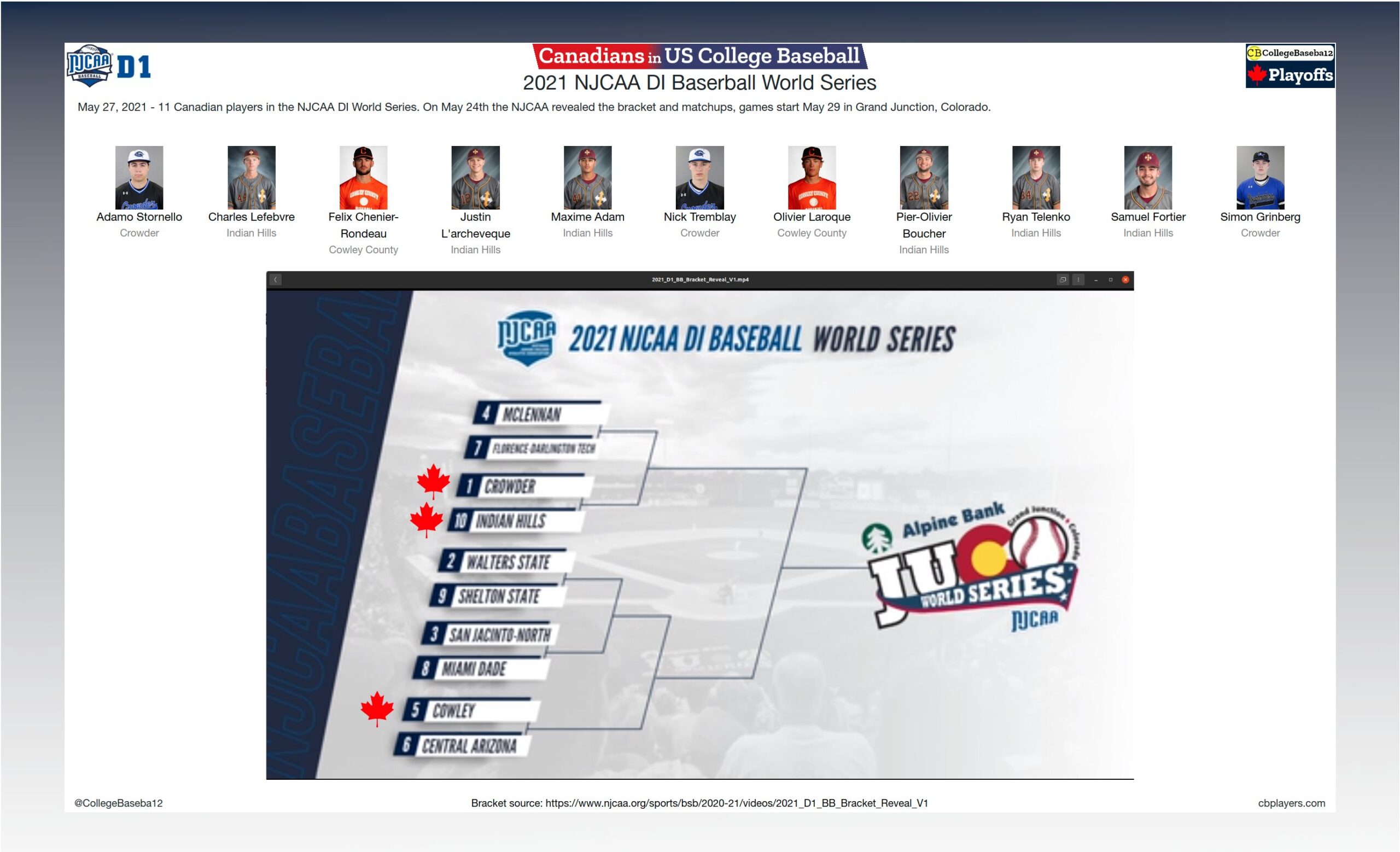 In Division II, taking place at David Allen Memorial Ballpark in Enid, OK, three Canadians will participate including Ayden Makarus and Jackson Fraser of LSU Eunice and  Ben Hubert of Kellogg.

Finally in Division III, nine Canadians will take part, beginning Saturday at Pioneer Park in Greeneville, TN. All nine players hail from Niagara Community College in Sanborn, New York and include Andrew Bench, Cal Brazier, Chris Tani, Craig Oliver, Matt Ferris, Mike Short, Noah LaLonde, Nolan Gallo, and Will Jackman.
Congratulations and good luck to all players involved!