Prince George Youth Baseball Association seeking continuation of success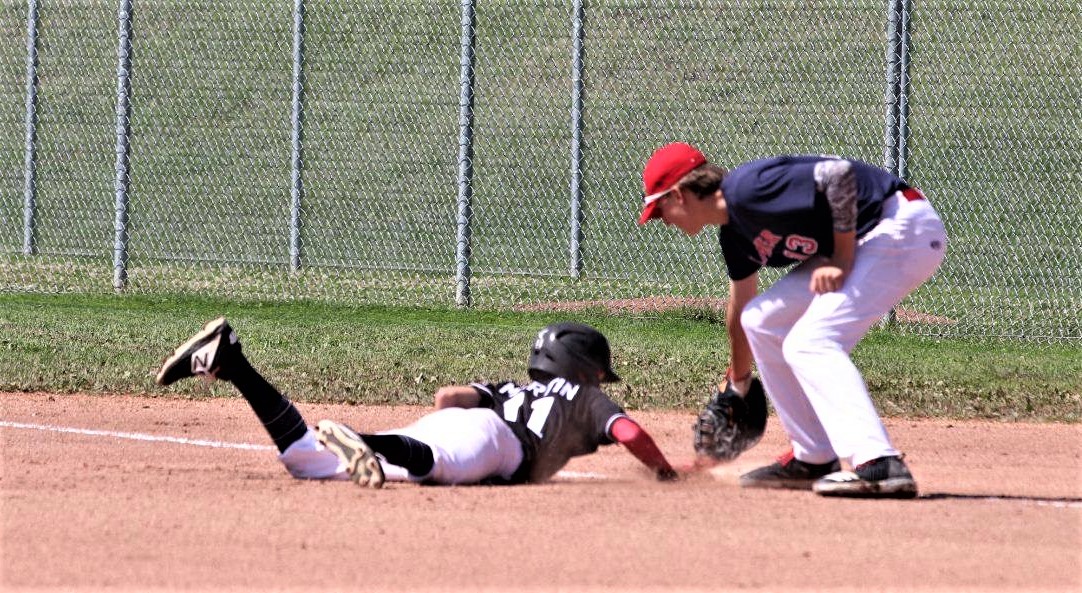 Before the COVID-19 pandemic wiped out its 2020 season, the Prince George Youth Baseball Association was developing a reputation as one of the most successful programs in Western Canada. When play resumes, the PGYBA will take a swing at building on its momentum.
But, assuming there is a 2021 season, it's likely to be one of adjustments and challenges.
"I'm hoping that by the time May rolls around, which is when our season starts, they'll have enough vaccine that they'll allow us to play games within our own community, which would allow house teams to take part," said PGYBA president Carmen Martin.
"And then my hopes would be to at least allow our all-star kids – even if they're practicing together and there aren't normal tournaments per se – to get into a cohort bubble with somebody closer. So like Kamloops is the next closest place to us for baseball. To get them down there, even for a couple weekends here and there to play some games (would be important). I feel that if we can't get some of these kids some games this year we're going to lose some who will choose to play elsewhere – they're going to move for the summer or find a different place to play. Or we're just going to lose the numbers."
Prince George is a city of about 75,000 people, located in north central British Columbia, six hours by car from Kamloops.
In geographically-isolated Prince George, the popularity of youth baseball tends to rise and fall with the fortunes of the Toronto Blue Jays. When the Jays are hot, so is baseball in the city known as B.C.'s Northern Capital.
In the handful of years prior to 2016, registration in the PGYBA sat between 350 and 400 players. From 2016 onward, numbers ballooned to a high of around 600 and settled out at 522 for the 2019 season.
In the all-star ranks, teams from Prince George produced a gratifying string of success stories during that four-year span. In 2016 the 18U Knights hosted and won the BC Minor Baseball Association midget double-A provincial championship tournament. The 18U Knights repeated as champs the following year and also claimed gold at the Baseball BC provincials before they capped their season with a silver medal at Western Canadians.
In 2018, the 15U Knights battled to a silver-medal finish at their BC Minor Baseball championship. Then, in a sparkling 2019 season, the 18U Knights, 15U Knights and 13U Knights all came home with gold from their provincial tournaments.
For an association on a roll, Martin said losing the 2020 season to the pandemic was "terrible." Prior to the March 2020 lockdown, the PGYBA had been running its annual indoor training program at the Northern Sport Centre fieldhouse on the University of Northern British Columbia's Prince George campus. Higher-level players (18U, 15U, 13U, 11U all-stars) benefited from about 10 weeks of practice before COVID-19 brought everything to a halt.
"We were not able to get back on the indoor fields, just based on the rules," Martin said. "We could have probably gotten back on the (outdoor) fields earlier than we hoped (but) the unfortunate part is, without PGYBA running a league, nobody maintains those fields. Besides mowing of the outfields, the City doesn't really maintain the infields. That falls to the league and it was kind of hard to get volunteers when there was COVID."
As spring turned into summer, players from the 18U Knights were really the only ones able to throw the ball around. Thanks to some behind-the-scenes organizational efforts, they got onto the Prince George Senior Men's Baseball League field for some limited sessions.
"They were able to get out a little bit but, overall, PGYBA, we didn't do anything last year," Martin said. "We just thought, 'We're going to take the year off, figure things out, regroup, and hopefully be ready to go this year.'"
In preparation for this season, the PGYBA has already opened registration. One positive development is the fact several families who paid their fees for the lost 2020 campaign told the league to keep the money and use it for 2021. Martin appreciates the show of faith. In return, the PGYBA is giving some of those families a bit of a financial break.
"Depending on what age group your child is in, your registration amount is different," Martin said. "We told people if they left their money with us, even if their child moved up a division and it cost more money to register them this year, we would keep the payment from last year and we wouldn't worry about it."
Overall, Martin is staying positive and taking a day-by-day approach to the resumption of baseball. All-star players – under the guidance of former minor pro Craig Langille and ex-National-level baseball and softball player Craig Horswell – have started their indoor training at the Northern Sport Centre. As well, the PGYBA is offering Sunday indoor sessions for house-level players who want to get back in the game. These on-field opportunities are being carried out in adherence to COVID-19 health and safety protocols and, in Martin's view, are good first steps.
"I'm happy that we're doing winter ball – I'm like, 'OK, that's a win we can offer this right now,'" said Martin, who is also the northern representative on the BC Minor Baseball board of directors. "That will take us through to March and then I'm going to be like, 'OK, now what's April-May going to look like? What can we next offer?' In one breath, things are changing slowly, it feels like, and then in the next minute in terms of sports and stuff, things can change so drastically so it's kind of hard to make a long-term plan."
Jason Peters is a freelance writer and editor based in Prince George, British Columbia. Visit his website at www.frontpagepublications.net.
Ridge Meadows Rises to Championship Form!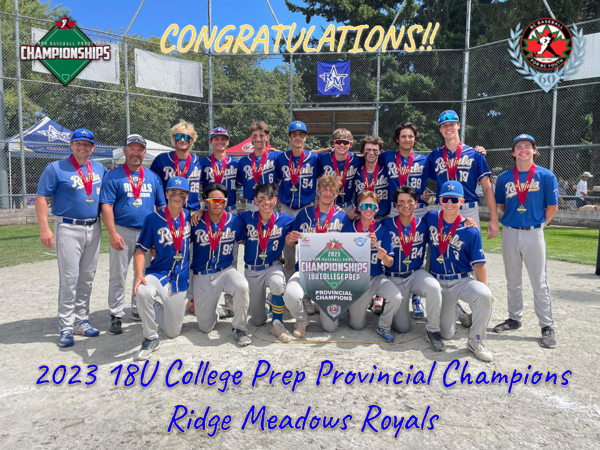 It would be fitting to see the top two teams from the Regular season' the #1 North Fraser Nationals and the #2 Ridge Meadows Royals, go head-to-head for the 2023 18U College Prep Provincial Championship! 
North Fraser entered the final tilt undefeated through the round-robin and their semi-final match, while Ridge Meadows had only stumbled once on the way there. 
In the end, it was Ridge Meadows and their ability to push runs across the dish that put them on top 6-1 when the dust finally settled handing North Fraser their only loss of the weekend. 
Congratulations to the Ridge Meadows Royals and all of their fans and supporters. You are the 2023 18U College Prep Provincial Champions!
Congratulations to the North Fraser Nationals and all of their fans and supporters on a stellar run to the top of the Regular Season Standings. 
Congratulations to all of our 2023 18U College Prep Players, Coaches, and Families. It's been a ride! See you in the Fall!
Ladner takes the 2023 John Main 13U Invitation Crown!
Ladner takes the 2023 John Main 13U Invitation Crown!
By BCMBA, 05/28/23, 4:00PM PDT
Share
Cole Hudie finishes it with a 3-run shot to lift Ladner to a 5-2 W over Chilliwack and claim the BCMBA 2023 John Main 13U Invitational Championship Title! Thank you to our hosts and their families, Ridge Meadows and Cloverdale, our BCMBA Volunteer Directors, and everyone who participated!!
The 2023 John Main 13U Invitational is underway!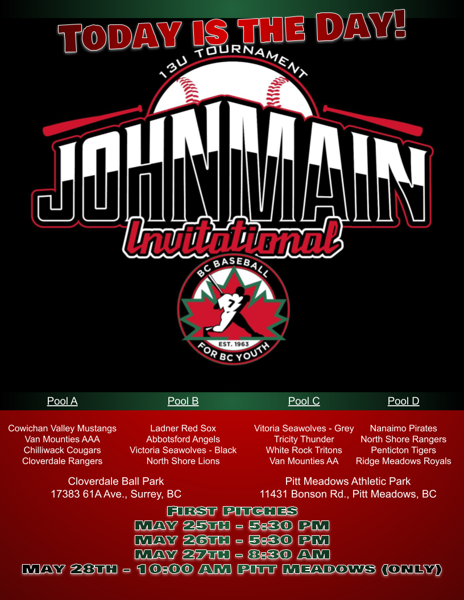 The 2023 John Main 13U Invitational is underway!
By BCMBA, 05/25/23, 9:00AM PDT
Share
The 2023 BC Minor Baseball John Main 13U Invitational has arrived. All weekend long, come down and check out some of the future stars of our game! Dates, times, locations, and results can be found here:
2023 John Main 13U Invitational