Prince George Youth Baseball Association seeking continuation of success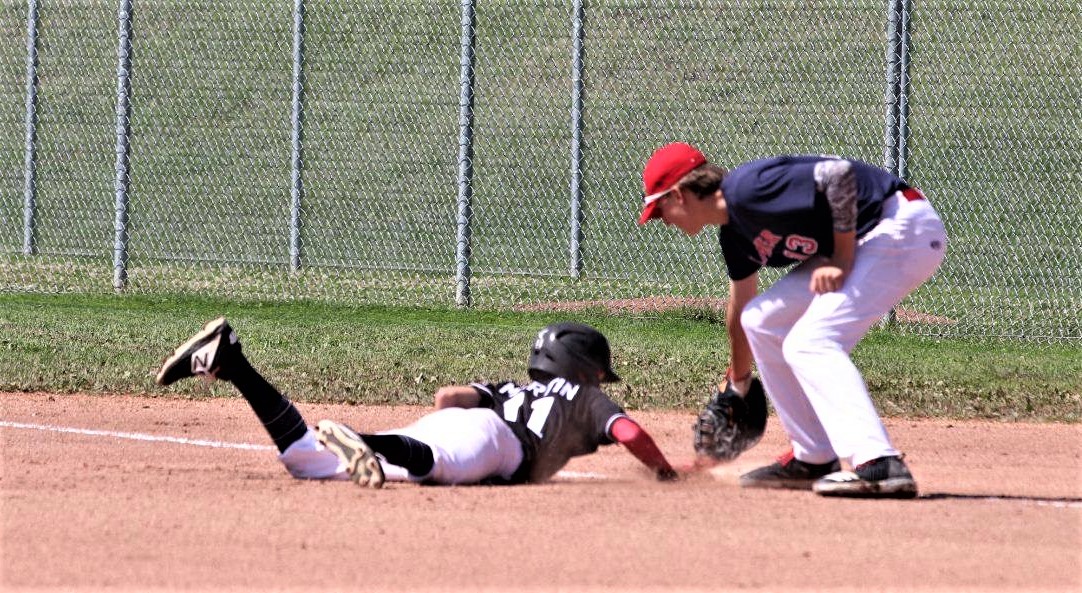 Before the COVID-19 pandemic wiped out its 2020 season, the Prince George Youth Baseball Association was developing a reputation as one of the most successful programs in Western Canada. When play resumes, the PGYBA will take a swing at building on its momentum.
But, assuming there is a 2021 season, it's likely to be one of adjustments and challenges.
"I'm hoping that by the time May rolls around, which is when our season starts, they'll have enough vaccine that they'll allow us to play games within our own community, which would allow house teams to take part," said PGYBA president Carmen Martin.
"And then my hopes would be to at least allow our all-star kids – even if they're practicing together and there aren't normal tournaments per se – to get into a cohort bubble with somebody closer. So like Kamloops is the next closest place to us for baseball. To get them down there, even for a couple weekends here and there to play some games (would be important). I feel that if we can't get some of these kids some games this year we're going to lose some who will choose to play elsewhere – they're going to move for the summer or find a different place to play. Or we're just going to lose the numbers."
Prince George is a city of about 75,000 people, located in north central British Columbia, six hours by car from Kamloops.
In geographically-isolated Prince George, the popularity of youth baseball tends to rise and fall with the fortunes of the Toronto Blue Jays. When the Jays are hot, so is baseball in the city known as B.C.'s Northern Capital.
In the handful of years prior to 2016, registration in the PGYBA sat between 350 and 400 players. From 2016 onward, numbers ballooned to a high of around 600 and settled out at 522 for the 2019 season.
In the all-star ranks, teams from Prince George produced a gratifying string of success stories during that four-year span. In 2016 the 18U Knights hosted and won the BC Minor Baseball Association midget double-A provincial championship tournament. The 18U Knights repeated as champs the following year and also claimed gold at the Baseball BC provincials before they capped their season with a silver medal at Western Canadians.
In 2018, the 15U Knights battled to a silver-medal finish at their BC Minor Baseball championship. Then, in a sparkling 2019 season, the 18U Knights, 15U Knights and 13U Knights all came home with gold from their provincial tournaments.
For an association on a roll, Martin said losing the 2020 season to the pandemic was "terrible." Prior to the March 2020 lockdown, the PGYBA had been running its annual indoor training program at the Northern Sport Centre fieldhouse on the University of Northern British Columbia's Prince George campus. Higher-level players (18U, 15U, 13U, 11U all-stars) benefited from about 10 weeks of practice before COVID-19 brought everything to a halt.
"We were not able to get back on the indoor fields, just based on the rules," Martin said. "We could have probably gotten back on the (outdoor) fields earlier than we hoped (but) the unfortunate part is, without PGYBA running a league, nobody maintains those fields. Besides mowing of the outfields, the City doesn't really maintain the infields. That falls to the league and it was kind of hard to get volunteers when there was COVID."
As spring turned into summer, players from the 18U Knights were really the only ones able to throw the ball around. Thanks to some behind-the-scenes organizational efforts, they got onto the Prince George Senior Men's Baseball League field for some limited sessions.
"They were able to get out a little bit but, overall, PGYBA, we didn't do anything last year," Martin said. "We just thought, 'We're going to take the year off, figure things out, regroup, and hopefully be ready to go this year.'"
In preparation for this season, the PGYBA has already opened registration. One positive development is the fact several families who paid their fees for the lost 2020 campaign told the league to keep the money and use it for 2021. Martin appreciates the show of faith. In return, the PGYBA is giving some of those families a bit of a financial break.
"Depending on what age group your child is in, your registration amount is different," Martin said. "We told people if they left their money with us, even if their child moved up a division and it cost more money to register them this year, we would keep the payment from last year and we wouldn't worry about it."
Overall, Martin is staying positive and taking a day-by-day approach to the resumption of baseball. All-star players – under the guidance of former minor pro Craig Langille and ex-National-level baseball and softball player Craig Horswell – have started their indoor training at the Northern Sport Centre. As well, the PGYBA is offering Sunday indoor sessions for house-level players who want to get back in the game. These on-field opportunities are being carried out in adherence to COVID-19 health and safety protocols and, in Martin's view, are good first steps.
"I'm happy that we're doing winter ball – I'm like, 'OK, that's a win we can offer this right now,'" said Martin, who is also the northern representative on the BC Minor Baseball board of directors. "That will take us through to March and then I'm going to be like, 'OK, now what's April-May going to look like? What can we next offer?' In one breath, things are changing slowly, it feels like, and then in the next minute in terms of sports and stuff, things can change so drastically so it's kind of hard to make a long-term plan."
Jason Peters is a freelance writer and editor based in Prince George, British Columbia. Visit his website at www.frontpagepublications.net.
Catching up with Marika Lyszczyk, former Whalley player making baseball history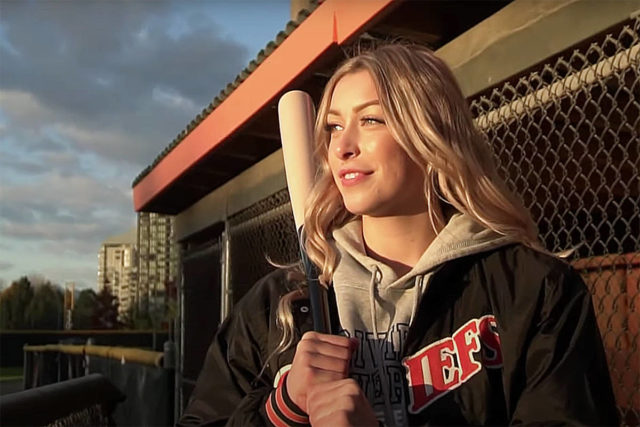 Arm surgery rehab awaits the Delta resident, the first female catcher to play NCAA men's baseball
By Tom Zillich -Surrey News Leader
Evidence suggests there's no stopping Marika Lyszczyk, but surgery has slowed her down a bit.
This month the former Whalley Chiefs baseball player is resting at home in Tsawwassen following rotator cuff repairs in her throwing arm.
"They thought it was my bicep that was a problem, but it was actually my rotator cuff," Lyszczyk said with a sigh.
"Right now I'm in total immobilization, I can't move my shoulder. It's not very fun sleeping."
With rehab looming, this fall the 20-year-old catcher plans a return trip to New Hampshire's Rivier University, whose Division 3 team last year made her the first female catcher to play NCAA men's baseball. It was historic stuff, and Lyszczyk can't wait to play ball there again.
"I'll rehab down there and get back into the swing of things," she said confidently, in a phone conversation.
"I'm itching to get back, because one of the hardest things for me is to not train," she added with a laugh.
(Story continues below a seven-minute Sportsnet video: "Marika Lyszczyk Breaking Gender Barriers In NCAA Baseball")
Earlier this summer, despite lingering soreness in her arm, Lyszczyk travelled to Long Island, NY, to play for the Sag Harbor Whalers of the Hamptons Collegiate Baseball League.
It's the latest stop in a baseball journey that involved her playing four seasons with the Whalley Chiefs, during her high school years, as the first girl to see action in the B.C. Premier Baseball League (PBL).
"It was such an opportunity there, and such a huge foundation for moving forward in my baseball career," Lyszczyk said of her days with the Chiefs. "The league is great, with some really good players, and it was such a good experience for me, before going to college."
Her time at Rivier University in 2020 lasted a brief nine or 10 weeks before the COVID-19 pandemic prompted a move back home to Delta.
A year later, a summer in the Hamptons was a thrill for Lyszczyk.
"It was great being there – it's so beautiful, and the community is great," she raved. "You hear about it with all the celebrities being there, and the people were so amazing. It was a great chance to go there and play with some pretty high-level guys playing D1, D2, so it definitely was a challenge for me."
Her original summer plan was to also attend Baseball Canada's women's national team showcase in Quebec (along with Surrey prospects Stacy Fournier and Claire Eccles), but for Lyszczyk, arm surgery took priority.
"Last year I had some arm pain and I thought it'd go away," she recalled. "I've thrown a lot in my lifetime, practising sometimes five, six days a week, and my arm has been sore, but not like that. I was hoping to take a few months off and it'd be fine, but I finally got a MRI to realize that something was wrong and that I'd need surgery.
"So I played summer ball and it was more like pain control for me, and I was proud of myself for getting through the summer. But it did hold me back in some areas and I knew I needed to get it fixed when I got back home.
"Generally when you go through a rehab like this," she added, "people tend to come back stronger, and there's lots of guys who come back from, like, Tommy John Surgery and they end up throwing two miles an hour faster, things like that. It's pretty cool to see how rehab has changed in that way, and I'm hopeful that I'll come back even stronger than I was before."
She hopes the procedure will ultimately allow her to play more baseball in the future.
"I always say that I want to play baseball as long as I can, as long as the opportunities are there for me, and that's another reason why it was so crucial that I got my arm fixed now, so hopefully I can have a longer playing career," Lyszczyk explained.
"And once my playing days are over I hope to do on-field commentating and stay in the game afterward, because I couldn't imagine my life without baseball."
U18 Trail Orioles earn playoff berth with weekend sweep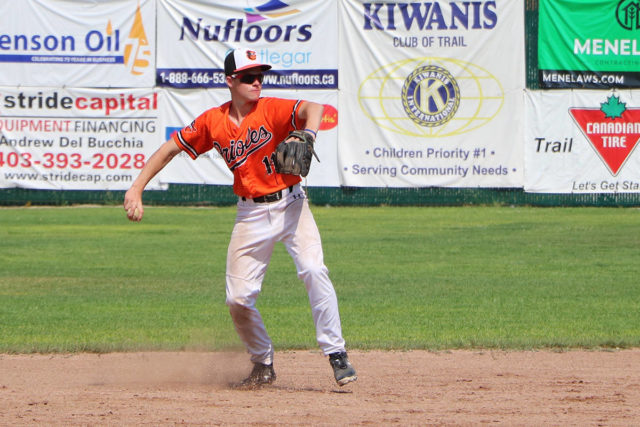 The U18 Orioles cracked the top 8 and are off to Burnaby for the BCMBA College Prep playoffs
August 4, 2021 – The Trail U18 Orioles secured a playoff spot after a sensational end to their first season in the College Prep Division of the BC Minor Baseball Association.
The Orioles wrapped up their regular season by sweeping a doubleheader against Ridge Meadows Royals on Saturday and another head-to-head match up against the Penticton Tigers at Butler Park Sunday.
The Orioles needed those wins, after losing four of their last five games, they were one game up on the Tigers for the final playoff spot heading into the final weekend.
Trail beat Ridge Meadows 4-2 in the opener, with Jesse Boyer pitching going the distance in the win.
The Orioles took a 3-2 lead in the first, and Jake Maniago's base hit in the fifth scored Sam McLaren for the 4-2 final.
In Game 2, the Orioles kept rolling and scored four in the first and two more in the sixth on their way to a 6-2 victory.
Logan Bradford pitched 6 2/3 innings for the win in his longest outing of the year.
"Bradford struck out 10 and saved our bullpen for Sunday, which was huge," said coach Jim Maniago. "Six different guys had hits that game, it was a good team win."
The wins were crucial after hearing that Penticton swept South Fraser, setting up a must-win scenario for the final match ups Sunday.
"That set up the showdown Sunday," said Maniago. "They needed to sweep us, we needed one win."
The Tigers came out swinging and plated a home run off Jake Maniago in the first. But the Orioles stormed back, scoring two runs in the bottom half. It stayed that way until the bottom of the sixth when the Orioles scored three more.
"It was a nailbiter with some great pitching and defence, especially Landon Uzeloc and Chance Fisher on the infield."
Connor stainer and Jake had two hits each, and seniors, Jesco Knelsen and Brayden DeWitt, had crucial two-out RBI hits in the 5-2 victory.
Jake pitched a complete game five hitter to earn the Orioles' a berth in the 2021 playoffs.
In the final match, the Tigers fielded nine senior players and headed into the bottom of six with a 7-3 lead.
But the Os scored two on a Nathan Dann home run to cut the lead to 7-5. Then, in the bottom of the seventh, Dann doubled cashing in two more runs for a walk-off 8-7 victory.
Stainer smacked two doubles, Bradford had two hits and Dann went 3 for 4 with four RBIs. Reid Gerrand picked up the win in relief, improving the O's record to 12-12.
"We're off to Provincials as the seventh seed," said Maniago. "We told the kids we're pretty proud of them.
"All told, we draw from maybe 20,000 people and we're competing and beating these teams from big centres with paid coaching staffs that have more kids trying out than we have in our whole system."
The U18 Orioles had a lot of reasons to roll over, said Maniago, but battled through injuries, players that opted out, and a tough travel schedule to make it into the top-8.
"The kids stuck with it and kept picking up wins and then to roll off five in a row to end the year and finish at 12-12 was pretty impressive."
In round-1 of the BCMBA playoffs, the Orioles are in Group B with #2 seed North Fraser, #4 Kamloops and #5 Cloverdale. Trail's first game goes in Burnaby at noon Friday, Aug. 6 vs North Fraser, a team they split their series with this season. Game 2 goes against Kamloops Saturday at noon, and Sunday versus Cloverdale at 3 p.m.
"We're gonna be in tough," added Maniago. "But we are a team no one wants to play."
Note: The Trail U15 Orioles were poised to play in a wind-up tournament in Kelowna on the weekend but the league cancelled the tournament early Saturday morning due to wildfire smoke.
Abbotsford's Raine Padgham invited to Baseball Canada showcase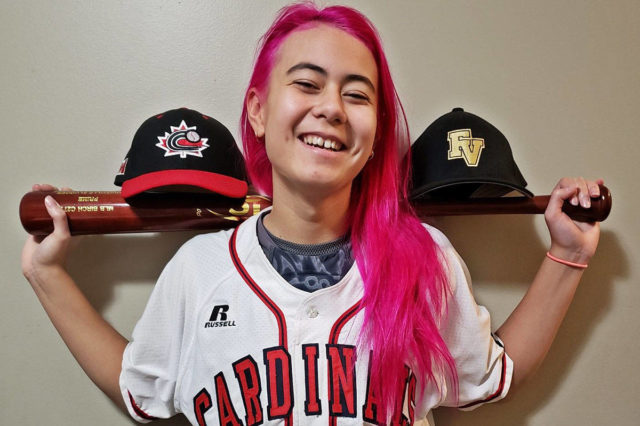 Pink-haired pitching phenom attending women's national team showcase in Quebec in August
By Ben Lypka – The Abbotsford News
July 30, 2021 – Abbotsford's Raine Padgham has received an invite to Baseball Canada's Women's National Team Showcase.
The event is set for Aug. 8 to 13 in Trois Rivieres, Que., and is the first in-person event for the team in two years.
Padgham is one of 41 athletes invited to the six-day camp that will see participants partake in physical testing, baseball-specific testing using the latest in technology, daily practices and inter-squad games at Stade Quillorama, the home of the Frontier League's Trois-Rivières Aigles.
She is one of nine 16-year-olds and two 15-year-olds attending the showcase. She is listed as a pitcher/infielder on the player invite list.
The News first reported on the Abbotsford Senior Secondary student back in 2017, when she made headlines by becoming the first-ever player to suit up for both a boys' and girls' team at the Western Canadian Baseball Championships.
In the years following, she attended the Trailblazer Series in California presented by Major League Baseball and USA Baseball. She also participated at the 10th annual Girls Baseball Development Camp put on by the Team Canada women's national team in February.
After that camp, Padgham earned a spot on the Team Canada prospect team at the Senior Women's Invitational Championships hosted by Baseball Canada. She also received an invite to the 2019 Girls Baseball Breakthrough Series in Florida. That camp was for girls aged 14 to 18, and was hosted by MLB and USA Baseball.
Padgham then went on to be the first-ever girl to play on the Abbotsford Cardinals of the British Columbia Premier Baseball League. She continues to be involved with the Cardinals today.
In 2020, she turned heads at the Baseball B.C. High Performance Camp by tossing a fastball at an impressive 83 miles per hour. That pitch was likely the fastest ever baseball throw by a female and by a girl at the age of 15.
Her efforts in 2020 saw her named to the Canadian Baseball Network's Most Influential Canadians in Baseball list.
Padgham also plans to play women's rugby, women's volleyball and senior football with the Abbotsford Panthers during the school year.