Focus on player safety kept baseball active in Alberta in 2020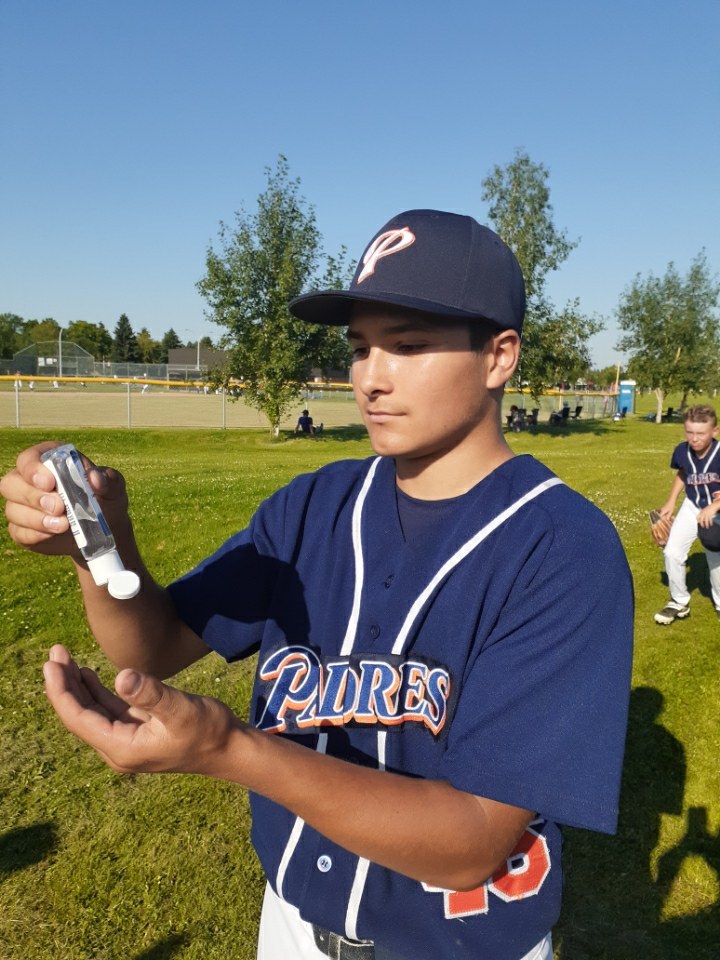 The COVID-19 pandemic couldn't stop the sights and sounds of youth baseball in Alberta in 2020. Through the cooperative efforts of administrators, coaches, parents and players, reduced schedules of games were played safely and successfully in various communities.
Heath and safety measures designed to limit the spread of the novel coronavirus were paramount in keeping bats cracking and gloves snapping. Associations across Alberta are now looking ahead to the 2021 season. With precautions in place, the Alberta Amateur Baseball Council (AABC) is optimistic about a spring and summer that has players in the swing to one degree or another.
"I think we have to run things similar to what we did last year to keep the kids safe," said Dale Tilleman, high performance coordinator for the AABC, a provincial organization that receives funding from Alberta Sport Connection to distribute to its member organizations, namely Baseball Alberta, Little League Alberta, American Legion, Babe Ruth and two collegiate baseball programs – the University of Calgary Dinos and the Prairie Baseball Academy Dawgs. The AABC is also responsible for bringing teams together to represent Alberta, and zones within Alberta, at provincial- and national-level competitions.
"We've had the pandemic with us almost a year now," Tilleman continued. "We have to respect it but we can't live in our basements. If I had a son or daughter still eligible to play, I'd make sure that they have their hand sanitizer, I'd make sure they have a mask. I'd make sure that when I went to the ballpark, I pay attention to the (public health) rules and regulations."
Passion for baseball has always been high in Alberta and it appears to be heating up even more, especially at the grassroots level. As an example, Tilleman pointed to Red Deer, which had about 300 kids playing baseball five to six years ago and now has more than 1,000. Total player registration across Alberta last year, he said, was around 34,000.
When coronavirus shutdowns started in March of 2020, the situation was disheartening for those in Alberta baseball circles. On the bright side, conversations between Little League Alberta President/CEO Kevin Kvame and the provincial government helped keep the ball in play in some locations.
"He presented the case to the Alberta government and we got the young kids playing, primarily those between 12 to about 18. They got involved in playing quite a bit," said Tilleman, who is based in Taber, about 50 kilometres east of Lethbridge.
"Some of the teams here in southern Alberta and Calgary, they got up to between 20 and 25 games. That was pretty good. That was basically the coaches and the baseball executives that did the grunt work there. They kept the kids safe and played their games. You walked into the ballpark and you saw some sanitation going on, some spacing going on. That was gratifying to see that happen, and it had to be a cooperative effort because if you would have had one or two outbreaks at ballparks, we would've been shut down. For the people to work together and pay attention to that, they all deserve some accolades.
"The one thing that was most gratifying of all, I was at a couple places where they were having their first games of the year, and the smiles on the kids' faces, they were from ear to ear."
Baseball grins weren't limited to the southern portion of the province. Tilleman said some Edmonton-area teams played 12 to 14 games, and that was also the case for some clubs in central Alberta.
Tilleman also attended a number of practices and small group workouts during the 2020 season. At those sessions, he saw safety measures being taken seriously.
"When the kids came in, they brought their hand sanitizer, they added their own face masks – lots of places, they required them to wear masks," he said. "They had their own chairs to sit on along the fence. There were lots of programs that made a good effort and they were able to keep the kids safe."
Tilleman said not a single case of coronavirus in Alberta was linked to baseball in 2020.
For the 2021 season, baseball in Alberta will adhere to rules and restrictions set by Alberta Health Services and the provincial government. Updated measures came into effect on Feb. 8 (please click here to view).
At this point, practices are permitted (maximum of 10 individuals, with physical distancing and other protocols in place). Games are not currently allowed but the situation is ever-evolving.
"The pandemic is not on the back burner yet, for sure," Tilleman said. "But if we follow the guidelines, I think there are lots of people who really want to get out and get playing this year."
Jason Peters is a freelance writer and editor based in Prince George, British Columbia. Visit his website at www.frontpagepublications.net.
Red Deer's Hayley Lalor invited to Baseball Canada's WNT showcase
By Byron Hackett
Red Deer Advocate
August 3, 2021 – Red Deer's Hayley Lalor is set to compete with the top female baseball players across the country.
Lalor, 21, was one of 41 players invited to participate in a six-day showcase camp in Trois-Rivières, Québec from Aug. 8 to 13. The camp will feature daily practices and inter-squad games.
"Mostly looking forward to getting to play a bunch of games and be out there with a lot of the girls that I've played with before who are my friends. Just a chance to get to do something that we haven't got to do in quite a while," Lalor said.
It will be the second national team camp for Lalor — she earned an invite in 2019, after helping Alberta to bronze in the 2019 Women's Baseball Invitational Championships in Okotoks.
Lalor hasn't been able to play much baseball over the last two summers because of the COVID-19 pandemic but has been putting in work on the field this season with her dad Dwayne and her sister Kelsey.
"I haven't been playing with a team because our women's team, with the circumstances all over the province we weren't able to have a team. I've been out with my sister and my dad, we've been practicing a lot," said Lalor, who figures to play outfield at Canada's camp.
Hayley's sister Kelsey, also an outfielder, was an all-star for Canada at the 2019 Women's Baseball World Cup.
The COVID-19 pandemic caused the 2020 WBSC Women's Baseball World Cup to be postponed and it's still undetermined when it will be played. Canada won a bronze medal at the last World Cup event in 2018 and came in at third in the latest WBSC Women's Baseball World Rankings.
The national team camp at the very least is a chance for Canada's best women to get on the baseball field again.
"We're thrilled to be in a position where we can have athletes participate in-person, in team and individual baseball activities," said Women's National Team program director André Lachance.
"Like the rest of the world, the past year and a half has been a challenge for our program so having this showcase camp is something that we feel fortunate for, and we intend on taking advantage of our time together."
In the fall, Hayley will enter her fourth year at MacEwan University and play her third season with the Griffins women's basketball team.
Alberta Amateur Baseball Council recognizes Chris Chelmick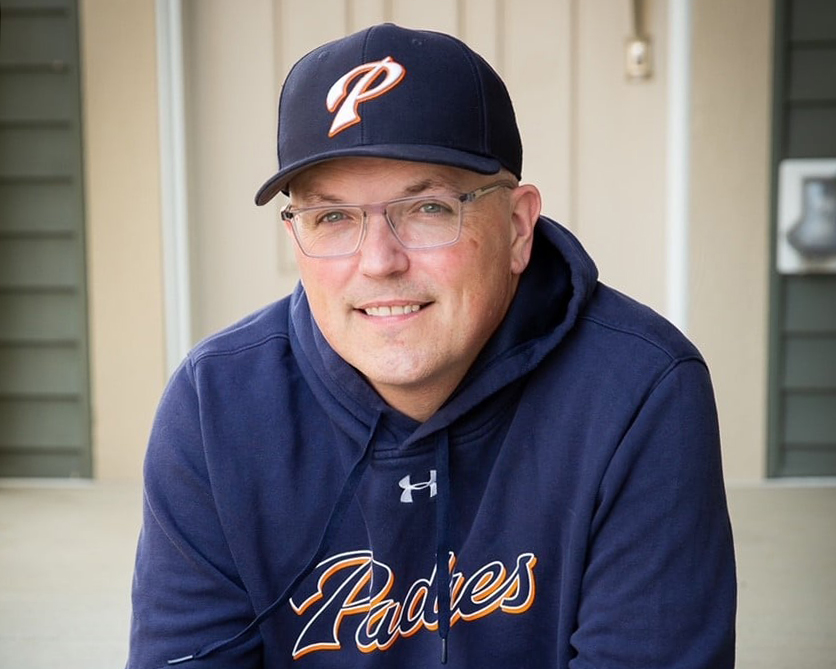 Alberta Amateur Baseball Council is recognizing individuals who have contributed significantly to the development of Alberta Baseball, at the grassroots level. The week's nominee, regarding "Passion for Baseball", is Chris Chelmick of the Northeast Zone Padres program.
Chris takes great pride in being associated with the Northeast Zone program. He feels the coaching staff, as well as the executive, are great people to work with. He also is proud to be part of a sport that emphasizes "good citizenship and being a good teammate" as part of its atmosphere/tone.
Chris cites Padres Technical Director John Sutherland as an inspiration. He feels John has done an outstanding job in pushing baseball forward, during the present obstacles the NEZ program has faced amid the pandemic. John's positive approach and drive has been motivating factor amongst all NEZ coaches. Chris also names Doc Plotsky as a role model for all Alberta youth coaches. Doc's passion and work ethic for baseball, is a template for all those who work in the sport. Chris also states the passion and work ethic, exhibited by the kids who are part of the NEZ program, as a driving factor regarding his involvement in coaching.
In the future, Chris would like to see an increase in baseball registrations throughout the province. He see's this time period as a great opportunity for all Alberta baseball associations to increase their membership. He likes the direction many youth baseball organizations are heading in promoting development and core values to players over winning. The Padre core values, including preparation, accountability, determination, respect, effort, and sportsmanship, Chris believes, will lead to success on the diamond and life in general.
Alberta Amateur Baseball Council, and the Alberta Baseball community, would like to thank Chris for his volunteerism/work regarding Alberta youth baseball.
You can find previous nominees on the AABC Facebook page here.
Canadian Baseball Community Mourns Loss of Umpire Mitch Ball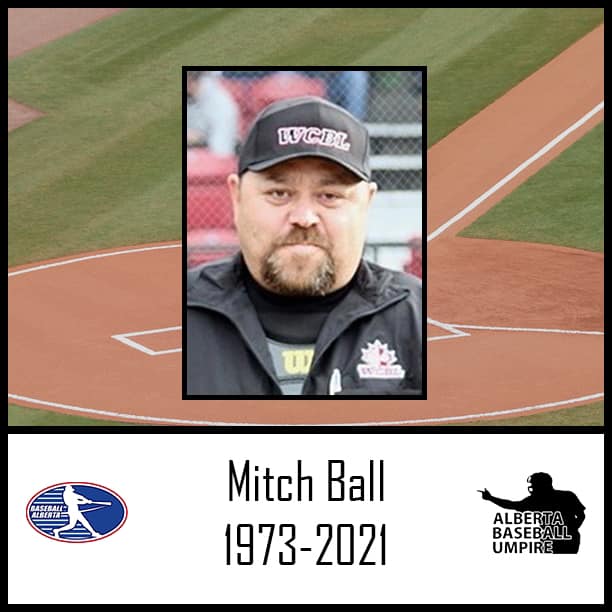 May 3, 2021, Lethbridge, AB – The Alberta and entire Canadian baseball community was saddened this weekend to learn of the passing of umpire Mitch Ball, due to complications from COVID-19.
Mitch was a well-respected umpire in the Western Canadian Baseball League and also participated in many Baseball Canada Championships, including the 2018 Senior Men's Championship in Victoria, where he was behind the plate for the Gold Medal game.
In a statement on their website, Baseball Alberta and the Baseball Alberta Umpire Committee, "wanted to express our deepest condolences to the family and friends after the passing of our member and friend Mitch Ball this past weekend. The loss of Mitch is devastating to the entire Baseball Alberta Umpire fraternity."
"Mitch was loved and admired by all those who were lucky enough to have met him. An amazing umpire on the field, Mitch was an even better person off it. Mitch was kind, humble, generous, and caring. The kind of guy who would do absolutely anything for you. The impact Mitch made on umpires and other individuals across the country cannot be measured."
As an elite senior international umpire, Mitch defined what it meant to be a program umpire. Mitch's contributions included instructing various Alberta NUCP clinics from Level 1 to the Super Clinic, umpiring 7 Baseball Canada Championships, Supervising at 3 Baseball Canada Championships, and umpiring at 3 international events. Mitch has been a Umpire Committee Member since 2010, serving in different capacities including the Level 1-3 Program Portfolio lead and most recently was involved in many special projects.
Our thoughts and prayers are with his wife Jana, their children, and Mitch's countless friends throughout the baseball world. He will be dearly missed.