Island wildlife population to grow as three Bears head to Nanaimo for 2021
The Baylor Bears have been one of the topped ranked NCAA Division 1 baseball programs for a number of years now and suffice it to say that head coach Steve Rodriguez knows how to recruit new talent year after year.
The Nanaimo NightOwls and head coach Greg Frady will be the beneficiaries of some of that talent in their inaugural 2021 season, as Frady announced today that three freshmen Bears will be part of the team, including infielder Alex Gonzales, outfielder Ryan Patterson and right-handed pitcher Drew Leach.
Victoria HarbourCats | HarbourCats Super Fan gives the gift of baseball to local charities
Three charities to enjoy a season's worth of HarbourCats baseball in 2022 thanks to Helen Edwards
For Immediate Release
July 21, 2021
Victoria, BC – To say Helen Edwards is a big HarbourCats fan is an understatement.
In fact, Edwards, a season ticket holder since 2014, loves HarbourCats baseball so much, that she has purchased six season tickets for the 2022 season and then donated them to local charities, so that they can give the gift of baseball to their clients.
The local charities that will be the benefactors of two Premium Reserved season tickets each include The Cridge Centre for the Family, the 1Up Victoria Single Parent Resource Centre Society and Big Brothers and Big Sisters of Victoria.
Edwards, who is always recognizable at HarbourCats games in her Diamond Club seats, wearing her classic red HarbourCats hat and jersey (see photo above with the HarbourCats Parker Bramlett in 2019), was looking for a way to spread the word about HarbourCats baseball, given the cancellation of the past two seasons and felt this would be a perfect opportunity.
"Not only did I want to help the HarbourCats out a little," notes Edwards, "but thought, why not provide some fun for families and individuals that might not ordinarily be able to attend a game. The charities chosen all align perfectly with that goal and I really hope the people that get to use the tickets have as much fun as I do at every game."
The charities receiving the tickets are excited to say the least. "What a great opportunity!" said Joanne Linka, Manager of Communication and Fund Development at The Cridge Centre for the Family. "There is a fair bit of excitement about this from our team and it will be a great opportunity for our families to do something fun."
Sarah Downey of the 1Up Victoria Single Parent Resource Centre Society echoes this. "We are very excited and would be happy to accept the tickets. This will bring a lot of joy to many families!" Ashley Adams of Big Brothers, Big Sisters Victoria says, " I think that this is such an amazing opportunity for our clients and absolutely be something they would enjoy! Thank you so much for thinking about our organization!"
"Next season is going to be a fun, celebratory return to baseball at Wilson's Group Stadium," notes HarbourCats Assistant GM of Ticketing and Media Christian Stewart, "and we will be so pleased to welcome these organizations and their clients to the park and have them become part of the HarbourCats family and community. A big thanks to Helen for doing that and for her continued support of HarbourCats baseball."
SUPPORT YOUR HARBOURCATS! WE NEED YOUR HELP MORE THAN EVER!
Two summers in a row without baseball has been simply devastating for us, but we are confident that there will be a celebratory return to the diamond and the ballpark in 2022. To help us get there, we need your support. If you have been doing well throughout this pandemic, please consider supporting us in any of the following ways:
2022 Season tickets — "We're Brand New in 2022!" Or as the saying goes, "What's old is new again!" New players, some new coaches, some new seating changes, new promotions! Come and jump on the HarbourCats bandwagon and see the "new" team in town! Purchasing season tickets is the best way to help, one that guarantees you seats to all our games (usually 35 per year or so) plus other season ticket holder perks. Contact chris@harbourcats.com for details.
10-Game Flex Packs / Vouchers — Don't want to commit, or can't commit to season tickets? Consider 10-game flex packs – anytime vouchers that can be used in any combination…10 tickets at one game, 1 ticket at 10 games or anything in between. For you, for your friends, for your staff. Season ticket voucher equivalents are also available. Flex Packs can be purchased at the office and are also available on-line at THE CAT SHOP.
Corporate Partnerships – Want to put your company name or brand in front of our 80,000-100,000 fans we anticipate in 2022? Or know someone who does? Consider joining us as a partner. From a simple program ad, to the most complex of game day sponsorship, complete with signage and tickets, we will customize any campaign to suit your needs and budget. And with our new HCATS.TV platform and our ownership group's expansion of a new team in Nanaimo in 2022, the opportunities are now Island wide! Contact john@harbourcats.com for details.
Fundraising / 50-50 – Have an organization that needs to raise funds now? A $1000 investment buys you 100 anytime 2022 game vouchers for our Premium Reserved seats that you can then turn around and sell NOW for $20 each, earning you your investment back, plus another $1000 in return. We will then hold a 50-50 date for you in 2022 and you can bring your group to the park to sell that game, taking home 50% of the proceeds. Contact chris@harbourcats.com for details.
Merchandise – Consider a HarbourCats merchandise purchase from our store at 1814 Vancouver Street, or from our on-line store, THE CAT SHOP. We have lots of stock that needs to go!
OFFICE HOURS
We are officially open Monday through Friday 10:00 am to 5:00 pm, but may be away at meetings, or dealing with other issues. Best to call 778-265-0327 before venturing over to make sure. Closed Saturday and Sunday.
Duran Becomes 100th WCL Alumni to Reach the Major Leagues
Saturday night, the West Coast League reached a huge milestone when Jarren Duran batted sixth and started in center field for the first-place Boston Red Sox, becoming the 100th alumnus of a current or past West Coast League team to make his MLB debut.
Please enjoy Jarren Duran's 1st major league home run. pic.twitter.com/ImiIyCSRlK

— Red Sox (@RedSox) July 19, 2021
Chronologically, the list of 100 begins with Mike Thurman, who pitched briefly in 1993 for the Aloha Knights, an amateur (and independent) team based in the Portland area. The Knights would later join the summer collegiate Pacific International League, and in 2005 a few PIL teams broke away to form today's West Coast League.
Among the early WCLers were future MLB stars Chris Davis, Mark Rzepczynski, and Tommy Hanson. Just last year, former Cowlitz Black Bears ace Shane Bieber captured American League Cy Young honors, and he recently earned his second American League All-Star nod. The long list of other notable WCL alumni includes Seattle Mariners stars Mitch Haniger and Marco Gonzalez; Phillies slugger Rhys Hoskins; and 2021 rotation mainstays James Kaprielian (Oakland) and Nick Pivetta (Boston)
"I look forward to being around for the next 100," said WCL Commissioner Rob Neyer, "and at the rate we're going, I don't think it'll take long to get there. We'll set another single-season record later this summer, and with our expansion to 16 teams next year, we've never had more opportunities for young top-tier talent."
In 2016, the speedy Duran batted .278 with the Walla Walla Sweets, ranking among the league leaders in triples and stolen bases. This season with Boston's Triple-A Worcester farm club, Duran blasted 15 home runs in only 46 games.
A complete list of WCL alumni with MLB experience can be found here.
40 WCL Alumni Selected in 2021 MLB Draft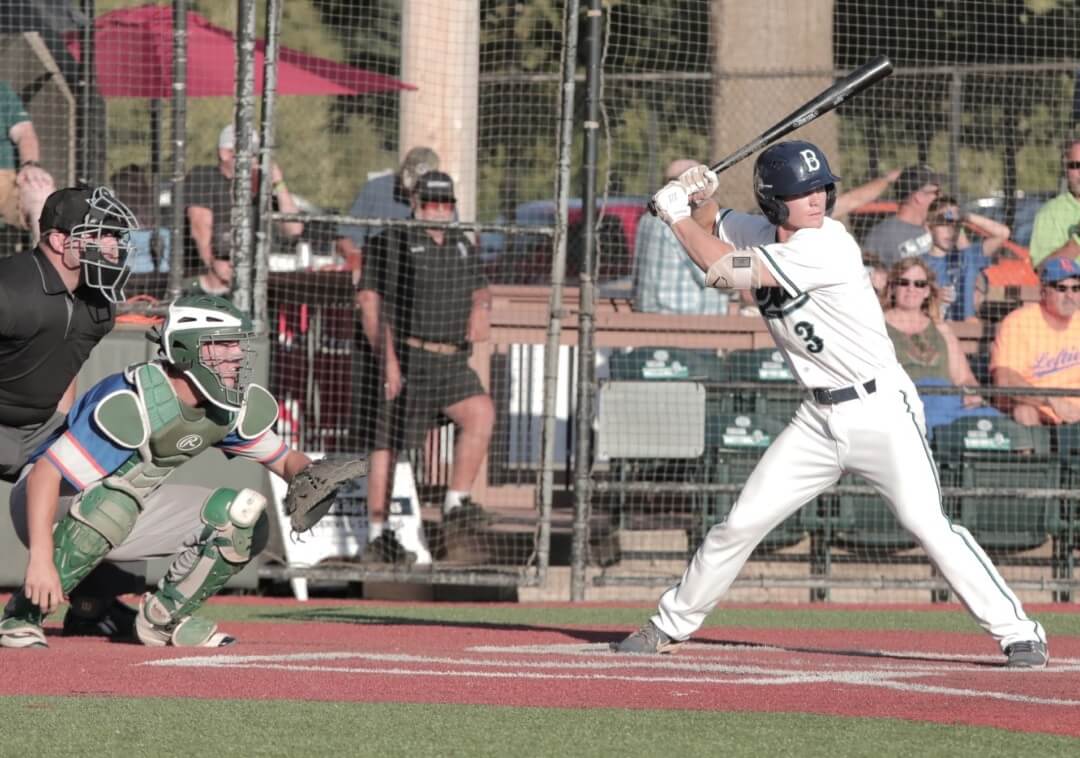 Former Bellingham Bells infielder Matt McLain was drafted 17th overall by the Cincinnati Reds.
Earlier this week, 40 current and former West Coast League players were selected in Major League Baseball's annual Rule 4 amateur draft.
With the Cincinnati Reds' selection of Matt McLain with the 17th overall pick, 2021 marks the fifth straight year with a WCL standout drafted in the first round.
McLain, a UCLA infielder, earned the WCL's Top Prospect Award in 2018 as a member of the Bellingham Bells. Also that summer, the Arizona Diamondbacks selected McLain with the 25th overall pick in the draft, but instead of signing a professional contract he enrolled at UCLA and continued his baseball career there. The Baseball America Preseason All-American and Pac-12 Player of the Year hit .333 with nine home runs and 36 runs batted this spring for the Bruins.
There were 19 WCL alumni selected in the first 10 rounds of the draft, including four among the top 63 overall picks.
"I'm hardly surprised," said West Coast League Commissioner Rob Neyer, "but I'm certainly pleased, having seen many of these brilliant young talents during my travels around the league in recent years. And I have great confidence that our league's commitment to player development will only mean more and more top prospects every summer."
Below, please see the list of current and former WCL players drafted this week:
Round / Player / School / WCL Club(s) / MLB Org
– 1st round, Matt McLain, UCLA, Bellingham, Cincinnati Reds
– 2nd round, Aaron Zavala, Oregon, Ridgefield, Texas Rangers
– 2nd round, Brendan Beck, Stanford, Corvallis, New York Yankees
– 2nd round, Kyle Manzardo, Washington State, Portland, Tampa Bay Rays
– 4th round, JT Schwartz, UCLA, Wenatchee, New York Mets
– 4th round, Zane Mills, Washington State, Portland, St. Louis Cardinals
– 4th round, Nick Nastrini, UCLA, Bellingham, Los Angeles Dodgers
– 5th round, Collin Burns, Tulane, Bellingham, Baltimore Orioles
– 6th round, Grant Holman, Cal, Bellingham, Oakland A's
– 7th round, Kevin Kendall, UCLA, Port Angeles, New York Mets
– 7th round, Ryan Och, Southern Mississippi, Bellingham, San Diego Padres
– 8th round, Sean Sullivan, Cal, Walla Walla, Pittsburgh Pirates
– 8th round, Noah Cardenas, UCLA, Portland, Minnesota Twins
– 8th round, Cullen Kafka, Oregon, Yakima Valley, Colorado Rockies
– 9th round, Mat Olsen, Central Arizona College, Cowlitz, San Francisco Giants
– 9th round, Chase Watkins, Oregon State, Corvallis, Chicago Cubs
– 9th round, Gil Luna, Arizona, Bend, Chicago White Sox
– 9th round, Shane McGuire, San Diego, Victoria, Oakland A's
– 10th round, Ernie Yake, Gonzaga, Bellingham, Minnesota Twins
– 11th round, Rowdey Jordan, Mississippi State, Victoria, New York Mets
– 11th round, Chad Stevens, Portland, Corvallis, Houston Astros
– 11th round, Jack Neely, Ohio State, Victoria, New York Yankees
– 11th round, Sean Mullen, UCLA, Yakima Valley, Tampa Bay Rays
– 12th round, Chazz Martinez, Orange Coast College, Walla Walla, Pittsburgh Pirates
– 12th round, Christopher Troye, UC Santa Barbara, Bend, Boston Red Sox
– 12th round, Tyson Guerrero, Washington, Cowlitz, Kansas City Royals
– 12th round, Andrew Alvarez, Cal Poly, Kelowna, Washington Nationals
– 12th round, Caden Vire, Arizona State, Ridgefield, Milwaukee Brewers
– 13th round, Owen Sharts, Nevada, Victoria, Pittsburgh Pirates
– 14th round, Damiano Palmegiani, Southern Nevada, Port Angeles, Toronto Blue Jays
– 14th round, Frankie Scalzo, Grand Canyon, Port Angeles, Chicago Cubs
– 15th round, Wyatt Young, Pepperdine, Victoria, New York Mets
– 15th round, Mikey Perez, UCLA, Portland, Minnesota Twins
– 16th round, Zach Pettway, UCLA, Bellingham, Cleveland Indians
– 16th round, Alek Jacob, Gonzaga, Wenatchee, San Diego Padres
– 17th round, Ryan Long, Pomona-Pitzer College, Wenatchee, Baltimore Orioles
– 17th round, Dennis Boatman, Sacramento CC, Corvallis, Cincinnati Reds
– 17th round, Luke Boyd, Baylor, Victoria, San Diego Padres
– 18th round, Noah Williamson, Everett CC, Yakima Valley, Miami Marlins
– 20th round, Hunter Breault, Oregon, Bend, Oakland A's
About the West Coast League: The West Coast League is the West's premier summer collegiate baseball league. Encompassing Oregon, Washington, British Columbia, and now Alberta, the WCL showcases pro prospects from major collegiate conferences around the nation. Every summer, the league features unparalleled fan and player experiences, with North America's best baseball weather and a mix of classic ballparks and dramatic scenery. The 2019 MLB amateur draft began with former Corvallis Knight Adley Rutschman selected with the overall No. 1 pick by the Baltimore Orioles. Also in 2019, 317 WCL alumni were active in affiliated professional baseball, including 45 in the major leagues, while overall attendance in the West Coast League increased to nearly half a million fans.
About the Kamloops NorthPaws: The Kamloops NorthPaws is Kamloops' newest sports franchise. The NorthPaws join the  Edmonton Riverhawks, Nanaimo NightOwls/Bars and the Springfield Drifters as WCL expansion teams beginning play in the 2022 season. Norbrock Stadium will host all NorthPaws home games, when future MLB prospects play their summer season in the WCL. Season tickets and 10-game flex plans are now on sale for the 2022 season.