Dinos baseball prospect playing waiting game instead of baseball
Nolan Hull is supposed to be living and playing baseball on the eastern side of the Rocky Mountains.
Instead, because of the COVID-19 pandemic, he's still in his hometown of Prince George, British Columbia, taking first-year engineering classes from the University of Calgary through a video feed on his computer. As for baseball, it's on hold and he's not sure when he will finally get the chance to suit up for the U of C Dinos of the Canadian College Baseball Conference.
For the 18-year-old Hull, in-person schooling and baseball would have started in September 2020. Now in the early days of 2021, he's still waiting to see what will happen with school and baseball and life in general.
"Late last summer I got a couple of texts from the coach, asking me what my plans were, and it just seemed like nothing was going to open so the best choice for me was to stay in town and save rent money and everything and just take school online," said Hull, a catcher when he's on the diamond. "Nothing's open, there are no practices, so there's no point even being there."
Hull is like so many student-athletes across Canada and around the world – he's missing out on the opportunity to experience college or university life the way it was meant to be experienced, and, athletically, he's sidelined indefinitely instead of playing the sport he loves.
"It's been a tough year," said Hull, a product of the Prince George Youth Baseball Association who contributed to multiple provincial championship titles during his years in the PGYBA's all-star program. "Baseball was a lot of my social life. You can't see your friends, there's no baseball. I've sat in my room for probably four months, just doing schoolwork, so it's definitely a big change from what I was expecting. You think your first year university you're going to play baseball and you're going to go to school. You're going to be on campus all the time and you're going to have fun, and I've been in my room on my computer."
Hull has been trying to stay in shape using his home gym. And, in early January, he started attending indoor baseball workouts at the Northern Sport Centre fieldhouse on the University of Northern British Columbia's Prince George campus. The splash of baseball has been a much-needed tonic for him.
"It's the best feeling in the world – to not throw a baseball for three months and then to go and throw a baseball," he said. "But, man, was I ever out of shape. I couldn't walk for the next week. I never want to feel like that again because I never want to stop playing for three months."
On its website, the CCBC indicates it will work to ensure that the 2021 season is "the best possible." The league features four teams in B.C. (Okanagan College Coyotes, Kelowna; Thompson Rivers University WolfPack, Kamloops; University of the Fraser Valley Cascades, Abbotsford; Vancouver Island Mariners, Nanaimo) and three in Alberta. The other Alberta clubs are Edmonton Collegiate and the Lethbridge-based Prairie Baseball Academy Dawgs.
The 2021-22 season will see the addition of the Victoria Golden Tide, which will be formed by players from the University of Victoria and Camosun College. The team is scheduled to play its first conference games in the spring of 2022. Its home field will be Royal Athletic Park, the same facility that houses the Victoria HarbourCats of the West Coast League. The WCL is a premier summer loop for top collegiate-level players from Canada and the United States.
Jason Peters is a freelance writer and editor based in Prince George, British Columbia. Visit his website at www.frontpagepublications.net.

Team Black Takes Golden Tide World Series in Extra Inning Thriller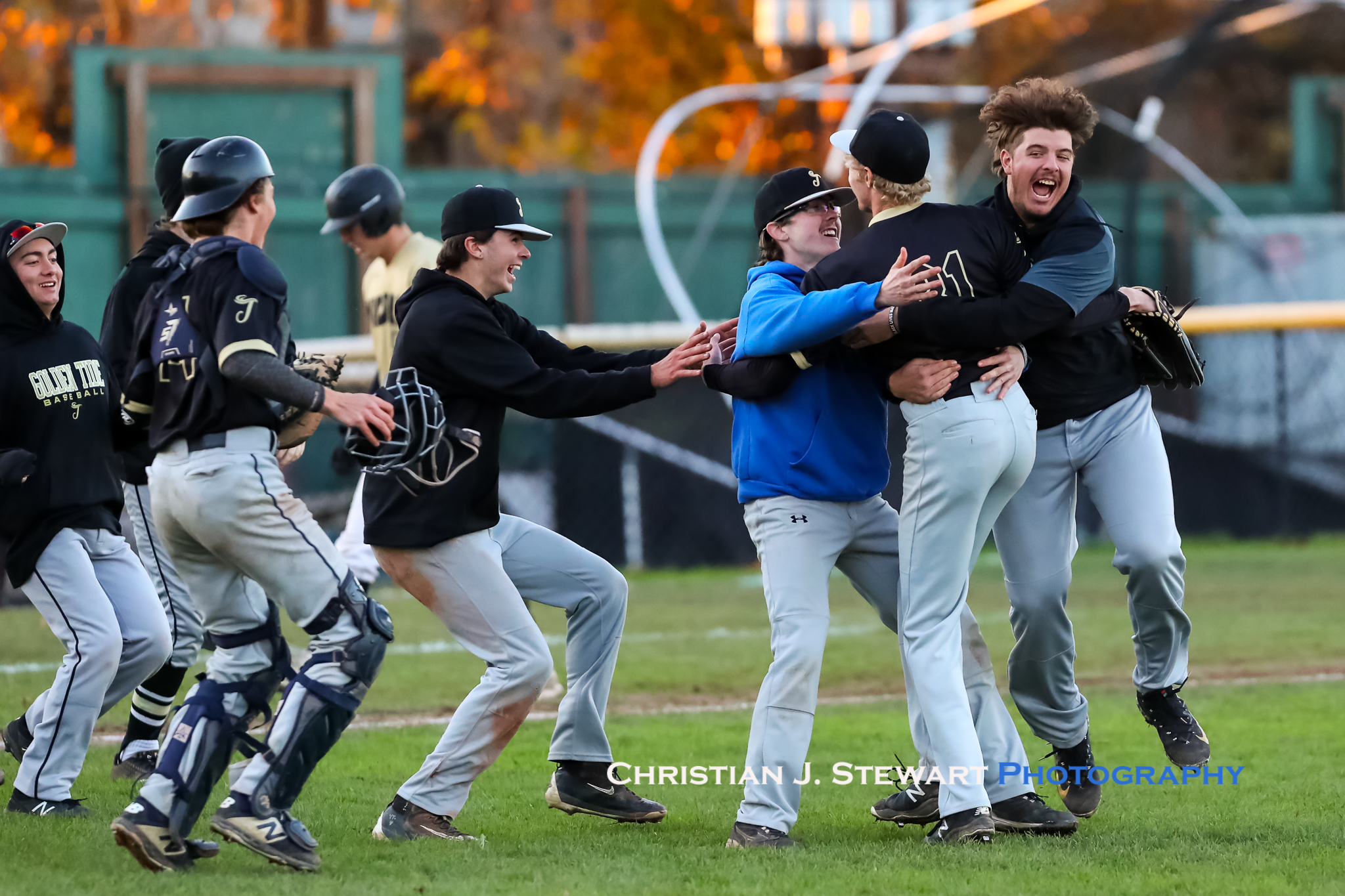 Story and Photos by Christian J. Stewart
October 31, 2021, Victoria, BC – What a fitting finish to the fall finale!
Team Black, who were just one out from defeat in the top of the ninth inning, found a way to tie the game, then scored four in the top of the 10th and hung on to come away with a nail-biting 14-13 win over Team Gold in the deciding third game of the Victoria Golden Tide Intersquad World Series Sunday afternoon at Wilson's Group Stadium in Victoria.
Team Black's Brandon Green puts the tag on Team Gold's Brody Alexandre during this rundown in Sunday's game.
Team Gold's Myles Wall celebrates a second inning run Sunday.
The game was a see-saw battle throughout and in the first two and a half innings, the teams exchanged the lead no less than four times with team Black holding a 5-4 lead after that time frame.
Team Gold right fielder Bret Czarkowski looks to have this foul ball under control but could not make the sliding catch in Sunday's game.
Cue the first potential hero of the game in Team Black pitcher Haldon Craig, who came in for early relief of Team Black Starter Cameron Dunn and proceeded to shut Team Gold out for three straight innings, allowing his team to build an 8-4 lead after five and a half innings.
Team Black's Haldon Craig was solid in middle-inning relief, shutting down Team Gold for three straight innings Sunday.
Team Black's Tristian Bolger gets fist bumps after scoring for Team Black in the second inning Sunday.
Team Gold would not back down though and in the bottom of the sixth, would finally get to Craig for three runs, narrowing the score to 8-7 before Team Black's Brett Paterson came in to get out of the inning without further damage.
Team Black's Austin Gurney turns the double play above a sliding Jordan Bond of Team Gold.
Things looked even better in the seventh, as Team Black would push the lead to 9-7 and then Paterson would keep Team Gold off the board in the bottom of the frame, but after Team Gold reliever Brady Wilson kept Team Black off the scoreboard in the top of the eighth, the first time Black had not scored in their half of the inning in the entire game, there was sense in the stadium that a possible turning point was near.
Team Gold's Brady Wilson was in line for the win, throwing 5 1/3 innings of quality relief before the wheels fell off in the 10th inning Sunday.
Sure enough in the bottom of the frame, with one run already in and after a double from Jordan Bond, a hit batter and an intentional walk, the second potential hero of the game, Parker Harris, lofted a 2-RBI single to centre, giving Team Gold their first lead since the second inning and sending them to the top of the ninth ahead 10-9.
Team Gold's Parker Harris had a pair of singles and three RBI late in Sunday's game to nearly give his team the win.
In the ninth Team Black's Kai Gray would lead off the inning with a single off Wilson and then move to second on an error. A sac fly moved him to third and after another strikeout, Austin Gurney hit what looked to be the game ending ground ball toward the gap between first and second. It would turn out to be a tough play and Gurney beat it out for an infield single, scoring Gray and tying the game at 10-10.
Team Black's Kai Gray scampers to third and would eventually score the tying run in the ninth inning of Sunday's game, forcing it into extra innings.
Team Black's Austin Gurney had a key infield single in the ninth inning to tie the game and also scored in the 10th to help Team Black secure their win.
In the bottom of the frame, the third candidate for hero of the game, Team Black pitcher Ethan Dean, retired Team Gold in order, sending the game into extra frames.
Team Gold's Tyler Burton gets high fives after scoring one of hid four runs on the day Sunday.
In the 10th, special extra inning rules applied and Team Black began the inning with runners placed at first and third base. They quickly cashed one of those in on a wild pitch and then after an intentional walk and a hit batter, found themselves with the bases loaded. After Wilson struck out the next batter, he would walk another making the score 12-10 Black before being replaced by Ryder Green.
Team Black's Ethan Dean would get credit for the World Series win, in late inning relief, retiring the first five batters he faced in innings 8 and 9 and then getting a key double play ground out in the 10th to help his cause.
Green would then give up another walk and an RBI single to Brandon Green before getting out of the frame with Team Black now holding a 14-10 lead.
In the bottom of the inning, with runners starting on first and third, Team Gold quickly loaded the bases on a leadoff walk to Bond. Dean then induced an RBI double-play groundout, cutting the score to 14-11 before hitting a batter to put runners on first and third.
Team Black's Alex McLauchlan slides safely into second ahead of the throw to Team Gold's Austin Wall.
An RBI single by Parker Harris cut the lead to 14-12, bringing up Bret Czarkowski who lashed a double to the left field fence scoring one run, with a second, in Will Podmoroff, who had gone in to run for Harris, looking to be on his way to tying the score. However Team Black did a good job to get the ball in quickly and Podmoroff was held at the last minute, leaving the tying and potential winning runs in scoring position and third and second base respectively.
Team Gold catcher Parker Harris awaits the throw for a force at home in the 10th inning of Sunday's game.
After everyone took a big breath, Dean then got Myles Wall to hit into a groundout to the shortstop, preserving the 14-13 win and sending Team Black out to the mound to mob Dean, who took credit for the win in relief.
Team Black's Brandon Green would have a pair of singles and a double, plus 2 RBI to help his team to the 14-13 win Sunday.
The game marks a great end to what has been an exciting inaugural fall season of Golden Tide baseball. The team and all the players have all worked hard to develop under the guidance of Head Coach Curtis Pelletier and his staff and that development shows in games like today, as well as the fine showing the team had at the CCBC Fall Championship Tournament in Kelowna.
The Tide will now head indoors for the winter, working out at the Edwards Family Training Centre on Cook Street in preparation for their first official CCBC season which begins in April of 2022.
Team Black shortstop Brandon Green turns a key double play in the 10th inning Sunday.
Stay tuned for details on the spring schedule, as well as all things Golden Tide and Victoria HarbourCats related at www.harbourcats.com , as well as on Facebook, Twitter and other social media for both teams.
While Team Gold's Bret Czarkowski walks off the field in the background. Team Black pitcher Ethan Dean (right) prepares to get mobbed by Ethan Keats (blue hoodie) and Zeke Holt.
Team Black pitcher Ethan Dean sports a big grin as he is mobbed by his teammates after winning the game Sunday.
TIDAL WAVES: Team Black, in addition to bragging rights, now wins two nights in the Wilson's Transportation Group Suite at a Victoria Royals game thanks to their victory. The win by Team Black overshadowed an impressive offensive performance by Team Gold's Jordan Bond who had two singles, two doubles, a walk, two RBIs and scored three times. Congratulations are extended to players Colton O'Brien (Luck Charms leprechaun), Jordan Bond (Superhero) and Dexter Stoiber and Noah Charlton (Thing 1 and Thing 2) who won Sunday's Halloween batting practice costume contest.
THE TIDE IS IN! College baseball arrives in Victoria
College team makes debut in Victoria, Home Opener on September 17th.
September 8, 2021
Victoria, BC – College baseball has arrived in Victoria!
The Victoria Golden Tide will make their debut this Thursday at the Zack Downey Memorial Tournament at Layritz Park and will then have their home opener at Wilson's Group Stadium at Royal Athletic Park on Friday September 17th at 6:00 pm against Thompson Rivers University.
The Golden Tide are the newest entry in the Canadian College Baseball Conference (CCBC), an eight-team domestic league that in addition to Victoria, has teams in Nanaimo (Vancouver Island University), Kelowna (Okanagan College), Kamloops (Thompson Rivers University), Chilliwack/Abbotsford (University of the Fraser Valley), Calgary (University of Calgary), Lethbridge (Prairie Baseball Academy) and Edmonton (Edmonton Collegiate Baseball Club).
The Tide will be Victoria's first formal organized college baseball team. There was an attempt a number of years ago to get a college team off the ground, but it never really materialized.
The Golden Tide roster, currently at 48 players, is comprised of student athletes from the University of Victoria and Camosun College, all of whom have played elite level baseball at the high school level, or who have previous university and college level experience. Those 48 players have already been working out at Wilson's Group Stadium in preparation for this weekend's tournament.
The Golden Tide will play an approximate 35-game exhibition season in the fall of 2021 with at least 16 of those games at Wilson's Group Stadium (see schedule at end of note). They will also participate in the CCBC Fall Championship in Kelowna October 8-11 and will hold their own Intersquad World Series at the end of October.
The official 32-game CCBC League season begins April 1-3 weekend in 2022 and runs until mid-May. Many of the game dates, both fall and spring, will consist of daytime double headers.
The Tide are backed by the Victoria HarbourCats of the West Coast League. Games will be played at Wilson's Group Stadium and the players will utilize the HarbourCats Indoor Training facility on Cook Street for indoor and winter work.
Players on the Golden Tide will be eligible to play for the HarbourCats and in fact, most likely some will, especially during the start of the West Coast League season when the HarbourCats are waiting for players to arrive from U.S. schools. Others may play for the full season, should it be warranted.
The Tide will be managed by Curtis Pelletier who is well known to HarbourCats fans as the Hitting Coach for the 'Cats and the Director of the youth Players Development Club. Pelletier will be joined on the Golden Tide coaching staff by Pitching Coach Ethan Fox, Hitting Coach Kyle Orr, Assistant Coaches Shawn Loglisci, Aaron Witzke, Mike Musselwhite and Ryan Haines and Strength and Conditioning Coach Jeremy Cordell.
Tickets for all Golden Tide home games are available for just $5, or $10 for seats in the Grandstand (Sec. 10)(open seating). Booster Club memberships are also available for $200, and include admission to all fall /spring games, priority seating in Diamond Club / Campbell Club sections, and a free hat and t-shirt.
Tickets are available at gate, or in advance at the HarbourCats office, 101-1814 Vancouver Street, or by calling 778-265-0327.
ZACK DOWNEY TOURNAMENT SCHEDULE, LAYRITZ PARK, SAANICH
Thu Sep 9 2:30pm vs Victoria Mariners
Fri Sep 10 2:30 pm vs Saskatchewan Prep
Sat Sep 11 9:30am vs Victoria Eagles
Remaining games depend on placement but likely either 10AM or 12:30 Sunday for semis and then 3PM for Final.
GOLDEN TIDE FALL HOME SCHEDULE
SEP. 17, 6PM – TRU WOLFPACK
SEP. 19, 1PM – VAN.ISLE UNIV. (DH*)
SEP. 25, 1PM – FRASER VALLEY (DH)
SEP. 26, 3PM – MID-ISLE PIRATES (DH)
OCT. 2, 6PM – VICTORIA MARINERS
OCT. 16, 1PM – VAN. ISLE PREP (DH)
OCT. 17, 1PM – UBC (DH)
OCT. 23, 1PM – TBA (DH)
OCT. 24, 1PM – PARKSVILLE ROYALS (DH)
OCT. 26-31 INTERSQUAD WORLD SERIES
*DH = Double Header
Golden Tide collegiate baseball team announces first signees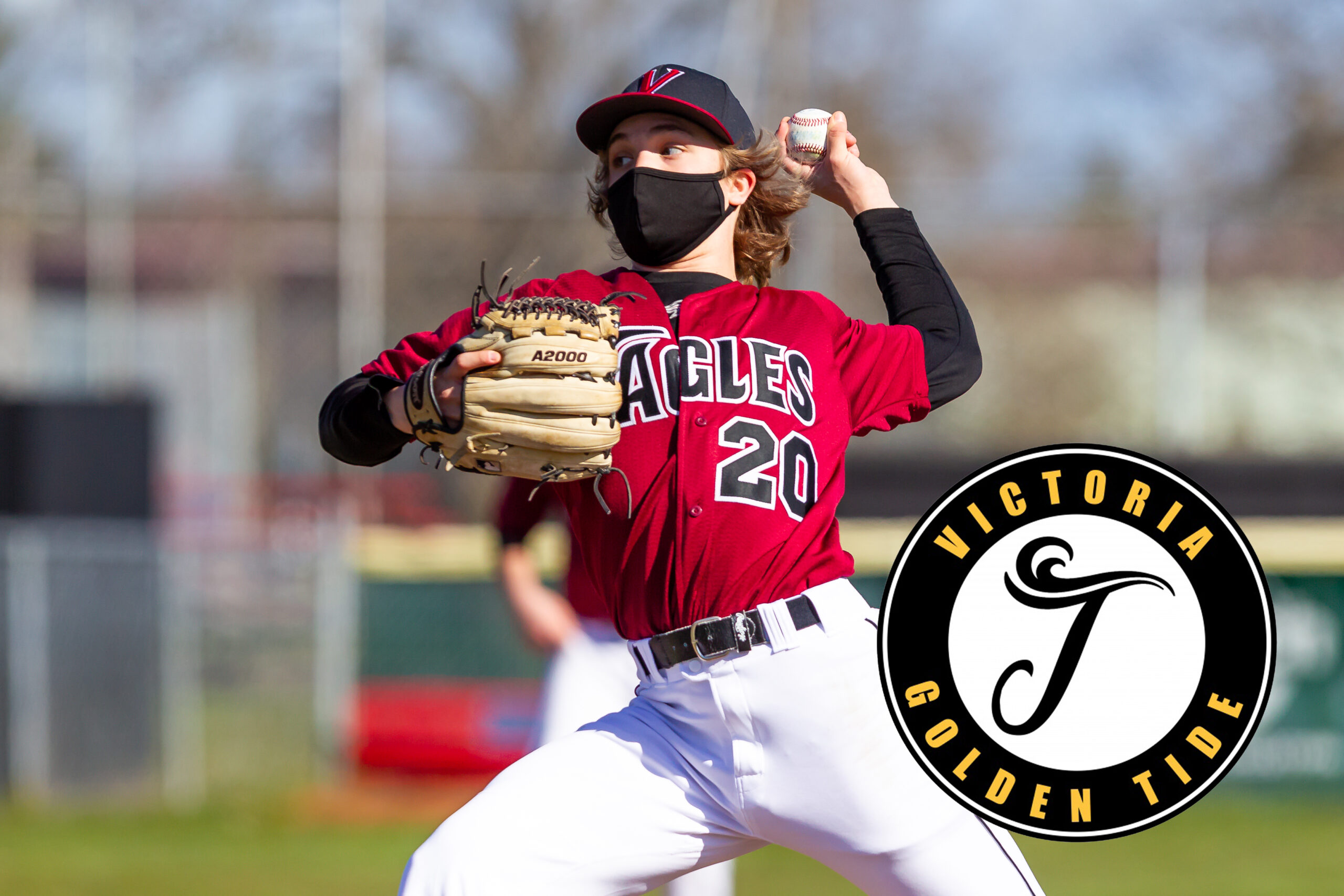 Victoria's Jacob Popadynec (above) is one of the first players to be announced for the new Victoria Golden Tide CCBC collegiate program that will debut this coming fall.
Monday, May 17, 2021
Victoria, BC – The Victoria Golden Tide, the most recent entry in the Canadian Collegiate Baseball Conference (CCBC) is preparing for their debut in the 2021-2022 CCBC season and today is announcing the initial list of players that have committed to Head Coach Curtis Pelletier's program and will begin working out in early September
Even in a time with a pandemic, and restrictions on activity and usual recruiting efforts, Coach Pelletier has been able to secure tremendous student-athletes to give the Golden Tide a strong start in the CCBC, a league that has been around for nearly 20 years.
These are the first five to be announced, with more players to be fully confirmed over the coming weeks.
Included in the first five to be made public is National Junior Team infielder Brody Alexandre of Swift Current, SK, along with Island products Tristan Bolger, Jacob Popadynec and Nick Lee, and Ethan Keates from Calgary.
"There has been a lot of interest in the program, from when we announced it last fall and made the commitment to join the other great programs in the CCBC," said Pelletier, also an assistant coach with the Victoria HarbourCats, and the Director of Player Development for the HarbourCats Players Club youth programs.
"I'm very excited about every player who has shown interest, and those we're announcing today will be key parts for us. We'll focus on development in a strong team culture, these are athletes who are committed to taking this step and improving. Quality players will always find ways to bind together and challenge each other."
Alexandre, a 6'2″ 175lb. infielder who plays the corner positions, has a lefty bat that has drawn the attention of scouts.  He was a member of the Canadian Junior National Program in 2020 and also played for the Langley Blaze in the BC Premier Baseball League (BCPBL).
Keates at 5'9″ 180lb. brings CCBC experience to the Tide, a catcher/infielder who is transferring to school in Victoria from TRU in Kamloops.
Lee is a hard-throwing 6'2″ 175lb. right-hander from Victoria who played for Okanagan College in the CCBC. Prior to that he was a member of the Victoria Mariners in the BCPBL, where in 2017 he had a 1.23 ERA in 11.1 innings pitched, striking out 11 and walking just three.
The 5'11" 160lb. Popadynec, a projectable lefty from the Victoria Eagles PBL club, will provide a nice left-handed option on the hill for the Tide. With the Jr. Eagles in 2019, Popydynec amassed a 10-1 record, with a 1.76 ERA and 88 strikeouts  in 67.2 innings of work.
Bolger, at 6'1″ 170lb., is a versatile fielder out of the Victoria Mariners PBL program and is an example of the strong initial local talent that will be on the field for the Golden Tide in their first season.
The Canadian college baseball conference, is an eight-team domestic league for university students that in addition to Victoria, has teams in Nanaimo (Vancouver Island University), Kelowna (Okanagan College), Kamloops (Thompson Rivers University), Chilliwack/Abbotsford (University of the Fraser Valley), Calgary (University of Calgary), Lethbridge (Prairie Baseball Academy) and Edmonton (Edmonton Collegiate Baseball Club).
The league has suspended play for the 2020-2021 campaign due to the ongoing COVID-19 pandemic, but is anticipated to be back to a full season of play for 2021-2022 and the Golden Tide will be ready to compete for the CCBC title.
"We have worked tirelessly signing players from all over Canada," added Golden Tide manager Curtis Pelletier. "Our first year will be primarily comprised of first year players (Freshmen) and although we are a young team, we are confident that this group of athletes will come in and compete right away."
"We can't wait to get into the park and begin this journey for a CCBC championship with our local supporters here in Victoria."