Dinos baseball prospect playing waiting game instead of baseball
Nolan Hull is supposed to be living and playing baseball on the eastern side of the Rocky Mountains.
Instead, because of the COVID-19 pandemic, he's still in his hometown of Prince George, British Columbia, taking first-year engineering classes from the University of Calgary through a video feed on his computer. As for baseball, it's on hold and he's not sure when he will finally get the chance to suit up for the U of C Dinos of the Canadian College Baseball Conference.
For the 18-year-old Hull, in-person schooling and baseball would have started in September 2020. Now in the early days of 2021, he's still waiting to see what will happen with school and baseball and life in general.
"Late last summer I got a couple of texts from the coach, asking me what my plans were, and it just seemed like nothing was going to open so the best choice for me was to stay in town and save rent money and everything and just take school online," said Hull, a catcher when he's on the diamond. "Nothing's open, there are no practices, so there's no point even being there."
Hull is like so many student-athletes across Canada and around the world – he's missing out on the opportunity to experience college or university life the way it was meant to be experienced, and, athletically, he's sidelined indefinitely instead of playing the sport he loves.
"It's been a tough year," said Hull, a product of the Prince George Youth Baseball Association who contributed to multiple provincial championship titles during his years in the PGYBA's all-star program. "Baseball was a lot of my social life. You can't see your friends, there's no baseball. I've sat in my room for probably four months, just doing schoolwork, so it's definitely a big change from what I was expecting. You think your first year university you're going to play baseball and you're going to go to school. You're going to be on campus all the time and you're going to have fun, and I've been in my room on my computer."
Hull has been trying to stay in shape using his home gym. And, in early January, he started attending indoor baseball workouts at the Northern Sport Centre fieldhouse on the University of Northern British Columbia's Prince George campus. The splash of baseball has been a much-needed tonic for him.
"It's the best feeling in the world – to not throw a baseball for three months and then to go and throw a baseball," he said. "But, man, was I ever out of shape. I couldn't walk for the next week. I never want to feel like that again because I never want to stop playing for three months."
On its website, the CCBC indicates it will work to ensure that the 2021 season is "the best possible." The league features four teams in B.C. (Okanagan College Coyotes, Kelowna; Thompson Rivers University WolfPack, Kamloops; University of the Fraser Valley Cascades, Abbotsford; Vancouver Island Mariners, Nanaimo) and three in Alberta. The other Alberta clubs are Edmonton Collegiate and the Lethbridge-based Prairie Baseball Academy Dawgs.
The 2021-22 season will see the addition of the Victoria Golden Tide, which will be formed by players from the University of Victoria and Camosun College. The team is scheduled to play its first conference games in the spring of 2022. Its home field will be Royal Athletic Park, the same facility that houses the Victoria HarbourCats of the West Coast League. The WCL is a premier summer loop for top collegiate-level players from Canada and the United States.
Jason Peters is a freelance writer and editor based in Prince George, British Columbia. Visit his website at www.frontpagepublications.net.

THE TIDE IS IN! College baseball arrives in Victoria
College team makes debut in Victoria, Home Opener on September 17th.
September 8, 2021
Victoria, BC – College baseball has arrived in Victoria!
The Victoria Golden Tide will make their debut this Thursday at the Zack Downey Memorial Tournament at Layritz Park and will then have their home opener at Wilson's Group Stadium at Royal Athletic Park on Friday September 17th at 6:00 pm against Thompson Rivers University.
The Golden Tide are the newest entry in the Canadian College Baseball Conference (CCBC), an eight-team domestic league that in addition to Victoria, has teams in Nanaimo (Vancouver Island University), Kelowna (Okanagan College), Kamloops (Thompson Rivers University), Chilliwack/Abbotsford (University of the Fraser Valley), Calgary (University of Calgary), Lethbridge (Prairie Baseball Academy) and Edmonton (Edmonton Collegiate Baseball Club).
The Tide will be Victoria's first formal organized college baseball team. There was an attempt a number of years ago to get a college team off the ground, but it never really materialized.
The Golden Tide roster, currently at 48 players, is comprised of student athletes from the University of Victoria and Camosun College, all of whom have played elite level baseball at the high school level, or who have previous university and college level experience. Those 48 players have already been working out at Wilson's Group Stadium in preparation for this weekend's tournament.
The Golden Tide will play an approximate 35-game exhibition season in the fall of 2021 with at least 16 of those games at Wilson's Group Stadium (see schedule at end of note). They will also participate in the CCBC Fall Championship in Kelowna October 8-11 and will hold their own Intersquad World Series at the end of October.
The official 32-game CCBC League season begins April 1-3 weekend in 2022 and runs until mid-May. Many of the game dates, both fall and spring, will consist of daytime double headers.
The Tide are backed by the Victoria HarbourCats of the West Coast League. Games will be played at Wilson's Group Stadium and the players will utilize the HarbourCats Indoor Training facility on Cook Street for indoor and winter work.
Players on the Golden Tide will be eligible to play for the HarbourCats and in fact, most likely some will, especially during the start of the West Coast League season when the HarbourCats are waiting for players to arrive from U.S. schools. Others may play for the full season, should it be warranted.
The Tide will be managed by Curtis Pelletier who is well known to HarbourCats fans as the Hitting Coach for the 'Cats and the Director of the youth Players Development Club. Pelletier will be joined on the Golden Tide coaching staff by Pitching Coach Ethan Fox, Hitting Coach Kyle Orr, Assistant Coaches Shawn Loglisci, Aaron Witzke, Mike Musselwhite and Ryan Haines and Strength and Conditioning Coach Jeremy Cordell.
Tickets for all Golden Tide home games are available for just $5, or $10 for seats in the Grandstand (Sec. 10)(open seating). Booster Club memberships are also available for $200, and include admission to all fall /spring games, priority seating in Diamond Club / Campbell Club sections, and a free hat and t-shirt.
Tickets are available at gate, or in advance at the HarbourCats office, 101-1814 Vancouver Street, or by calling 778-265-0327.
ZACK DOWNEY TOURNAMENT SCHEDULE, LAYRITZ PARK, SAANICH
Thu Sep 9 2:30pm vs Victoria Mariners
Fri Sep 10 2:30 pm vs Saskatchewan Prep
Sat Sep 11 9:30am vs Victoria Eagles
Remaining games depend on placement but likely either 10AM or 12:30 Sunday for semis and then 3PM for Final.
GOLDEN TIDE FALL HOME SCHEDULE
SEP. 17, 6PM – TRU WOLFPACK
SEP. 19, 1PM – VAN.ISLE UNIV. (DH*)
SEP. 25, 1PM – FRASER VALLEY (DH)
SEP. 26, 3PM – MID-ISLE PIRATES (DH)
OCT. 2, 6PM – VICTORIA MARINERS
OCT. 16, 1PM – VAN. ISLE PREP (DH)
OCT. 17, 1PM – UBC (DH)
OCT. 23, 1PM – TBA (DH)
OCT. 24, 1PM – PARKSVILLE ROYALS (DH)
OCT. 26-31 INTERSQUAD WORLD SERIES
*DH = Double Header
Golden Tide collegiate baseball team announces first signees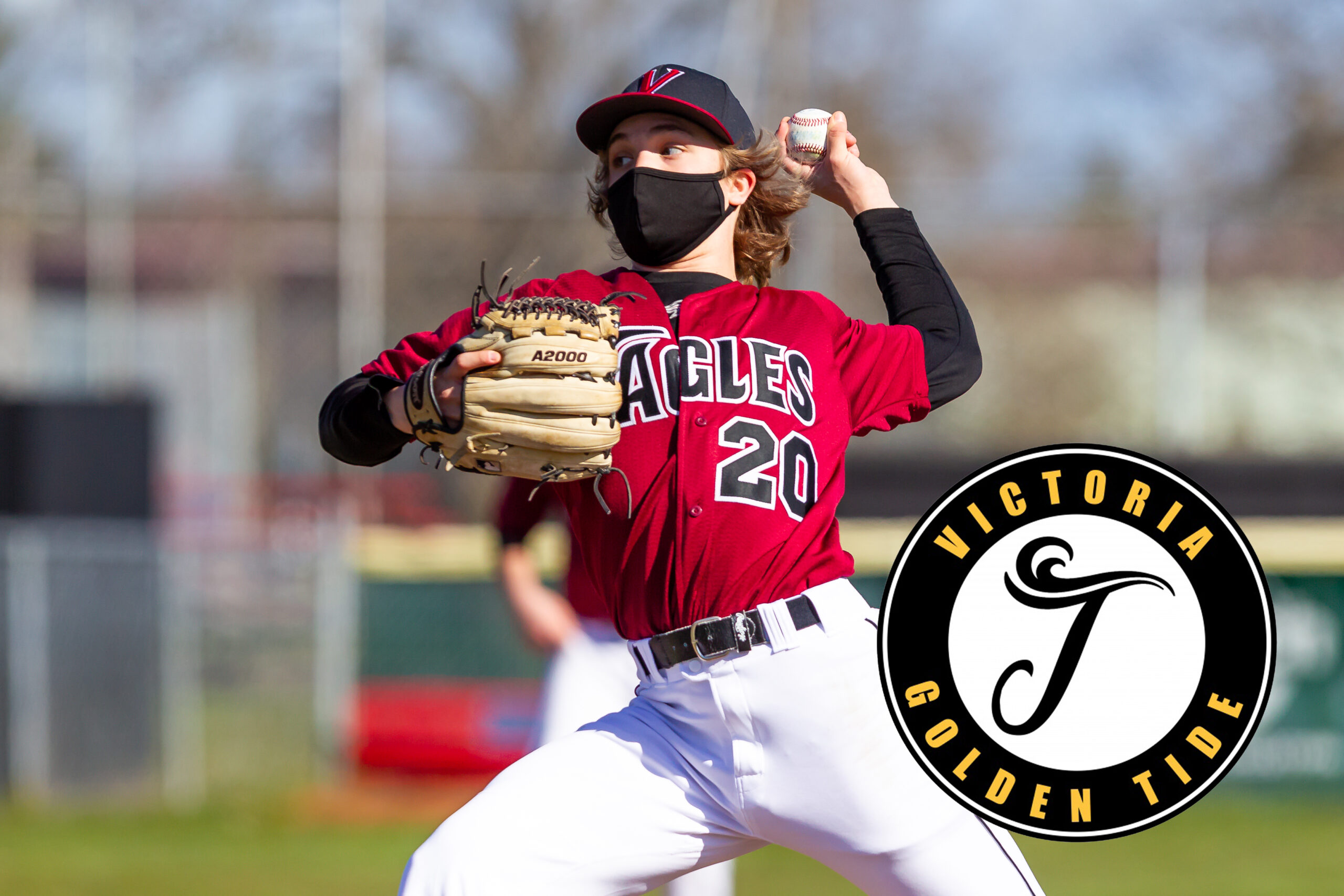 Victoria's Jacob Popadynec (above) is one of the first players to be announced for the new Victoria Golden Tide CCBC collegiate program that will debut this coming fall.
Monday, May 17, 2021
Victoria, BC – The Victoria Golden Tide, the most recent entry in the Canadian Collegiate Baseball Conference (CCBC) is preparing for their debut in the 2021-2022 CCBC season and today is announcing the initial list of players that have committed to Head Coach Curtis Pelletier's program and will begin working out in early September
Even in a time with a pandemic, and restrictions on activity and usual recruiting efforts, Coach Pelletier has been able to secure tremendous student-athletes to give the Golden Tide a strong start in the CCBC, a league that has been around for nearly 20 years.
These are the first five to be announced, with more players to be fully confirmed over the coming weeks.
Included in the first five to be made public is National Junior Team infielder Brody Alexandre of Swift Current, SK, along with Island products Tristan Bolger, Jacob Popadynec and Nick Lee, and Ethan Keates from Calgary.
"There has been a lot of interest in the program, from when we announced it last fall and made the commitment to join the other great programs in the CCBC," said Pelletier, also an assistant coach with the Victoria HarbourCats, and the Director of Player Development for the HarbourCats Players Club youth programs.
"I'm very excited about every player who has shown interest, and those we're announcing today will be key parts for us. We'll focus on development in a strong team culture, these are athletes who are committed to taking this step and improving. Quality players will always find ways to bind together and challenge each other."
Alexandre, a 6'2″ 175lb. infielder who plays the corner positions, has a lefty bat that has drawn the attention of scouts.  He was a member of the Canadian Junior National Program in 2020 and also played for the Langley Blaze in the BC Premier Baseball League (BCPBL).
Keates at 5'9″ 180lb. brings CCBC experience to the Tide, a catcher/infielder who is transferring to school in Victoria from TRU in Kamloops.
Lee is a hard-throwing 6'2″ 175lb. right-hander from Victoria who played for Okanagan College in the CCBC. Prior to that he was a member of the Victoria Mariners in the BCPBL, where in 2017 he had a 1.23 ERA in 11.1 innings pitched, striking out 11 and walking just three.
The 5'11" 160lb. Popadynec, a projectable lefty from the Victoria Eagles PBL club, will provide a nice left-handed option on the hill for the Tide. With the Jr. Eagles in 2019, Popydynec amassed a 10-1 record, with a 1.76 ERA and 88 strikeouts  in 67.2 innings of work.
Bolger, at 6'1″ 170lb., is a versatile fielder out of the Victoria Mariners PBL program and is an example of the strong initial local talent that will be on the field for the Golden Tide in their first season.
The Canadian college baseball conference, is an eight-team domestic league for university students that in addition to Victoria, has teams in Nanaimo (Vancouver Island University), Kelowna (Okanagan College), Kamloops (Thompson Rivers University), Chilliwack/Abbotsford (University of the Fraser Valley), Calgary (University of Calgary), Lethbridge (Prairie Baseball Academy) and Edmonton (Edmonton Collegiate Baseball Club).
The league has suspended play for the 2020-2021 campaign due to the ongoing COVID-19 pandemic, but is anticipated to be back to a full season of play for 2021-2022 and the Golden Tide will be ready to compete for the CCBC title.
"We have worked tirelessly signing players from all over Canada," added Golden Tide manager Curtis Pelletier. "Our first year will be primarily comprised of first year players (Freshmen) and although we are a young team, we are confident that this group of athletes will come in and compete right away."
"We can't wait to get into the park and begin this journey for a CCBC championship with our local supporters here in Victoria."
Chilliwack's Liam Campbell reflects on his time with UFV Cascades baseball club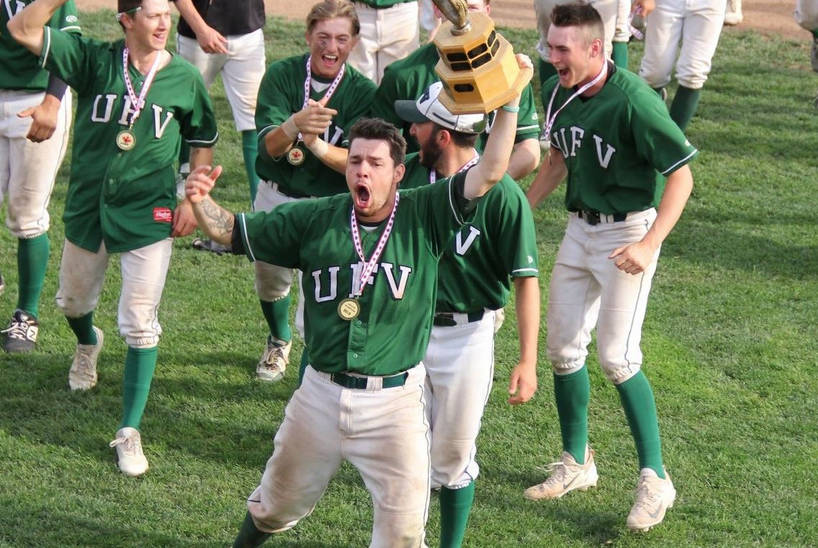 Story provided by Dan Kinvig – UFV Cascades communications – 
While student-athletes did not consume eligibility during a 2020-21 season hampered by the pandemic, several longtime University of the Fraser Valley (UFV) standouts are graduating and moving on to new challenges.
Today, Chilliwack's Liam Campbell reflects on his years with the UFV baseball club.
———————————————————————————————————————-
Q: You're known as a leader in the UFV baseball program, and a big personality with a chirp for any occasion. Is that a fair assessment?
A: "(Laughs) I'm a quick-witted person – I'm very stimulated in my environment, I would say. Guys would agree that they can't really get away with doing something on the ball field without me noticing. If you trip and fall, or if you forget something, no matter where I am on the field, I will see it and I will let you know about it!
"Baseball is a game of failure – it's frustrating at times, and I can't believe I've played it as long as I have, to be honest! (Laughs) I'm just joking through that failure with guys, trying to laugh at situations, keep things loose. I think that's kind of the culture we've had the last few years where we've had a lot of success – very loose, but also very focused. We're always joking around, laughing. I would like to think I'm the nucleus of that, just keeping guys loose. Especially for the newer guys coming in, it's very easy to get integrated into that system when there's someone like me and a few other guys who are so open and extroverted, just talking all the time."
Q: Evan Petersen, Dylan Emmons and yourself are the three original Cascades still with the program, dating back to its probationary year in 2016 before the club became full Canadian Collegiate Baseball League (CCBC) members in 2017. What do those two guys mean to you?
A: "Oh man. I don't even think I can put into words the relationship I have with those guys.
"The first time I ever met Dylan – this is a pretty funny story – we were in Grade 9. He was playing on his Kelowna summer ball team for bantam AA, and I was playing on the Chilliwack team. He was a stud even back then. I was on first base, and he was running to first after her got a hit. I was always told when I was playing first base that when you tag someone, let them know they've been tagged. Make them not want to be at first base. So when Dylan he gets to first base, I get the ball and I whack him with a tag. And he gets up, and he's like, 'What was that?' I'm like, 'Shut up, man!' and I throw the ball back to the pitcher. He tells me where to go and how to get there, that sort of thing, and we start lipping each other off.
"Well, my bantam team, we went on to win provincials and were going to the Western Canadian championships. We got to pick up a few players from around the league to go with us. I show up to practice, and I see Dylan. I didn't know his name, and while I'd heard the names of the guys we'd picked up, I didn't know he was one of them. I see him roll up to practice, and I'm like, 'Oh my.' Last time we saw each other we were lipping each other off on the ball field. So we actually played together in Grade 9 and were Western Canadian champions together.
"The first year of Fraser Valley Collegiate Baseball, Dylan actually lived with my family, because we had gotten to know them. The following year, Evan moved in with my family as well, and obviously now Evan and I share a place.
"In terms of describing the relationship I have with those guys, it's family. That's the only word I can use to describe it. I've known them for years, been through the highs, been through the lows. It gets emotional thinking about those guys, where we started and where we are now."
Q: You were part of the Cascades' CCBC championship in 2019, and you were actually on the mound to close out the championship game. What was that moment like?
A: "It was surreal. Just talking about it now, I get goosebumps. That, for me personally, was probably the best weekend of baseball I've ever played in my life. We played eight games in four days, and I caught four nine-inning games, and I pitched in three of the other four games. So when I was out there in that last game, my body had nothing left to give. I was just out there with the ball in my hand, and I was glad I was out there, because I like to be in control. Even though I didn't have anything left in the tank, I was just out there with my heart, putting it on the line for the guys.
"To go the four innings to seal the deal at the end, it's a special moment. And to look back at it now as the last league game I've played, with COVID and stuff, it's really a storybook ending. It seems like they could make a Netflix documentary about it or something, know what I mean? It was awesome, but as a team, the way we were going that weekend, we could have had our left fielder on the mound. We were so locked in that weekend. It just happened to be me."
Q: You're known for your work ethic and your willingness to take on an incredibly busy schedule – working multiple jobs, coaching youth baseball, playing for the Cascades, and keeping up with your academics all at the same time. How do you do it?
A: "A lot of times, people see it from the outside, and they think it was me and my work ethic. I will admit that it probably is a bit true. But I was very fortunate to have the relationships I've had with people during my time at UFV, whether it be at work, friendships, family, that have put me in those situations to succeed. I owe a lot of credit to my employers who understood the flexibility I needed and everything like that.
"When I came back this fall, I was working 44 hours a week at a wood production plant. I'd start at 6 a.m., work until 2:30, hustle to the field from 3 to 5 p.m. (for baseball practice), then go home and do my coursework online. Looking back, I don't know how I did it. But when I was in there doing the work, it was what I had to do to be able to go to school, be able to play, and do all the things I wanted to do.
"I don't really have a secret formula I can share with everyone. I just kind of put my nose down and went forward."
Q: You finished the coursework for your Bachelor of Kinesiology degree, plus an extended minor in psychology, back in December. What's next for you?
A: "I actually start my Master's degree in the coming weeks here, on May 3. I'm doing a Master's of Counselling at Yorkville University. I was going to start in the fall, but they offered me a seat in the May intake. They asked if I wanted to start early, and I was like, 'You mean I'll finish early? Yes, absolutely!'
"I really got in touch with mental health and mental health awareness in 2020 when we had the first COVID shutdown. It really shook me to my core, really broke me down. I was in a really, really bad place … I remember sitting down with my parents and I just broke down and said I needed help. I can't keep shouldering this myself, I can't keep hiding in my room – I need to talk to someone. I've been going to counselling since then, a little bit over a year now, and it's the best decision I've ever made.
"When I was looking at my future, part of the reason I went into kinesiology was because I wanted to help people. I had a really bad shoulder injury when I was younger, went to physio, and thought that might be something I'd like to do. Well, as I went through my degree, it turns out physiotherapy is very, very difficult. I still had my eyes set on that … But as soon as I started going to counselling, and I started talking to Roger (Friesen) and Carl (Nienhuis), the sports psychs at UFV, I realized there are different ways to help people.
"After the COVID shutdown, if I didn't go to counselling, I don't know what would have happened to me. So I decided to go the counselling route. I want to help people the same way I was helped, and grow that field and continue to advocate for mental health awareness. We need to take care of our mind and our emotions the same way we take care of our bodies. We roll our ankle, and we'll go buy an ankle brace right away. But if something bad happens, people don't want to talk about it.
"I would say that's what the future holds. The next two years, get that Master's degree, and after that, just start helping people – getting them back on their feet, being that listening ear.
"I'm very fortunate to have figured out where I wanted to go."