Coaching conference goes virtual with impressive lineup of speakers
Since its inception in the early 1990s, the B.C. Minor Baseball Coaches Conference has been one of the most anticipated events of the year on the provincial baseball calendar.
COVID-19 isn't stopping it.
The conference normally happens live and in person each February. This year, organizers weren't able to facilitate a traditional gathering because of restrictions related to the pandemic. Instead of cancelling the conference, they decided to hold it in a virtual format.
"We talked to a video guy, so we've videotaped everything for the convention and it's all done now," said chairman and co-founder Mike Kelly. "We put a lot of work into it and we're pretty happy with our product."
The three-day conference will be hosted by HQ Enterprise and will be streamed via the B.C. Minor Baseball Association website (www.bcminorbaseball.org). A session with Anthony Pluta on baserunning kicks off the event at 6:10 p.m. on Friday, March 26. The conference will resume on March 27 at 9 a.m. with a presentation by Wayne Parro (An Overview of the New NCCP Baseball Canada). The final day, March 28, will begin at 9 a.m. with Rick Johnston and his talk, Hitting Warm-up and Progression Drills.
In total, the conference features 23 informative sessions. Speakers include former MLB players Aaron Myette and Kevin Nicholson, both of whom were born in B.C. and spent their formative baseball years playing out of the Lower Mainland. Myette was a pitcher for the Chicago White Sox, Texas Rangers, Cleveland Indians and Cincinnati Reds from 1999 to 2004, while Nicholson was an infielder for the San Diego Padres in 2000.
Former outfielder Reggie Smith also brings MLB credentials to the conference. Smith made his big league debut with the Boston Red Sox in 1966 and went on to play for the St. Louis Cardinals, his hometown Los Angeles Dodgers and the San Francisco Giants. After his final MLB season in 1982, he headed for Japan and a two-year stint with the Yomiuri Giants.
For the conference, Myette joins 2016 Toronto Blue Jays draft pick Brayden Bouchey for a session called Pitching Grips and Lower Body Development for Pitchers (2:35 p.m. on March 27). A little earlier the same day, at 1 p.m., Nicholson will speak on a topic called How to Develop Your Middle Infield. As for Smith, he will offer up a session called Empower Our Youth Athletes for Success, which will start at 12:20 p.m. on March 28.
As part of the conference lineup, Kelly is also excited to have the contributions of Emily and Stacy Fournier, who will hold a discussion called Playing and Coaching in the Girls Baseball Program and Promotion of Girls Grassroots Programming (3:20 p.m. on March 27). Also on March 27, at 10:05 a.m., Marty van-der Loos will present Coaching Girls/Boys Separate and Together.
"We're really pushing girls baseball because that's going to be the next big sport in Canada," Kelly said.
The conference is intended for coaches with all ranges of experience, from beginner to veteran.
"Coaching is a big commitment," said conference co-founder Ray Carter, a former president of Baseball Canada, Baseball B.C. and B.C. Minor Baseball. "It takes many hours of your time and it is important to remember that what you say and do will be remembered by these young people forever. Therefore, it is incumbent for us to give you the tools you need."
To register for the B.C. Minor Baseball Coaches Conference, please click here. Cost is $50.
Jason Peters is a freelance writer and editor based in Prince George, British Columbia. Visit his website at www.frontpagepublications.net/.
Ridge Meadows Rises to Championship Form!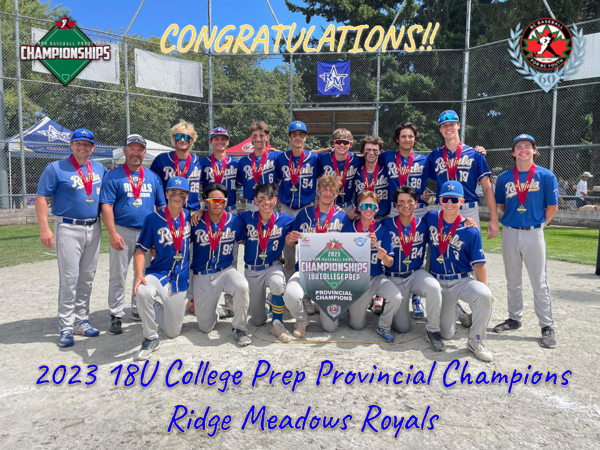 It would be fitting to see the top two teams from the Regular season' the #1 North Fraser Nationals and the #2 Ridge Meadows Royals, go head-to-head for the 2023 18U College Prep Provincial Championship! 
North Fraser entered the final tilt undefeated through the round-robin and their semi-final match, while Ridge Meadows had only stumbled once on the way there. 
In the end, it was Ridge Meadows and their ability to push runs across the dish that put them on top 6-1 when the dust finally settled handing North Fraser their only loss of the weekend. 
Congratulations to the Ridge Meadows Royals and all of their fans and supporters. You are the 2023 18U College Prep Provincial Champions!
Congratulations to the North Fraser Nationals and all of their fans and supporters on a stellar run to the top of the Regular Season Standings. 
Congratulations to all of our 2023 18U College Prep Players, Coaches, and Families. It's been a ride! See you in the Fall!
Ladner takes the 2023 John Main 13U Invitation Crown!
Ladner takes the 2023 John Main 13U Invitation Crown!
By BCMBA, 05/28/23, 4:00PM PDT
Share
Cole Hudie finishes it with a 3-run shot to lift Ladner to a 5-2 W over Chilliwack and claim the BCMBA 2023 John Main 13U Invitational Championship Title! Thank you to our hosts and their families, Ridge Meadows and Cloverdale, our BCMBA Volunteer Directors, and everyone who participated!!
The 2023 John Main 13U Invitational is underway!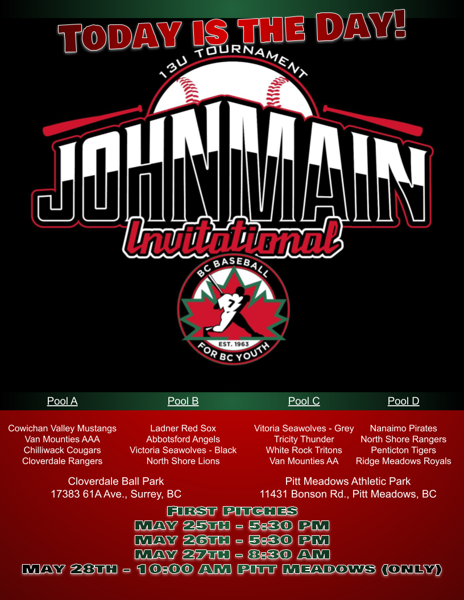 The 2023 John Main 13U Invitational is underway!
By BCMBA, 05/25/23, 9:00AM PDT
Share
The 2023 BC Minor Baseball John Main 13U Invitational has arrived. All weekend long, come down and check out some of the future stars of our game! Dates, times, locations, and results can be found here:
2023 John Main 13U Invitational