Canadian Content on NAIA rosters continues to grow
The Canadian content on NAIA baseball rosters continues to grow, and grow, and grow — with the total up to 61 Canadian players now listed on NAIA squads.
The Canadians in College Baseball report on Twitter (@CollegeBaseba12), gathered religiously by Kevin Wall, who has been compiling info for years, even through the challenges many players faced during COVID and the uncertainties around being an international student.
The most impressive part of the 61 in NAIA is an astounding 11 players with the Lourdes University in the WHAC (Wolverine-Hoosier Athletic Conference). Lourdes is located in Sylvania, OH, and the Gray Wolves baseball program is under the leadership of Head Coach Josh Bradford, a former University of Toledo coach who clearly knows his way around a map of Ontario, as all 11 hail from Canada's most populated province.
For more info on Canadians in college baseball, follow @CollegeBaseba12 on Twitter and check out https://cbplayers.com/, and look for additional info here at TheDugout.ca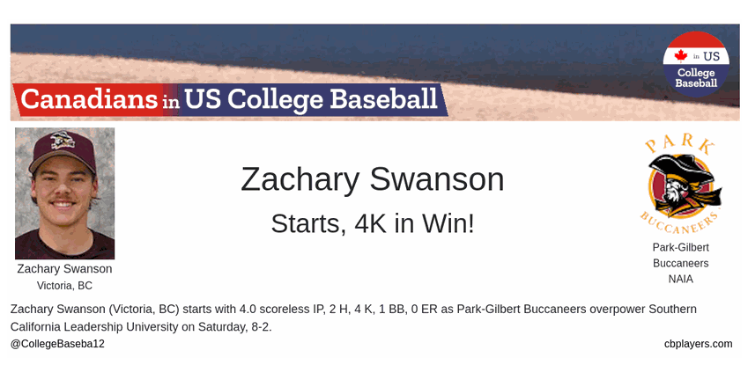 Zachary Swanson (Victoria, BC) starts with 4.0 scoreless IP, 2 H, 4 K, 1 BB, 0 ER as Park-Gilbert Buccaneers overpower Southern California Leadership University on Saturday, 8-2.
Parksville Royals Deagle and Plant sign with Golden Tide
It's a nice way to start the season if you can swing it.
Two Parksville Royals will head into their last season in purple with their September college plans all sewn up. Campbell River's Ryan Deagle and Courtenay's Thomas Plant have both signed with the Victoria Golden Tide baseball team of the Canadian College Baseball Conference  (CCBC).
Head Coach Frank Kaluzniak was quick to praise his players as they enter their final season with the Royals. "Great accomplishment for these guys. They've been Royals since day one and have shown tremendous and consistent improvements throughout their tenure with the program. I wish both Thomas and Ryan all the best moving forward. They have been a pleasure to coach."
Thomas Plant, 6' 1" and 195 lbs, battled injuries early in 2021 and then showed off an all-around skill set during the season. Plant demonstrated a patient hitting approach with break-out power from the right-side as well as grit and execution on the mound. "I have been training with the Tide this fall/winter and signed to play with them next year," said Plant. "I want to thank the Parksville Royals as they have helped me become not only the ball player but the person I am today. My goals with the Tide are to bring a championship to Victoria while also getting a good education."
Signing with the Tide caps off a tremendous 2021 for Campbell River's Ryan Deagle. Deagle, 6' 2" and 215 lbs, absolutely mashed at the plate this past season hitting .333/.453/.547. Over the course of the COVID-shortened season and playoffs he drove in a team-leading 22 RBI and hit two home runs to go with 6 doubles and 2 triples. Following the season, the team awarded Ryan the Tyler Phillips Memorial award for outstanding performance. "I wouldn't be the person or player I am now without the help of coaches Frank, Bruce, Kevin, and Russy. All of my coaches helped promote me to colleges all over North America and always answered my questions. When I left for four months to train with the Golden Tide this past fall, my coaches with the Royals were extremely supportive checking in with me multiple times. Playing with the Royals has been a great experience and I have countless memories of my teammates in so many games and on the road at tournaments," said Deagle. "The recruiting process with the Tide was easy as I trained with them for 4 months and enjoyed their ways of training and practices. My goal at UVIC is to study sciences and play there for one year and move onto a Division I school on a scholarship."
"We're really excited to have Thomas and Ryan join us," said UVIC head Coach Curtis Pelletier. "We have three coaches who are Royals alum including myself so we believe in what the Parksville program is doing. I've had the chance to coach the Biro brothers back in the day as well as Connor Russell. I know the focus on development is strong in Parksville and any chance we can get a Royal on board, we're ready to jump at that opportunity. Royals alum Ethan Dean has had a great fall for us and we'll be leaning on him come conference to be a front end guy. Thomas and Ryan spent the fall here in Victoria training alongside the Tide and they have shown extreme work ethic and are ready to compete at the next level."
Royals Winterball kicks off Jan 9 for players Grade 8 to 12. For more information, go to http://parksvilleroyals.pointstreaksites.com/view/parksvilleroyals/news/news_538180
Froehlich commits to play baseball at NCAA Division I level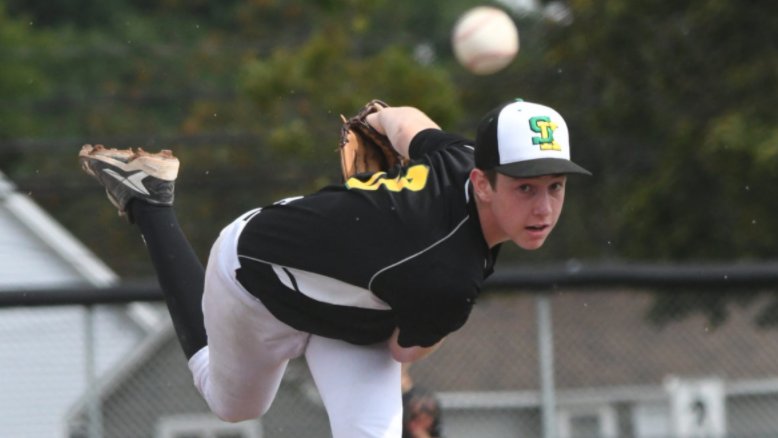 Nipawin native commits to play for Northwestern State University in Louisiana.
NIPAWIN — Although Kyle Froehlich is looking forward to the spring baseball season, the Nipawin product has already decided the next step in his post-secondary career.
The son of Cory and Jacalyn Froehlich has committed to play in 2022-23 for Northwestern State University in Louisiana. He will compete on scholarship for the Demons, who play at the NCAA Division I level, the best in U.S. university athletics. The Northwestern State baseball coaches are looking at him as a pitcher and designated hitter. Currently the 6-foot, 175-pound Froehlich is studying at Kansas' Colby Community College.
"I am looking forward to a higher level of baseball," Froehlich said. "It's always been a goal of mine to one day play at a Division 1 school and to be able to say I have achieved that goal is a pretty exciting feeling."
Northwestern State University has a total enrollment of about 10,735 and a few campuses. Froehlich will attend the Natchitoches campus.
"I went on a visit to Northwestern State and had a great time on my visit so that was a really big part of [my decision]," he said. "I really enjoyed meeting the coaches at Northwestern and I think it will be a great program to help me become a better player.""
Muenster product Logan Hofmann played at Northwestern State before being picked in the 5th round of the 2020 Major League Baseball Draft by the Pittsburgh Pirates. While they were not teammates, both Hofmann and Froehlich played in what is now called the East Central Red Sox U18 AAA program. The two have chatted about Hofmann's experience in Louisiana.
"He had some great things to say about the program and his time being a Demon," Froehlich said. "Knowing someone else had a positive experience at the school helped me decide it was the place I wanted to further my education and baseball career."
A key to Froehlich's success on the diamond has been his work ethic. This past summer he played for coach Jason Chatwood and the Sylvan Lake Gulls of the Western Major Baseball League.
"The feeling that I get from Kyle is he just tries to find a way to get better every day," Chatwood said.
With the Gulls, Froehlich displayed a willingness to do whatever he could to help his team. He started the season playing the first base but, due to injuries to teammates, volunteered to play left and right field. As for Froehlich's pitching, Chatwood said:
"He was electric on the mound for us. He was kind of our Swiss Army knife. He was our closer a lot of the year in a lot of big situations and then we had him have a couple big time starts when we needed him as well."
Chatwood said the right-handed pitcher has a very good fastball. The coach praised Froehlich for working on the command of his off-speed pitches so that he could throw them in multiple counts.
"He competes around the zone a lot," Chatwood said. "He locates the ball very, very well."
In addition to his diamond prowess, Froehlich impressed as a person in Sylvan Lake.
"He's just a really good kid … He doesn't take anything for granted," Chatwood said. "You can tell he comes from a really solid family and a great household. He really cares about his teammates."
No matter where Froehlich has played, he has had the strong backing of his parents.
"They have been everything for me in my journey to get to where I am," he said. "They have spent countless hours coaching me, traveling for my games, and teaching me important lessons that not only pertain to baseball but life as well. The raised me to value hard work, dedication and that it is about the process not the outcome and that is a large reason why I have been able to be successful."
While Northwestern State is his future, Froehlich is currently enjoying his time at Colby Community College. Studying business management, he has succeeded in the classroom. Froehlich was named to the National Junior College Athletic Association All-Academic First Team with a 4.0 grade point average after his first season. He is looking forward to his college team's spring season.
"My focus is to help my team win any way I can," he said. "I feel we have a really strong squad this year and I think we have a chance to do something special."