Canadian Content on NAIA rosters continues to grow
The Canadian content on NAIA baseball rosters continues to grow, and grow, and grow — with the total up to 61 Canadian players now listed on NAIA squads.
The Canadians in College Baseball report on Twitter (@CollegeBaseba12), gathered religiously by Kevin Wall, who has been compiling info for years, even through the challenges many players faced during COVID and the uncertainties around being an international student.
The most impressive part of the 61 in NAIA is an astounding 11 players with the Lourdes University in the WHAC (Wolverine-Hoosier Athletic Conference). Lourdes is located in Sylvania, OH, and the Gray Wolves baseball program is under the leadership of Head Coach Josh Bradford, a former University of Toledo coach who clearly knows his way around a map of Ontario, as all 11 hail from Canada's most populated province.
For more info on Canadians in college baseball, follow @CollegeBaseba12 on Twitter and check out https://cbplayers.com/, and look for additional info here at TheDugout.ca
Canadians thrive at JUCO schools in U.S.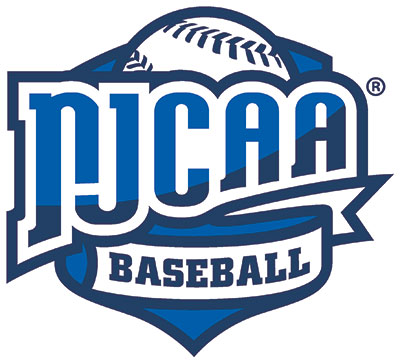 The numbers continue to pile up in the tabulation of Canadian collegiate players at the JUCO level, even just the D1 level of the NJCAA.
Even in a time when games and workouts were hard to come by over the past 18 months, making it hard for players to show themselves, Canada has provided 102 players to 31 schools at the top JC level — in lists compiled by Canadians In College Baseball, at cbplayers.com and @CollegeBaseba12.
Schools such as Cloud County and Colby have nine of those players each, while Bossier Parish and Western Nebraska have eight apiece, and Mineral Area has seven Canadians. But leading the way on an impressive list is Three Rivers, a Missouri school which might as well clad the Raiders team in red and white, with 10 Canadians on the roster. Head coach Tyler Smith has attracted players from all across Canada — and even sprinkled in some Australian talent, making for a varied team this fall and spring.
For the complete list, as well as other divisions, see the info provided here:
https://cbplayers.com/reportview/NJCAA_1/
https://twitter.com/CollegeBaseba12/status/1448619596051800067?s=20
23 Canadians participating in D1-D3 National JUCO World Series tournaments
The 2021 National Junior College Athletic Association (NJCAA) will  begin their various Division World Series Tournaments this weekend and in total, 23 Canadians will be looking to help their teams to their respective championship title.
In Division I, which will take place at Sam Suplizio Field in Grand Junction, Colorado, 11 Canadians will participate, including six players from Indian Hills JC in Ottumwa, Iowa (Maxime Adam, Pier-Oliver Boucher, Samuel Fortier,  Justin L'archeveque, Charles Lefebvre, and Ryan Telenko),  two players from Cowley County (Felix Chenier-Rondeau and  Oliver Laroque) and three players from Crowder College (Simon Grinberg, Adamo Stornello and Nick Tremblay).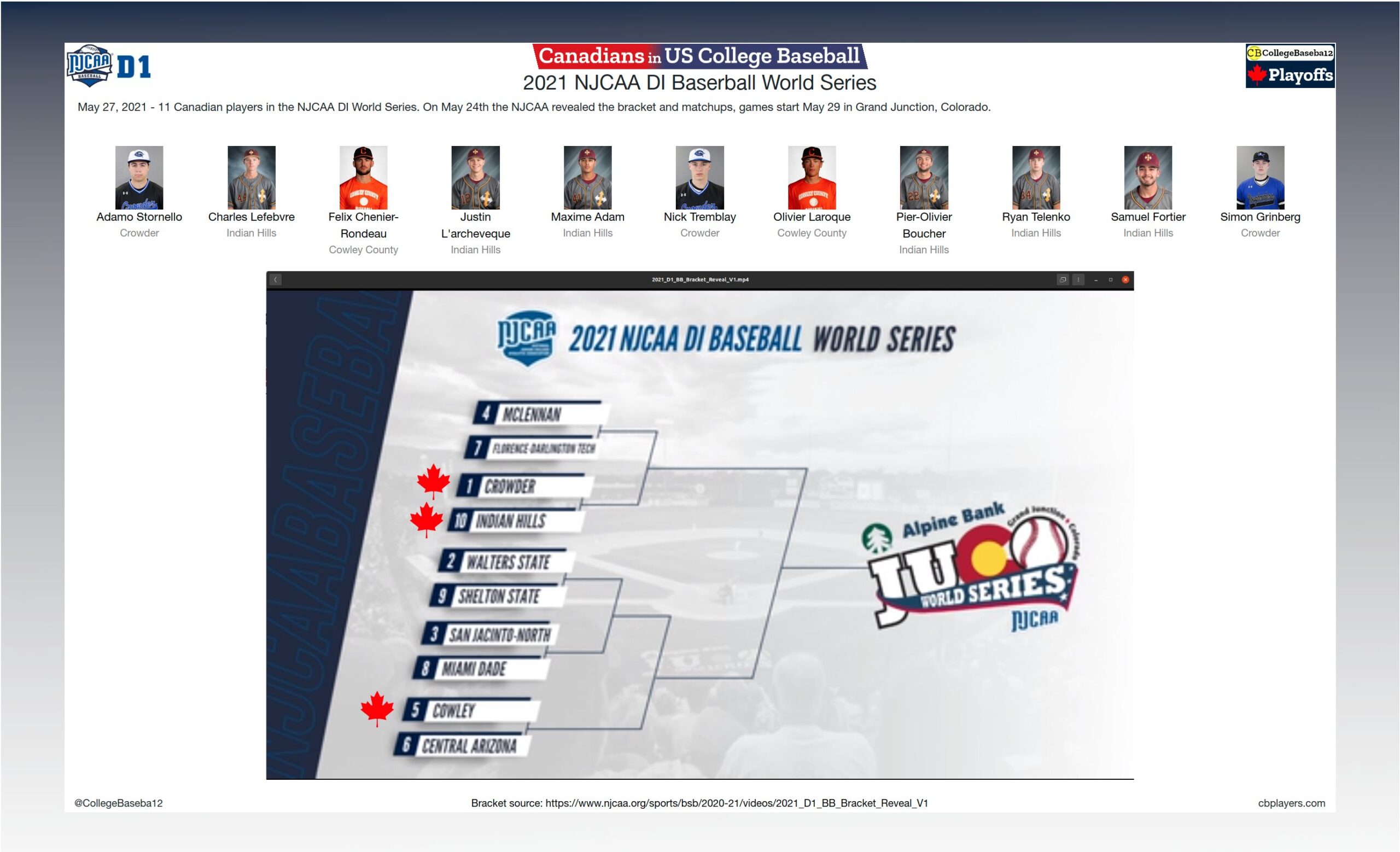 In Division II, taking place at David Allen Memorial Ballpark in Enid, OK, three Canadians will participate including Ayden Makarus and Jackson Fraser of LSU Eunice and  Ben Hubert of Kellogg.

Finally in Division III, nine Canadians will take part, beginning Saturday at Pioneer Park in Greeneville, TN. All nine players hail from Niagara Community College in Sanborn, New York and include Andrew Bench, Cal Brazier, Chris Tani, Craig Oliver, Matt Ferris, Mike Short, Noah LaLonde, Nolan Gallo, and Will Jackman.
Congratulations and good luck to all players involved!
Jackson throwing nothing but strikes for Bellevue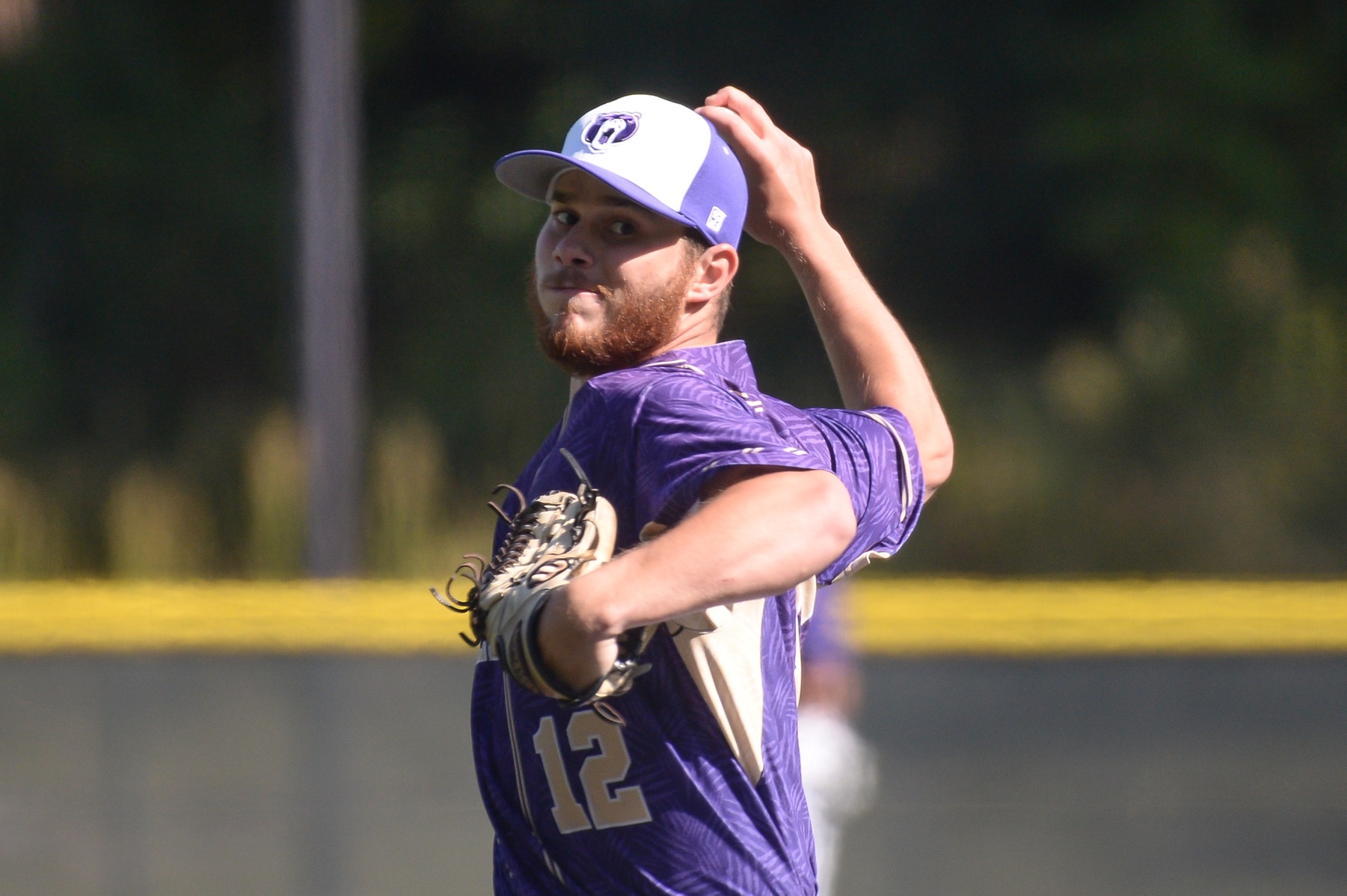 Langley Blaze Product sets milestone NAIA mark with 21-strikeout performance – also named NSAA Pitcher of the Year
– Bellevue, NE – Bellvue Universty's (NAIA) Corey Jackson is lighting up the strike zone this season for the Bruins, recently setting an NAIA-high of 21 strikeouts in a game against Waldorf on May 1, the most this season by any NAIA pitcher and the second most in Bellevue program history.
Jackson's 21-strikeout performance marks the eighth time this season that he has struck out 10 or more batters per game and he now leads all Canadians playing US college baseball in that category, holding down the top three spots, with 21, 18 and 16 strikeouts respectively (see graphic below).
During the regular season, the 5-10. 175lb. right-handed senior has appeared in 17 games for the Bruins, earning a 9-3 record and notching 166 strikeouts in 105 innings of work, with a 2.31 ERA.
Born in Calgary, Alberta, Jackson eventually found his way to Abbotsford, BC, where he attended Yale Secondary and played for the Abbotsford Cardinals and then the Langley Blaze of the BC Premier Baseball League, where in his senior year, he pitched to a 5-0 record with a 3.10 ERA and 36 strikeouts in 27 innings of work.
Jackson started his college career at New Mexico Junior College and then Indian Hills Community College before moving on to UNC Greensboro for the 2018-2019 season. At Greensboro Jackson was ranked in the top five of eight major statistical categories in the Southern Conference including wins (1st-7), strikeouts (1st-70), appearances (1st-31), relief appearances (1st-31), innings pitched (3rd-57.2), strikeouts looking (3rd-23), opposing batting average (4th-.230) and earned run average (5th-4.84). He capped off his season there by ranking in the top 65 among NCAA Division I pitchers in WHIP (51st-1.04) and strikeouts per nine innings (64th-10.92).
In the shortened 2019-2020 season, Jackson Made four starts on the mound for the Bruins, pitching to a 1-2 record with a 6.52 ERA in 19.1 innings of work. He struck out a team-high 25 batters for a K/9 rate of 11.64, striking out a season-best nine batters in back-to-back starts against Siena Heights and Michigan-Dearborn. He posted a 2.84 ERA over his final three starts, striking out 24 batters in 19 innings and was named the NSAA Pitcher of the Week on Mar. 9.
Thus far in 2021, Jackson has been named the NSAA Pitcher of the Week on two occasions, has been rewarded with a first team All-NSAA selection and was recently named the NSAA Pitcher of the Year.
Opening their playoffs against Science and Arts on Monday, Jackson continued his domination, throwing a complete game 4-2 victory, giving up the two earned runs on six hits, while striking out 16 in the process.
The Bruins also defeated St. Xavier 8-3 in round one round robin action and next take on Concordia, in the hopes of eventually advancing to the NAIA World Series in Lewiston, Idaho beginning May 28.