British Columbia Premier Baseball League begins 2021 season
Story and Photos by Christian J. Stewart
June 20, 2021, Victoria, BC – After a cancelled 2020 season due to COVID-19, the British Columbia Premier Baseball League (BCPBL) finally got back into this action this week, as the Province moved to Step 2 in their re-opening plan, part of which saw the return of elite organized sports and the lifting of travel restrictions for such teams.
It also meant that fans (up to 50) can now attend and watch games, and that players and coaches are under more relaxed protocols on the field and in the dugouts, relative to social distancing and mask use.
This is a welcome change for all the elite players in the PBL, who have been confined to practices for the past year and in Step 1 over the last month, were only allowed to have inter-squad games against one another, with no fans in attendance.
The PBL will be taking full advantage of the new protocols and has a full schedule of games ready to go.  Teams will play a two month season, with travel being limited during June – teams will not travel to and from the Island until July – and then there will be an end of season tournament over the August long weekend.
For teams like the Victoria Eagles and Victoria Mariners, who began their season with a double-header split against each other on Saturday afternoon at Layritz Park in Victoria, it means that those teams, plus the Parksville Royals and Mid-Island Pirates, will get to know each other very quickly, as all their games in June will be played against one another.
On Saturday, it didn't take long for both teams to shake off the offensive rust, as in game one, the Eagles would score three quick runs off Mariner starter Jaxon Smith-Peterson, thanks in part to a one out single from Tyler Burton and an RBI double from Jack Swinton.  The Mariners would answer immediately in the bottom of the inning, scoring three off Eagles starter Oliver Mabee.
Smith-Peterson would settle in after that, shutting the Eagles down until he left the game in the fifth inning, and after the Mariners scored three in the bottom of the fifth, things looked to be in control for the M's with an 8-3 lead.
The Eagles would score three in the sixth however, closing the gap to 8-6, but a pair of Mariner insurance runs in the bottom of the inning, pushed the game out of reach, despite two more runs from the Eagles in the top of the seventh.
The Mariners were led at the plate by Jayden Malinowski who had a three hits, including a double and three runs scored. Sam Shaw also had a double, walk and pair of runs scored.
For the Eagles, Burton led the offence with a pair of hits, a pair of walks and three runs scored, while Swinton added to his first inning double, with three more singles in the game. Dominic Biello also had a pair of hits and three runs scored.
In game two Saturday, the Eagles again came flying out of the gate scoring three in the first, one in the second and six more in the fourth and with the solid starting pitching of Owen Luchies, held a 10-2 lead after four innings of play.
The Eagles would extend that lead to 11-2 in the fifth, but four runs from the Mariners in the bottom of that inning, closed the gap to 11-6.  The Eagles would extend the lead to 13-6 with another run in each of the sixth and seventh innings, and the hold on as the Mariners scored four in the bottom of the seventh to make the finish exciting.
For the Eagles, Dominic Biello led the offence with a pair of triples, a single and two RBI.  Oliver Mabee chipped in two singles and a double, while Ryan Whelan reached base four times, two walks, a single and hit by a pitch, scoring twice.
For the Mariners, Sam Shaw was once again an offensive leader with three hits, two runs scored and an RBI, while Dylan Graw had a pair of hits and three runs scored.
These two teams will meet again Tuesday night at Lambrick Park in Victoria. Game time is slated for 6:30 pm.
In other opening games this week, Parksville defeated Mid-Island 8-5, Coquitlam defeated Whalley 4-1, North Shore blanked UBC 2-0, North Delta thumped White Rock 6-0 and Langley eked out a 2-1 win over Abbotsford.
In other reported scores Saturday, the Reds swept a pair from Whalley 9-0 and 8-1, the Twins and Thunder split with UBC winning game one 3-2  and the Twins responding with a 4-2 win in game two, the Cardinals and Blaze also split, with Abby grabbing game one 5-4 and the Blaze rebounding with a 2-1 win in game two.
The full set of photos from the Mariners and Eagles double-header can be found at https://christianjstewart.zenfolio.com/p960373706
Thunder Roar! UBC Captures first ever BC Junior Premier Baseball Championship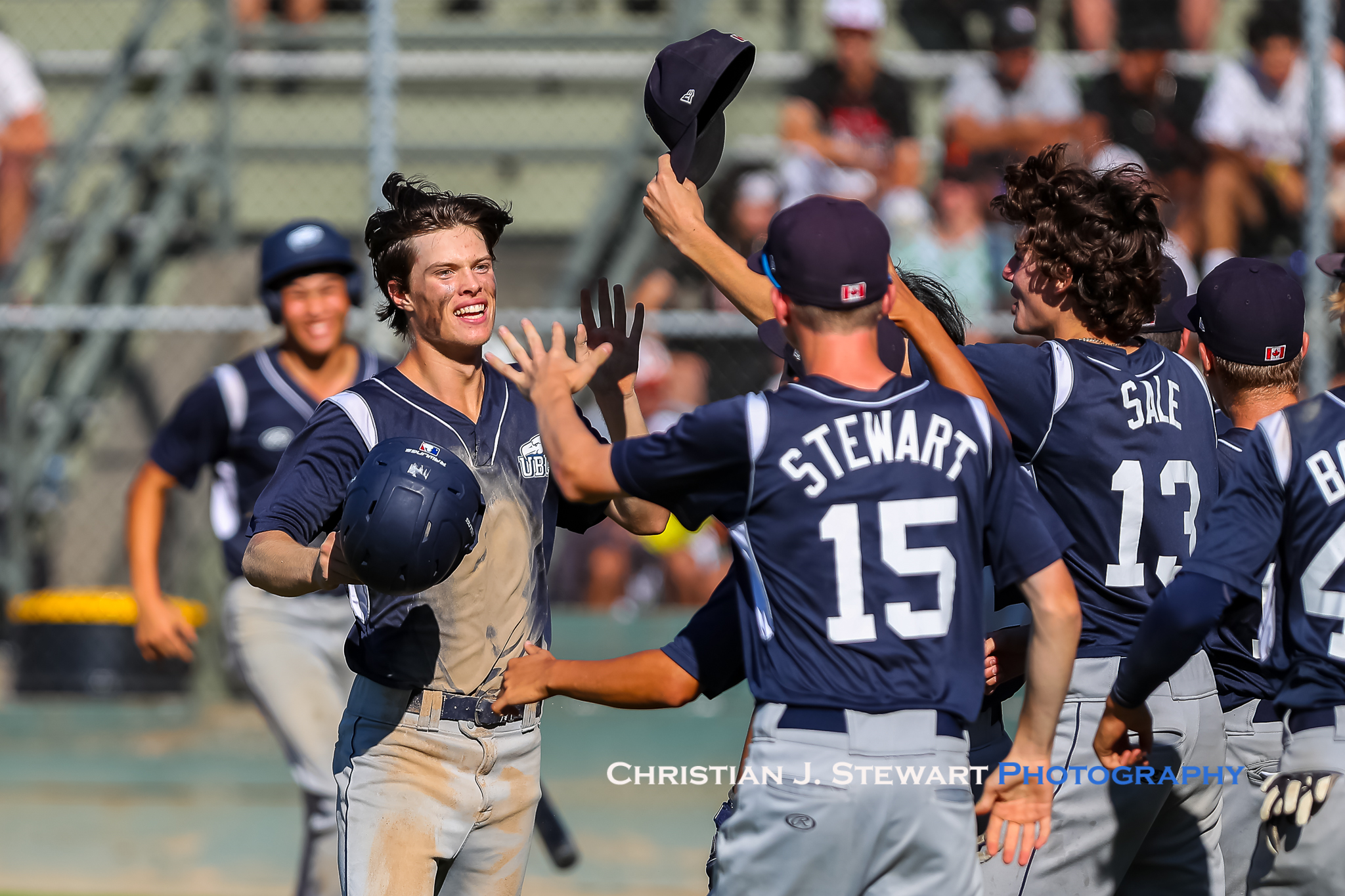 Full BCJPBL Championship Wrap-Up
Story and Photos by Christian J. Stewart
August 30, 2021, Surrey, BC – The UBC Thunder captured their first ever BC Junior Premier Baseball League championship on Sunday afternoon, defeating the host Whalley Chiefs 10-1 on a beautiful day at Whalley Athletic Park in Surrey.
UBC's Lucas Huynh reacts and flips his bat after walking against the Chiefs (Photo: Christian J. Stewart)
The Thunder broke open a tense, scoreless tie by scoring eight runs in the bottom of the fourth inning and cruised from there, using a solid defence and great pitching to keep Whalley batters at bay and to shut down any potential threats before they got started.
UBC's Levi Soper delivers a pitch in the final game against Whalley (Photo: Christian J. Stewart)
Lucas Soper got the start in the final and while he was not 100% perfect, his defence picked him up early, including a perfect throw to the plate to nail a Chiefs baserunner trying to score and he got some clutch outs himself that kept the game scoreless into the fourth.
UBC catcher Rico Domingo puts the tag on the Chiefs Eric Burshtynski on this play at the plate early in Sunday's final (Photo: Christian J. Stewart)
The Thunder used some solid defence against the Chiefs early to keep the game knotted at 0-0 into the fourth inning (Photo: Christian J. Stewart)
When he faltered later in the game, reliever Jaron Palaschuk stepped in to get out of an initial jam and then went the rest of the way to get the final out and begin the celebration.
UBC's Jaron Palaschuk (left) is congratulated by Freddie Sale after getting UBC out of a jam late in the final against Whalley (Photo: Christian J. Stewart)
The Thunder, who finished the regular season with one of the best records in the BCJPBL (21-15), had a bit of a scare en route to the finals, winning a pair of close and tense games in the round robin portion of their tournament Friday, including a 3-1 win over the White Rock Tritons and then holding on to defeat a pesky Victoria Eagles team 3-2.
UBC's Ryan Kennedy catches North Shore's Cam McLeod in a rundown in the semi-final Sunday (Photo: Christian J. Stewart)
That was enough to earn them a first place seed and a re-match with White Rock on Saturday in the ultimate play-in game in their pool. White Rock, who had beaten the Eagles 12-9 Friday, earned the re-match by beating the Eagles again Saturday, this time by a close 5-3 score.
The Twins Cam McLeod slides safely into second ahead of the throw to UBC's Ryan Hsu during the semi-final Sunday (Photo: Christian J. Stewart)
In the play-in game, the Thunder dominated, cruising to a fast 7-0 win and moving them into Sunday's semi-finals against the North Shore Twins. The Twins earned their way into the semis thanks to a pair of nail-biting round robin wins over the Victoria Mariners (5-4) and the Chiefs (7-6).
They would not have the same luck against the Thunder however, as UBC would score runs in each of the first four innings and cruise to a relatively easy, 13-hit 7-4 win.
Twins left fielder Declan Barry makes a valiant effort for this hit in the semis against UBC (Photo: Christian J. Stewart)
Relatively easy because starter Freddie Sale went the distance and kept the Twins at bay, allowing the four runs on just seven hits while striking out three.
UBC's Freddie Sale had a complete game win over North Shore in the semi-finals Sunday (Photo: Christian J. Stewart)
For the Chiefs, their route to the finals, was straightforward because as hosts, they had a bye to the semi-finals. They did play spoilers early though, defeating the always strong Langley Blaze 6-4 on Friday – a loss that combined with the Blaze's 4-3 loss to the Mariners knocked them out of contention – before dropping the 7-6 decision to the Twins and an 8-3 decision to the Mariners.
Whalley's Parkor Sarai (33) and Dio Gama (34) head around the bases en route to scoring on a triple from Ryan Holford in the first semi-final Sunday (Photo: Christian J. Stewart)
The Chief's Ryan Holford strokes a two-RBI triple in the semi-final against the Pirates (Photo: Christian J. Stewart)
In the semis, the Chiefs met up with the surprising Mid-Island Pirates (16-20 in the regular season), who in perhaps the biggest upset of the tournament, defeated the (26-8) Coquitlam Reds 3-0 Saturday night in the deciding game of the Pool B round robin to earn their way into the final four.
Whalley reliever Marcus Siemens was solid in relief against the Pirates in the first semi-final Sunday (Photo: Christian J. Stewart)
Whalley second baseman Lleyton Anselmo reacts after scoring against the Pirates on Sunday (Photo: Christian J. Stewart)
It appeared in Sunday's highly emotional semi-final that the Pirates magic would continue, as they held a 4-2 lead into the seventh inning, however the Chiefs would stage an amazing comeback, scoring six runs in the top of the inning and then blanking the Pirates in the bottom half, to escape with the 8-4 win.
The Pirates had plenty to celebrate for most of the game Sunday as they took a 4-2 lead into the seventh inning against Whalley (Photo: Christian J. Stewart)
The Pirates Trevor Foley does his best Freddie Mercury impression after a double against Whalley (Photo: Christian J. Stewart)
In the finals, UBC's Soper and the Chief's Dowon Kim went toe-to-toe through the first few innings, both teams helping their pitchers out with solid defence, until Kim seemed to run out of gas in the bottom of the fourth, an inning that just seemed would never end, as the Thunder kept finding ways to score.
Whalley second baseman Lleyton Anselmo looks for the call after putting the tag on the Pirate's Graham Stephen on this play at second in the first semi-final Sunday (Photo: Christian J. Stewart)
Whalley would finally break the goose-egg with a run in the fifth inning, but it would not be enough as the Thunder would add another in each of the fifth and sixth innings to close out the 10-1 win.
The Chief's Kai Scheck was a key hitting cog for the Chiefs in their route to Sunday's final (Photo: Christian J. Stewart)
Like the Premier league finals held over the August long weekend, Sunday's Junior finals, put as normal a finish on the season as it could, given the delayed start of the season because of COVID and early travel restrictions that saw many teams only play one opponent over the first eight games of the year.
UBC's Lucas Huynh celebrates a hit by catcher Rico Domingo during the final against Whalley (Photo: Christian J. Stewart)
However, the bottom line is that for all players involved, many of whom have not had the chance to play meaningful games for a season and a half, just being back on the field, playing a game they love, was reward enough. This was evidenced by one Thunder player overhead on the bench just prior to the completion of the finals, "I'm so pumped! We've waited two years for this boys!"
The UBC Thunder celebrate their win as Whalley's Kai Scheck (25) and Head Coach David Hadlow (64) walk off the field (Photo: Christian J. Stewart)
Congratulations to the UBC Thunder on their 2021 Junior title and season. And congratulations to the Chiefs, Pirates and Twins on their playoff runs, as well as to all teams in the BCJPBL for making the best of the 2021 season.
The 2021 BC Junior Premier League Champions UBC Thunder (Photo: Christian J. Stewart)
All photos from the Junior Premier Semi-Finals and Final, plus a couple of round robin games on Saturday will eventually find their way to Christian J. Stewart's web site at https://christianjstewart.zenfolio.com/jpbl2021
Catching up with Marika Lyszczyk, former Whalley player making baseball history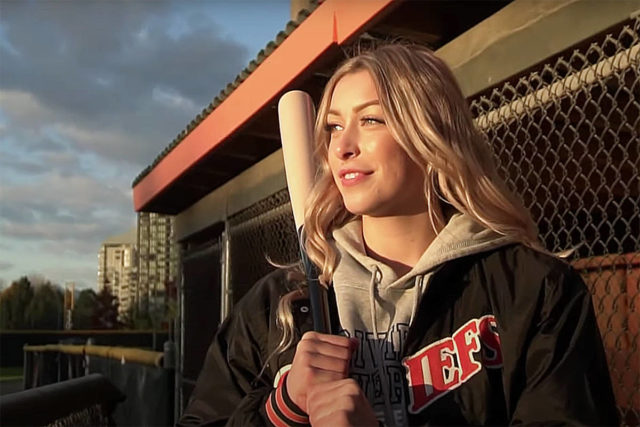 Arm surgery rehab awaits the Delta resident, the first female catcher to play NCAA men's baseball
By Tom Zillich -Surrey News Leader
Evidence suggests there's no stopping Marika Lyszczyk, but surgery has slowed her down a bit.
This month the former Whalley Chiefs baseball player is resting at home in Tsawwassen following rotator cuff repairs in her throwing arm.
"They thought it was my bicep that was a problem, but it was actually my rotator cuff," Lyszczyk said with a sigh.
"Right now I'm in total immobilization, I can't move my shoulder. It's not very fun sleeping."
With rehab looming, this fall the 20-year-old catcher plans a return trip to New Hampshire's Rivier University, whose Division 3 team last year made her the first female catcher to play NCAA men's baseball. It was historic stuff, and Lyszczyk can't wait to play ball there again.
"I'll rehab down there and get back into the swing of things," she said confidently, in a phone conversation.
"I'm itching to get back, because one of the hardest things for me is to not train," she added with a laugh.
(Story continues below a seven-minute Sportsnet video: "Marika Lyszczyk Breaking Gender Barriers In NCAA Baseball")
Earlier this summer, despite lingering soreness in her arm, Lyszczyk travelled to Long Island, NY, to play for the Sag Harbor Whalers of the Hamptons Collegiate Baseball League.
It's the latest stop in a baseball journey that involved her playing four seasons with the Whalley Chiefs, during her high school years, as the first girl to see action in the B.C. Premier Baseball League (PBL).
"It was such an opportunity there, and such a huge foundation for moving forward in my baseball career," Lyszczyk said of her days with the Chiefs. "The league is great, with some really good players, and it was such a good experience for me, before going to college."
Her time at Rivier University in 2020 lasted a brief nine or 10 weeks before the COVID-19 pandemic prompted a move back home to Delta.
A year later, a summer in the Hamptons was a thrill for Lyszczyk.
"It was great being there – it's so beautiful, and the community is great," she raved. "You hear about it with all the celebrities being there, and the people were so amazing. It was a great chance to go there and play with some pretty high-level guys playing D1, D2, so it definitely was a challenge for me."
Her original summer plan was to also attend Baseball Canada's women's national team showcase in Quebec (along with Surrey prospects Stacy Fournier and Claire Eccles), but for Lyszczyk, arm surgery took priority.
"Last year I had some arm pain and I thought it'd go away," she recalled. "I've thrown a lot in my lifetime, practising sometimes five, six days a week, and my arm has been sore, but not like that. I was hoping to take a few months off and it'd be fine, but I finally got a MRI to realize that something was wrong and that I'd need surgery.
"So I played summer ball and it was more like pain control for me, and I was proud of myself for getting through the summer. But it did hold me back in some areas and I knew I needed to get it fixed when I got back home.
"Generally when you go through a rehab like this," she added, "people tend to come back stronger, and there's lots of guys who come back from, like, Tommy John Surgery and they end up throwing two miles an hour faster, things like that. It's pretty cool to see how rehab has changed in that way, and I'm hopeful that I'll come back even stronger than I was before."
She hopes the procedure will ultimately allow her to play more baseball in the future.
"I always say that I want to play baseball as long as I can, as long as the opportunities are there for me, and that's another reason why it was so crucial that I got my arm fixed now, so hopefully I can have a longer playing career," Lyszczyk explained.
"And once my playing days are over I hope to do on-field commentating and stay in the game afterward, because I couldn't imagine my life without baseball."
Retired broadcaster says White Rock Tritons' volunteer job has 'given me some new life'
Jim Leith has been serving as the youth baseball organization's public-address announcer
By NICK GREENIZAN – PEACE ARCH NEWS 
White Rock, BC – Jim Leith hadn't been to a ball game in a long time, and it had been even longer since the retired radio broadcaster had been in the booth behind a microphone.
But earlier this month, he found himself in exactly that position – at a baseball game, serving as the volunteer public-address announcer for the White Rock Tritons.
And after being largely isolated and stuck at home in recent months due to the ongoing COVID-19 pandemic, the Abbotsford senior was thrilled.
"It's been a long time since anyone's been able to go to to a ballpark as a fan… and I have a lady friend in White Rock, Linda, and we're both big baseball fans, so we were out a couple weeks ago and said, 'Hey, let's go to the ballpark,' because I'd heard that the Tritons were playing," he explained.
While watching the game at South Surrey Athletic Park, both Leith – who has decades of experience doing sports play-by-play and public-address work – and Linda were impressed with both the ballpark itself and the quality of talent on the field.
All the other hallmarks of a traditional baseball game were there, too – from the crack of the bat to the emphatic calls from the umpires to the on-field chatter of the young ballplayers themselves.
But something was missing.
"We both kind of wondered, 'What's missing?' and one thing we thought of was that there was no P.A. system. We saw these kids coming up to bat but we didn't know who they were," Leith explained. "Linda kind of gave me a poke in the side and said, 'Maybe they're just looking for volunteers and they don't have anyone to do it.'
"She said, 'You know all about this – this is your thing.'"
Leith's broadcast resume is a long and varied one. Over 30 years in Victoria, he spent time as the play-by-play broadcaster for the Western Hockey League's Victoria Cougars, and then transitioned to basketball, where he was on the mic for University of Victoria men's basketball games during the team's string of seven straight national titles. Along the way, he also worked countless track-and-field meets and baseball games, and also served as the announcing co-ordinator at a pair of Commonwealth Games – in Edmonton in 1978 and Victoria in '94.
Leith admits he didn't exactly leap out of his seat and volunteer for the Tritons' gig – not at first, anyway. Mostly, he was worried about having to make the frequent commute from Abbotsford. However, he soon relented, and at a later game, went and found a member of the Tritons – Keith Fluet, who is a member of the organization's board of directors – and offered his services.
"There was a desire from Keith and Kyle (Dhanani, Tritons general manager) to improve the game presentation and I thought hey, if I could help them with that, then great," he said.
His offer was quickly accepted and, with Linda sitting next to him, he soon found himself back doing what he'd done for most of his adult life – announcing sports.
"I'm still shaking off a little rust, but I guess I've got a bit excited about it, because we've got to know some of the people, and around the park we've met some of the kids and we've just been quite impressed with them," he said.
"It's a gig that's kind of given me some new life, and I'm just enjoying the ride."
Leith has worked a handful of games already, and he's been busy over the long weekend, as the Tritons' senior team hosts the BC Premier Baseball League's season-ending tournament. And while discussing his busy schedule, Leith took the opportunity to praise the organization for how they've treated him.
"I just volunteered – I didn't ask for anything. And then Kyle came to me and said, 'Hey, Friday is going to be a long day. Would you like us to get you a hotel room so you don't have to drive all the way back to Abbotsford?'
"That just smacks of class, and how can you not try to do your best for people like that?"
Leith said he wasn't making any definitive plans to return to the job next spring – "I'm taking things day by day," he said – but whether he's behind the mic or in the bleachers with Linda, it's clear the the BCPBL, and the Tritons, have a new fan.
"It's not the Blue Jays or the Mariners, but doggone it, they put on a good show."