Baseball Canada honours Ian Mosher with Lifelong Coaching Award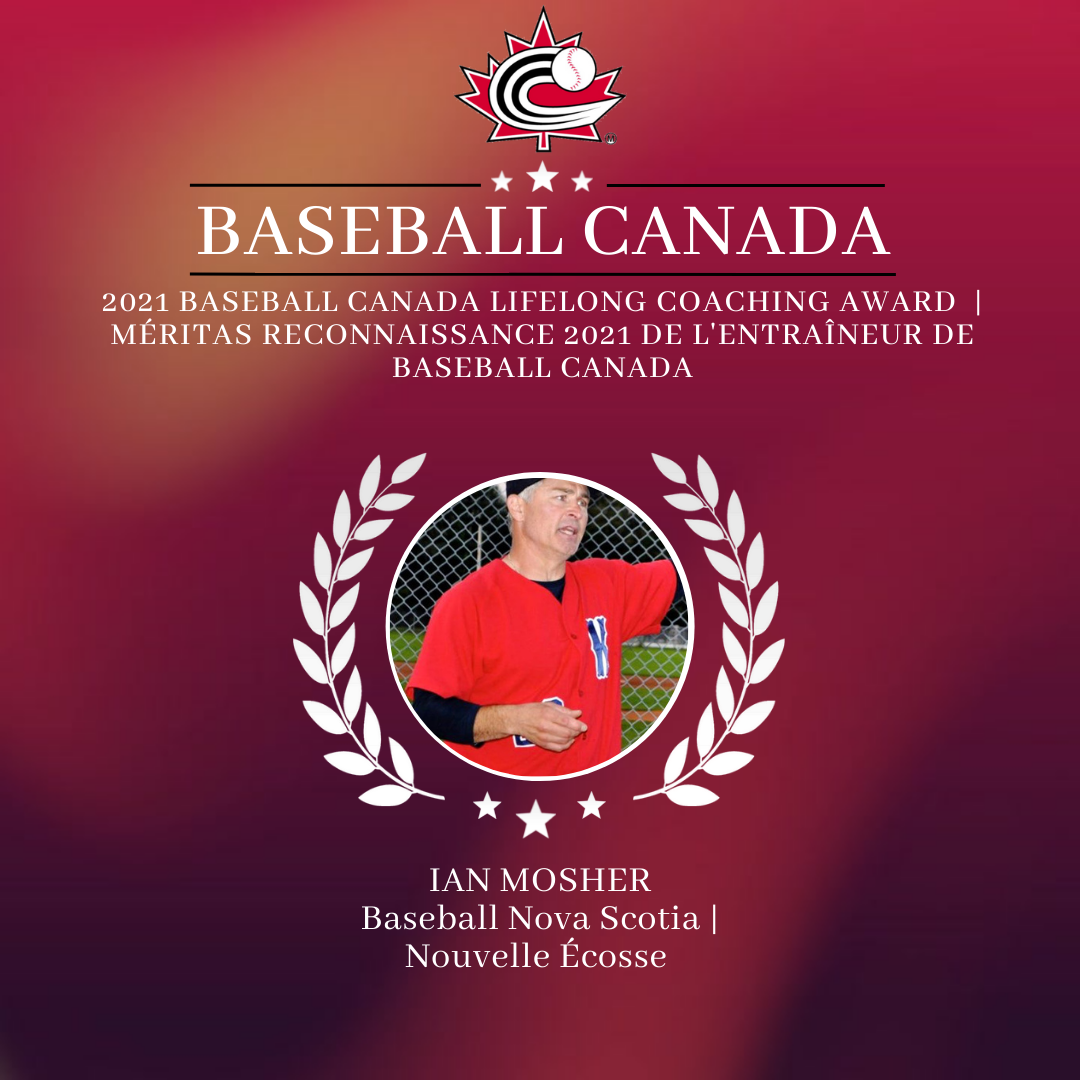 To be eligible for this award, the coach must have made a positive, long-time contribution to coaching baseball in Canada at the local, Provincial, National and/or international level, be in good standing with the National Coaching Certification Program (NCCP) and have demonstrated outstanding leadership, performance, and guidance as a baseball coach throughout their coaching career.
When folks think of baseball in Kentville, Nova Scotia chances are Ian Mosher is the first person that comes to mind.
Born, raised, and still living in nearby Wolfville, Mosher has been a staple with the Kentville Wildcats organization since their inaugural season in the Nova Scotia Senior Baseball League in 1977.
First, as a player, where he captured MVP honours in leading Kentville to a national championship victory in 1985, Mosher then progressed to roles of player/coach before assuming head coach duties where he served the organization until 2017.
In 2021, his famous number 29 was just the ninth number retired by the organization as the Wildcats also inducted him into their Hall of Fame.
Mosher has held various roles in baseball from his years as a player to administrative duties while coaching youth baseball up to the professional ranks, but it was his role as Head Coach of the Kentville Wildcats that he will be most remembered for.
"Ian has had a positive influence on an awful lot of young kids," said Van Blarcom, a Hall of Fame member, and a long-time teammate of Mosher in an interview with the Annapolis Valley Register. "I don't know how many career pitches he would have thrown down in the batting cage for people working on their swing — it would be a very big number."
Many of those kids that Mosher coached are now active in baseball circles and are coaches themselves. It is those types of stories that Mosher is most proud of in instilling a lifelong love of the game into his players and seeing the life lessons and successes achieved on the field applied off the baseball field.
"My greatest source of pride at this stage in my career is not my accomplishment… it's the fact that so many of my former players are coaching," said Mosher to the Annapolis Valley Register. "That is the most special thing for me."
Ridge Meadows Rises to Championship Form!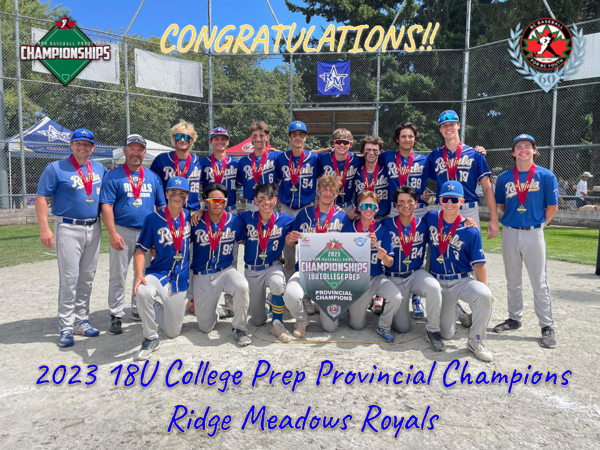 It would be fitting to see the top two teams from the Regular season' the #1 North Fraser Nationals and the #2 Ridge Meadows Royals, go head-to-head for the 2023 18U College Prep Provincial Championship! 
North Fraser entered the final tilt undefeated through the round-robin and their semi-final match, while Ridge Meadows had only stumbled once on the way there. 
In the end, it was Ridge Meadows and their ability to push runs across the dish that put them on top 6-1 when the dust finally settled handing North Fraser their only loss of the weekend. 
Congratulations to the Ridge Meadows Royals and all of their fans and supporters. You are the 2023 18U College Prep Provincial Champions!
Congratulations to the North Fraser Nationals and all of their fans and supporters on a stellar run to the top of the Regular Season Standings. 
Congratulations to all of our 2023 18U College Prep Players, Coaches, and Families. It's been a ride! See you in the Fall!
Ladner takes the 2023 John Main 13U Invitation Crown!
Ladner takes the 2023 John Main 13U Invitation Crown!
By BCMBA, 05/28/23, 4:00PM PDT
Share
Cole Hudie finishes it with a 3-run shot to lift Ladner to a 5-2 W over Chilliwack and claim the BCMBA 2023 John Main 13U Invitational Championship Title! Thank you to our hosts and their families, Ridge Meadows and Cloverdale, our BCMBA Volunteer Directors, and everyone who participated!!
The 2023 John Main 13U Invitational is underway!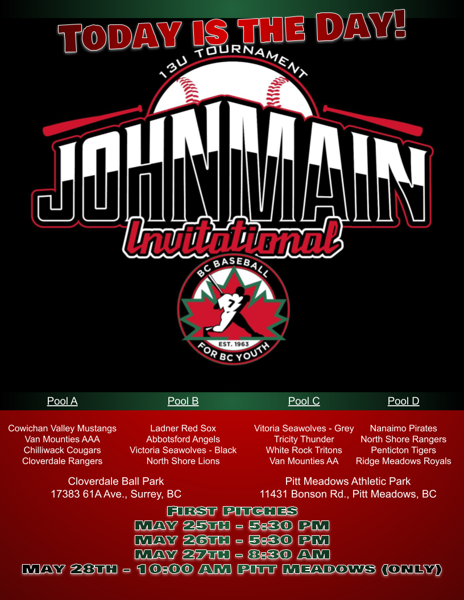 The 2023 John Main 13U Invitational is underway!
By BCMBA, 05/25/23, 9:00AM PDT
Share
The 2023 BC Minor Baseball John Main 13U Invitational has arrived. All weekend long, come down and check out some of the future stars of our game! Dates, times, locations, and results can be found here:
2023 John Main 13U Invitational