Glace Bay Panthers win SSNS Highland Region baseball title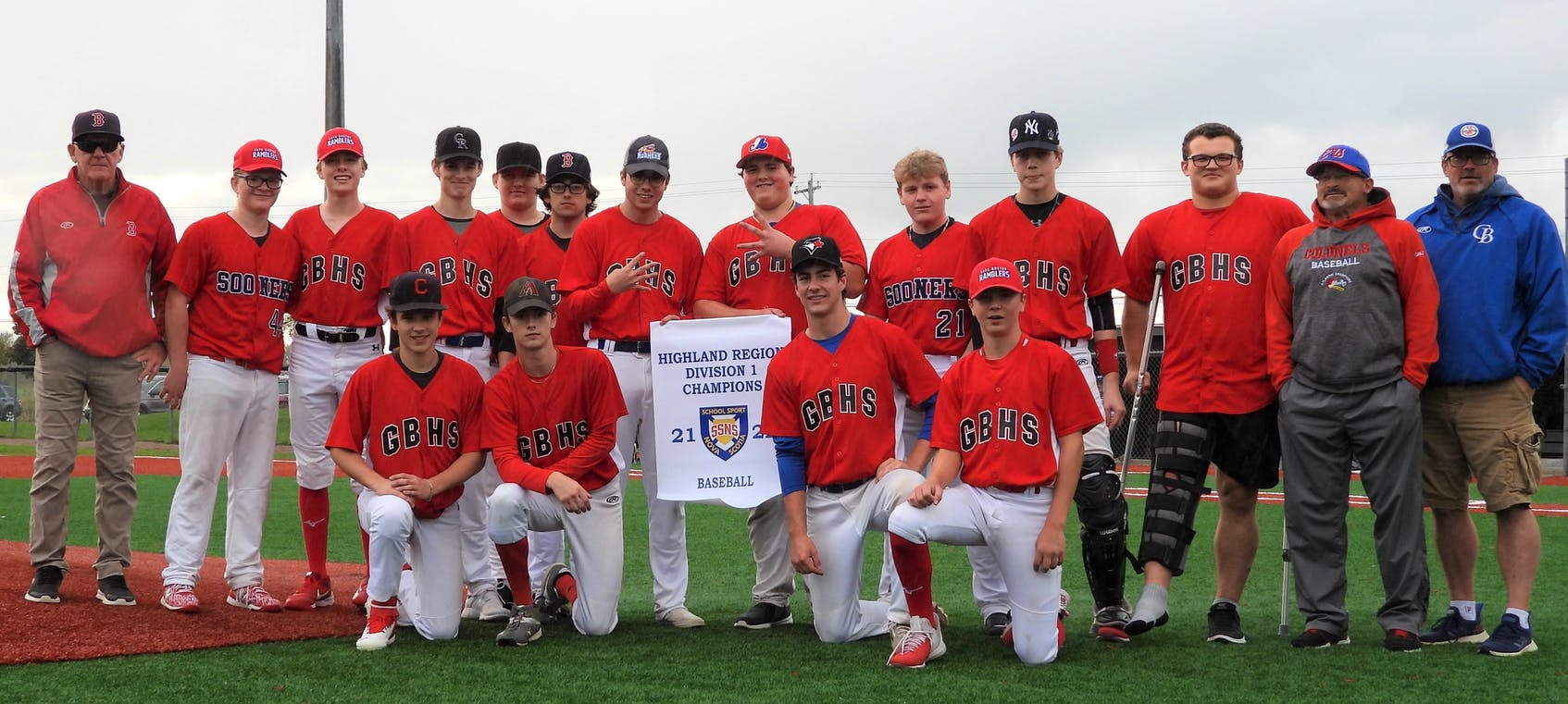 GLACE BAY, N.S. — The Glace Bay Panthers captured the School Sport Nova Scotia Highland Region Division 1 baseball championship title last month, defeating the Memorial Marauders 9-2 at the Susan McEachern Memorial Ball Park in Sydney.
Members of the team are shown with the championship banner.
From left, front row, Zack Anthony, Darian McInnis, Mitchell Macdonald and Breton Parsons; back row, Ricky Wiseman (manager), Dylin White, Brayden MacDonald, Colby Campbell, Cody Nightengale, Tyler Cormier, Adam Hicks, Ryan Ellsworth, Andreas Kachafanas, Brady Doucette, Robert Gillis, Allan Gillis (coach) and Steve McInnis (coach). Also part of the team were Lachlan Pilling, Dawson Byrne and Sheldon Burke (coach). (PHOTO:  LISA TAYLOR))

Randy Crouse wins Baseball Canada Volunteer of the Year Award
The Baseball Canada Volunteer of the Year Award was created in 2001 to recognize the contribution of the most dedicated, enthusiastic person who has devoted at least ten years of volunteering within their provincial association.
Humble, hardworking, and dedicated are some of the many qualities that Randy Crouse has come to be known by in his hometown of Antigonish, his home province of Nova Scotia and across Canada for those that are fortunate enough to have worked with him over the years.
A volunteer who represents everything that Baseball Canada's Volunteer of the Year Award is all about, we are beyond honoured to name Randy Crouse as the recipient of this prestigious award for 2021.
Through his work as National Coordinator for Challenger Baseball Canada, Crouse has worked tirelessly to grow and promote the program that gives children with physical and/or cognitive disabilities a baseball experience like no other.
He's been a tremendous resource for many associations across the country who have implemented Challenger Baseball programs into their communities adding to the growing number of programs in Canada every year.
He is a key figure in the Baseball Canada, Little League Canada and Jays Care Foundation partnership that works to deliver Challenger Baseball to as many children and families as possible each year.
At the provincial and local levels Crouse has proven to be an "elite fundraiser" in his efforts to raise dollars to improve all aspects of Challenger Baseball in his community with the crown jewel coming in 2019 when a fully accessible field known as "The Sandlot" was opened in Antigonish.
The Challenger program in Antigonish that Crouse spearheaded is looked at as a model program for others across the country with a strong volunteer base including members of his own family along with several community members.
Earlier this year, Crouse was named the Volunteer of the Year for the Municipality of the County of Antigonish so we are thrilled to bestow Randy with another deserving award.
Volunteer of the Year recipients have included:
2020-Anne Hayes (BC)
2019-Kevin McKenna (PEI)
2018-Diane Wakefield (ON)
2017-Louis Côté (MB)
2016-David Doherty (ON)
2015-Serge Gauthier (QC)
2014- Alex Grenier(MB)
2013 – Charlie Meacher (SK)
2012 – Gary Trudell (BC)
2011 – Wade Karcha (SK)
2010 – Carl Linden (AB)
2009 – Holly Lapierre (NS)
2008 – Geoff Hughes (SK)
2007 – Paul Riopel (AB)
2006 – Ollie Schroeder (MB)
2005 – Joe McDonald ( SK)
2004 – Joe Wiwchar (MB)
2003 – Dave Shury ( SK)
2002 – Jean-Marc Paradis (QC)
2001 – Tom Lawson (ON)
Baseball Canada honours Ian Mosher with Lifelong Coaching Award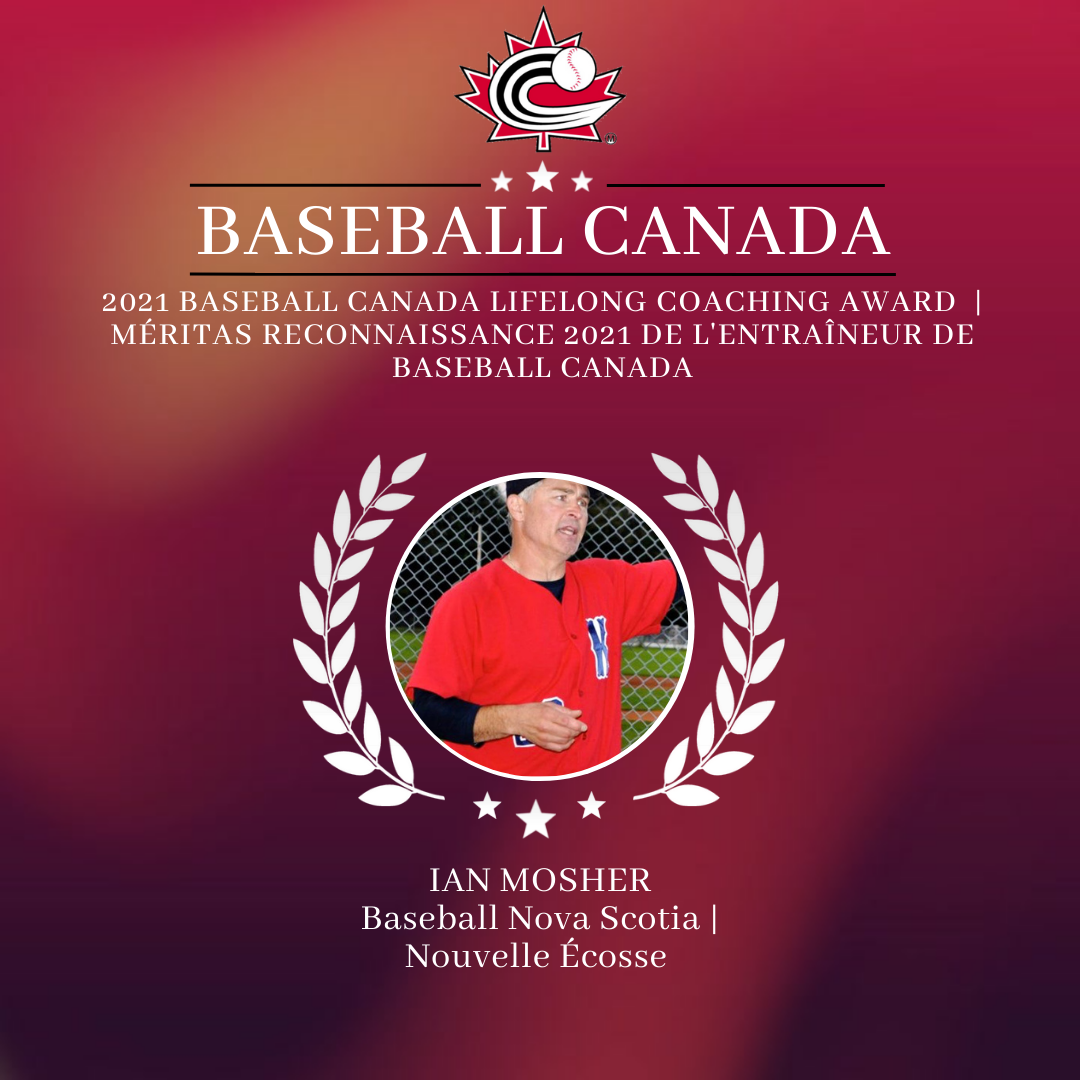 To be eligible for this award, the coach must have made a positive, long-time contribution to coaching baseball in Canada at the local, Provincial, National and/or international level, be in good standing with the National Coaching Certification Program (NCCP) and have demonstrated outstanding leadership, performance, and guidance as a baseball coach throughout their coaching career.
When folks think of baseball in Kentville, Nova Scotia chances are Ian Mosher is the first person that comes to mind.
Born, raised, and still living in nearby Wolfville, Mosher has been a staple with the Kentville Wildcats organization since their inaugural season in the Nova Scotia Senior Baseball League in 1977.
First, as a player, where he captured MVP honours in leading Kentville to a national championship victory in 1985, Mosher then progressed to roles of player/coach before assuming head coach duties where he served the organization until 2017.
In 2021, his famous number 29 was just the ninth number retired by the organization as the Wildcats also inducted him into their Hall of Fame.
Mosher has held various roles in baseball from his years as a player to administrative duties while coaching youth baseball up to the professional ranks, but it was his role as Head Coach of the Kentville Wildcats that he will be most remembered for.
"Ian has had a positive influence on an awful lot of young kids," said Van Blarcom, a Hall of Fame member, and a long-time teammate of Mosher in an interview with the Annapolis Valley Register. "I don't know how many career pitches he would have thrown down in the batting cage for people working on their swing — it would be a very big number."
Many of those kids that Mosher coached are now active in baseball circles and are coaches themselves. It is those types of stories that Mosher is most proud of in instilling a lifelong love of the game into his players and seeing the life lessons and successes achieved on the field applied off the baseball field.
"My greatest source of pride at this stage in my career is not my accomplishment… it's the fact that so many of my former players are coaching," said Mosher to the Annapolis Valley Register. "That is the most special thing for me."