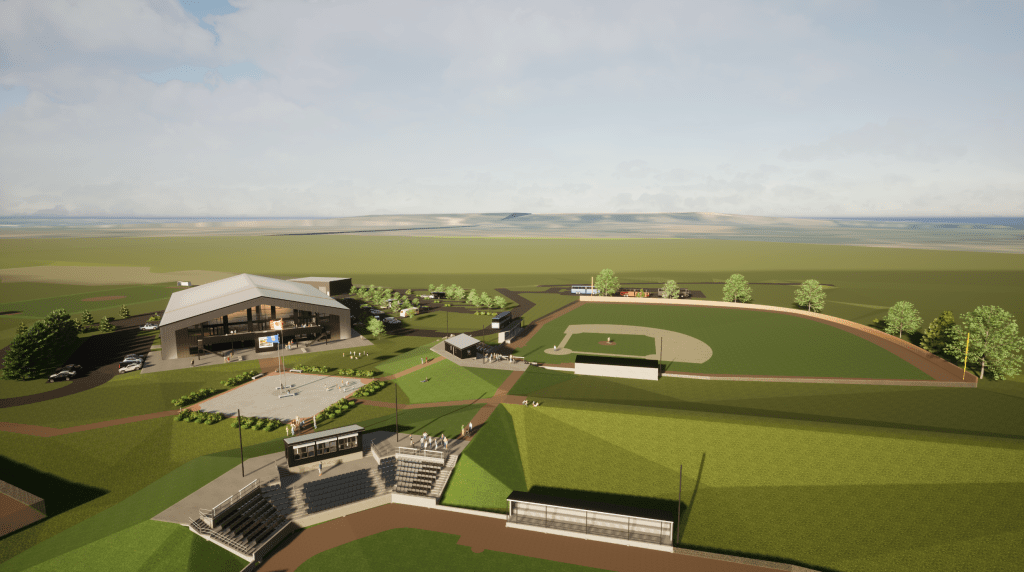 It's a vision that goes back, and back, and back, but will never be gone.
Dr. Neil Webber's baseball roots go back to his early days of being an Alberta farm boy. He loved the sport, at an early age, and enjoyed playing with other farm boys from the Endiang area, north of Hanna. From his childhood, along with his experiences as an educator and grandfather, originated the dream of a baseball academy. His idea of an academy created more excitement with others as well and today we have an institution that has changed the Calgary baseball landscape, as well as the Alberta baseball scene.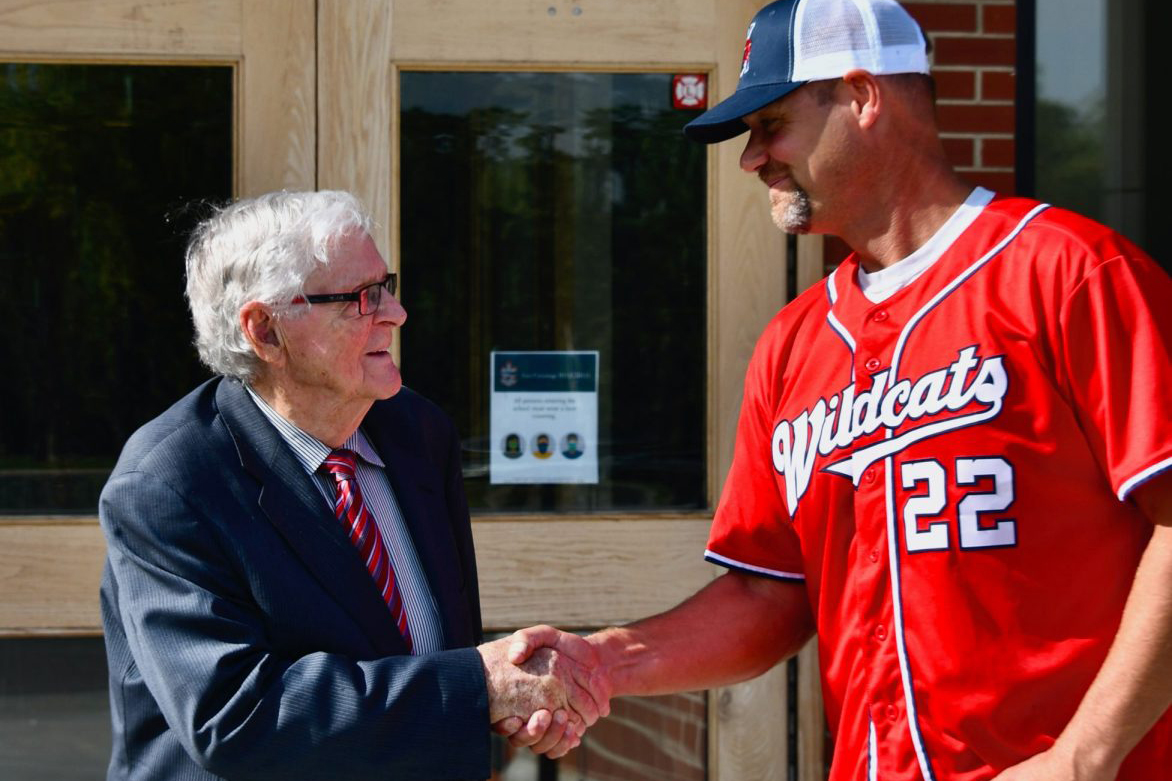 Founder Dr. Neil Webber (left) welcomes Wildcats head coach Chris Reitsma to the program back in September of 2021 
The focus of the Webber Academy and the Wildcats baseball program is to grow the grow the game of baseball and extend as many opportunities to young athletes as possible. At the high school level, Webber's program is offering a College Prep program, which is a 12-month program designed to help prepare/develop players to move on to the collegiate level. The goal is to move kids' skill levels along so that they can have better chance at fulfilling their baseball dreams/goals. Webber Academy hopes to give the players immediate feedback, and, hopefully, move their skill sets along faster.
Webber Academy believes that having the player for the entire year will be a big advantage to players and the coaching staff. All activities/practices will try to fit the Webber Academy stated goal of developing "high achieving students, but always respecting others."
Webber Academy also hopes to run extensive camps with younger players and it is hoped that all Calgary baseball programs will benefit from the camps. It is anticipated that the camps will grow the numbers of kids playing baseball in Calgary, and the rest of Alberta. At the younger age levels, the desire is to not be in competition with other associations, but an additional program to help supplement their present program. The idea is to start small, and success should come easier, and at a higher level, while competing as an older baseball participant.
Webber Academy is also building an Athletic Park in Springbank. The facility, which will be open in the spring of 2022, will have two full-sized fields, with artificial playing surfaces. The complex will also contain a trio of outdoor batting cages, a bullpen training centre, stadium seating with a press box, and one field will include lights. Soon, two additional fields, a soccer pitch, and a state of the art indoor training facility will be completed. The indoor facility (50,000 square feet) will include four batting cages, a full-sized infield, a bullpen area, a weight room, a couple of classrooms, and a restaurant/lounge with a patio overlooking the fields and mountains. A patio, and the entire complex, includes majestic view of the Canadian Rockies.
The hope is that Webber Academy Athletic Park will become a destination location for the Calgary baseball enthusiasts, as well as the Alberta, and the entire Canadian baseball community.
2023 Langley Blaze Pro Tour
Share 2023 Langley Blaze Pro Tour January 29, 2023 12:08 PM PST The Langley Blaze are proud to announce their 2023 AX Pro-Tour schedule.  The Blaze, over the course of 11 days, will play 27 games, including 90 innings vs Pro Teams, and 153 innings vs top ranked AZ colleges!  For updated times, click here:…
2023 Langley Blaze Pro Tour
January 29, 2023
12:08 PM PST
The Langley Blaze are proud to announce their 2023 AX Pro-Tour schedule.  The Blaze, over the course of 11 days, will play 27 games, including 90 innings vs Pro Teams, and 153 innings vs top ranked AZ colleges!  For updated times, click here: https://bit.ly/3JccLEP
2022 BCPBL Championship Game 10 Summary
Share 2022 BCPBL Championship Game 10 Summary July 23, 2022 3:45 PM PDT                   2022 BC PREMIER BASEBALL LEAGUE CHAMPIONSHIP                   GAME 10 SUMMARY                     Runs Hits Errors LOB  …
2022 BCPBL Championship Game 10 Summary
July 23, 2022
3:45 PM PDT
 
 
 
 
 
 
 
 
 
2022 BC PREMIER BASEBALL LEAGUE CHAMPIONSHIP
 
 
 
 
 
 
 
 
 
GAME 10 SUMMARY
 
 
 
 
 
 
 
 
 
 
Runs
Hits
Errors
LOB
 
 
 
 
Okanagan Athletics
1
4
2
9
 
 
 
 
Coquitlam Reds
0
3
3
8
 
 
 
 
 
 
 
 
 
 
 
 
 
 
 
 
 
 
 
 
 
 
Okanagan Athletics Pitching Summary
 
 
 
 
 
 
 
 
 
 
 
 
 
 
 
Pitcher
IP
H
R
ER
SO
BB
AB
 
Brayden Dewitt (W)
4
2
0
0
5
3
18
 
Max Tremblay
3
1
0
0
2
2
11
 
 
 
 
 
 
 
 
 
 
Coquitlam Reds Pitching Summary
 
 
 
 
 
 
 
 
 
 
 
 
 
 
 
Pitcher
IP
H
R
ER
SO
BB
AB
 
Jacob Hageman (L)
6
4
1
0
5
2
27
 
Jeffrey Pacholko
1
0
0
0
0
0
4
 
 
 
 
 
 
 
 
 
 
Game Highlights
 
 
 
 
 
 
 
 
Top 1st
 
 
 
 
 
 
 
 
Luke Petrie (A's)-RBI Single
 
 
 
 
 
 
 
 
 
 
 
 
 
 
 
 
 
 
 
 
 
 
 
 
 
 
 
 
 
 
 
 
 
 
 
 
 
 
 
 
 
 
 
 
 
 
 
 
 
 
 
 
 
 
 
 
 
 
 
 
 
2022 BCPBL Championship Game 6 Summary
Share 2022 BCPBL Championship Game 6 Summary July 23, 2022 4:30 PM PDT                   2022 BC PREMIER BASEBALL LEAGUE CHAMPIONSHIP                   GAME 6 SUMMARY                     Runs Hits Errors LOB  …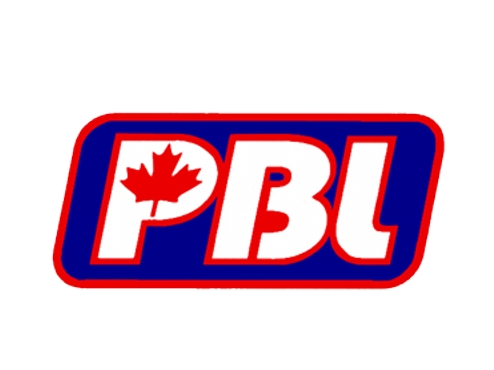 2022 BCPBL Championship Game 6 Summary
July 23, 2022
4:30 PM PDT
 
 
 
 
 
 
 
 
 
2022 BC PREMIER BASEBALL LEAGUE CHAMPIONSHIP
 
 
 
 
 
 
 
 
 
GAME 6 SUMMARY
 
 
 
 
 
 
 
 
 
 
Runs
Hits
Errors
LOB
 
 
 
 
North Shore Twins
13
9
1
5
 
 
 
 
Victoria Mariners
6
6
0
7
 
 
 
 
 
 
 
 
 
 
 
 
 
 
 
 
 
 
 
 
 
 
North Shore Twins Pitching Summary
 
 
 
 
 
 
 
 
 
 
 
 
 
 
 
Pitcher
IP
H
R
ER
SO
BB
AB
 
Sam Jennings
3+
5
5
4
0
3
17
 
Ken Nakane (W)
4
1
1
1
3
4
17
 
 
 
 
 
 
 
 
 
 
Victoria Mariners Pitching Summary
 
 
 
 
 
 
 
 
 
 
 
 
 
 
 
Pitcher
IP
H
R
ER
SO
BB
AB
 
Max Globman (L)
3 1/3
5
7
7
2
4
20
 
Dylan Graw
 2/3
1
3
3
0
3
6
 
Myles Chamberlain
3
3
3
3
4
2
13
 
 
 
 
 
 
 
 
 
 
Game Highlights
 
 
 
 
 
 
 
 
Top 1st
 
 
 
 
 
 
 
 
Jakob Poturnak (Twins)-Scores on wild pitch
 
 
 
 
 
 
Bottom 1st
 
 
 
 
 
 
 
 
Sam Shaw (Mariners)-Solo Homerun
 
 
 
 
 
 
Tyson Skinner (Mariners)-2 RBI Double
 
 
 
 
 
 
Top 2nd
 
 
 
 
 
 
 
 
Jakob Poturnak (Twins)-Solo Homerun
 
 
 
 
 
 
Bottom 3rd
 
 
 
 
 
 
 
 
Griffin Gladych (Mariners)-Sac Fly
 
 
 
 
 
 
 
Top 4th
 
 
 
 
 
 
 
 
Ethan McDonald (Twins)-RBI Single
 
 
 
 
 
 
Wylie Waters (Twins)-RBI Single
 
 
 
 
 
 
 
Yonatan Marom (Twins)-Sac Fly
 
 
 
 
 
 
 
James Brock (Twins)-3 RBI Double
 
 
 
 
 
 
 
Bottom 4th
 
 
 
 
 
 
 
 
Ben Sargent (Mariners)-Sac Fly
 
 
 
 
 
 
 
Top 5th
 
 
 
 
 
 
 
 
Wylie Waters (Twins)-RBI Double
 
 
 
 
 
 
 
Yonatan Marom (Twins)-RBI Single
 
 
 
 
 
 
 
James Brock (Twins)-Sac Fly
 
 
 
 
 
 
 
 
 
 
 
 
 
 
 
 
Game Notes
 
 
 
 
 
 
 
 
Wylie Waters (Twins)-3 for 5, 2 RBIs
 
 
 
 
 
 
James Brock (Twins)-1 for 3, 4 RBIs
 
 
 
 
 
 
Tyson Skinner (Mariners)-2 for 4, 2 RBIs