Victoria HarbourCats – In 2023, HarbourCats celebrating 10th Anniversary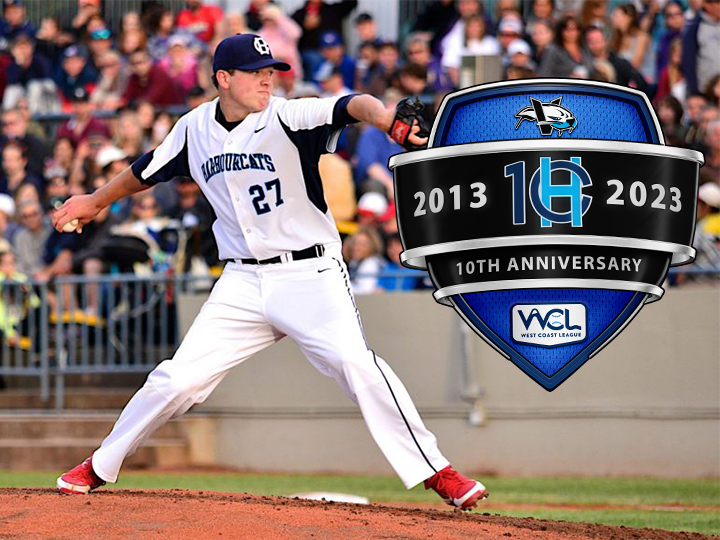 Above: Nick Pivetta throws the first pitch in HarbourCats history on June 5, 2013 (Photo David Nicholls)
For immediate release
November 22, 2023
VICTORIA, B.C. — It's the first truly major milestone for your Victoria HarbourCats, and it's well worth celebrating.
The West Coast League team will be marking 10 years since inception, that first season in 2013, when the team takes the field in June of 2023. And the HarbourCats will do it while both harkening back to the roots of the baseball club and officially recognizing part of what has become the fabric of the 'Cats, along with welcoming a new twist.
"No one can say these 10 years have been boring, that's for sure," said HarbourCats Managing Partner/GM Jim Swanson. "From that eventful first season including hosting the All-Star Game, to setting attendance and win-streak records, to an ownership shift and welcoming new partners, to making regular trips deep into the playoffs — the list of accomplishments is very long.
"The league is now in an official partnership with Major League Baseball as well. Cap that with three of our players making the MLB level (Nick Pivetta, Andrew Vaughn and Alex DeGoti), and the HarbourCats continue to be a success in Victoria in every way.
"We look forward to the next 10 years at Wilson's Group Stadium at RAP, and beyond."
The team is proud to unveil a 10-year anniversary patch, that will be used on uniforms and merchandise this year — one that takes the team's traditional HC cap logo and adds an intertwining twist with the letters. The traditional HC will remain the primary cap logo, the historic foundation, with the new twist a look to the future and another sharp option.
The HarbourCats are also officially adding the colour red to the team's palette, something that grew out of ongoing work with Rawlings Canada in 2016 and the unveiling of the wildly-popular red CATS jerseys, originally planned to do little more than recognize Canada Day — but became such a smash with players and fans alike, they kept making their way to the field. The adoption of red replaces a spot colour of yellow that was supposed to be part of the original uniform options, but outside of one small run of caps, was never used.
The team will continue to proudly wear the Canada-tinged RED CATS jerseys both home and away, as that popular eye-popping alternate. White home jerseys, the highly-acclaimed all-baby blue set, the road navy HC jerseys, and the VicPD Forces Friday version will help celebrate the 10-year mark on the field in 2023. The white home jerseys are planned for the annual Odlum Brown Jersey Off Your Backs giveaway set, so a new white version will be revealed in 2024. (Early plans are for the red Cats set to be given away to fans late in the 2024 season, with a new replacement set in place for 2025.)
The HarbourCats red jerseys are being officially incorporated into the team's colour scheme in 2023.
The bright addition of red — shown so prominently by co-owner Helen Edwards everywhere she goes, in her red/white HC cap — is also joined by the official recognition of the V-Cat hat logo as a secondary logo. The on-field cap for 2023 will be the Expos-inspired tri-colour fitted New Era cap with the V-Cat emblem (see below), a nod to HarbourCats Head Coach Todd Haney, who made his MLB debut with the Expos in 1992. Haney is the longest-serving manager in team history, in charge of the lineup since 2019 and signed through the summer of 2026.
"This is an important time to plan and get ahead of the curve, and we are excited about some of the new things that will thrill fans in 2023 — the two years away due to the pandemic have rekindled our energies, both at the field and with our online platforms," said Swanson.
The HarbourCats have a number of special promotional days lined up to help celebrate the 10th Anniversary season in 2023.  Some of those special events, the Top 10 of the HarbourCats 2023 promotions if you will, include:
1. 10th ANNIVERSARY OPENING NIGHT, Friday June 2, 2023, 6:35pm against the Kamloops NorthPaws
2. FIREWORKS, with The Wilson's Group of Companies, Saturday June 3, 2023, 6:35pm against the Kamloops NorthPaws
3. SCHOOL SPIRIT GAME, with Mayfair Optometric Clinic, Wednesday, June 7, 2023, 11:05am against the Walla Walla Sweets
4. FATHER's DAY GAME, Sunday, June 18, 2023, 1:05pm against the Yakima Valley Pippins
5. CANADA DAY FIREWORKS, Friday, June 30, 2023, 6:35pm against the Bellingham Bells
6. CANADA DAY MATINEE, Saturday, July 1, 2023, 1:05pm against the Bellingham Bells
7. HARVEY's 10th BIRTHDAY CELEBRATION, Saturday, July 15, 2023, 6:35pm against the Wenatchee AppleSox
8. BARK IN THE PARK, with Bosley's on Yates, Sunday, July 16, 2023, 1:05pm, against the Wenatchee AppleSox
9. 10th ANNIVERSARY CELEBRATION FIREWORKS, Saturday, July 29, 6:35pm against the Kelowna Falcons
10. 10th ANNIVERSARY JERSEY OFF OUR BACKS NIGHT, with Odlum Brown, Wednesday, August 2, 6:35pm against the Nanaimo NightOwls
2023 Season Tickets
Season ticket renewals and new season ticket sales are now underway for 2023, the HarbourCats 10th Anniversary season!  Lock in the best seats in the house by the end of November prior to single-game tickets going on sale. Existing Season Ticket holders should also renew their seats by the end of the month!  Contact chris@harbourcats.com or call the office at 778-265-0327 for details or to renew your existing seats!
2023 Flex-Packs
2023 10-Game and Season Ticket Equivalent Flex Pack vouchers are also now on sale! These can be purchased at the office in-person or by phone and can also be ordered on-line via The Cat Shop at https://victoria-harbourcats-official.myshopify.com/products/10-game-flex-pack-general-admission.    All flex pack vouchers will be eligible to be exchanged for games in the 2023 season once single-game tickets are available (see below).
2023 Single Game Tickets
Single-game tickets for the HarbourCats 10th Anniversary season will be available both on-line and in person at the HarbourCats office starting at 10:00am December 1, 2022. At that time, 10-game flex pack vouchers will be eligible to be exchanged for games in the 2023 season.
Stay tuned to all of our social media for updates and details as they become available.
Web: www.harbourcats.com
Facebook: https://www.facebook.com/harbourcats
Facebook Fan Community: https://www.facebook.com/groups/harbourcats
Twitter: https://twitter.com/harbourcats
Instagram: https://www.instagram.com/harbourcats
NorthPaws Set to Open 2nd West Coast League Season in Victoria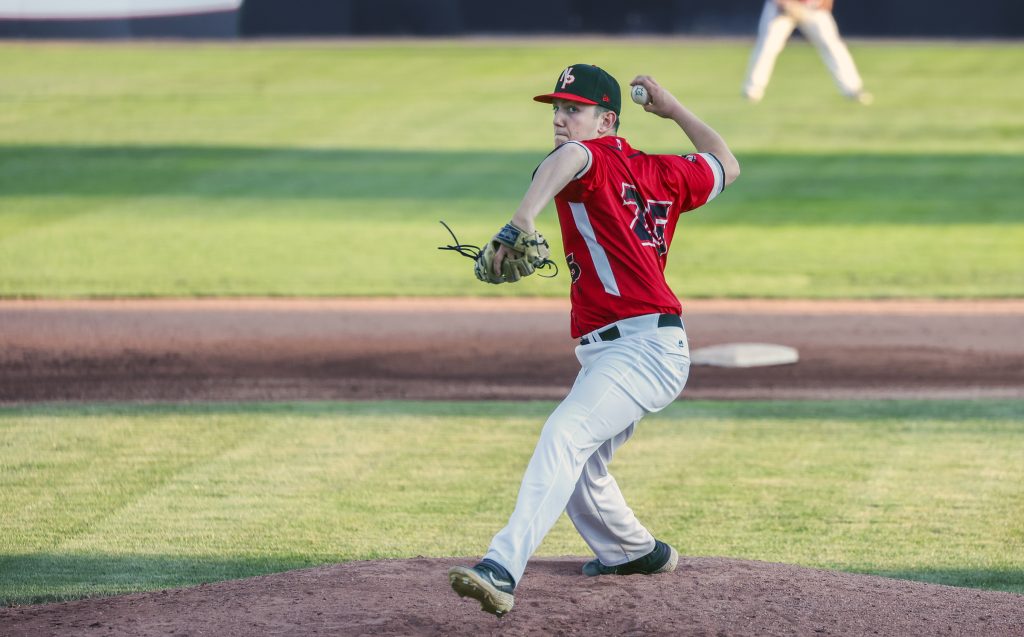 KAMLOOPS, BC—Excitement is in the air as the Kamloops NorthPaws are poised to kick off their second season in the West Coast League.
With the Memorial Cup junior hockey tournament being played in Kamloops, the North Paws asked the West Coast league to begin the 2023 campaign on the road.    The North Paws will open the campaign up at Wilson's Group Stadium in Victoria, BC against the HarbourCats.  The three-game series kicks off Thursday June 2nd and winds up Sunday June 4th. 
Kamloops has 10 veterans back from the team which finished third overall in the WCL North Division (record 26-27).   The NorthPaws have changed managers twice since Cole Armstrong directed them in their inaugural season.   Former Major Leaguer Brian Anderson replaced Armstrong in October 2022 but resigned to take a position with Northwestern University (NCAA Div I).  Keith Francis was named his replacement this past April.   He and Anderson worked together with Pima Community College in Tucson, Arizona and was initially coming to Kamloops as an assistant coach in 2023 before the promotion.
The HarbourCats have 13 players returning from the team which finished fourth in the West Coast League North Division in 2022 (record 26-28).
SERIES DETAILS:
Friday June 2nd  6:35 PM , Saturday June 3rd  6:35 PM, Sunday June 4th  1:05 PM
Games streamed at HCATS.TV
PLAYERS TO WATCH:
Victoria:
1.     Cam Caley – LHP – Baylor University – Sophomore
2.      Harrison Caley – C – Baylor University – Junior
3.      Jesse Brown – OF – UC Santa Barbara
4.       Dallas Macias – 2B/OF – Oregon State – Freshman
5.       Hudson Shupe – SS – Seattle – Freshman  
 Kamloops:
1.      Andrew Stucky   C-OF  University of Texas San Antonio  Hometown: Tucson, AZ  Sophomore
2.      Robin Villeneuve 1B-LHP  Weatherford College   Hometown: Gatineau QC   Sophomore
3.      Tommy Green  SS-INF   Oakland University   Hometown: Courtenay, BC   Senior
4.      Felix Chenier-Rondeau  OF Oklahoma City University   Hometown: Blainville, QC   Senior
COACHES COMMENTS:
Victoria Head Coach Todd Haney:
"We have assembled a top caliber line-up this season and can't wait to get things started Friday against the NorthPaws.  This is the 10th Anniversary season of the HarbourCats, and I'd like nothing more than to celebrate that by bringing the HarbourCats their first ever WCL title.  I think we have the team to do that this year and look forward to the challenges the season will bring us."
Kamloops Head Coach Keith Francis:
Heading into the season you are always a little apprehensive about your roster. Did we get enough pitching is everyone healthy etc. we know we have several still playing in post season play so your not exactly certain who is going to be ready for the opener. Having used all the coaches excuses I am looking forward to the season. I feel like we have an offensive lineup with players who have had very good seasons at their respective schools. I believe that our offense may have to carry else early until the pitching works itself out. Our first series should be mixed bag of a lineup with so many players not expected for another week, but it will give are younger players a chance."
 LAST YEAR'S (2022) SERIES:
The three games were played in Kamloops at Dearborn Ford Field.  The NorthPaws won two of the three games.  They opened the series June 14th with a 5-4 victory. Kolby Lukinchuk (Prince George, BC), came out of the bullpen to strike out the final two batters for the victory in his one inning of work.  Zac Beatty led the way for Kamloops with two runs batted in.
Game two had Kamloops beating Victoria 9-8. Ben Polack was the winning pitcher going three innings with a strikeout. He was the third of three pitchers for the NorthPaws that night. Kamloops had nine runs on 13 hits with four errors.
Victoria won the final game of the series (June 16) by a score of 8-3, scoring three runs in the top of the ninth inning after scoring two in the first frame. Michael Nunez was the winning pitcher going four and a third innings giving up four hits and striking out five. Shay Timmer took the loss for Kamloops. He was the second of four pitchers going three innings with five strikeouts and three walks.
NORTH PAWS NOTABLES:
The North Paws have 11 players from British Columbia on their roster including five players from Kamloops itself (three of them: Tyrelle Chadwick, Jared Sucro, Nolan Austin are veterans).
WOLFPACK CONNECTION:
Kamloops has two players who are currently members of the Thompson Rivers University WolfPack baseball program:  Lukinchuk and first year outfielder Manny Recchi.   Former WolfPack player Adam Filmon has joined the NorthPaws as an assistant coach.  Filmon is the grandson of former Manitoba Premier Gary.
The HarbourCats have one TRU player on their roster this year.  Pitcher Sam Jordan who completed his first season with TRU in 2023.
HOME OPENER:
The NorthPaws will kick off the home portion of their 2023 West Coast League season Tuesday June 6th at Dearborn Ford Field at Norbrock Stadium. It is a three-game series with the Portland Pickles.  Opening pitch on Tuesday, Wednesday (June 7th) and Thursday (June 8th) will be 6:35 PM.  Tuesday's opening night festivities will include a pre-game ceremony.
Tuesday's game will be "Blazers Night" where the NorthPaws will recognize the accomplishments of the 2022-23 Kamloops Blazers.  It is hoped some members of the Blazers hockey club will be in attendance for the contest and will be available to sign autographs.
If you can't make the games in person, NorthPaws home games will be webcast here : https://wcleague.watch.pixellot.tv/.   There will also be a select number of games will be shown on Shaw Cable.
For "Everything NorthPaws – Go to the website : https://www.northpawsbaseball.ca/ "
Kamloops NorthPaws tickets: ticketing@northpawsbaseball.ca
West Coast League: westcoastleague.com.
For more Information:
Jenna Forter
General Manager, Kamloops NorthPaws
Jforter@northpawsbaseball.ca
Insurance against the elements — Maxxam Insurance steps to the plate for Serauxmen Stadium

Baseball folk can be heard to say — "can't control the weather, but you can be prepared for it."
With that in mind, the Nanaimo NightOwls are excited to announce a major addition to Serauxmen Stadium that will not only help the WCL team, but all stakeholder groups that make the refurbished/historic field their home.
.
Maxxam Insurance, the community-driven company that serves the entirety of Vancouver Island and indeed B.C., has stepped to the plate with a legacy partnership, purchasing a full infield tarp, measuring 160ft-squared, to help fend off rain that is undeniably a part of being a baseball program on the moist coast, particularly in spring and fall.
"Maxxam came to us and asked how they could help, what they could do that was meaningful for not just the NightOwls but all Island baseball teams — and the lack of a tarp at Serauxmen impacted everyone's operations in the wet 2022 season," said Jim Swanson, GM and Managing Partner of the NightOwls. "We faced rain on opening weekend, and that whole first month. We wished we had a tarp many times."
.
"Well, now we do, thanks to Bill Rai, Bryson Hill and the people at Maxxam. We are thankful, and excited. It's a major complement to all the work done by the City of Nanaimo over the last two years."
Maxxam is proud to help solve an issue — insurance, if you will, against the rain we all know so well.
.
"For us, it is always about the community and what we can do to contribute," said Rai, the founder of Maxxam Insurance. "Sports is important to people of all ages and working with the NightOwls for this project is exciting to be a part of."
.
The tarp, the same product used at famed Nat Bailey Stadium in Vancouver, arrived this month and will take up a prominent foul-ball area beyond the third base dugout, with a cover featuring the Maxxam logo. In addition, Maxxam has purchased a new cover for the full infield tarp at Wilson's Group Stadium at Royal Athletic Park in Victoria, making that helpful feature look sharp again.
Become A NightOwls Host Family
We have amazing players and they need temporary homes! Elite collegiate scholarship athletes working to earn a shot at pro baseball, representing our area in the West Coast League at historic Serauxmen Stadium.
We plan host homes and players around transportation and rides so they can get to the gym and the field. Some families like to give rides sometimes, but we work to make that rarely needed.
The players generally eat breakfast, go to work out, grab lunch somewhere, then take batting practice etc leading up to the game, and return home after.
The team takes bus/ferry to places around BC, Alberta, WA and OR states, usually gone 3-4 days at a time, sometimes a full week away.
Most importantly— great young men, here to experience the island and face great teams in the WCL! Some of the players will go on to play in the Major Leagues!