Sowden Flanagan prospect O'Reilly signs with college team
Sowden Flanagan Baseball Training prospect Cam O'Reilly signs with the St. Clair Saints of the Ontario Colleges Athletic Association as mom Carla and dad Curtis look on.  Photo: Randy Palmer
By Randy Palmer
Moose Jaw Today
It never hurts to have a little help from your friends, especially when you're looking for a place to continue your baseball career after high school.
For Moose Jaw's Cam O'Reilly and Sowden Flanagan Baseball Training, that whole situation couldn't have worked out better.
O'Reilly, 17, was on hand at the local facility on Thursday afternoon to officially sign with the St. Clair Saints of the Ontario Colleges Athletic Association, making him the first player from Sowden Flanagan to move on to the next level after a successful run with Moose Jaw Minor Baseball.
"It'll be a good experience, I'm very excited to go and I'm thankful to my parents and Sowden Flanagan and St. Clair College," O'Reilly said shortly after the signing as mom Carla and dad Curtis looked on. "It should be a lot of fun, I think it'll be really good baseball and a challenge."
A left-handed pitcher, O'Reilly suited up for a youthful Moose Jaw Canucks team in the pandemic-delayed 2021 Saskatchewan Premier Baseball League season, appearing in eight games and allowing 24 runs in 27 innings, striking out 26 and walking 16 in the process.
His top showing of the season came on Aug. 8, where O'Reilly put together a quality start against the powerhouse Swift Current 57's, allowing a single run through six innings while striking out five.
The option to continue to work on his game on a regular basis while still in high school at Vanier saw O'Reilly join the Sowden Flanagan flex program this past September, with immediate results.
"They've taught me a bunch, especially to get to where I am today, so I'll keep working with them until I get ready to leave," said O'Reilly, who'll head to the Windsor, Ont. based school this August. "I've mostly worked on pitching mechanics as well as my change-up and control… just doing what I can to become a better pitcher."
Once in Windsor, O'Reilly will find himself immersed in winning.
The Saints are an OCAA powerhouse, having won the league title five of the last eight years and at least a medal — including bronze in 2019 after a 13-5 regular season — since the league came into existence in 2013.
The opportunity to join St. Clair came out of a unique connection through Sowden Flanagan: Shane Sowden, the facility's founder alongside Craig Flanagan, had been in contact with Rye Pothakos of Spartan Sports Management, who were on the lookout for new potential prospects.
Sowden had played for Pothakos as a member of the Western Canadian Baseball League's Saskatoon Yellowjackets and sent along film of O'Reilly pitching. That was enough for Pothakos to point the local crew in the direction of St. Clair, more film was sent along and the rest is history.
"It's super exciting, this is one of the perks of doing this," Sowden said. "When Craig and I started this, one of the things we were most excited about was raising the level of baseball in Moose Jaw in a competitive environment, but second, can we have kids get opportunities when we were their age.
"It's neat, too, because there are good baseball programs across the country and you don't have to go across the border to play really good baseball," he added. "So this will be a great opportunity for Cam and we're looking forward to how he does at that level."
The St. Clair College Saints open their season on Sept. 12 when they take on Humber College.

Hawkins takes big first step in chasing big league dreams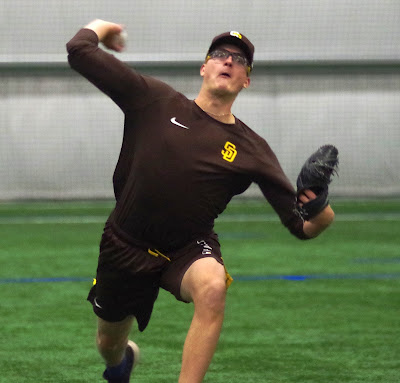 By Darren Steinke – Howe Happenings
Garrett Hawkins was ready to jump into the next level of work when he was drafted into the MLB.
On the second day the 2021 MLB Draft this past July 12, the hard-throwing right-handed pitcher from Biggar, Sask., was selected in the ninth round and 280th overall by the San Diego Padres. The draft selection was a huge highlight for the 21-year-old, but he knew the long journey to try and become an everyday MLB player continued.
"It was pretty exciting just knowing that all the hard work had paid off," said Hawkins, who towers on the mound at 6-foot-5 and weighs 230 pounds. "You kind of got to a point that you're just proud of yourself and proud of everyone that kind of contributed to it.
"Not to say that the work isn't done. There is still a lot more to do, but it is a good first step for sure."
Hawkins, who trains in the off-season at the Gordie Howe Sports Complex, had been playing for the New Jersey state capital-based Trenton Thunder of the MLB Draft league at the time he was selected by the Padres.
With the Thunder, Hawkins started six games posting a 1-0 record, a 2.63 ERA, 32 strikeouts while giving up two walks in 24 innings of work.
Shortly after being drafted, Hawkins traveled to Peoria, Arizona, to join the Padres rookie team that plays in the 18-club Arizona Complex League.
With the ACL Padres, Hawkins put up solid numbers. The graduate of the Saskatoon Giants under-18 AAA program appeared in seven games with the ACL Padres posting a 3-1 record, a 2.35 ERA, 27 strikeouts while giving up two walks in 15.1 innings.
"I enjoyed it," said Hawkins, whose main pitches are the fastball, slider and change up. "I just kind of got my toes wet in how it all works going forward.
"I got to meet a lot of people, see lots of like different cultures like lots of Latin players that I haven't had a chance to be around a ton and kind of just meeting all the new draftees that got picked in my year also. It was pretty good, and I am excited to kind of get going again and move my way up."
Hawkins said he benefitted from the fact he got some real good coaching with the ACL Padres, which he thought helped his performance on the field.
"I think I just kind of maybe took another step once I got there," said Hawkins, who can throw his fastball at 93 to 95 miles per hour. "Eventually, something stuck, and I kind of just used it to my advantage.
"I think just the increased input from the coaching staff and all that helped a lot."
Throughout his life, Hawkins said baseball was the sport he was always the most passionate about. That passion took root from simple beginnings.
"I kind of just started playing baseball at a young age playing catch with my dad (Ian Hawkins) at home," said Hawkins. "Eventually, I was just playing minor baseball.
"All my friends were kind of doing it at the time."
When he started playing minor baseball, Hawkins said he started to experience success on the mound early on.
"I'd say it happened right away," said Hawkins. "Obviously, I hit and pitched at a younger age, but I kind of had a knack for pitching when I was younger."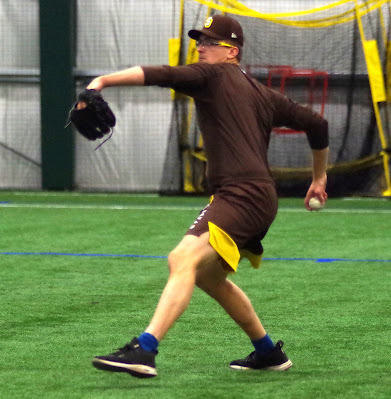 Hawkins ultimately caught the eyes of the high-performance coaches with Baseball Sask. He helped Saskatchewan win gold at the 2016 Baseball Canada Cup in Fort McMurray, Alta., and at the 2017 Canada Summer Games in Winnipeg.
The standout hurler credited Greg Brons, who is the High Performance Director for Baseball Sask, with getting a core group of players playing together or against each other on younger teams and training together in the years heading into those gold medal wins. Hawkins said the players became good friends and a realization grew that they might be able to accomplish big goals together.
"We had a core group of guys that (Greg) Brons kind of brought up together and kind of knew we had the potential to do something like that," said Hawkins. "That group had been together for maybe three years before that, so when it came time to put it all together, I just kind of remember all the guys that we had and just how good we were and how ready we were to kind of be on that stage.
"It was exciting."
Besides those gold medal wins on a national stage, Hawkins enjoyed playing against and with a number of his provincial team teammates in the provincial under-18 AAA league. He has lots of good memories throwing for the Saskatoon Giants at Cairns Field and Leakos Field.
"I enjoyed it just because most of the time it is like Saskatoon team versus a Saskatoon team, so you kind of want to beat the other one," said Hawkins. "I enjoyed my time playing here for sure."
After his season wrapped up with the ACL Padres, Hawkins elected to live in Saskatoon during the off-season in order to train at the Gordie Howe Sports Complex. On top of doing his own training, Hawkins will help out the crew at the Going Yard Training Centre coach young pitchers.
Jordan Draeger, who is one of Going Yard's top instructors, was one of Hawkins past coaches.
"It is pretty cool just seeing (the young pitchers), because I was in those guys shoes kind of when I was in high school," said Hawkins. "It is kind of cool seeing those guys build up and be around them as much as I can trying to help out, if they need it.
"I like going in there and doing my work and getting to watch some other guys do theirs, so it is pretty cool."
Hawkins, who will turn 22-years-old in February, said all the coaches he had through the years have had a big impact in allowing him to have the success he has had.
Going into his second season as a professional, Hawkins said his main focus is improving his consistency.
"I kind of like where my pitches are at now," said Hawkins. "I think just continuing to learn about hitters and stuff like that and just trust myself.
"I just have to continue to get better each day and try and move up."
Murdoch named Baseball Sask Player of the Year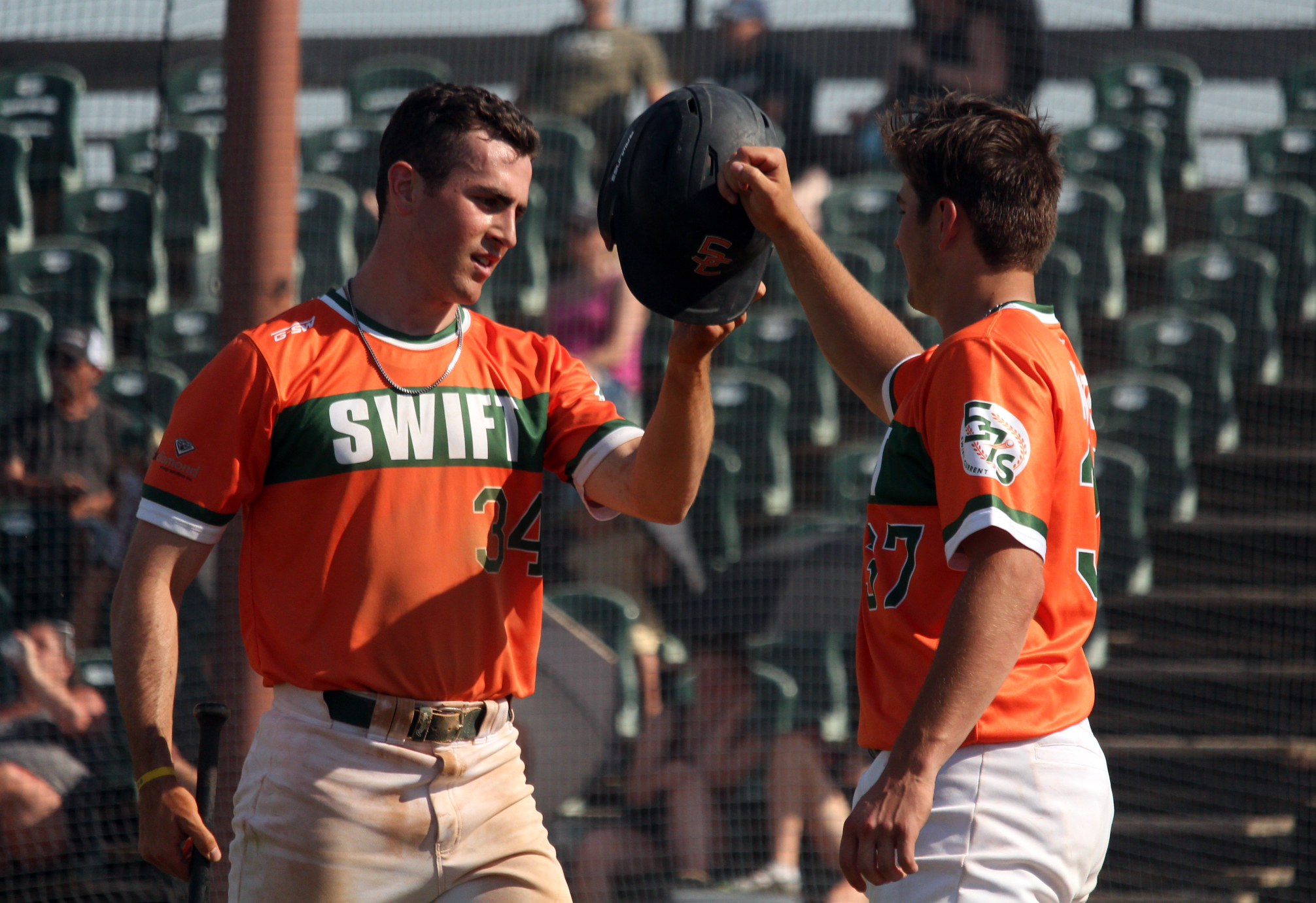 By Colin Powers – Swift Current On-Line
Swift Current's Ethan Murdoch wrapped up his minor baseball career with a huge honour, being named Baseball Saskatchewan's Player of the Year for 2021.
"I was obviously really excited to hear it." Murdoch said. "I like putting in a good effort as much as I can, and statistics and awards don't mean everything, but it's always nice to know that the people around the league saw what I did and nominated me for the award, and thought I was deserving of it.
"I've always been pretty lucky to have people around me who really cared about my development as a baseball player, but also as a person," he added. "There are the guys that have been around for a while like Neil Hogg, Harv Martinez and Joe Carnahan do a pretty good job of showing people the right way to play baseball, but also to be a good person, and then I've been pretty lucky with the coaches I've had year to year. My dad (Derek Murdoch) coached and other guys along the way have done a good job making sure that we represent the city the right way."
Murdoch is heading into his second semester at McCook Community College in McCook, Nebraska, where he is furthering his baseball career.
Indian Head Museum telling story of all Black baseball team The Rockets
The Indian Head Rockets are being inducted into the Saskatchewan Baseball Hall of Fame and the town's museum is creating an exhibit in 2022.
By Alec Salloum – Regina Leader Post
In the 1950s Indian Head was the scene of a 30,000-strong event that saw some of the best players from America's all Black baseball leagues playing for glory and a weighty cash prize.
The Indian Head Rockets — a team composed of members from the Negro League's Jacksonville Eagles — would play in baseball tournaments held in town and around Western Canada. In 2022 the team will be inducted into Saskatchewan's Baseball Hall of Fame.
In anticipation, and amid renovations undertaken during COVID, the Indian Head Museum has started construction on a new exhibit to honour the team and the tournament hosted in their community more than a half a century ago.
"It was sort of a dream of our mayor at the time, Jimmy Robison," Robyn Jensen, president of the Indian Head Museum, said in a recent interview.
"He wanted to bring high-quality baseball to the small town and he did."
Robison ran two tournaments in '48, and '49, which were billed as "Western Canada's greatest baseball tournament" by one of the six radio stations that covered the event.
Teams were brought in from all over North America, with 22 teams converging on Indian Head for the tournament, many of the players coming from America to play in Canada during the summer. The Eagles, then called the Rockets would come in the '50s to play in Indian Head.
"It was a really fascinating special time for our town," said Jensen.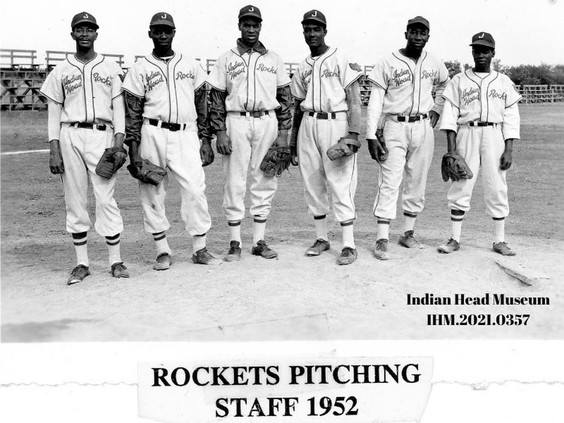 The Indian Head Rockets wore a cap with a "J" on it, on account of the players coming from the Jacksonville Eagles. Photo courtesy of the Indian Head Museum.
In town, many of the roads were not paved. In her research, for the exhibit, Jensen said she came across articles and mention of people getting stuck en route to the tournament and ending up in the ditch. As the town exploded with tourists, military cots and billets were used to help with lodging the spectators.
After the colour barrier was broken in Major League Baseball, two of the Rockets alums went on to play MLB teams, becoming the first Black players for the Boston Red Sox and the St. Louis Cardinals, respectively. Tom Alston played with the Rockets in 1950 and 1951 and would go on to play for the Cardinals.
Elijah Jerry "Pumpsie" Greene played ball in Indian Head in 1952 and would go on to play for the Boston Red Sox on July 21, 1959. In 1952 there were 20 African-American players in the MLB and Greene's debut for the Sox would mark the last team's adoption of Black players.
"We were kind of like the stepping stone between, from the Negro Leagues. And then for them going up into play in the Major Leagues," said Jensen.
When fans came to see the teams play in Indian Head they saw world-class talent on display.
The word "Rocket" was stitched in red on the white uniforms, a decision made by the mayor to use the singular word on the uniform while the whole team were the "Rockets," each player was a Rocket.
At that time the western baseball leagues were played in the summer, comprising of an almost mercenary coterie of baseball players from around America. Some were still in high school, others played in racially segregated leagues like the Negro League or the Cuban League.
The exhibit is still looking to tie up some loose ends, most critically, how the players were treated in the province.
Museum vice-president Janine Moses-Randle said that is an important part of the story. From her work at the museum she said they "could go into a restaurant, you know, go to dances, they were given opportunities up here that they didn't have back home."
In an interview with the Saskatoon StarPhoenix in 2012, former Rockets player Nat Bates, then 80-years-old, spoke about how they were treated.
"The most offensive thing to us was when people there called us darkies. That hurt. It was nothing disrespectful, they just didn't know. After we were there for a while, when we could relate to the community and they understood us, we started to laugh about it."
Moses-Randle said they don't want to paper over the experiences of the players but by and large there seemed to be an acceptance and openness from the community. In that same interview from 2012, Bates said as much.
"Families invited us into their home … Girls asked us to dance."
At the time, schools were still segregated in America. Brown v. Board of Education happened in 1954, and Jim Crow laws were in force until 1965.
"This was a chance to kind of come up here and do what they love," said Moses-Randle.
The exhibit is set to open in the summer of 2022 and the team is set to be inducted into the Saskatchewan Baseball Hall of Fame in the new year.