Rhonda Pauls recognized with 2021 Baseball Canada Umpire Developer Award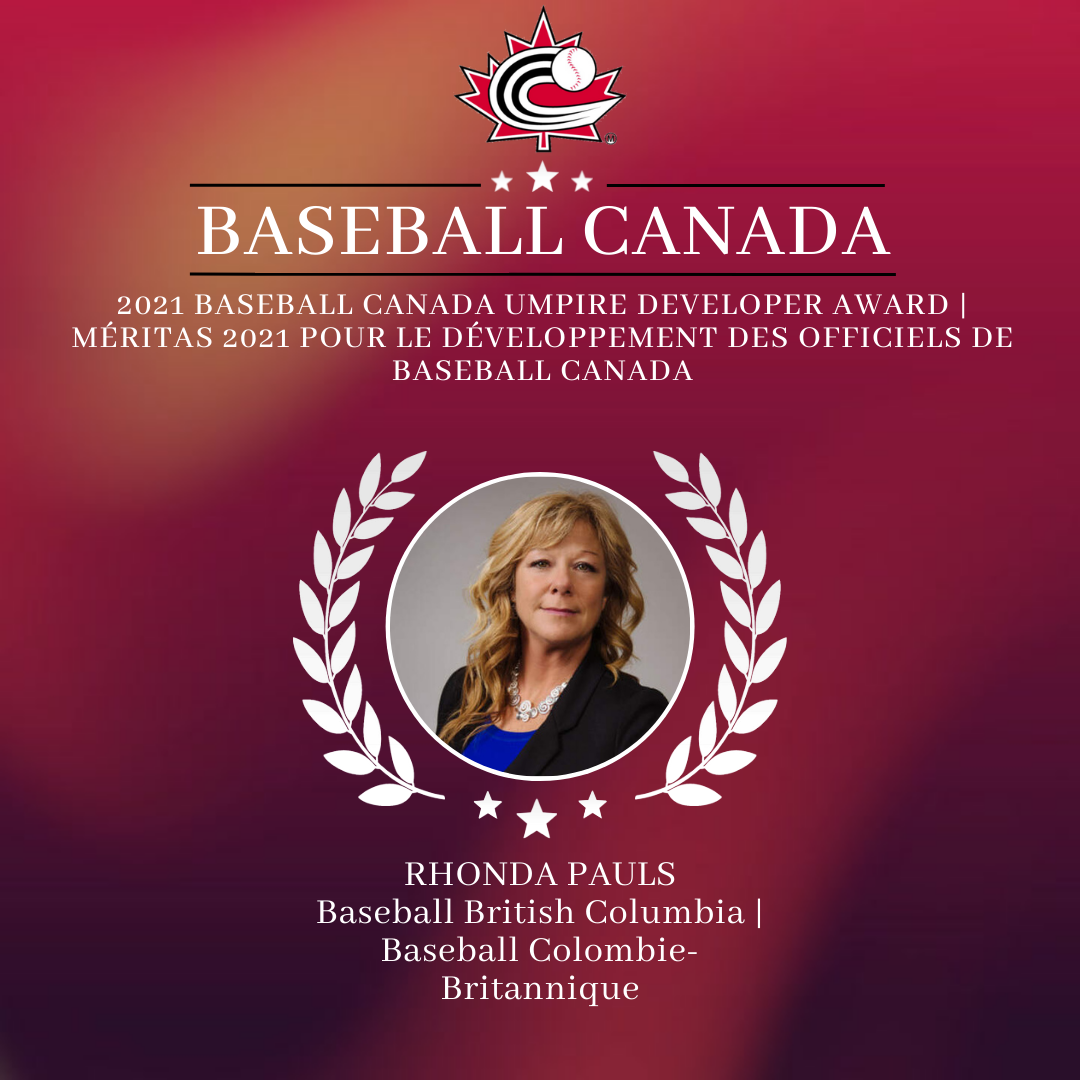 The Baseball Canada Umpire Developer Award is handed out annually to an individual who has demonstrated commitment and excellency in the delivery of umpire education as part of the National Umpires Certification Program.
An accomplished umpire on the field whose resume includes numerous provincial, national, and international events, it was her off-field work that stood out in 2021 as she put in tremendous efforts in developing and growing the next generation of umpires.
As such, Baseball Canada is pleased to announce that British Columbia's Rhonda Pauls is the winner of the Baseball Canada Umpire Developer Award for 2021.
With Covid-19 still impacting the way in which umpires are traditionally trained and developed, Rhonda's work to create online educational resources ensured that information and development tools were provided to young umpires in BC and across Canada.
Rhonda created on online platform for the BC Baseball Umpires Association in addition to producing multi-hour, virtual training sessions for umpires in BC. Her teaching materials including lesson plans, instructional videos, quizzes, and presentations as part of her workshops and clinics.
A former winner of the Dick Willis Memorial Award for Baseball Canada Umpire of the Year (2014), Rhonda is a role model for aspiring female umpires and spent time in 2021 engaging female umpires across the country through a unique virtual series.
She has also used her platform to raise awareness around mental health in researching and developing materials for an interactive workshop.
Her efforts around mental health support and awareness did not stop there as she created a team of individuals in BC who serve as peer counsellors for mental health awareness. This is the only team of this nature in baseball in Canada.
Rhonda was also active in many of her off-field umpiring roles in 2021 including the planning and execution of the Super clinic as part of a group effort while also serving as President of the BC Baseball Umpire Association.
She was elected as a board member for Baseball BC where she participated actively in several committees including Strategic Planning and sat as a member of the Baseball Canada instructor development portfolio where she's been instrumental in the re-design of the Senior Course Conductor Portfolio.
Umpire Developer Award recipients have included:
2020-Ed Quinlan & Chris Wilhelm (ON)
Ridge Meadows Rises to Championship Form!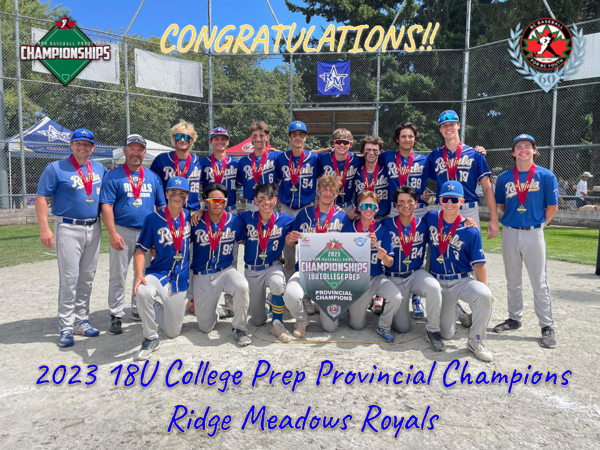 It would be fitting to see the top two teams from the Regular season' the #1 North Fraser Nationals and the #2 Ridge Meadows Royals, go head-to-head for the 2023 18U College Prep Provincial Championship! 
North Fraser entered the final tilt undefeated through the round-robin and their semi-final match, while Ridge Meadows had only stumbled once on the way there. 
In the end, it was Ridge Meadows and their ability to push runs across the dish that put them on top 6-1 when the dust finally settled handing North Fraser their only loss of the weekend. 
Congratulations to the Ridge Meadows Royals and all of their fans and supporters. You are the 2023 18U College Prep Provincial Champions!
Congratulations to the North Fraser Nationals and all of their fans and supporters on a stellar run to the top of the Regular Season Standings. 
Congratulations to all of our 2023 18U College Prep Players, Coaches, and Families. It's been a ride! See you in the Fall!
Ladner takes the 2023 John Main 13U Invitation Crown!
Ladner takes the 2023 John Main 13U Invitation Crown!
By BCMBA, 05/28/23, 4:00PM PDT
Share
Cole Hudie finishes it with a 3-run shot to lift Ladner to a 5-2 W over Chilliwack and claim the BCMBA 2023 John Main 13U Invitational Championship Title! Thank you to our hosts and their families, Ridge Meadows and Cloverdale, our BCMBA Volunteer Directors, and everyone who participated!!
The 2023 John Main 13U Invitational is underway!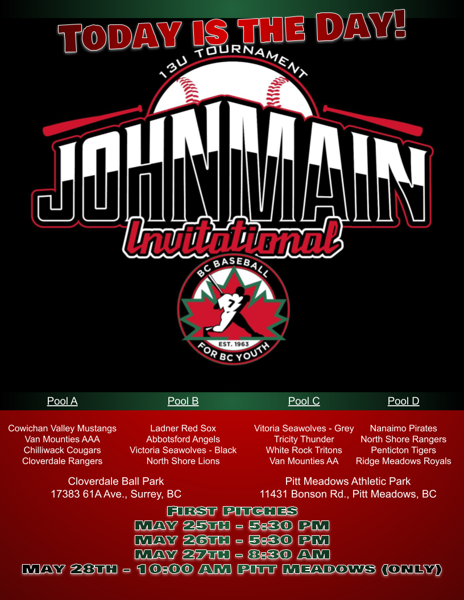 The 2023 John Main 13U Invitational is underway!
By BCMBA, 05/25/23, 9:00AM PDT
Share
The 2023 BC Minor Baseball John Main 13U Invitational has arrived. All weekend long, come down and check out some of the future stars of our game! Dates, times, locations, and results can be found here:
2023 John Main 13U Invitational