Rhonda Pauls recognized with 2021 Baseball Canada Umpire Developer Award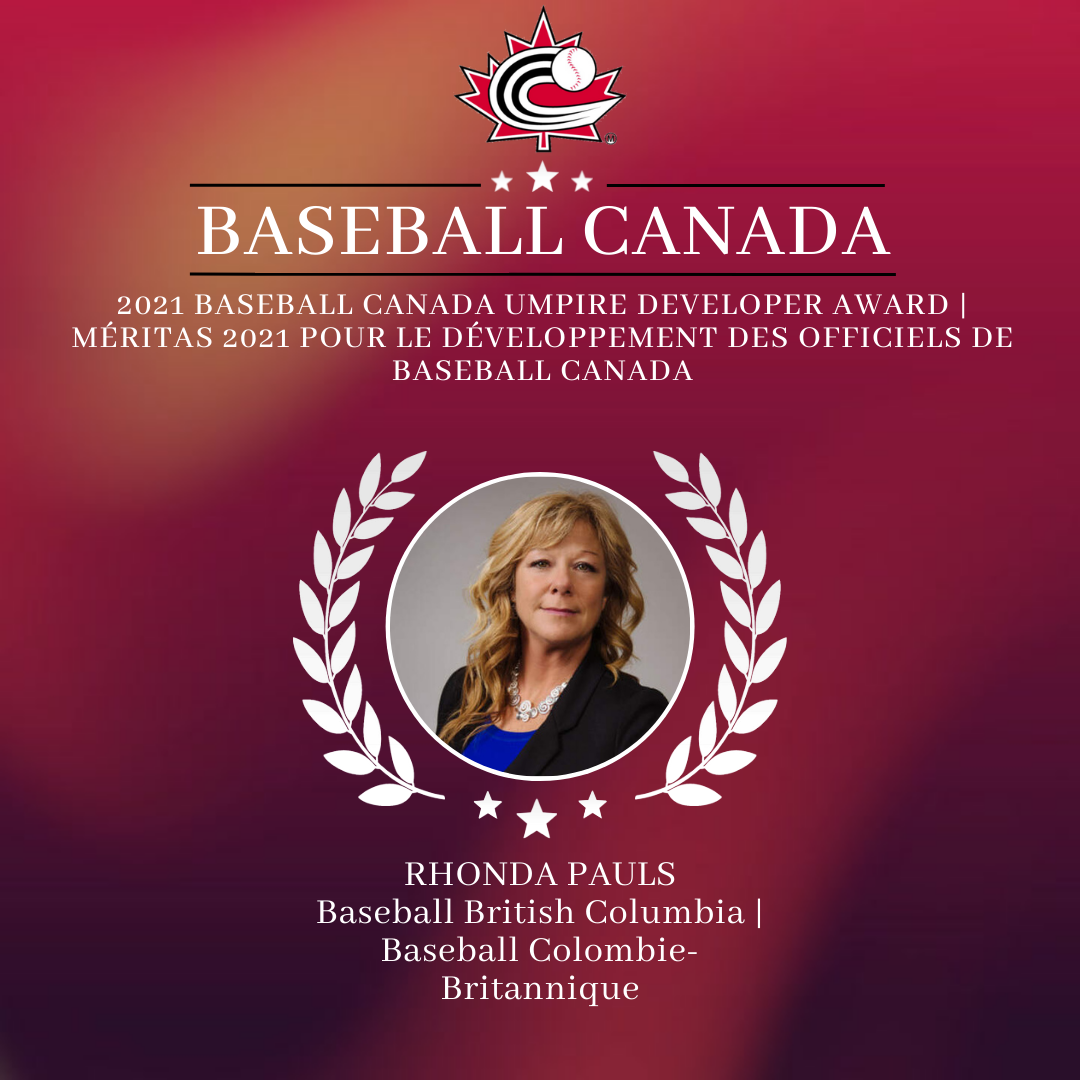 The Baseball Canada Umpire Developer Award is handed out annually to an individual who has demonstrated commitment and excellency in the delivery of umpire education as part of the National Umpires Certification Program.
An accomplished umpire on the field whose resume includes numerous provincial, national, and international events, it was her off-field work that stood out in 2021 as she put in tremendous efforts in developing and growing the next generation of umpires.
As such, Baseball Canada is pleased to announce that British Columbia's Rhonda Pauls is the winner of the Baseball Canada Umpire Developer Award for 2021.
With Covid-19 still impacting the way in which umpires are traditionally trained and developed, Rhonda's work to create online educational resources ensured that information and development tools were provided to young umpires in BC and across Canada.
Rhonda created on online platform for the BC Baseball Umpires Association in addition to producing multi-hour, virtual training sessions for umpires in BC. Her teaching materials including lesson plans, instructional videos, quizzes, and presentations as part of her workshops and clinics.
A former winner of the Dick Willis Memorial Award for Baseball Canada Umpire of the Year (2014), Rhonda is a role model for aspiring female umpires and spent time in 2021 engaging female umpires across the country through a unique virtual series.
She has also used her platform to raise awareness around mental health in researching and developing materials for an interactive workshop.
Her efforts around mental health support and awareness did not stop there as she created a team of individuals in BC who serve as peer counsellors for mental health awareness. This is the only team of this nature in baseball in Canada.
Rhonda was also active in many of her off-field umpiring roles in 2021 including the planning and execution of the Super clinic as part of a group effort while also serving as President of the BC Baseball Umpire Association.
She was elected as a board member for Baseball BC where she participated actively in several committees including Strategic Planning and sat as a member of the Baseball Canada instructor development portfolio where she's been instrumental in the re-design of the Senior Course Conductor Portfolio.
Umpire Developer Award recipients have included:
2020-Ed Quinlan & Chris Wilhelm (ON)
2023 BC Minor Baseball Association Coaches Conference Schedule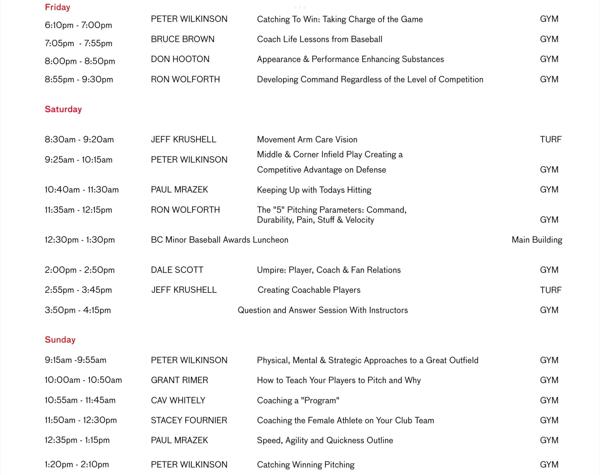 2023 BC Minor Baseball Association Coaches Conference Schedule
By BCMBA, 02/10/23, 6:15PM PST
Share
2023 BC Minor Baseball Association Coaches Conference
February 10th – 12th, 2023
Schedule of Speakers & Events
Butler Park to get new lights before 2022 season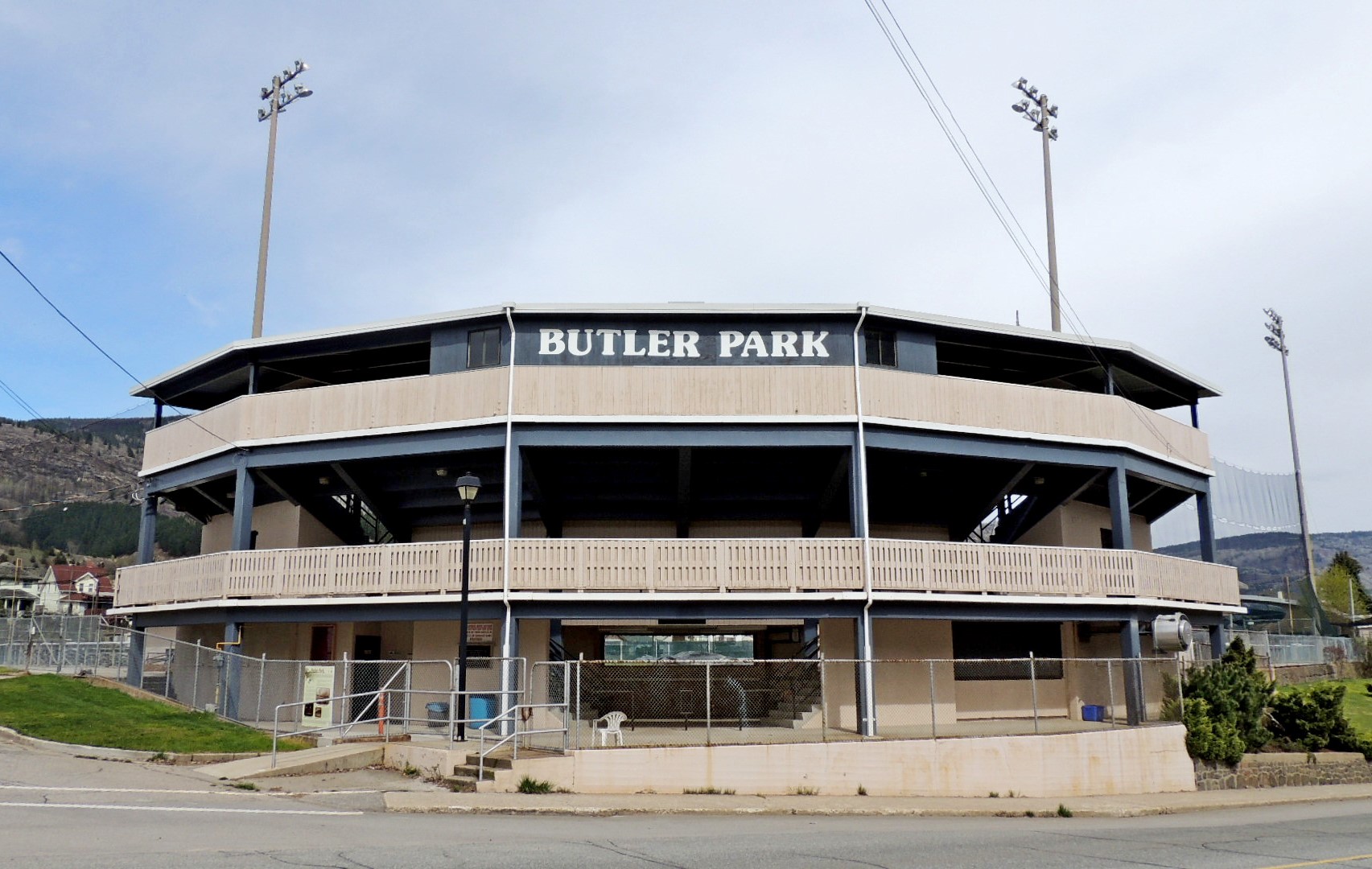 City council votes to install lighting and netting to Trail baseball park
By Jim Bailey – Trail Times
From an article on August, 26, 2021
City staff laid the groundwork to complete the lighting and netting additions to Butler Park before the start of the next baseball season.
After stadium light standards were deemed to be unsafe, the city removed the poles and netting this past year, and made way for a new installation.
At an Aug. 16 Governance and Operations Committee meeting, a staff report recommended four options for installing new stadium lighting and netting at the Trail baseball park.
"(Engineering technician) Kyle McCormick has worked diligently with engineers and vendors to come up with what we feel is a practical recommendation moving forward," said public works director, Chris McIsaac.
Because the soil below Butler has low cohesion, engineers decided on the installation of drilled and cast-in-place concrete piles.
Also, the upgrades to the stadium lighting will reduce the number of standards needed from eight to six along with the number of LED stadium luminaries, and 15-gauge Dyneema netting will be strung along the first and third-base lines.
"This proposed Butler Park installation is a significant addition to the fiscal 2021 capital projects," wrote Interim Chief Financial Officer (CFO) Rino Merlo. "To proceed in 2021 requires a substantial amount of non-budgeted cash.
"However, should council authorize this Report's recommendations, the city has the funding to proceed in 2021."
Merlo offered that funding could come from various sources including the city's deferred amount within the UBCM Community Building Fund of $1.25M, the Capital Works Reserve Fund $236,000 and Surplus about $100,000.
"However, this significant draw down of capital resources reduces the city's financial flexibility."
Parks and Rec director Trisha Davison also confirmed that there is grant funding of about $235,000 pending.
The immediate costs were a concern for Mayor Lisa Pasin who said, when considering last year's total capital budget, a $1.5M expenditure would amount to 55 per cent of the total budget allocated for capital.
To spend 55 per cent of a total budget on one project is significant for the city, she later clarified.
"And this should be evaluated within the context of all priority projects."
Of the four options, Option 1 was the least expensive at $1.586M with all work being completed in 2021.
However, in a 5-2 vote, council chose Option 2, which will see pole foundations, underground electrical, and stadium lighting installed in phase 1, and completed with the netting put up in the spring of 2022.
The cost for Option 2 is estimated at $1.642M, more than Option 1, but less than Option 3 and 4 at $1.655M, whose estimated completion dates were by the end of 2022.
Catching up with Marika Lyszczyk, former Whalley player making baseball history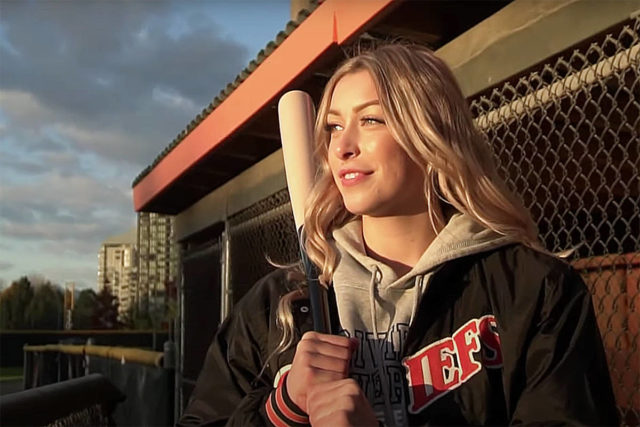 Arm surgery rehab awaits the Delta resident, the first female catcher to play NCAA men's baseball
By Tom Zillich -Surrey News Leader
Evidence suggests there's no stopping Marika Lyszczyk, but surgery has slowed her down a bit.
This month the former Whalley Chiefs baseball player is resting at home in Tsawwassen following rotator cuff repairs in her throwing arm.
"They thought it was my bicep that was a problem, but it was actually my rotator cuff," Lyszczyk said with a sigh.
"Right now I'm in total immobilization, I can't move my shoulder. It's not very fun sleeping."
With rehab looming, this fall the 20-year-old catcher plans a return trip to New Hampshire's Rivier University, whose Division 3 team last year made her the first female catcher to play NCAA men's baseball. It was historic stuff, and Lyszczyk can't wait to play ball there again.
"I'll rehab down there and get back into the swing of things," she said confidently, in a phone conversation.
"I'm itching to get back, because one of the hardest things for me is to not train," she added with a laugh.
(Story continues below a seven-minute Sportsnet video: "Marika Lyszczyk Breaking Gender Barriers In NCAA Baseball")
Earlier this summer, despite lingering soreness in her arm, Lyszczyk travelled to Long Island, NY, to play for the Sag Harbor Whalers of the Hamptons Collegiate Baseball League.
It's the latest stop in a baseball journey that involved her playing four seasons with the Whalley Chiefs, during her high school years, as the first girl to see action in the B.C. Premier Baseball League (PBL).
"It was such an opportunity there, and such a huge foundation for moving forward in my baseball career," Lyszczyk said of her days with the Chiefs. "The league is great, with some really good players, and it was such a good experience for me, before going to college."
Her time at Rivier University in 2020 lasted a brief nine or 10 weeks before the COVID-19 pandemic prompted a move back home to Delta.
A year later, a summer in the Hamptons was a thrill for Lyszczyk.
"It was great being there – it's so beautiful, and the community is great," she raved. "You hear about it with all the celebrities being there, and the people were so amazing. It was a great chance to go there and play with some pretty high-level guys playing D1, D2, so it definitely was a challenge for me."
Her original summer plan was to also attend Baseball Canada's women's national team showcase in Quebec (along with Surrey prospects Stacy Fournier and Claire Eccles), but for Lyszczyk, arm surgery took priority.
"Last year I had some arm pain and I thought it'd go away," she recalled. "I've thrown a lot in my lifetime, practising sometimes five, six days a week, and my arm has been sore, but not like that. I was hoping to take a few months off and it'd be fine, but I finally got a MRI to realize that something was wrong and that I'd need surgery.
"So I played summer ball and it was more like pain control for me, and I was proud of myself for getting through the summer. But it did hold me back in some areas and I knew I needed to get it fixed when I got back home.
"Generally when you go through a rehab like this," she added, "people tend to come back stronger, and there's lots of guys who come back from, like, Tommy John Surgery and they end up throwing two miles an hour faster, things like that. It's pretty cool to see how rehab has changed in that way, and I'm hopeful that I'll come back even stronger than I was before."
She hopes the procedure will ultimately allow her to play more baseball in the future.
"I always say that I want to play baseball as long as I can, as long as the opportunities are there for me, and that's another reason why it was so crucial that I got my arm fixed now, so hopefully I can have a longer playing career," Lyszczyk explained.
"And once my playing days are over I hope to do on-field commentating and stay in the game afterward, because I couldn't imagine my life without baseball."