Alexis Brudnicki named recipient of 2021 Bob Elliott Media Recognition Award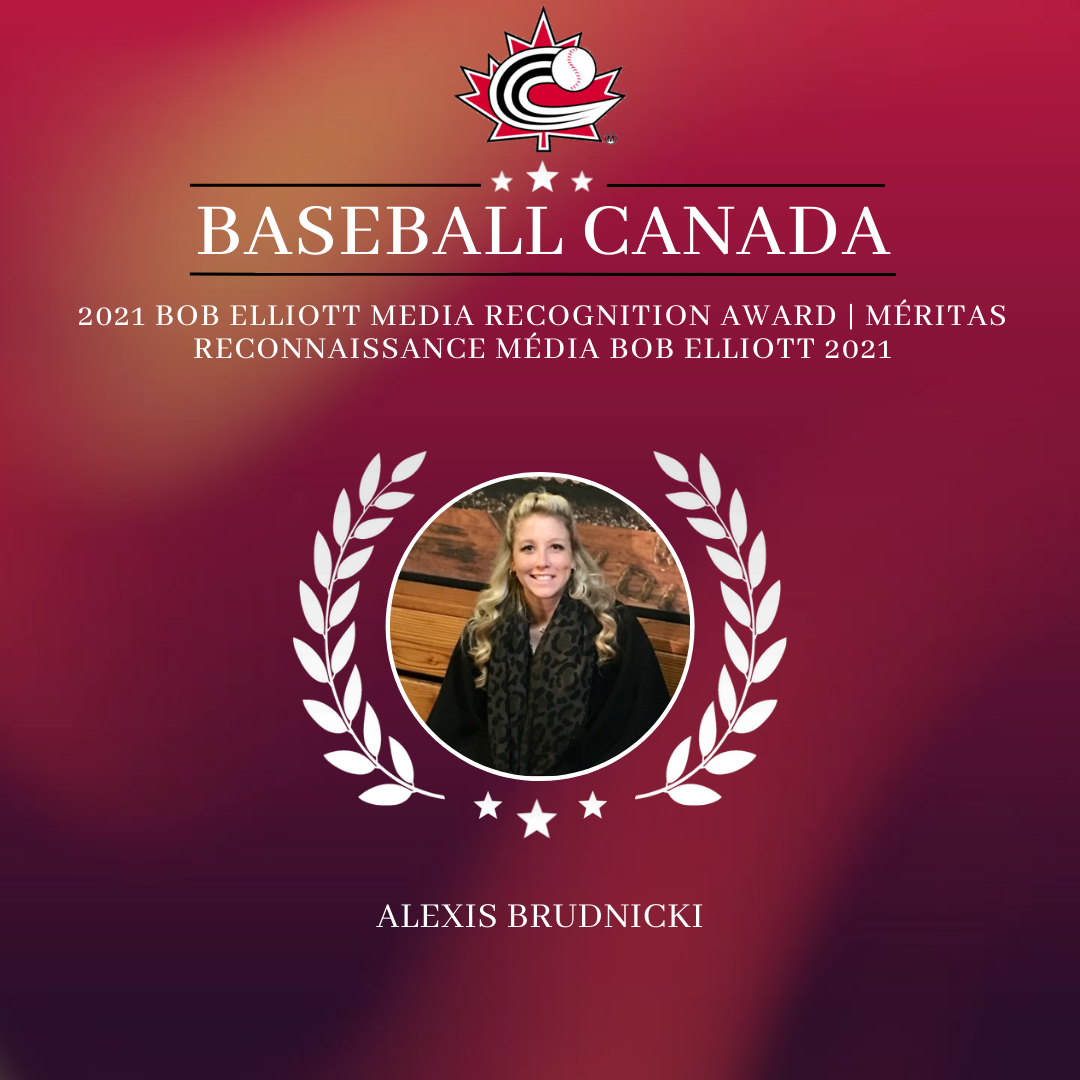 The Bob Elliott Media Recognition Award is named after Bob Elliott, a former winner (2012) of the BBWAA Career Excellence Award, the highest award given by the Baseball Writers' Association of America (BBWAA), presented annually by the National Baseball Hall of Fame. Elliott covered both the Montréal Expos and Toronto Blue Jays during a distinguished career that spanned four decades, but it's Bob's long-lasting contributions to Canadian baseball and raising the profile of Canadians in the game and telling their stories which has resulted in this award being named after him. The Kingston, Ontario native's Canadian Baseball Network website has been a go-to source for information for years from Canadian baseball sandlots all the way to the big leagues. When a Canadian reaches the majors, chances are the Canadian baseball community read about them years earlier via Elliott and the Canadian Baseball Network. His coverage of Canadian prospects eligible for the annual MLB Draft has been must read material for years while his annual Top 100 Most Influential Canadians in Baseball list has provided deserved recognition for many year-over-year. It's through Bob's work that he's forged relationships across Canada allowing him to tell great Canadian baseball stories to this very day.
An individual who has provided unparalleled coverage of Baseball Canada's National Teams and athletes for over a decade, Baseball Canada is thrilled to announce that London, Ontario's Alexis Brudnicki is the recipient of the Bob Elliott Media Recognition Award for 2021.
After landing an internship at Baseball America in 2011, the Centennial College Sports Journalism graduate covered the Baseball Canada National Teams Awards banquet for the publication which ignited her passion for covering Canadian baseball.
That banquet was also the beginning of a connection between Brudnicki and Elliott that has spanned the last decade.
"I read Alexis before I met her," remembers Elliott. "The first story I ever read was her Baseball America coverage of the Baseball Canada fund raiser. Her story was much better than mine. I contacted her and she agreed to write for the Canadian Baseball Network for about a decade before moving to MLB.com."
Brudnicki's love of covering Baseball Canada's National Teams and telling the stories of its athletes have taken her virtually around the globe.
If it was an indoor workout to speak to Canada's next crop of draft-eligible players, a three-day camp at Rogers Centre to catch the Junior National Team training before an international event or catching up with the Women's National Team in Québec City before participating in the 2015 Pan Am Games, Brudnicki would stop at nothing to cover these teams and athletes.
"For a self-starter like Alexis huge assignments seemed routine," added Elliott. "One spring Alexis told me she would write a piece about each of the 14 Canadians in the Jays minor league system AND all 34 players with the Junior National Team, who were there maybe 10 days. I told her flatly she could not accomplish it … Alexis filed 33 stories on the junior team players and upon returning home wrote No. 34. Amazing."
Brudnicki's exceptional story-telling abilities have landed her roles with Baseball America, MLB.com and two stints as Press Officer with our Women's National Team program covering tournaments in Japan and Mexico. She was also a valued member of the Toronto Blue Jays game day operations as a statistician and scoreboard operator.
Never one to sit idle, Brudnicki has run several marathons and is currently in her first year of studies at the University of Missouri's School of Law.
Past Bob Elliott Media Recognition Award recipients have included:
2020-Mike Wilner (ON)
Ridge Meadows Rises to Championship Form!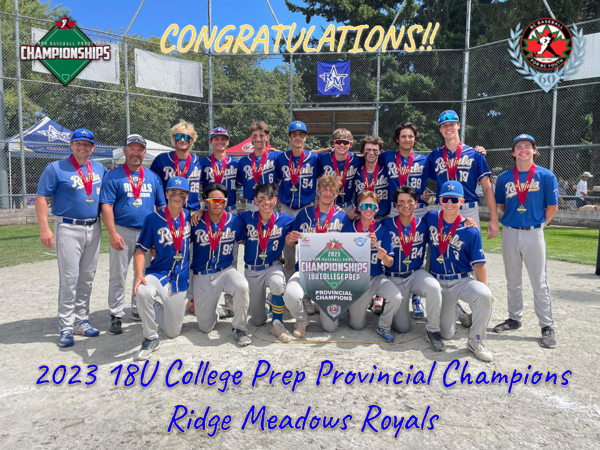 It would be fitting to see the top two teams from the Regular season' the #1 North Fraser Nationals and the #2 Ridge Meadows Royals, go head-to-head for the 2023 18U College Prep Provincial Championship! 
North Fraser entered the final tilt undefeated through the round-robin and their semi-final match, while Ridge Meadows had only stumbled once on the way there. 
In the end, it was Ridge Meadows and their ability to push runs across the dish that put them on top 6-1 when the dust finally settled handing North Fraser their only loss of the weekend. 
Congratulations to the Ridge Meadows Royals and all of their fans and supporters. You are the 2023 18U College Prep Provincial Champions!
Congratulations to the North Fraser Nationals and all of their fans and supporters on a stellar run to the top of the Regular Season Standings. 
Congratulations to all of our 2023 18U College Prep Players, Coaches, and Families. It's been a ride! See you in the Fall!
Ladner takes the 2023 John Main 13U Invitation Crown!
Ladner takes the 2023 John Main 13U Invitation Crown!
By BCMBA, 05/28/23, 4:00PM PDT
Share
Cole Hudie finishes it with a 3-run shot to lift Ladner to a 5-2 W over Chilliwack and claim the BCMBA 2023 John Main 13U Invitational Championship Title! Thank you to our hosts and their families, Ridge Meadows and Cloverdale, our BCMBA Volunteer Directors, and everyone who participated!!
The 2023 John Main 13U Invitational is underway!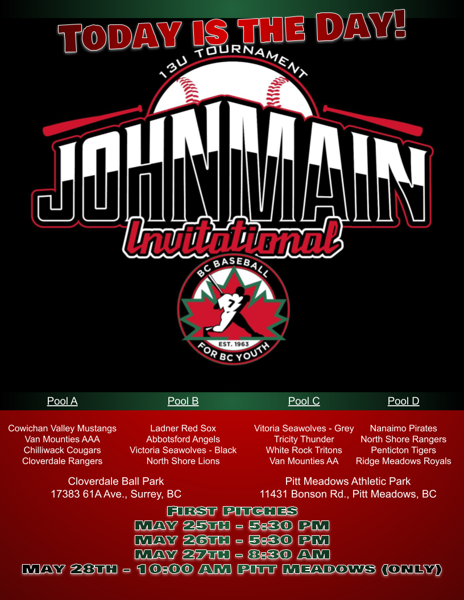 The 2023 John Main 13U Invitational is underway!
By BCMBA, 05/25/23, 9:00AM PDT
Share
The 2023 BC Minor Baseball John Main 13U Invitational has arrived. All weekend long, come down and check out some of the future stars of our game! Dates, times, locations, and results can be found here:
2023 John Main 13U Invitational