Play More Be More | Baseball Manitoba
Sport Manitoba's #PlayMoreBeMore campaign is all about helping Manitobans, especially parents, learn about the dangers of specializing in one sport at a young age and the many benefits of kids playing multiple sports.
Playing a variety of sports will help young athletes:
1) Excel in their chosen sport
2) Benefit their overall athleticism
3) Avoid overuse injuries that come with repeatedly doing the same sport over and over for several years
4) Avoid burnout
5) Have fun and walk away with a positive and enjoyable experience in sport and physical activity. 
Learn more on Sport Manitoba's website.
2023 BC Minor Baseball Association Coaches Conference Schedule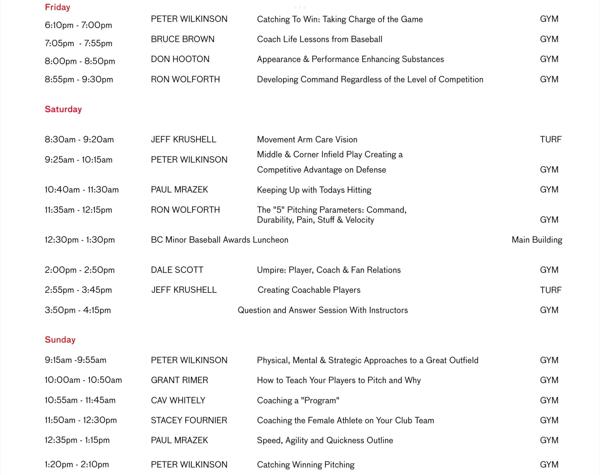 2023 BC Minor Baseball Association Coaches Conference Schedule
By BCMBA, 02/10/23, 6:15PM PST
Share
2023 BC Minor Baseball Association Coaches Conference
February 10th – 12th, 2023
Schedule of Speakers & Events
André Lachance set to depart Baseball Canada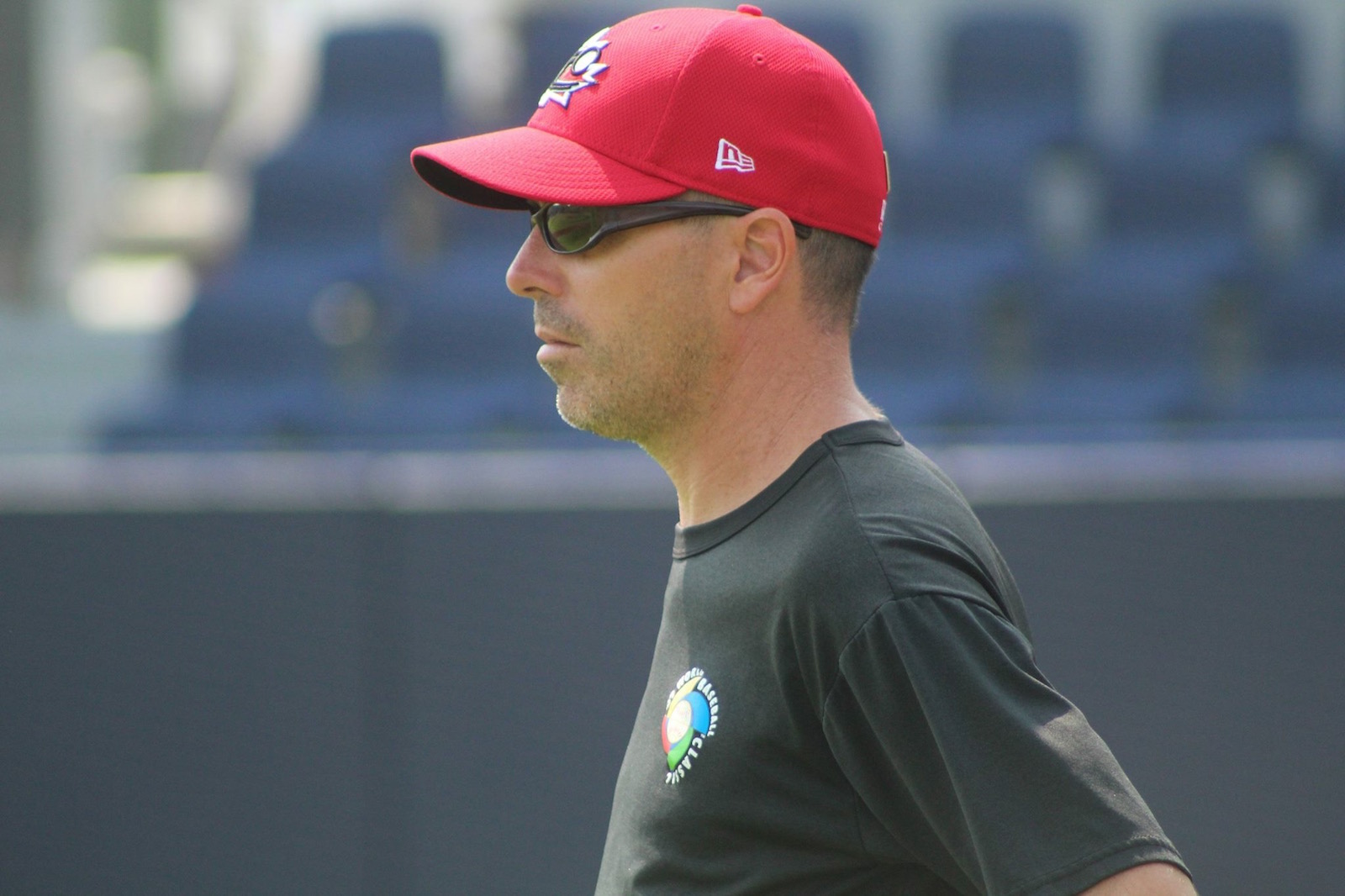 OTTAWA – Baseball Canada's Business and Sport Development Director André Lachance is bidding farewell to his duties in the federation's national office later this month as he accepted a role with Cirque du Soleil as their Director, Human Performance Services.
Lachance is also well known in Canadian baseball circles for his work with the Women's National Team program as Manager from 2004-2018 and off the field as General Manager since 2019, a role which he will also be departing.
Lachance has spent the last 21 years with Baseball Canada.
"I'm certainly experiencing many emotions making this decision and coming to terms with the fact that I'll be leaving an organization that I care deeply for," said Lachance. "Looking back, you're certainly proud of the work that you've accomplished but it's the people that you meet throughout your career and the relationships made that I will cherish the most from my time with Baseball Canada."
Lachance joined the organization early in 2001 as Manager, Baseball Operations and quickly made an impact with Baseball Canada's National Championship events and National Coaching (NCCP) programs.
"Looking how far we've come with our coaching programs has really been amazing to see in not only how we're able to deliver coach education opportunities but how many coaches across the country we've been able to impact," said Lachance. "The efforts made by our provincial members and a dedicated group of learning facilitators has been tremendous."
In 2003, Baseball Canada Director General Jim Baba approached Lachance about coaching the first-ever Women's National Team with the inaugural Women's Baseball World Cup set to take place in Edmonton in 2004.
"When Jim asked me to coach, I did not want to do it," explained Lachance. "I was reluctant to take the job as coaching female athletes was foreign to me at the time.
"I can't say enough how that decision to coach these talented athletes was one of the best decisions of my life both professionally and personally."
Lachance led that 2004 squad to a bronze medal in Edmonton, the first of six world cups medals under his watch including bronze in 2006, 2012 and 2018 and silvers in 2008 and 2016.
He also assembled and managed the squad that won silver at the 2015 Pan Am Games in Toronto where women's baseball was part of a major, multi-sport games for the first time.
"The growth of women's baseball has been amazing to witness since 2004 not only in Canada but throughout the world," said Lachance. "I'm thankful to Jim (Baba) for his belief in me to run the program and am forever grateful to all of the athletes and coaches that given their all for the program over the years.
"The Women's National Team program is in a terrific place and I'm going to be their number one fan for the rest of my life."
Not to be forgotten, Lachance was at the forefront of Baseball Canada's Rally Cap initiation program that began in 2006 and is now enjoyed by thousands of young athletes each and every year.
He has left his fingerprints on many areas of baseball across the country and will still stay close to the international game in roles of Chair, Development Commission with COPABE and as a member of the WBSC Women's Baseball Commission.
"André has had an immeasurable impact on Baseball Canada at many levels from grassroots programming and coaching and of course the Women's National Team where his efforts will leave a lasting legacy on the program," said Baseball Canada CEO Jason Dickson. "André has certainly left Baseball Canada in a better place and has much to be proud of in what he's accomplished over two decades. We wish him well in his new opportunity and know that he will impact his new workplace in a positive manner."
Chris Balison elected as Baseball Canada President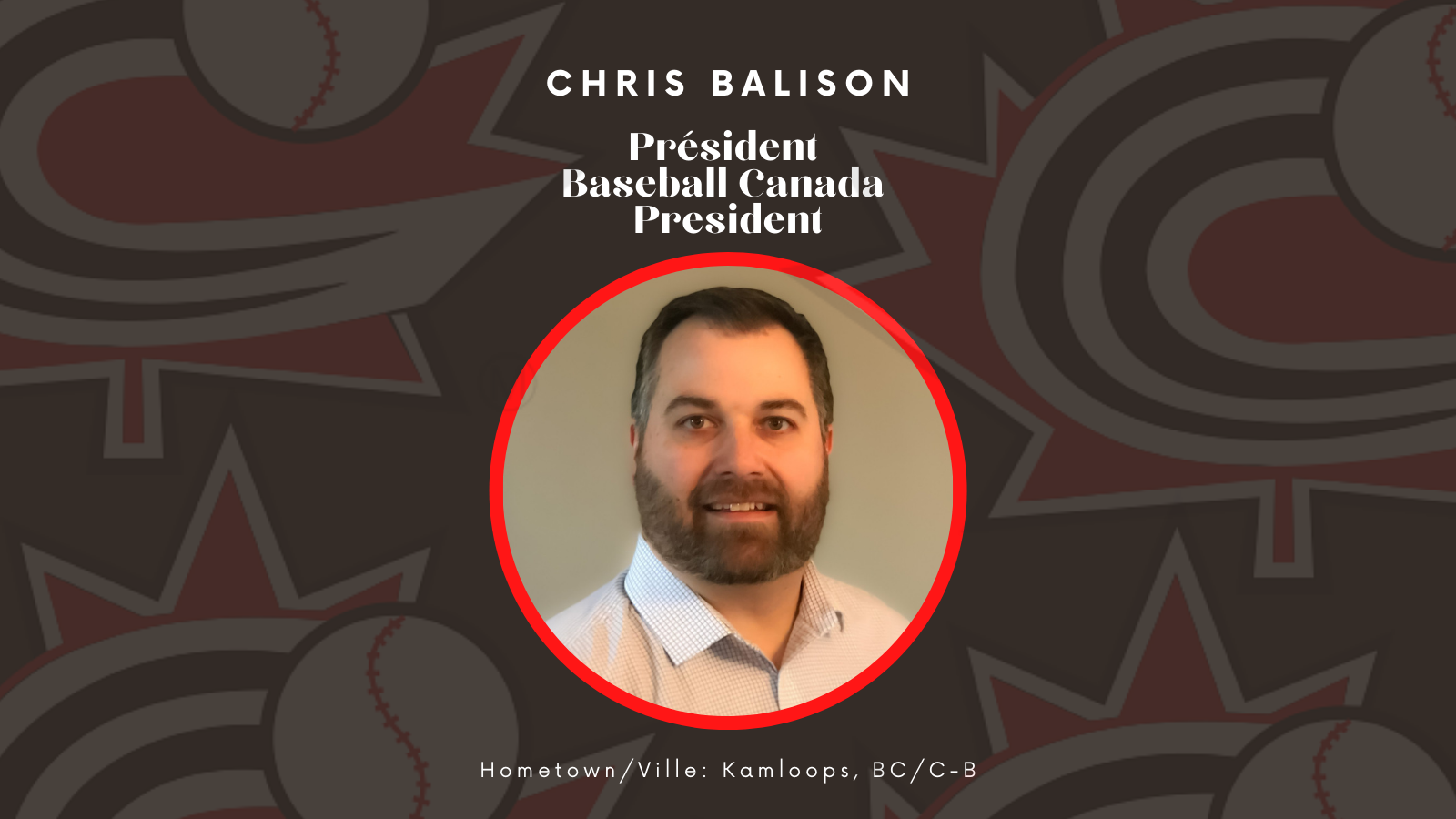 OTTAWA – Kamloops, British Columbia's Chris Balison was elected Baseball Canada President last night at a Special General Meeting of the federation's board of directors and executive committee.
Balison replaces now former Baseball Canada President Jason Dickson who's held the role since 2016 until becoming Baseball Canada CEO last August.
"I'd like to congratulate Chris on the honour of becoming Baseball Canada President," said Dickson. "I've had the chance to work with Chris in recent years and look forward to continuing that working relationship with the shared vision of the growth and development on baseball in Canada."
Balison became president of Baseball BC in 2020 where he also assumed a spot on Baseball Canada's Board of Directors. He is now the 12th president in Baseball Canada's 58-year history dating back to 1964.
Amateur baseball has been a big part of Balison's life who spends his working days as a Crown Prosecutor. He became president of Kamloops Minor Baseball in 2014 helping nearly double the association's registration numbers, while also ensuring the game is inclusive and accessible by establishing local Challenger Baseball and female baseball programs.
"I thank Jason for his contributions as President and look forward to working with him in his new role as CEO," said Balison. "He's left big shoes to fill, but I am excited to lead Baseball Canada in our continued pursuit of excellence and innovation."