Saskatchewan's Logan Hofmann preparing for spring training with Pittsburgh Pirates
By Robin Wark / Humboldt Journal
March 3, 2021
MUENSTER — Like most Saskatchewan residents after a long winter, Muenster's Logan Hofmann is excited for spring.
The son of Tara and Chad Hofmann has spent the past many months preparing for his first professional spring training in the Pittsburgh Pirates organization. While Hofmann does not know exactly yet when he will head down to Florida, the right-handed pitching prospect said:
"Honestly the thing I am looking most forward to right now is throwing a baseball outside. I have been home since mid-November, so I have been throwing inside for just over three months now. It will feel good to actually be able to get outside and throw as well as getting on a dirt mound outside rather than throwing bullpens inside on a portable turf mound."
The Bucs made Hofmann the highest player drafted out of Saskatchewan when they nabbed him in the fifth round, 138 overall, in the Major League Baseball Draft last June. That was after he went 4-0, en route to Second Team All-American honours, in a COVID-19 shortened season at Northwestern State University in Natchitoches, Louisiana.
In a late February article on the Rum Bunter website, a Pirates fan site, writer Noah Wright mentioned Hofmann in an article about the wealth of talented pitching prospects the Pirates have accumulated. He noted the hurler had ended his college career with 28 straight innings without allowing a single earned run.
The last time Hofmann threw in a competitive baseball game was March 6, 2020. He has tossed plenty of live at bats and even an intrasquad games since then. Hofmann cannot wait to compete again in a real game.
"I am most excited about just getting out there and feeling the adrenaline and nerves of being on the mound in pressure situations," he said. "I love that feeling so it will be good to get back out there and throw in competitive games this summer."
Last summer – instead of starting his pro journey like he would have in non-COVID-19 pandemic times – Hofmann was at home. Almost every day, he threw at his community's field – including bullpen sessions and live at-bats with local young players.
"It was fun to just be around the field all summer and to be able to do the thing I love even though my pro career had to be put on hold for another year," he said.
In the fall, Hofmann spent some time back in Louisiana taking classes and training. He was at a Pirates' mini instructional camp in Florida in October.
This winter, Hofmann has been laser focused on improving various aspects of his game. He studies video, works out in Humboldt, throws in his basement, and does indoor bullpen sessions at Saskatoon's Gordie Howe Sports Complex.
"I watched a lot of video on my mechanics, other guys mechanics, and at bats from past major league seasons of guys and how they sequence their pitches," Hofmann said. "During my bullpens, I just wanted to learn as much as I could about my pitches and how they move and come of out my hand so I can apply it when facing hitters. I want to show up to spring training and do the same thing, continue to learn about my pitches and take in knowledge from other pitchers and coaches there so it can help me during the season."
In Saskatoon, Hofmann has trained at times with Andrew Albers. The 35-year-old pitcher has played professionally for more than a decade during a career that included time with the Toronto Blue Jays. In February he signed with the Minnesota Twins after a trio of seasons in Japan.
"I have learned a lot from him – whether it's from mechanics on the mound to life in the minor leagues," Hofmann said. "We have talked a lot about both of those things, and I think it has already benefited me and he will continue to be a great resource to learn from him in the future. He has played at every level and been in pro baseball for a long time so obviously he knows what he is doing and that is great for me to have someone that has experienced what I am about to get to experience."
A couple years ago, Hofmann also got a chance to talk to Marysburg product Cole Bauml. He was an outfielder in the Detroit Tigers' minor league system.
"It was neat to hear about his time in pro baseball and some of the things that go on in the minor leagues," Hofmann said.
While he is headed to his first pro spring training, Hofmann's baseball journey has already had several stops. They include playing for his hometown 18U Red Sox (where he was coached by his father), the Colby (Kansas) Community College Trojans, the Moose Jaw Miller Express of the Western Canadian Baseball League, the Falmouth Commodores of the Cape Cod Baseball League, and the Northwestern State University Demons. No matter where the game has taken him, Hofmann has been backed by his extended family.
"The support from my family has been great ever since I was a young kid," he said. "They have all come to watch and support me at some point over the years and continued to follow along throughout college and now into pro baseball. I'm sure they are looking forward to coming down to the states to watch me when they can as well."
Published here with permission from the Humbolt Journal
ORIGINAL SOURCE ARTICLE
Joey Votto opens up about life and starting 2023 at AAA Louisville on rehab assignment
Baseball fans interested in a different side of a potential future Hall of Famer will want to check out a new interview with Toronto native and Cincinnati Reds first baseman Joey Votto.
In a one-on-one sitdown with the CBC's Ian Hanomansing, Votto opens up about dealing with depression and anger following the death of his father in 2008 and how he became a better version of himself as a person and athlete by attending therapy. He also touches on his developing love of chess and the fun he's having playing around on social media, noting however, that both can be distractions that take his focus away from baseball.
Votto, who describes himself as intensely competitive and focused, is now 39 and playing his 17th season in MLB. Given his singular focus on being the best he can be at baseball, one senses he was deeply affected by an uncharacteristically poor 2022 season, one in which he was hampered by a nagging rotator cuff injury.
He had surgery last summer to repair that and a torn biceps muscle.
In the interview, the career Reds player talks candidly about overcoming challenges, especially as a veteran athlete still looking to contribute to his team's success.
His commitment to that goal was evident when he agreed to open the 2023 season in a rehab assignment with the Louisville Bats, the Reds' AAA-level Minor League affiliate in the International League. His goal? To get himself back into game shape, mainly his swing and his legs, he told redlegnation.com last week.
While it came against a Minor League pitcher, Votto used his first at bat with Louisville on Saturday (April 1) to smack a 448-foot homer to right field, part of a 1-for-3 day at the plate.
Now remember, this is a guy who, despite the off year, still entered this season with career numbers on par with many Hall of Fame players: a .297 batting average, 342 home runs and 1,106 runs batted in.
Something tells us Joey Votto will come back with a vengeance this season.
You can watch his interview on the episode of It Changed Everything on CBC's YouTube channel by clicking here.
Hawkins takes big first step in chasing big league dreams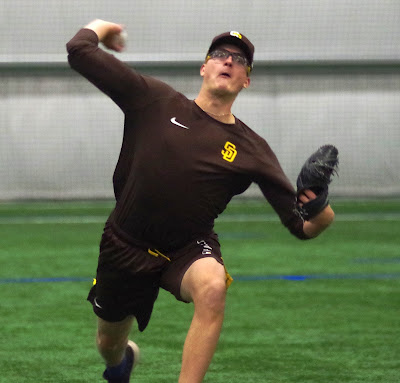 By Darren Steinke – Howe Happenings
Garrett Hawkins was ready to jump into the next level of work when he was drafted into the MLB.
On the second day the 2021 MLB Draft this past July 12, the hard-throwing right-handed pitcher from Biggar, Sask., was selected in the ninth round and 280th overall by the San Diego Padres. The draft selection was a huge highlight for the 21-year-old, but he knew the long journey to try and become an everyday MLB player continued.
"It was pretty exciting just knowing that all the hard work had paid off," said Hawkins, who towers on the mound at 6-foot-5 and weighs 230 pounds. "You kind of got to a point that you're just proud of yourself and proud of everyone that kind of contributed to it.
"Not to say that the work isn't done. There is still a lot more to do, but it is a good first step for sure."
Hawkins, who trains in the off-season at the Gordie Howe Sports Complex, had been playing for the New Jersey state capital-based Trenton Thunder of the MLB Draft league at the time he was selected by the Padres.
With the Thunder, Hawkins started six games posting a 1-0 record, a 2.63 ERA, 32 strikeouts while giving up two walks in 24 innings of work.
Shortly after being drafted, Hawkins traveled to Peoria, Arizona, to join the Padres rookie team that plays in the 18-club Arizona Complex League.
With the ACL Padres, Hawkins put up solid numbers. The graduate of the Saskatoon Giants under-18 AAA program appeared in seven games with the ACL Padres posting a 3-1 record, a 2.35 ERA, 27 strikeouts while giving up two walks in 15.1 innings.
"I enjoyed it," said Hawkins, whose main pitches are the fastball, slider and change up. "I just kind of got my toes wet in how it all works going forward.
"I got to meet a lot of people, see lots of like different cultures like lots of Latin players that I haven't had a chance to be around a ton and kind of just meeting all the new draftees that got picked in my year also. It was pretty good, and I am excited to kind of get going again and move my way up."
Hawkins said he benefitted from the fact he got some real good coaching with the ACL Padres, which he thought helped his performance on the field.
"I think I just kind of maybe took another step once I got there," said Hawkins, who can throw his fastball at 93 to 95 miles per hour. "Eventually, something stuck, and I kind of just used it to my advantage.
"I think just the increased input from the coaching staff and all that helped a lot."
Throughout his life, Hawkins said baseball was the sport he was always the most passionate about. That passion took root from simple beginnings.
"I kind of just started playing baseball at a young age playing catch with my dad (Ian Hawkins) at home," said Hawkins. "Eventually, I was just playing minor baseball.
"All my friends were kind of doing it at the time."
When he started playing minor baseball, Hawkins said he started to experience success on the mound early on.
"I'd say it happened right away," said Hawkins. "Obviously, I hit and pitched at a younger age, but I kind of had a knack for pitching when I was younger."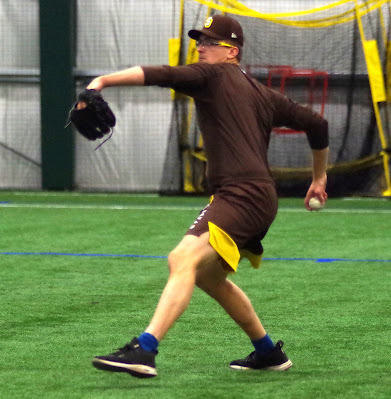 Hawkins ultimately caught the eyes of the high-performance coaches with Baseball Sask. He helped Saskatchewan win gold at the 2016 Baseball Canada Cup in Fort McMurray, Alta., and at the 2017 Canada Summer Games in Winnipeg.
The standout hurler credited Greg Brons, who is the High Performance Director for Baseball Sask, with getting a core group of players playing together or against each other on younger teams and training together in the years heading into those gold medal wins. Hawkins said the players became good friends and a realization grew that they might be able to accomplish big goals together.
"We had a core group of guys that (Greg) Brons kind of brought up together and kind of knew we had the potential to do something like that," said Hawkins. "That group had been together for maybe three years before that, so when it came time to put it all together, I just kind of remember all the guys that we had and just how good we were and how ready we were to kind of be on that stage.
"It was exciting."
Besides those gold medal wins on a national stage, Hawkins enjoyed playing against and with a number of his provincial team teammates in the provincial under-18 AAA league. He has lots of good memories throwing for the Saskatoon Giants at Cairns Field and Leakos Field.
"I enjoyed it just because most of the time it is like Saskatoon team versus a Saskatoon team, so you kind of want to beat the other one," said Hawkins. "I enjoyed my time playing here for sure."
After his season wrapped up with the ACL Padres, Hawkins elected to live in Saskatoon during the off-season in order to train at the Gordie Howe Sports Complex. On top of doing his own training, Hawkins will help out the crew at the Going Yard Training Centre coach young pitchers.
Jordan Draeger, who is one of Going Yard's top instructors, was one of Hawkins past coaches.
"It is pretty cool just seeing (the young pitchers), because I was in those guys shoes kind of when I was in high school," said Hawkins. "It is kind of cool seeing those guys build up and be around them as much as I can trying to help out, if they need it.
"I like going in there and doing my work and getting to watch some other guys do theirs, so it is pretty cool."
Hawkins, who will turn 22-years-old in February, said all the coaches he had through the years have had a big impact in allowing him to have the success he has had.
Going into his second season as a professional, Hawkins said his main focus is improving his consistency.
"I kind of like where my pitches are at now," said Hawkins. "I think just continuing to learn about hitters and stuff like that and just trust myself.
"I just have to continue to get better each day and try and move up."
Comox Valley ball player enters professional ranks
By Scott Stanfield, Comox Valley Record
Adam McKillican of the Comox Valley has joined the ranks of ball players from the University of British Columbia who have been drafted by a Major League Baseball club. Last summer, the 6'5" pitcher signed a free agent deal with the Texas Rangers.
A former Parksville Royals ace, the 23-year-old McKillican played at UBC until 2020. He switched to Georgia Gwinnett College for the 2021 season, helping the Grizzlies win the NAIA (National Association of Intercollegiate Athletics) World Series Championship in June.
Maryland became his home from early-June to mid-July of this year when McKillican played for the Frederick Keys, a collegiate summer team of the MLB Draft League. He then negotiated a contract with the Quebec Capitales in the Frontier League, which he said aims to secure as many professional contracts as possible for players through the draft and free agent/independent league signings. He was in Quebec when he got the call from the Rangers in August.
He pitched for the Arizona Rangers in a minor league game against the Cincinnati Reds, then was called up to the Hickory Crawdads in North Carolina — the high A affiliate of the Rangers — where he finished the season. The final game was canceled due to a COVID outbreak on the team. McKillican was supposed to fly home Sept. 17, but his COVID test came back positive, which forced a 14-day quarantine before flying to Canada.
"That was a very strange end to the year for me," he said. "Spent nine months in the U.S. and was able to dodge COVID until the very last day. Thankfully the season was over by then and I didn't miss any playing time."
McKillican said the level of play is "definitely a step up" from college ball.
"There are not as many holes in lineups and each guy you face is capable of hitting a mistake 400 feet," he said. "I think the biggest difference for me was the hitters' ability to foul off tough pitches. I had some good battles in college, won some and lost some, but those types of hitters came around once or twice every couple months. At this level, every lineup has at least one guy who is not going to chase a bad pitch and will fight off anything close. I'm excited to keep working on my repertoire and finding ways to get those guys out consistently."
When he left for Georgia, McKillican was four courses shy of graduating from university. He is finishing his degree online during the off-season.