Jackson throwing nothing but strikes for Bellevue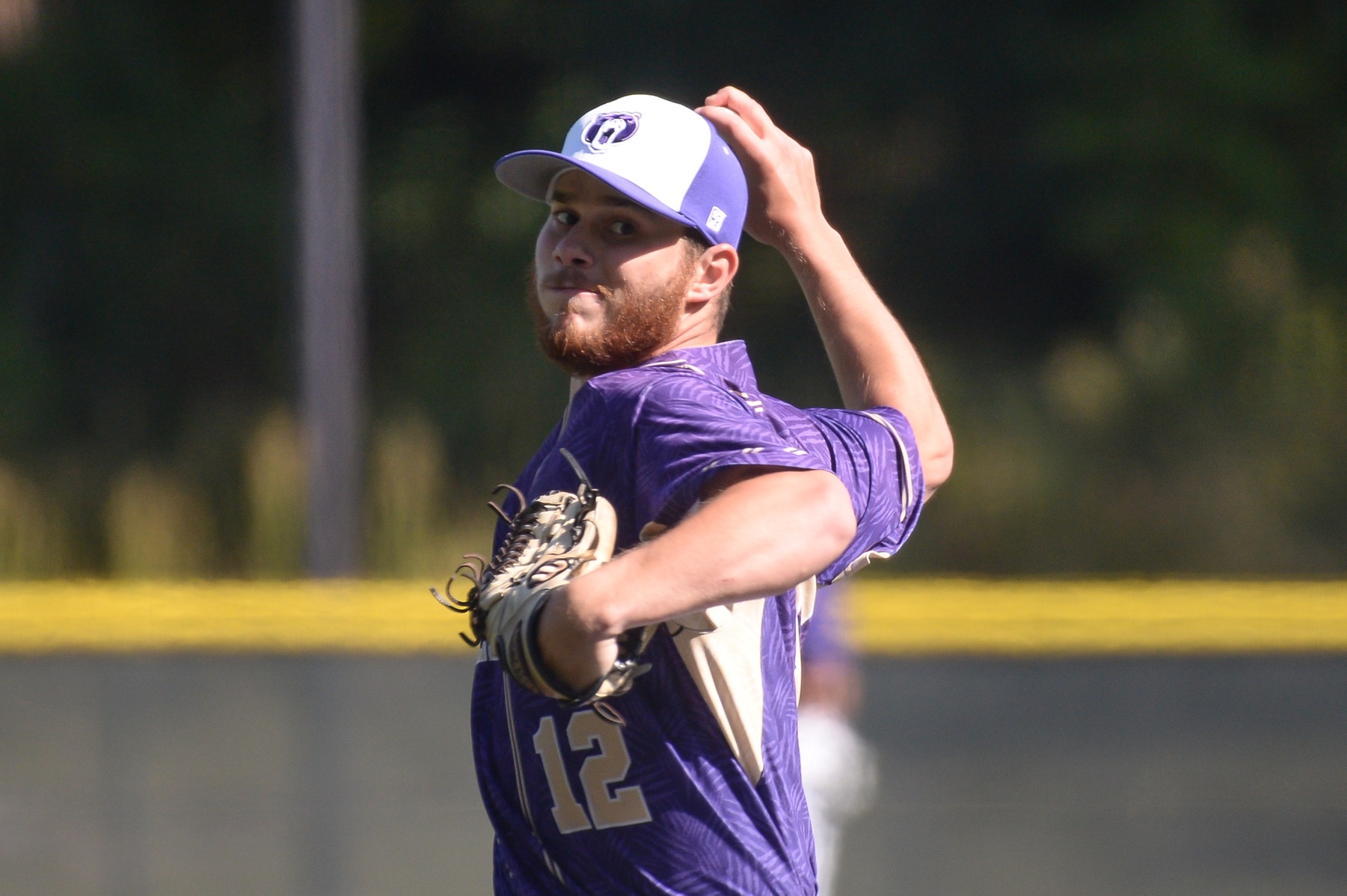 Langley Blaze Product sets milestone NAIA mark with 21-strikeout performance – also named NSAA Pitcher of the Year
– Bellevue, NE – Bellvue Universty's (NAIA) Corey Jackson is lighting up the strike zone this season for the Bruins, recently setting an NAIA-high of 21 strikeouts in a game against Waldorf on May 1, the most this season by any NAIA pitcher and the second most in Bellevue program history.
Jackson's 21-strikeout performance marks the eighth time this season that he has struck out 10 or more batters per game and he now leads all Canadians playing US college baseball in that category, holding down the top three spots, with 21, 18 and 16 strikeouts respectively (see graphic below).
During the regular season, the 5-10. 175lb. right-handed senior has appeared in 17 games for the Bruins, earning a 9-3 record and notching 166 strikeouts in 105 innings of work, with a 2.31 ERA.
Born in Calgary, Alberta, Jackson eventually found his way to Abbotsford, BC, where he attended Yale Secondary and played for the Abbotsford Cardinals and then the Langley Blaze of the BC Premier Baseball League, where in his senior year, he pitched to a 5-0 record with a 3.10 ERA and 36 strikeouts in 27 innings of work.
Jackson started his college career at New Mexico Junior College and then Indian Hills Community College before moving on to UNC Greensboro for the 2018-2019 season. At Greensboro Jackson was ranked in the top five of eight major statistical categories in the Southern Conference including wins (1st-7), strikeouts (1st-70), appearances (1st-31), relief appearances (1st-31), innings pitched (3rd-57.2), strikeouts looking (3rd-23), opposing batting average (4th-.230) and earned run average (5th-4.84). He capped off his season there by ranking in the top 65 among NCAA Division I pitchers in WHIP (51st-1.04) and strikeouts per nine innings (64th-10.92).
In the shortened 2019-2020 season, Jackson Made four starts on the mound for the Bruins, pitching to a 1-2 record with a 6.52 ERA in 19.1 innings of work. He struck out a team-high 25 batters for a K/9 rate of 11.64, striking out a season-best nine batters in back-to-back starts against Siena Heights and Michigan-Dearborn. He posted a 2.84 ERA over his final three starts, striking out 24 batters in 19 innings and was named the NSAA Pitcher of the Week on Mar. 9.
Thus far in 2021, Jackson has been named the NSAA Pitcher of the Week on two occasions, has been rewarded with a first team All-NSAA selection and was recently named the NSAA Pitcher of the Year.
Opening their playoffs against Science and Arts on Monday, Jackson continued his domination, throwing a complete game 4-2 victory, giving up the two earned runs on six hits, while striking out 16 in the process.
The Bruins also defeated St. Xavier 8-3 in round one round robin action and next take on Concordia, in the hopes of eventually advancing to the NAIA World Series in Lewiston, Idaho beginning May 28.
23 Canadians participating in D1-D3 National JUCO World Series tournaments
The 2021 National Junior College Athletic Association (NJCAA) will  begin their various Division World Series Tournaments this weekend and in total, 23 Canadians will be looking to help their teams to their respective championship title.
In Division I, which will take place at Sam Suplizio Field in Grand Junction, Colorado, 11 Canadians will participate, including six players from Indian Hills JC in Ottumwa, Iowa (Maxime Adam, Pier-Oliver Boucher, Samuel Fortier,  Justin L'archeveque, Charles Lefebvre, and Ryan Telenko),  two players from Cowley County (Felix Chenier-Rondeau and  Oliver Laroque) and three players from Crowder College (Simon Grinberg, Adamo Stornello and Nick Tremblay).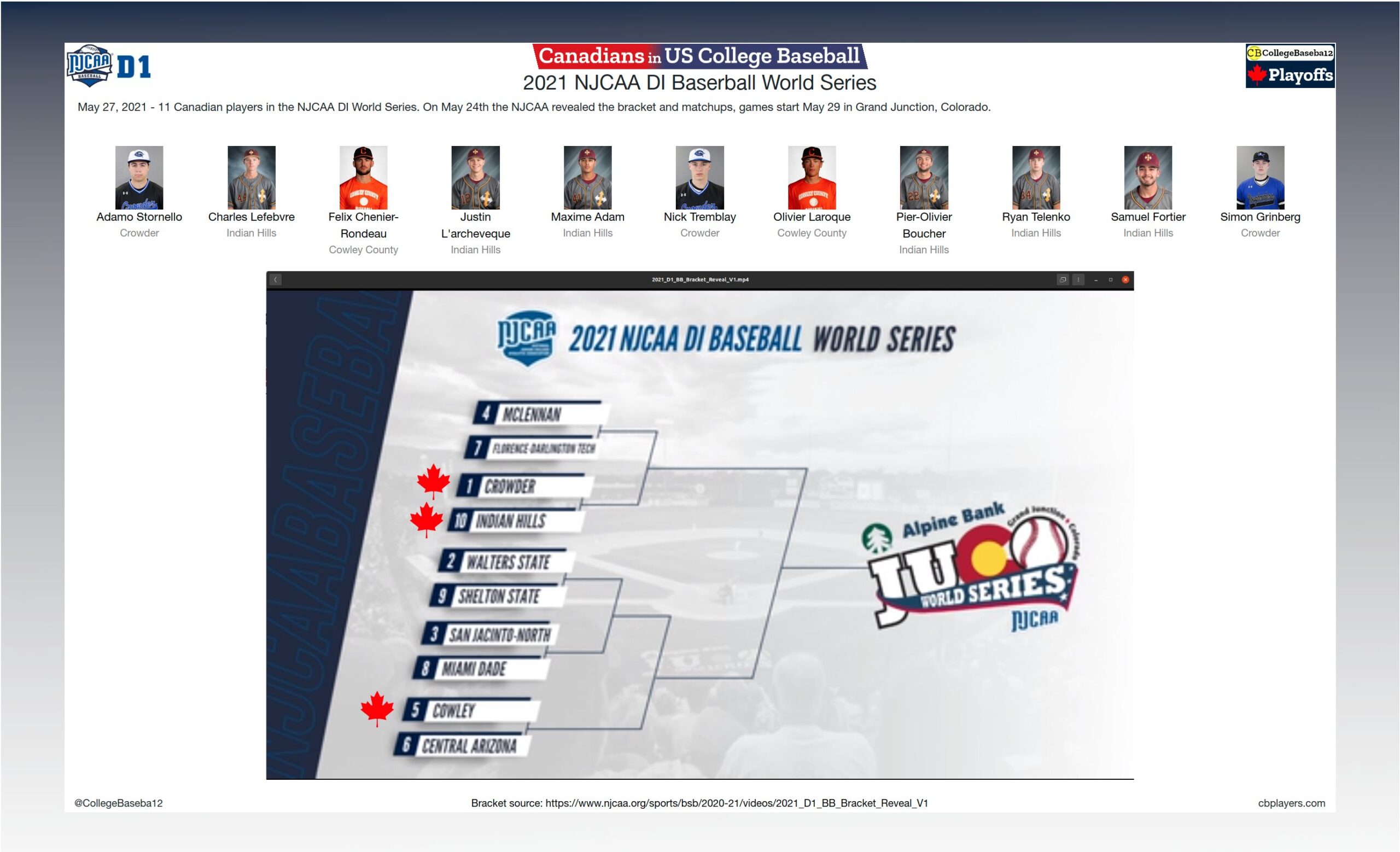 In Division II, taking place at David Allen Memorial Ballpark in Enid, OK, three Canadians will participate including Ayden Makarus and Jackson Fraser of LSU Eunice and  Ben Hubert of Kellogg.

Finally in Division III, nine Canadians will take part, beginning Saturday at Pioneer Park in Greeneville, TN. All nine players hail from Niagara Community College in Sanborn, New York and include Andrew Bench, Cal Brazier, Chris Tani, Craig Oliver, Matt Ferris, Mike Short, Noah LaLonde, Nolan Gallo, and Will Jackman.
Congratulations and good luck to all players involved!
Palmegiani Leads Southern Nevada to 41-14 record, earns commitment to Arizona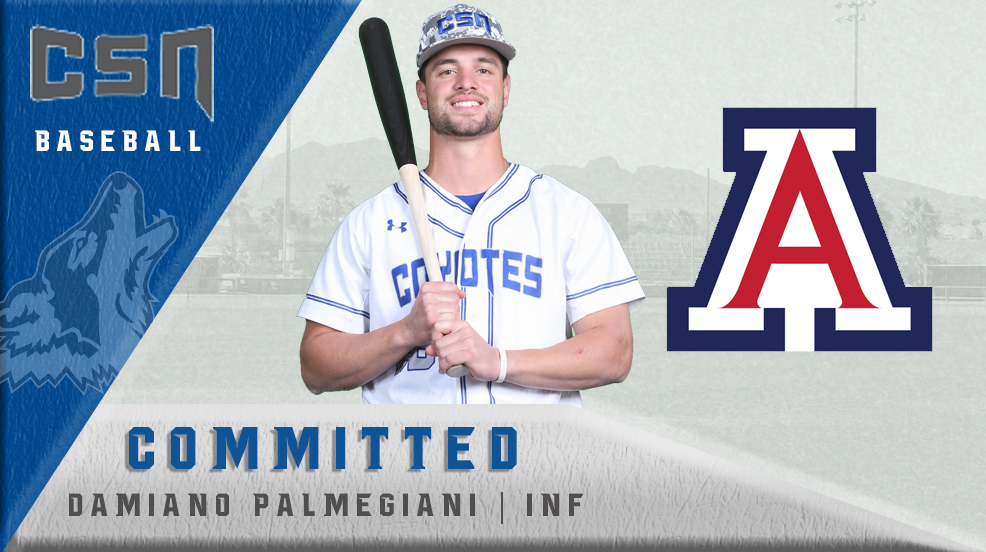 Surrey, BC native and former Junior National Team Member slugs his way to commitment with Division 1 Arizona
– Henderson, NV – The College of Southern Nevada Coyotes lost their season finale Saturday and a bid for the Scenic West regular season title to Salt Lake over the weekend, but it was not because of the play of sophomore Damiano Palmegiani (Surrey, BC) who went three-for-three on the day with two home runs and five RBI.
The big day caps an incredible season for infielder Palmegiani – a transfer to Southern Nevada from Cal State Northridge – who played in all 55 games for the Coyotes, hitting a whopping .401, with 21 home runs, 68 RBI, 13 doubles and 70 runs scored.  He leads all Canadians currently playing U.S. college baseball in home runs and is second among all Canadians in the RBI category.  He also ranks third among Canadians in OPS at 1.411.
Saturday's two-homer day marked the fifth time this season Palmegiani has gone deep twice in a game and amazingly, the fourth time he has had a five-RBI game.
Palmegiani is a product of the Abbotsford Cardinals of the BC Premier Baseball League and then Vauxhall Academy in Alberta. He also spent time with the Canadian Junior National team in 2018.
His productive output in 2021 has not gone unnoticed and he has now committed to Division 1 Arizona for his Junior and Senior seasons. He was also recently awarded the coveted Male Athlete of the Year Award at the 5th Annual Coyote Athletic Banquet.
Moose Jaw's Helland off to solid start at Monterey Peninsula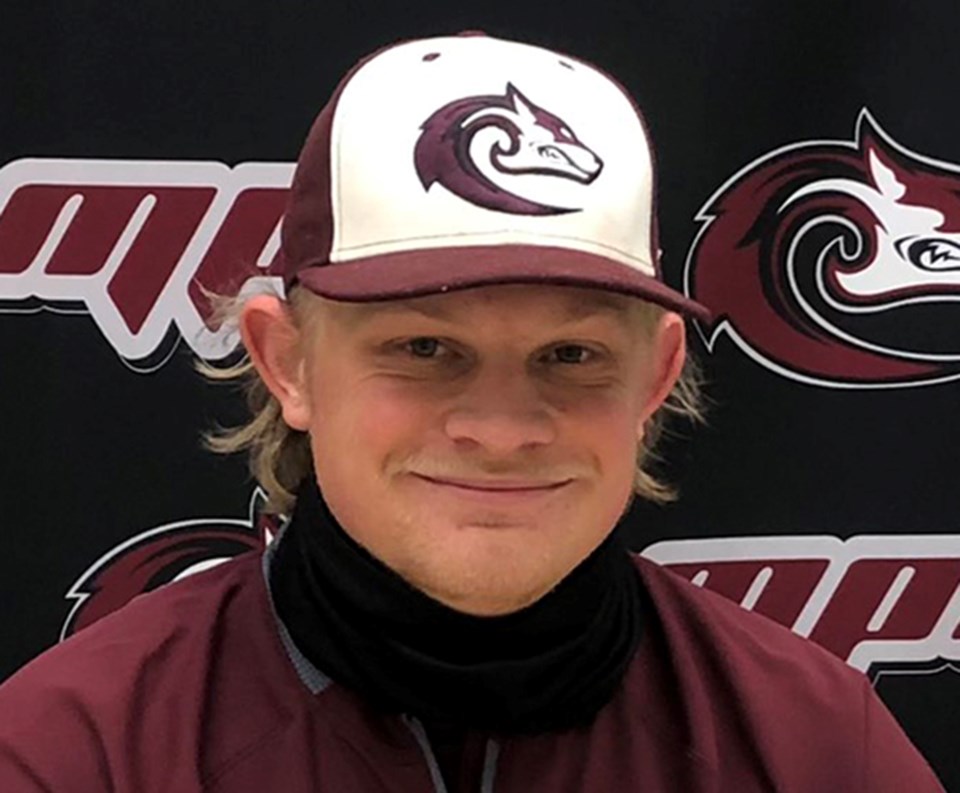 Sophomore relief pitcher yet to allow an earned run, but bad luck keeping saves from adding up
– By Randy Palmer
Moose Jaw Today
By looking at the stat line for Moose Jaw Minor Baseball product Reece Helland at Monterey Peninsula College, you'd think he was off a near-perfect start to the season.
Three appearances, no earned runs and a single hit against his ledger — the kind of numbers that normally indicate all sorts of positive things happening.
But baseball is a game where the stats don't necessarily tell the story, and Helland has seen a bit of the good and a bit of the bad through the early going of the 2021 California Community Colleges Athletic Association season.
The 21-year-old right-handed pitcher made his first appearance of the campaign on April 17 against Cabrillo College, and it was as solid as it needed to be.
Coming on in relief of starter Nic Bouillerce in the fifth inning, Helland would face six batters over two innings of work, allowing a single walk in the fifth but forcing the next batter to hit into a double play. He'd tack on a strikeout and leave with the score tied 3-3 in the seventh, after which Monterey would put up a pair of runs in the eighth and go on to a 5-3 win.
Helland picked up his first save of the season on April 24 against Hartnell College, entering the game with two outs, runners on first and third and a 3-1 lead in the bottom of the seventh and final inning. Helland would give up a single, allowing the run to score from third, but the trailing baserunner attempted to go first-to-third and was gunned down by the right fielder to end the game.
Helland's most recent appearance was on May 1 in a rematch with Cabrillo, and it ended up being the strangest of all.
Once again called in to put out a fire, Helland took the mound with runners again on first and third while holding a 4-3 lead. This time it was a passed ball that would do the damage, with the tying run scoring on the play.
Helland would come back out for the 10th, and with the CCCAA using the international tiebreaker rule, started the inning with a runner on second. A flyout to centre advanced that runner to third, and two batters later a fielder's choice would see the go-ahead run score. Helland retired the rest of the side in order, but Monterey wouldn't be able to respond and dropped a 5-4 decision.
Monterey now hold a 7-3 record overall after winning their first seven games to start the season, including a 5-3 mark in the Coast-South Conference. All three of their losses came in the series this past weekend against Cabrillo.
The Lobos have 18 games remaining in their regular season, which will be Helland's final in California as he heads out to NAIA MidAmerica Nazerene in Olathe, Kansas next season.