Chilliwack's Craig Burt Makes Pro Umpiring Debut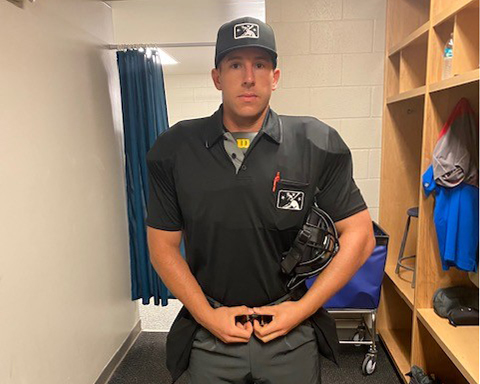 Courtesy of the BC Baseball Umpires Association
September 27, 2021
Craig Burt finally got the call.
The Chilliwack umpire made his first appearance as an umpire in professional baseball on September 3 when he worked in the Florida Complex League, the Minor League re-brand of the Gulf Coast League.
Following his successful completion of the Wendelstedt Professional Umpire School program in January 2020, Burt was informed that he had made the grade and would be offered a position in the Minors for the 2020 season. Then, of course, COVID happened and all of Minor League baseball was shut down for the season.
Enter 2021. And enter Major League Baseball's restructuring of the Minor Leagues. 40 teams gone with the stroke of a pen, about 1000 Minor League players suddenly out of work, 200 coaches, umpteen stadium and front office jobs, and 40 Minor League umpires and prospects suddenly no longer able to pursue their dreams in the traditional way.
Craig was one of those unfortunate individuals caught up in a numbers game and a Big League business decision that had nothing to do with him or his work and everything to do with the almighty dollar.
So it goes and Craig was not alone obviously. As the months dragged on, and COVID tagging along with it, Craig was told that there was no job for him anymore for a variety of reasons, but that he would be on a call up list to replace the eventual changes that would come later in the summer. Umpires who couldn't cut it and quit, umpires who just aren't good enough and get released, or those who get injured and are out for the rest of the season.
Starting well back in the 10 spot on that list, Burt had little hope of getting that call in 2021 and was already looking towards how he could achieve his goals for the 2022 season. But little by little he moved up on that list, and by July 16 was up to #3. Then at the end of August he finally received "the call" informing him that Minor League baseball was hiring him as an umpire for the balance of the 2021 season. His assignment – Florida State Complex League – the old Gulf Coast League.
The Florida State Complex League is the equivalent of Rookie Ball (what the Vancouver Canadians used to be classified as) and is the starting point for all new hires into professional baseball and the first stop for most of the drafted or signed players. There are 16 Major League clubs fielding teams there. The other 14 are based in Arizona.
On September 3 he worked his first games. A doubleheader in North Port Florida between Atlanta and Tampa's clubs after his original game the day before had been rained out. And on September 7 he worked a game with fellow Canadian Alex Laurie of Nova Scotia, which marked the first time that two Canadians had umpired a minor league game together on the same field. In fact Burt is one of 7 Canadians in the Minor Leagues at the moment, and the first from BC to work in Minor League Baseball since Ian Lamplugh of Victoria 2 decades ago.
Burt worked the remainder of the regular season, which ended September 18. And now, the waiting game starts again. Waiting to see if his 3 weeks in Pro Ball were enough to earn him a spot in the 2022 Complex Leagues or if it's back to Umpire School in January to compete again for those elusive contracts. It's a tough life but one he cherishes.
There's a lot of reflection for Burt as he contemplates how he got to where he is today. The native of Rosedale, BC started umpiring a decade ago at age 11. And after nearly quitting umpiring in his late teenage years, he stumbled across Rhonda Pauls from the BCBUA who invited him to the BCBUA Umpire Academy weekend in Kamloops. He attended that event and found a new interest and fire in his belly that translated into a renewed effort to take umpiring more seriously. His goal was to get into the National program, which he did in 2017. From there, it was a stop in Saskatchewan for the Peewee West Nationals in 2018, followed by another trip to the Peewee West Nationals in Cloverdale the following year.
During that period in time, he worked diligently at his skills and attended several high level BCBUA training opportunities, meeting MLB umpires Stu Scheurwater (Regina, SK) and Tripp Gibson (Everett, WA) at various events. It was through discussions with them that he decided he wanted to take the next step and attend Professional Umpire School and start the long journey of hopefully becoming a Major League Baseball Umpire down the road. He applied for, and was awarded with the Ron Boutang Memorial Umpire Scholarship in 2019. It paid his tuition to camp – the only way he could afford to go.
And with the financial help from his family and friends, and his savings, he was able to make the 6 week trip to Florida for the school.
Burt talks glowingly about the BCBUA and their Umpire Academy program as being pivotal in his development.
"Going to the Umpire Academy was an amazing experience and an amazing opportunity for me to experience what it's like to be around high level umpires and listen to what they had to say during the instruction. It sparked a fire in me to seriously pursue umpiring at higher levels and I was able to get into the National Program in just 3 years after that."
Burt talked about Baseball Canada as being a foundation and pillar of his high level development.
"Baseball Canada and what they teach gives us a great advantage to go down to Pro School and succeed because everything they teach down there with mechanics is essentially the same as what we're taught in Canada."
Regina's Stu Scheurwater agreed when he was asked earlier this year about his success." Baseball Canada was my foundation. It was everything. It allowed me to get a step ahead of everyone"
He's early in the process, and he knows it. But, he has faith that he can do it, and he is following his passion and his heart. A must-have when taking on a challenge like this.
"Who would have known that a kid from Rosedale would eventually be one of a few Canadians working in Professional Baseball?"
Hawkins takes big first step in chasing big league dreams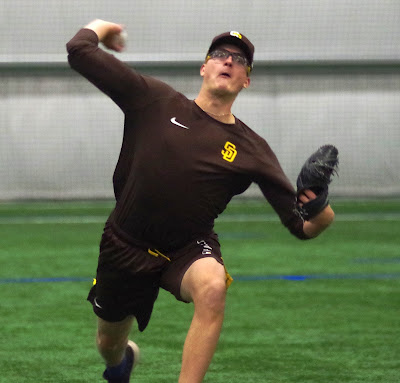 By Darren Steinke – Howe Happenings
Garrett Hawkins was ready to jump into the next level of work when he was drafted into the MLB.
On the second day the 2021 MLB Draft this past July 12, the hard-throwing right-handed pitcher from Biggar, Sask., was selected in the ninth round and 280th overall by the San Diego Padres. The draft selection was a huge highlight for the 21-year-old, but he knew the long journey to try and become an everyday MLB player continued.
"It was pretty exciting just knowing that all the hard work had paid off," said Hawkins, who towers on the mound at 6-foot-5 and weighs 230 pounds. "You kind of got to a point that you're just proud of yourself and proud of everyone that kind of contributed to it.
"Not to say that the work isn't done. There is still a lot more to do, but it is a good first step for sure."
Hawkins, who trains in the off-season at the Gordie Howe Sports Complex, had been playing for the New Jersey state capital-based Trenton Thunder of the MLB Draft league at the time he was selected by the Padres.
With the Thunder, Hawkins started six games posting a 1-0 record, a 2.63 ERA, 32 strikeouts while giving up two walks in 24 innings of work.
Shortly after being drafted, Hawkins traveled to Peoria, Arizona, to join the Padres rookie team that plays in the 18-club Arizona Complex League.
With the ACL Padres, Hawkins put up solid numbers. The graduate of the Saskatoon Giants under-18 AAA program appeared in seven games with the ACL Padres posting a 3-1 record, a 2.35 ERA, 27 strikeouts while giving up two walks in 15.1 innings.
"I enjoyed it," said Hawkins, whose main pitches are the fastball, slider and change up. "I just kind of got my toes wet in how it all works going forward.
"I got to meet a lot of people, see lots of like different cultures like lots of Latin players that I haven't had a chance to be around a ton and kind of just meeting all the new draftees that got picked in my year also. It was pretty good, and I am excited to kind of get going again and move my way up."
Hawkins said he benefitted from the fact he got some real good coaching with the ACL Padres, which he thought helped his performance on the field.
"I think I just kind of maybe took another step once I got there," said Hawkins, who can throw his fastball at 93 to 95 miles per hour. "Eventually, something stuck, and I kind of just used it to my advantage.
"I think just the increased input from the coaching staff and all that helped a lot."
Throughout his life, Hawkins said baseball was the sport he was always the most passionate about. That passion took root from simple beginnings.
"I kind of just started playing baseball at a young age playing catch with my dad (Ian Hawkins) at home," said Hawkins. "Eventually, I was just playing minor baseball.
"All my friends were kind of doing it at the time."
When he started playing minor baseball, Hawkins said he started to experience success on the mound early on.
"I'd say it happened right away," said Hawkins. "Obviously, I hit and pitched at a younger age, but I kind of had a knack for pitching when I was younger."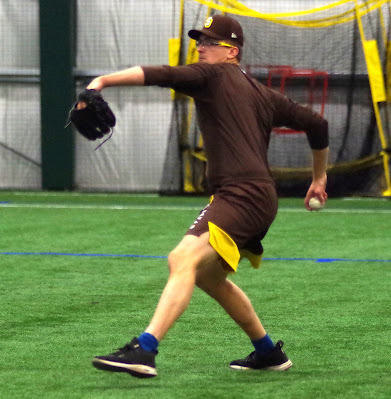 Hawkins ultimately caught the eyes of the high-performance coaches with Baseball Sask. He helped Saskatchewan win gold at the 2016 Baseball Canada Cup in Fort McMurray, Alta., and at the 2017 Canada Summer Games in Winnipeg.
The standout hurler credited Greg Brons, who is the High Performance Director for Baseball Sask, with getting a core group of players playing together or against each other on younger teams and training together in the years heading into those gold medal wins. Hawkins said the players became good friends and a realization grew that they might be able to accomplish big goals together.
"We had a core group of guys that (Greg) Brons kind of brought up together and kind of knew we had the potential to do something like that," said Hawkins. "That group had been together for maybe three years before that, so when it came time to put it all together, I just kind of remember all the guys that we had and just how good we were and how ready we were to kind of be on that stage.
"It was exciting."
Besides those gold medal wins on a national stage, Hawkins enjoyed playing against and with a number of his provincial team teammates in the provincial under-18 AAA league. He has lots of good memories throwing for the Saskatoon Giants at Cairns Field and Leakos Field.
"I enjoyed it just because most of the time it is like Saskatoon team versus a Saskatoon team, so you kind of want to beat the other one," said Hawkins. "I enjoyed my time playing here for sure."
After his season wrapped up with the ACL Padres, Hawkins elected to live in Saskatoon during the off-season in order to train at the Gordie Howe Sports Complex. On top of doing his own training, Hawkins will help out the crew at the Going Yard Training Centre coach young pitchers.
Jordan Draeger, who is one of Going Yard's top instructors, was one of Hawkins past coaches.
"It is pretty cool just seeing (the young pitchers), because I was in those guys shoes kind of when I was in high school," said Hawkins. "It is kind of cool seeing those guys build up and be around them as much as I can trying to help out, if they need it.
"I like going in there and doing my work and getting to watch some other guys do theirs, so it is pretty cool."
Hawkins, who will turn 22-years-old in February, said all the coaches he had through the years have had a big impact in allowing him to have the success he has had.
Going into his second season as a professional, Hawkins said his main focus is improving his consistency.
"I kind of like where my pitches are at now," said Hawkins. "I think just continuing to learn about hitters and stuff like that and just trust myself.
"I just have to continue to get better each day and try and move up."
Comox Valley ball player enters professional ranks
By Scott Stanfield, Comox Valley Record
Adam McKillican of the Comox Valley has joined the ranks of ball players from the University of British Columbia who have been drafted by a Major League Baseball club. Last summer, the 6'5" pitcher signed a free agent deal with the Texas Rangers.
A former Parksville Royals ace, the 23-year-old McKillican played at UBC until 2020. He switched to Georgia Gwinnett College for the 2021 season, helping the Grizzlies win the NAIA (National Association of Intercollegiate Athletics) World Series Championship in June.
Maryland became his home from early-June to mid-July of this year when McKillican played for the Frederick Keys, a collegiate summer team of the MLB Draft League. He then negotiated a contract with the Quebec Capitales in the Frontier League, which he said aims to secure as many professional contracts as possible for players through the draft and free agent/independent league signings. He was in Quebec when he got the call from the Rangers in August.
He pitched for the Arizona Rangers in a minor league game against the Cincinnati Reds, then was called up to the Hickory Crawdads in North Carolina — the high A affiliate of the Rangers — where he finished the season. The final game was canceled due to a COVID outbreak on the team. McKillican was supposed to fly home Sept. 17, but his COVID test came back positive, which forced a 14-day quarantine before flying to Canada.
"That was a very strange end to the year for me," he said. "Spent nine months in the U.S. and was able to dodge COVID until the very last day. Thankfully the season was over by then and I didn't miss any playing time."
McKillican said the level of play is "definitely a step up" from college ball.
"There are not as many holes in lineups and each guy you face is capable of hitting a mistake 400 feet," he said. "I think the biggest difference for me was the hitters' ability to foul off tough pitches. I had some good battles in college, won some and lost some, but those types of hitters came around once or twice every couple months. At this level, every lineup has at least one guy who is not going to chase a bad pitch and will fight off anything close. I'm excited to keep working on my repertoire and finding ways to get those guys out consistently."
When he left for Georgia, McKillican was four courses shy of graduating from university. He is finishing his degree online during the off-season.
Michael Saunders takes helm of MiLB Augusta GreenJackets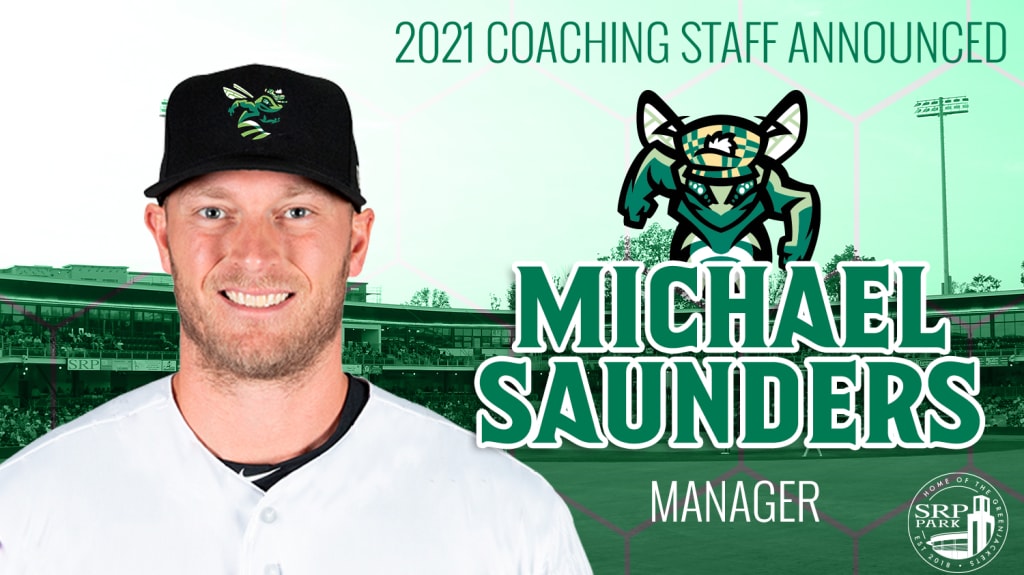 Victoria, BC native and nine-year MLB veteran (Mariners, Blue Jays, Phillies) to manage inaugural season of Atlanta Braves Single-A affiliate
March 30, 2021
NORTH AUGUSTA, SC. – The Augusta GreenJackets, Single-A Affiliate of the Atlanta Braves, in conjunction with their parent club, are excited to announce the Inaugural Field Staff for the 2021 Championship Season at SRP Park. Michael Saunders will take the helm as Manager in his first season with the GreenJackets.
Joining Saunders in North Augusta are Mike Bard as Hitting Coach, Elvin Nina as Pitching Coach, Myles Schroder as a Coach, Austin Smith as the Athletic Trainer, and Kyle Lindsey as the Strength Coach.
"We're thrilled to welcome the GreenJackets to the Braves minor league system, stated Ben Sestanovich Assistant General Manager, Atlanta Braves. "Their state of the art facility will be a tremendous addition to our development program. We are looking forward to a great 2021 season."
Michael Saunders brings nine years of experience in Major League Baseball, having spent time with the Seattle Mariners (2009-2014), Toronto Blue Jays (2015-2016), and Philadelphia Phillies (2017). Saunders' career batting average was .232 in 2,400 plate appearances. He was a 2016 All-Star during his time in Toronto. In 2020, Saunders was slated to be Manager of the Danville Braves.
"I know I can speak on behalf of everybody when I say how excited we all are to have baseball back in 2021." stated Michael Saunders GreenJackets Manager. "We couldn't be happier to have it be with the City of North Augusta and at SRP Park. The journey to Atlanta goes through here."
Mike Bard leads the offense as Hitting Coach. In 2020, he was selected as the Rome Braves Hitting Coach but now brings his years of experience to North Augusta. Bard has over a decade of NCAA Division I Coaching Experience at top schools, including the University of Kansas and Texas Tech University. He was the Assistant Hitting Coach for the Colorado Rockies in 2007.
Pitching Coach Elvin Nina was drafted by the Oakland Athletics in 1997. He spent seven years at the AAA level. Nina began his coaching career in 2009 with the Helena Brewers (2009-2013), Wisconsin Timber Rattlers (2014), and the GCL Pirates (2015-2017). In 2019, he became the pitching coach for the GCL Pirates.
"We are excited to welcome Michael and the staff to North Augusta to kick start the new era of GreenJackets Baseball," stated Tom Denlinger Augusta GreenJackets Vice President. "The energy that Michael and his staff have for the return of GreenJackets Baseball to SRP Park is contagious and we cannot wait for Opening Night!"
About SRP Park/Augusta GreenJackets
The GreenJackets 2021 Game Schedule is out and available online at www.GreenJacketsBaseball.com. The full promotional schedule; including post-game fireworks shows, giveaways and theme programs will be released by the GreenJackets in the future. 2021 Augusta GreenJackets season seat memberships are on sale now. To learn more about the benefits and to get in on the 2021 action, visit www.gjmembers.comor call (803) 349-WINS (9467).
The Low-A East schedule is subject to change. It is the Low-A East and Major League Baseball's commitment to protecting the health and safety of players, club employees, and fans.
SRP Park is the anchor piece of Riverside Village, a live, work, "playball" development which includes apartment living, retail, restaurants, class "A" office space, and a Crowne Plaza Hotel and Conference Center. To learn more about SRP Park and hosting events and availability, visit www.thesrppark.com.