Atlantic Provinces plan for Regional Championships in lieu of cancelled Nationals
Baseball PEI and its sister organizations Baseball Nova Scotia, Baseball New Brunswick and Baseball Newfoundland and  Labrador announced Tuesday that they hope to hold a regional High Performance Baseball Championships this summer to serve as a replacement for the National Championships cancelled by Baseball Canada.
Upon the decision by Baseball Canada to cancel National Championships in 2021, so long as the "Atlantic Bubble" is open, interprovincial play is permitted by each province's respective Public Health Office and conditions surrounding the Covid-19 pandemic permit it, Baseball PEI and the other Atlantic Provincial Baseball Organizations are planning to hold "Atlantic Canadian High-Performance Baseball Championships" for their respective Provincial/High-Performance teams at the 13U, 15U, 16U Girls, 17U, 22U and Senior Men categories.
The four Atlantic Provincial Baseball Organizations understand and support Baseball Canada's decision in regards to the cancellation of National Championships in 2021. However, the four Atlantic provinces agree that, provided the conditions exist for the safe completion of events for Provincial/High-Performance teams, we do not want another summer without some sort of tournament for our Provincial/High-Performance teams. Therefore, preparations are already in the works to create events to replace Baseball Canada National Championships in 2021 for Atlantic Canadian Provincial/High-Performance teams.
In addition to providing tournament baseball for all high performance age groups, the Regional Championships would also, in part, replace the Basbeall Canada sanctioned tournaments that were to be held in the region this summer, including the 13Us National Atlantic Championship in St. John's, NL, the 16U Girls Invitational in Summerside, PEI, the 22U Men's Championship in Dartmouth/Halifax, NS and the 21U Women's Invitational in St. John's, NL.
Dates and locations of specific events have not been set yet, and due to the  volatility and unpredictability of the Covid-19 pandemic and other factors, are subject to change, and/or these events may be cancelled. If it is not possible to go ahead with these events, a decision will be made sometime in July.
If these events go ahead, they will mostly follow Baseball Canada rules. The intent will be to schedule these events close to the date of when that respective category's National Championship was scheduled. If permitted by their provincial Public Health Office, each province will send one team to each event (in most cases the team that would normally represent the province at the respective Baseball Canada National Championship).
When more information is available, it will be given via each province's website and/or social media platforms.
Catching up with Marika Lyszczyk, former Whalley player making baseball history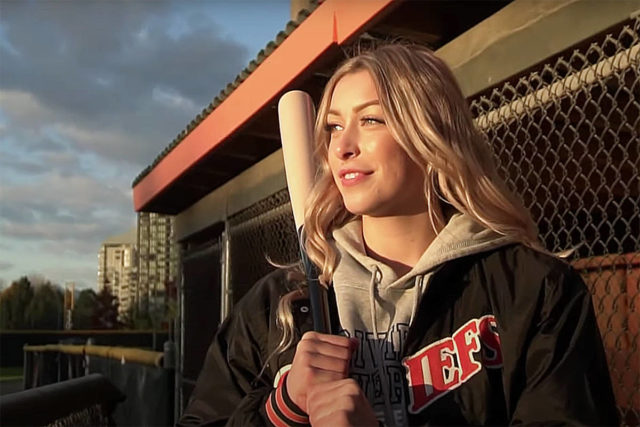 Arm surgery rehab awaits the Delta resident, the first female catcher to play NCAA men's baseball
By Tom Zillich -Surrey News Leader
Evidence suggests there's no stopping Marika Lyszczyk, but surgery has slowed her down a bit.
This month the former Whalley Chiefs baseball player is resting at home in Tsawwassen following rotator cuff repairs in her throwing arm.
"They thought it was my bicep that was a problem, but it was actually my rotator cuff," Lyszczyk said with a sigh.
"Right now I'm in total immobilization, I can't move my shoulder. It's not very fun sleeping."
With rehab looming, this fall the 20-year-old catcher plans a return trip to New Hampshire's Rivier University, whose Division 3 team last year made her the first female catcher to play NCAA men's baseball. It was historic stuff, and Lyszczyk can't wait to play ball there again.
"I'll rehab down there and get back into the swing of things," she said confidently, in a phone conversation.
"I'm itching to get back, because one of the hardest things for me is to not train," she added with a laugh.
(Story continues below a seven-minute Sportsnet video: "Marika Lyszczyk Breaking Gender Barriers In NCAA Baseball")
Earlier this summer, despite lingering soreness in her arm, Lyszczyk travelled to Long Island, NY, to play for the Sag Harbor Whalers of the Hamptons Collegiate Baseball League.
It's the latest stop in a baseball journey that involved her playing four seasons with the Whalley Chiefs, during her high school years, as the first girl to see action in the B.C. Premier Baseball League (PBL).
"It was such an opportunity there, and such a huge foundation for moving forward in my baseball career," Lyszczyk said of her days with the Chiefs. "The league is great, with some really good players, and it was such a good experience for me, before going to college."
Her time at Rivier University in 2020 lasted a brief nine or 10 weeks before the COVID-19 pandemic prompted a move back home to Delta.
A year later, a summer in the Hamptons was a thrill for Lyszczyk.
"It was great being there – it's so beautiful, and the community is great," she raved. "You hear about it with all the celebrities being there, and the people were so amazing. It was a great chance to go there and play with some pretty high-level guys playing D1, D2, so it definitely was a challenge for me."
Her original summer plan was to also attend Baseball Canada's women's national team showcase in Quebec (along with Surrey prospects Stacy Fournier and Claire Eccles), but for Lyszczyk, arm surgery took priority.
"Last year I had some arm pain and I thought it'd go away," she recalled. "I've thrown a lot in my lifetime, practising sometimes five, six days a week, and my arm has been sore, but not like that. I was hoping to take a few months off and it'd be fine, but I finally got a MRI to realize that something was wrong and that I'd need surgery.
"So I played summer ball and it was more like pain control for me, and I was proud of myself for getting through the summer. But it did hold me back in some areas and I knew I needed to get it fixed when I got back home.
"Generally when you go through a rehab like this," she added, "people tend to come back stronger, and there's lots of guys who come back from, like, Tommy John Surgery and they end up throwing two miles an hour faster, things like that. It's pretty cool to see how rehab has changed in that way, and I'm hopeful that I'll come back even stronger than I was before."
She hopes the procedure will ultimately allow her to play more baseball in the future.
"I always say that I want to play baseball as long as I can, as long as the opportunities are there for me, and that's another reason why it was so crucial that I got my arm fixed now, so hopefully I can have a longer playing career," Lyszczyk explained.
"And once my playing days are over I hope to do on-field commentating and stay in the game afterward, because I couldn't imagine my life without baseball."
Jaida Lee leads N.L. under-17 boys' baseball team to win
FROM CBC NEWS – NEWFOUNDLAND AND LABRADOR
Jaida Lee, 15, can play just about any position on the baseball diamond, but she says there's nothing like the thrill of staring down batters on the pitcher's mound.
Lee has been turning heads as the only girl on the Newfoundland and Labrador U-17 boys' baseball team, recently pitching the team's only win at a recent Atlantic tournament in Dartmouth, N.S.
But Jaida is modest, despite her success.
"We won the game," she told CBC Radio's On The Go.
"It was a great show. She did very well out there pitching," her mother, Amanda, chimed in.
"She had a great team to back her up as well. The most impressive thing to me was that it was her first time pitching of the season, she's just back from an injury."
Jaida said she has been pitching since she was about six years old and has learned to thrive under the pressure of pitching on both boys' and girls' teams in tournaments.
"I like the control of it, how you can set the pace of the game," she said.
"I find with baseball you don't get many balls hit to you during the game but as the pitcher you always have the ball in your hand. You're always in control of the game."
She said the confidence has come from a desire to get better every day, along with a great support system from coaches and her parents.
"I'm always a bag of nerves for the first inning when she's pitching," Amanda said.
"It doesn't matter who she's playing or what tournament.… I was like, 'Oh my gosh, oh my gosh,' [But] as soon as the first inning is done, I'm like, 'She did it, of course she did.'"
Jaida said playing with the boys' team is nothing new, since she's played with her brothers locally for years.
While Amanda said she still gets the occasional double-take from some coaches being the only girl playing in a boys' tournament, she said the game puts everyone on an equal playing field.
"They always go, 'Is that a girl out there?' and I'm like, 'Oh yeah, that's my daughter,'" she laughed.
Jaida said she has aspirations to play college baseball in the future, with the ultimate goal of representing Team Canada. But for now, it's all about continuing to get better every day.
"I always try to be better," she said. "I'm never OK with my current skill. So I'm always pitching to be better."
Peterborough Junior Tigers unable to repeat as provincial champions
Submitted by Scott Cherwaty
August 10, 2021 – The Peterborough Champs 22u Junior Tigers couldn't put it all together at the Provincial Championships in Leamington, Ontario on the weekend.
The Tigers started off against the Simcoe Giants on Friday night and lost a tough game 2-1 after outplaying the Giants on all aspects of the game except the one that counts which was the scoreboard.
The Tigers outhit the Giants 8-3 led by Brock Newell and Matthew Curphey with 2 hits each and other hits going to Jake Lockyer, Justin Groves, Ryan Brodie and Jake Kempt. Blake Cherwaty scored the only Tiger run after Brock Newell drove him in.
Tim Moloney pitched an excellent game going the distance striking out 11, giving up 3 hits and walking 3. The Tigers left the bases loaded twice and on runner at second and third, all with only one out.
In game 2, the Tigers next played Wyoming Wranglers and the game did not start off well at all for the Tigers as the Wranglers put up 6 runs in the first and 2 runs in the 3rd to take a 8 run lead.
The Tigers struggled a bit on the mound and in the outfield to start the game off. Brock Newell started on the bump going 3 innings giving up 7 hits and 9 runs ,6 of the runs being earned as well as striking out 3 Wranglers.
In the bottom of the 3rd the Tigers woke up and exploded for 9 runs led by Groves grand slam homerun. The Tigers took advantage of the Wrangles' pitchers who walked 10 batters plus gave up 7 hits.
Brodie and Groves had 2 hits each with other hits going to Cherwaty, Lockyer and Curphey. Groves drove in 5 runs with Lockyer and Cherwaty having 2 each and Ethan Milele picked up the other RBI. Runs were scored by Miele(3) and Curphey(3), Evan Downer(2) and single runs scored by Steve Garvey, Cherwaty, Lockyer, and Groves.
Connor Cavanagh came in relief and pitched a strong 3 1//3 innings giving up 2 hits, 2 runs, 2 walks and 3 strikeouts giving the Tigers a chance for the comeback. Brodie came in and picked up the win with 2/3 scoreless innings.
In Game 3, The Tigers came out on fire after their amazing comeback, to take the lead 8-1 after 2 innings over the Corunna Giants. The Tigers again outhit the competition with 7 hits vs 6. Downer led the way with a 3 run homerun in the 2nd inning and other hits went to Moloney(2), Groves, Kempt, Curphey and Cherwaty. Tiger runs were scored by Groves(3), Lockyer(2), Moloney(2), Cavanagh, Miele and Cherwaty.
Brodie went 2 innings on the mound striking out 6 and waking 2 leaving with a 8-1 lead. But three Tiger pitchers struggled after that and walked 9 batters and hit 3 which allowed the Giants to rebound with 7 runs in the 4th inning, tying it up at 8-8.
The Tigers did rebound with 2 runs in the 5th and 6th inning leading 12-9 going into the bottom of the 7th. and last inning. The Giants scored 4 runs to walk off the win.
The Simcoe Giants ended up winning the Championship with a 10-3 win over Leamington Lakers.