Atlantic Provinces plan for Regional Championships in lieu of cancelled Nationals
Baseball PEI and its sister organizations Baseball Nova Scotia, Baseball New Brunswick and Baseball Newfoundland and  Labrador announced Tuesday that they hope to hold a regional High Performance Baseball Championships this summer to serve as a replacement for the National Championships cancelled by Baseball Canada.
Upon the decision by Baseball Canada to cancel National Championships in 2021, so long as the "Atlantic Bubble" is open, interprovincial play is permitted by each province's respective Public Health Office and conditions surrounding the Covid-19 pandemic permit it, Baseball PEI and the other Atlantic Provincial Baseball Organizations are planning to hold "Atlantic Canadian High-Performance Baseball Championships" for their respective Provincial/High-Performance teams at the 13U, 15U, 16U Girls, 17U, 22U and Senior Men categories.
The four Atlantic Provincial Baseball Organizations understand and support Baseball Canada's decision in regards to the cancellation of National Championships in 2021. However, the four Atlantic provinces agree that, provided the conditions exist for the safe completion of events for Provincial/High-Performance teams, we do not want another summer without some sort of tournament for our Provincial/High-Performance teams. Therefore, preparations are already in the works to create events to replace Baseball Canada National Championships in 2021 for Atlantic Canadian Provincial/High-Performance teams.
In addition to providing tournament baseball for all high performance age groups, the Regional Championships would also, in part, replace the Basbeall Canada sanctioned tournaments that were to be held in the region this summer, including the 13Us National Atlantic Championship in St. John's, NL, the 16U Girls Invitational in Summerside, PEI, the 22U Men's Championship in Dartmouth/Halifax, NS and the 21U Women's Invitational in St. John's, NL.
Dates and locations of specific events have not been set yet, and due to the  volatility and unpredictability of the Covid-19 pandemic and other factors, are subject to change, and/or these events may be cancelled. If it is not possible to go ahead with these events, a decision will be made sometime in July.
If these events go ahead, they will mostly follow Baseball Canada rules. The intent will be to schedule these events close to the date of when that respective category's National Championship was scheduled. If permitted by their provincial Public Health Office, each province will send one team to each event (in most cases the team that would normally represent the province at the respective Baseball Canada National Championship).
When more information is available, it will be given via each province's website and/or social media platforms.
2023 BC Minor Baseball Association Coaches Conference Schedule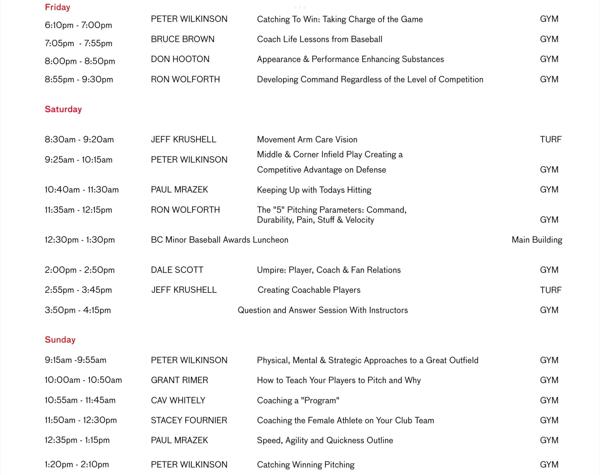 2023 BC Minor Baseball Association Coaches Conference Schedule
By BCMBA, 02/10/23, 6:15PM PST
Share
2023 BC Minor Baseball Association Coaches Conference
February 10th – 12th, 2023
Schedule of Speakers & Events
Baseball Québec launches girl's baseball academy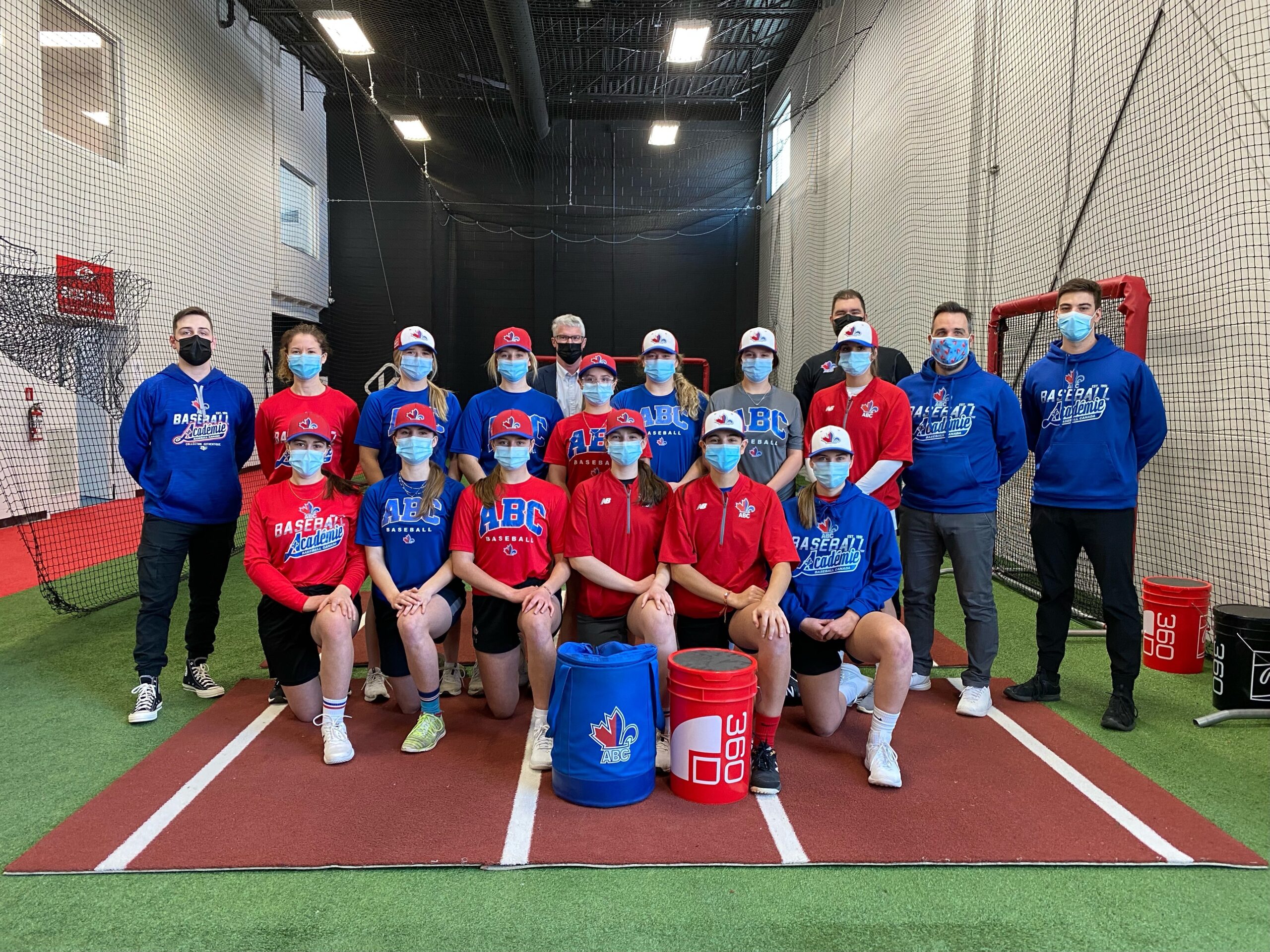 TROIS-RIVIÉRES – Baseball Québec is proud to announce the launch of the Académie du Baseball Canada (ABC) girl's baseball program based in Trois-Riviéres, Québec with the first cohort of athletes set to be welcomed next fall. This high-performance centre will be the first of its kind in Canada with 12 athletes already training under this new model since September 2021.
Baseball Québec has prioritized the development of women's baseball for several years and made it one of the central parts of its strategic planning. In 2020, the Federation commissioned a comprehensive report on player development from the Better Sport team, which is made up of experts André Lachance (Baseball Canada) and François Rodrigue (University of Ottawa). For nearly a year, the two experts compared the development principles put forward by the best sports programs around the world. Before formulating their recommendations to improve the high performance of Baseball Québec, 52 experts from seven countries were interviewed. This new initiative was created based on these recommendations.
Female athletes in the ABC program will be able to train year-round at Baseball 360 in Trois-Rivières. Under the supervision of Baseball Québec, they will be led by a team of qualified instructors, including Patricia Landry, a former national team athlete and coach, who is the coordinator and head coach of the program as well as Rémy Doucet who will assist as coordinator and coach of the program. They will also be able to count on Alexandre Janelle-Gagnon as pitching coach, Mathieu Tremblay as physical therapist and Steeve Ager as strategic advisor for the development of programs and partnerships.
The training center is ideal location for athlete training and development with its 15,000 sq. ft. area including batting cages, pitching mounds, a training room and much more. A healthy environment will come to life through our coaches, as well as the expertise of an integrated support team such as a kinesiologist, nutritionist, sports therapist, and sports psychology department.
🔵⚪️🔴C'est officiel! L'Académie de baseball du Canada a maintenant son volet féminin. ⚾️ pic.twitter.com/7tb86vNu1U

— baseballquebec (@baseballquebec) January 25, 2022
"With the number of female players increasing year-over-year throughout Quebec, it was more than necessary to offer a high-performance program for elite athletes designated with the objective of reaching the highest levels, including Women's National Team," said Maxime Lamarche, Executive Director of Baseball Quebec.
"After reading the Better Sport report, I saw what I had dreamed of so much as an athlete. The recommendations of the Better Sport report and the motivation of Baseball Québec have now given birth to the very first high-performance academy specifically designed for women. A first of its kind in Canada, this is a dream come true!" said Vanessa Riopel, Women's Development and Leadership Coordinator for Baseball Quebec and a former member of the Women's National Team.
Bentein "Crushing" it in Chestermere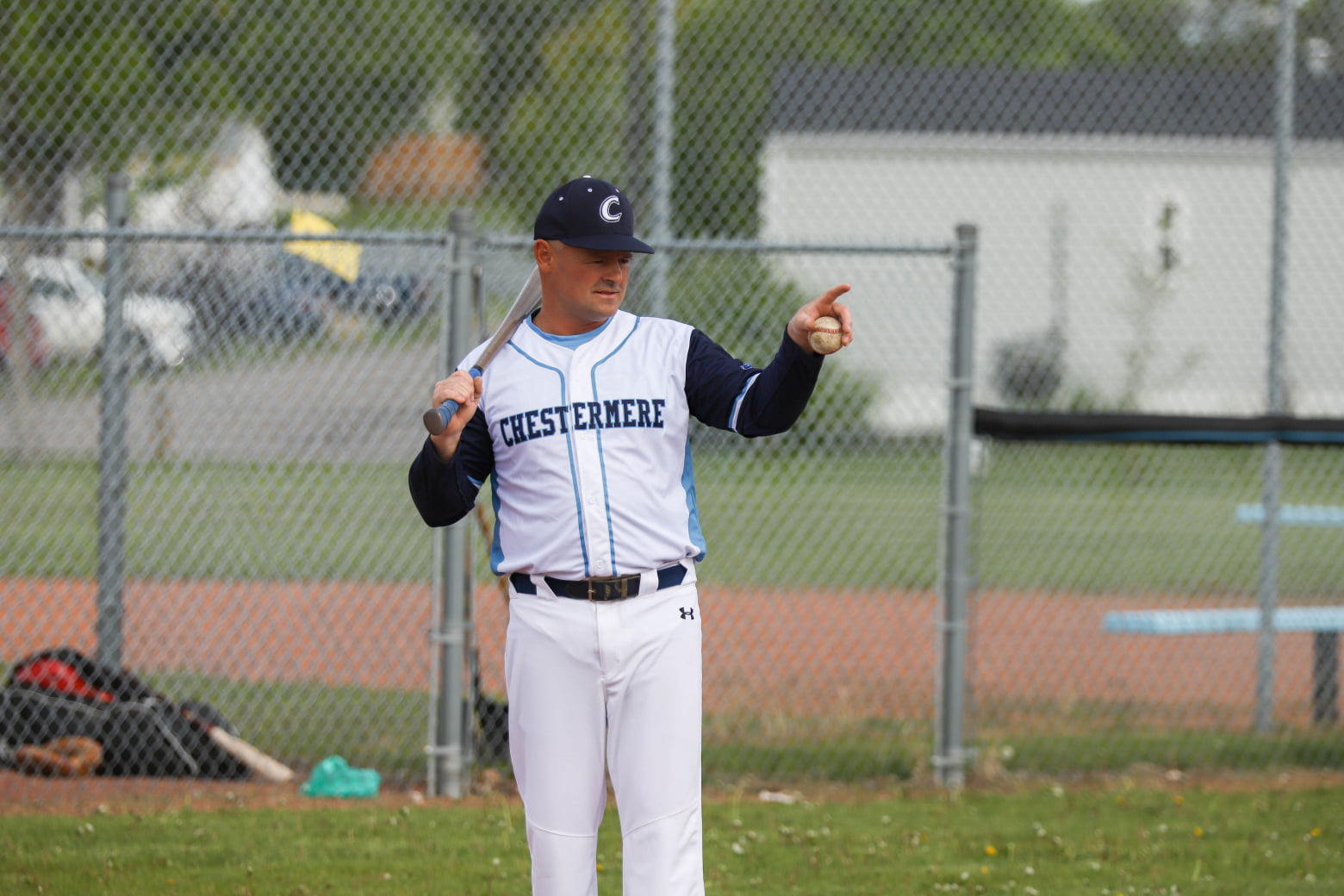 Alberta Amateur Baseball Council is recognizing those individuals who have contributed significantly to Alberta baseball, at the youth level. This week's nominee, regarding "Passion for Baseball", is Corey Bentein of the Chestermere Crushers Little League/Baseball Alberta program.
Corey has coached Crushers teams and worked/helped organize the Chestermere winter camps for many years. As well, he has assisted many other Chestermere Crushers' mentors regarding their coaching duties and responsibilities.
Corey feels his passion for baseball, initially, comes from his dad. His Dad played in the Detroit Tigers organization, and was great teacher/mentor to Corey, and the rest of the kids from Corey's hometown. Corey would also like to acknowledge Randy Mair, who also signed with the Tigers, as being a great youth baseball coach in Corey's local area as well. He credits the personal skills of both Randy, and his dad, as contributing to his love of baseball. One of Corey's inspirations as a coach came from his first All-Star coach, Larry Lecour, who he admired because of his outstanding game strategies. Two Ontario provincial team championships also helped increase his passion for the sport.
Corey treasurers the friendships he made as a youth player; he still stays in contact with many of his former teammates. Today, he feels lucky to work with a great group of people who comprise the Chestermere Minor Baseball Association. Corey states, "he fell in love with baseball at 11 or 12" and has never strayed too far from the sport.
Corey has pride in his playing days, and today, his role as a youth coach. As a player, he is fondest of being part of two local teams that went on to become provincial championship teams. As a coach, he is extremely proud of the growth regarding athletic skills by Chestermere players, including his daughter Hailey. In his second year as a coach, he led a Chestermere team that never lost a game during their Little League season. As well, he is extremely satisfied with the growth in the number of Chestermere youth baseball participants. He is also glad to see the development of a Chestermere Fall baseball program this past year. Also, he is delighted with the continued growth and enthusiasm regarding the Chestermere winter baseball camps. Joy abounds, for Corey, when one of his past Chestermere players does well beyond the Crushers' youth program; he cites Logan Grant and Steen Wallin as players that have done well, since they moved past the Chestermere association. And every Chestermere provincial win, or city championship, or even a good showing by his local team, is special for Corey.
A special event/moment occurred for Corey recently. A few years past, Calgary hosted the Canadian Nationals for players aged over 40. He was fortunate enough to play with an Ontario team which included some friends and former teammates; Corey had not played with some of them for more 25 years. Many of Corey's youth players watched the finals, and cheered on Corey's team. Unfortunately, Corey's team did not win, but Corey was selected MVP of the tournament. (However, his coaching credibility, regarding base-running, was somewhat diminished by his tournament play.) Corey was extremely pleased, and surprised, to see the large number of his players and parents, make the effort to attend a tournament that he was participating in.
In the future, Corey would like to see more action/games across the US border. As a youth, he enjoyed his trips to Michigan in order to play against similarly aged teams. He is positive towards the tiering done by Baseball Alberta, and wants it to continue. Corey would also like most youth programs to try and schedule in another 5—9 games per season. However, he does not want teams to cut down their practice time to play more games.
Alberta Amateur Baseball Council, and the Alberta baseball community, would like to thank Corey for his time, knowledge, and efforts towards Alberta youth baseball.