Atlantic Provinces plan for Regional Championships in lieu of cancelled Nationals
Baseball PEI and its sister organizations Baseball Nova Scotia, Baseball New Brunswick and Baseball Newfoundland and  Labrador announced Tuesday that they hope to hold a regional High Performance Baseball Championships this summer to serve as a replacement for the National Championships cancelled by Baseball Canada.
Upon the decision by Baseball Canada to cancel National Championships in 2021, so long as the "Atlantic Bubble" is open, interprovincial play is permitted by each province's respective Public Health Office and conditions surrounding the Covid-19 pandemic permit it, Baseball PEI and the other Atlantic Provincial Baseball Organizations are planning to hold "Atlantic Canadian High-Performance Baseball Championships" for their respective Provincial/High-Performance teams at the 13U, 15U, 16U Girls, 17U, 22U and Senior Men categories.
The four Atlantic Provincial Baseball Organizations understand and support Baseball Canada's decision in regards to the cancellation of National Championships in 2021. However, the four Atlantic provinces agree that, provided the conditions exist for the safe completion of events for Provincial/High-Performance teams, we do not want another summer without some sort of tournament for our Provincial/High-Performance teams. Therefore, preparations are already in the works to create events to replace Baseball Canada National Championships in 2021 for Atlantic Canadian Provincial/High-Performance teams.
In addition to providing tournament baseball for all high performance age groups, the Regional Championships would also, in part, replace the Basbeall Canada sanctioned tournaments that were to be held in the region this summer, including the 13Us National Atlantic Championship in St. John's, NL, the 16U Girls Invitational in Summerside, PEI, the 22U Men's Championship in Dartmouth/Halifax, NS and the 21U Women's Invitational in St. John's, NL.
Dates and locations of specific events have not been set yet, and due to the  volatility and unpredictability of the Covid-19 pandemic and other factors, are subject to change, and/or these events may be cancelled. If it is not possible to go ahead with these events, a decision will be made sometime in July.
If these events go ahead, they will mostly follow Baseball Canada rules. The intent will be to schedule these events close to the date of when that respective category's National Championship was scheduled. If permitted by their provincial Public Health Office, each province will send one team to each event (in most cases the team that would normally represent the province at the respective Baseball Canada National Championship).
When more information is available, it will be given via each province's website and/or social media platforms.
Saskatchewan's Pothakos leads Greece into A pool of European Baseball Championship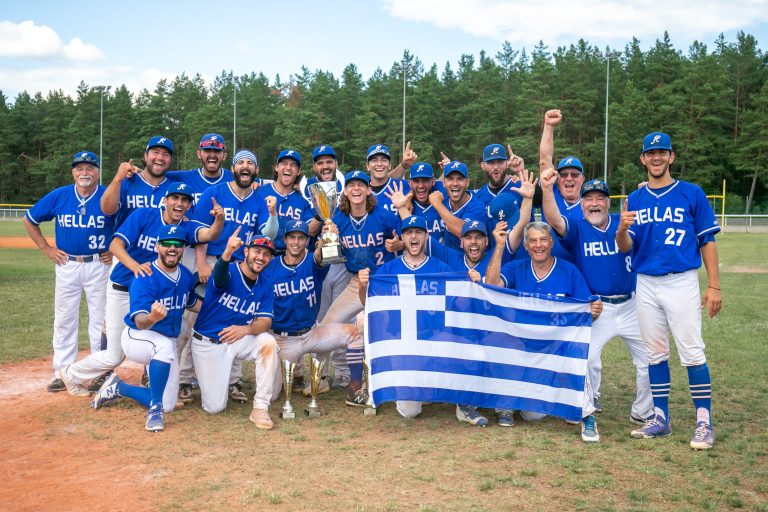 Saskatoon's Rye Pothakos earned his first tournament championship as manager of the Greek National Baseball team.
Pame Elladara!!!!! The Greeks did it! Hellas defeated host Lithuania 8-4 in the championship game to win the WBSC Utena Qualifier to punch their ticket back into Europe's top level of baseball, the European Championship A Pool. Russia, Ukraine and Slovakia also punched their tickets in the other 3 B-Pool qualifiers.
Hellas went 3-1 on the week defeated Poland and Romania by a combined scored of 21-0. Entering Friday's game vs Lithuania, Hellas and Lithuania had already clinched a spot in Saturday's championship game, so both teams entered it playing for home field advantage in the title game. Lithuania scored 6 unearned runs off 5 Greek errors to win 9-7 Friday night. Saturday Greece was in control all game eventually holding an 8-0 lead in the 7th inning before securing the win 8-4. Dimitri Kourtis was the winning pitcher with 6 shutout innings along with 8 strikeouts. John Kountis earned the save after pitching the final 3 innings allowing 1 earned run.
Greece claimed all 3 post-tournament honors as Thomas Roulis (Best Hitter), Dimitri Kourtis (MVP) and John Kountis (Best Pitcher) all took home their respective awards.
Hellas is now preparing for the European Championship in Torino, Italy Sept 12-19 2021. Hellas is in Group A with host Italy, Austria and Belgium (see below). This is the first time Greece has been in A pool since 2016 Honkball Championship in Amsterdam, Netherlands. Since 2016, Hellas has played in four different tournaments (Belgrade, Dublin, Bulgaria, Utena) fighting their way back into Europe's top level, a tremendous honor. Rye Pothakos earned his first tournament championship as manager.
For all information, please follow us on Twitter and Instagram @GreekBaseball.
Prince George Knights happy to get back on the diamonds
U18 AAA team to host Kamloops this weekend at Citizen Field in front of what is hoped to be a large crowd
By Ted Clarke
Prince George Citizen
Two years ago, the Prince George Knights were kings of the province.
The U-15 bantam team thrived on home cooking all week in the provincial double-A tournament at Nechako Park and earned the B.C. Minor Baseball Association crown. The U-18 Knights also brought home the banner as provincial champs from their tournament in Whalley.
Players from both teams would have loved a chance to defend their championships the following year but the pandemic prevented that, and the season was cancelled before the opening pitch was tossed.
That hardball famine is about to end and on Tuesday night the boys of summer will finally get a chance to play a meaningful game again.
"We haven't played since the pandemic hit, but we've been practicing ever since then," said Knights manager Jody Hannon. "We have been playing some exhibition games against men's teams but that's it."
They're about to be fed to the Dogs – the Kamloops River Dogs – in the first of a three-game series at Citizen Field Tuesday at 7 p.m.
The Knights' 14-player roster includes several key components of the bantam team that won the B.C. Minor title and got to the final of the Baseball BC championship in Chilliwack that same 2019 season.
Most of that high-octane Knight team in 2019 who were bantam-aged (under 15) at the time have moved up to the midget ranks (under-18) and they've joined the remaining talent from that powerful U-18 team that ruled B.C. two years ago.
It starts with slugger Preston Weightman, the provincial MVP two years ago, and the list of veterans continues with Jacob Fillion. Zach Fillion, Jacob Ross, Parker McBurnie, Logan Dreher, Chase Martin and James Yando. Tyson Ramsay, Jarron Fillion, Kobe Fulton, Brody LaFavor, Dillon Neufeld and Riley Zummack. Jake and Zach Fillion, Ross and Zummack were on the U-18 team Hannon coached to the B.C. Minor title two years ago.
Collectively, they're good enough to be in the provincial U-18 triple-A mix this season.
"We're going to be pretty strong," said Hannon. "It's our first season back in triple-A (for a Prince George team) since I don't even know when. They're a real tight-knit group and they've come together and have good chemistry. It's definitely one of the stronger teams that I've coached.
"I think we're going to be one of the top teams in the province and I have a lot of confidence going into the game (on Tuesday). Honestly, we're strong all the way around the ball. We have good pitching (10 of the 14 players pitch). We hit well for contact and hit well for power. We have a lot of fast guys and we're good defensively. It'll be tough getting up t game speed after a year-and-a-half off, but I believe in the guys and I think we'll have a good chance to go for my sixth title here."
The Knights coaches are Cole Laviolette, Tommy Kreitz and Scott Walters. They started practicing with the players indoors in February at the Northern Sport Centre.
The River Dogs, who last sent a team to Prince George in 2016, have the benefit of playing teams from Kelowna and the Lower Mainland this summer in the college prep league. The Knights are of similar calibre, but Hannon said they won't be part of the league due to the fact the Lower Manland teams did not want to have to travel to Prince George.
The River Dogs and Knights meet again in a Wednesday doubleheader at 9 a.m. and noon at Citizen Field. Hannon is hoping people will turn out in droves to watch them in action this week.
"We want to pack the stands, there's no restriction for us to fill the stadium," said Hannon. "We want to bring baseball back in a big way because the boys got robbed last year. They're excited and it's going to be college-calibre games."
The Knights will be on the road several times this summer with one tournament in Kamloops and three om Kelowna, including the Final Five championship in August. Prince George has an automatic berth and will face the top four regular-season finishers.
FLY BALLS: The U-18 Knights are part of the five-team Domino's Pizza Prince George Senior Baseball Association, which opens its season on Wednesday at Citizen Field. Each team plays a 12-game schedule which starts with the D.O.B. Contracting Gladiators taking on the Queensawy Auto World Mariners Wednesday evening. On Thursday, the Inland Control & Services Tigers face the Knights. The JRJ Contracting Orioles will have to wait until Friday to play their opener against the Mariners. All games start at 7 p.m…. Hannon and current double-A pro infielder Jared Young were teammates on the powerhouse Knights team that won the B.C. Minor double-A midget championship in 2012 at Citizen Field. Young now plays in the Double-A South League for the Tennessee Smokies.
Baseball Manitoba Cancels 2021 Provincial Championships
Tuesday, June 29, 2021
Baseball Manitoba has made the difficult decision to cancel all Provincial Championships in 2021.
The decision was made with the safety and development of our members as the top priority. Provincial Championships create environments with large gatherings with people from across the Province. Also, by cancelling Provincial Championships, we believe that there is more opportunity for a longer season for more players, as they compete late into Summer within their regions.
Baseball Manitoba would like to thank our 2021 Championship Host groups for all the work they have done this year. We will be working with each host, as we plan our 2022 Provincial Championships.
Sincerely,
Jason Miller – Executive Director