Atlantic Provinces plan for Regional Championships in lieu of cancelled Nationals
Baseball PEI and its sister organizations Baseball Nova Scotia, Baseball New Brunswick and Baseball Newfoundland and  Labrador announced Tuesday that they hope to hold a regional High Performance Baseball Championships this summer to serve as a replacement for the National Championships cancelled by Baseball Canada.
Upon the decision by Baseball Canada to cancel National Championships in 2021, so long as the "Atlantic Bubble" is open, interprovincial play is permitted by each province's respective Public Health Office and conditions surrounding the Covid-19 pandemic permit it, Baseball PEI and the other Atlantic Provincial Baseball Organizations are planning to hold "Atlantic Canadian High-Performance Baseball Championships" for their respective Provincial/High-Performance teams at the 13U, 15U, 16U Girls, 17U, 22U and Senior Men categories.
The four Atlantic Provincial Baseball Organizations understand and support Baseball Canada's decision in regards to the cancellation of National Championships in 2021. However, the four Atlantic provinces agree that, provided the conditions exist for the safe completion of events for Provincial/High-Performance teams, we do not want another summer without some sort of tournament for our Provincial/High-Performance teams. Therefore, preparations are already in the works to create events to replace Baseball Canada National Championships in 2021 for Atlantic Canadian Provincial/High-Performance teams.
In addition to providing tournament baseball for all high performance age groups, the Regional Championships would also, in part, replace the Basbeall Canada sanctioned tournaments that were to be held in the region this summer, including the 13Us National Atlantic Championship in St. John's, NL, the 16U Girls Invitational in Summerside, PEI, the 22U Men's Championship in Dartmouth/Halifax, NS and the 21U Women's Invitational in St. John's, NL.
Dates and locations of specific events have not been set yet, and due to the  volatility and unpredictability of the Covid-19 pandemic and other factors, are subject to change, and/or these events may be cancelled. If it is not possible to go ahead with these events, a decision will be made sometime in July.
If these events go ahead, they will mostly follow Baseball Canada rules. The intent will be to schedule these events close to the date of when that respective category's National Championship was scheduled. If permitted by their provincial Public Health Office, each province will send one team to each event (in most cases the team that would normally represent the province at the respective Baseball Canada National Championship).
When more information is available, it will be given via each province's website and/or social media platforms.
Baseball PEI seeks new Executive Director
Deadline for resumes is Thursday, 27 January 2021 at 12 pm.
The current Executive Director of Baseball PEI, Randy Byrne, will be leaving Baseball PEI at the end of the day on Friday, 28 January 2022. Byrne has been the E.D. of Baseball PEI since September 2014.
As such, Baseball PEI is calling from applicants for the position of Executive Director. The deadline for submission for applications is Thursday, 27 January at 12 pm. A resume, with at least three references, should be emailed to baseball@sportpei.pe.ca.
The job description can be found HERE.
Only those applicants who are invited to an interview will be contacted.
AABC Weekly Passion for Baseball Honors to Garry Thomson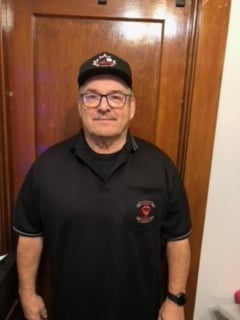 Alberta Amateur Baseball Council is recognizing those individuals who have contributed significantly to Alberta baseball, at the youth level. This week's nominee, regarding "Passion for Baseball", is Garry Thomson. Garry has coached and umpired for the Brownfield, Coronation, and Castor minor baseball organizations for decades.
In his youth, Garry was inspired by softball, not baseball. Once Garry moved to Brownfield, the strong minor baseball program motivated him to join their ranks. Garry began a teaching career in the Brownfield area, and once his kids were old enough to start playing, he became more involved directly with the local youth programs. All his boys played baseball in the East Central Alberta area, and today, he has grandkids playing for the same local programs.
Garry cites Coach Carter Stickler, of the Consort area, as a coach who had a very positive impact on him regarding baseball, and sport in general. He also would like to recognize Terry Schneider and Dan Buskas, as great mentors, in his involvement and development as an umpire.
Garry is proudest of his role as being a facilitator/supporter of baseball in East Central Alberta. He takes great satisfaction that his kids, and grandkids, have all had the opportunity to participate in quality local minor baseball programs. Garry is also very pleased with the relationships he has formed with people all over the province as an umpire and coach. He is humbled that he is still asked to umpire, as he was this past summer, even as he gets a little older.
Garry hopes that baseball numbers continue to grow throughout the province. He wants baseball to remain a friendly, fun, and affordable sport for all. He feels baseball helps build relationships throughout Alberta; baseball, he credits, as being a great sport for the fans as well. He wants all baseball enthusiasts to remember, a) baseball is supposed to be fun, b) it is important to show sportsmanship, c) play hard and winning is a bonus at the end of the game.
Alberta Amateur Baseball Council, and the Alberta baseball community would like to thank Garry for his volunteerism and commitment towards Alberta youth baseball
Hawkins takes big first step in chasing big league dreams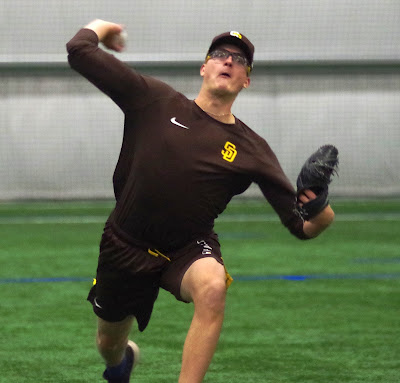 By Darren Steinke – Howe Happenings
Garrett Hawkins was ready to jump into the next level of work when he was drafted into the MLB.
On the second day the 2021 MLB Draft this past July 12, the hard-throwing right-handed pitcher from Biggar, Sask., was selected in the ninth round and 280th overall by the San Diego Padres. The draft selection was a huge highlight for the 21-year-old, but he knew the long journey to try and become an everyday MLB player continued.
"It was pretty exciting just knowing that all the hard work had paid off," said Hawkins, who towers on the mound at 6-foot-5 and weighs 230 pounds. "You kind of got to a point that you're just proud of yourself and proud of everyone that kind of contributed to it.
"Not to say that the work isn't done. There is still a lot more to do, but it is a good first step for sure."
Hawkins, who trains in the off-season at the Gordie Howe Sports Complex, had been playing for the New Jersey state capital-based Trenton Thunder of the MLB Draft league at the time he was selected by the Padres.
With the Thunder, Hawkins started six games posting a 1-0 record, a 2.63 ERA, 32 strikeouts while giving up two walks in 24 innings of work.
Shortly after being drafted, Hawkins traveled to Peoria, Arizona, to join the Padres rookie team that plays in the 18-club Arizona Complex League.
With the ACL Padres, Hawkins put up solid numbers. The graduate of the Saskatoon Giants under-18 AAA program appeared in seven games with the ACL Padres posting a 3-1 record, a 2.35 ERA, 27 strikeouts while giving up two walks in 15.1 innings.
"I enjoyed it," said Hawkins, whose main pitches are the fastball, slider and change up. "I just kind of got my toes wet in how it all works going forward.
"I got to meet a lot of people, see lots of like different cultures like lots of Latin players that I haven't had a chance to be around a ton and kind of just meeting all the new draftees that got picked in my year also. It was pretty good, and I am excited to kind of get going again and move my way up."
Hawkins said he benefitted from the fact he got some real good coaching with the ACL Padres, which he thought helped his performance on the field.
"I think I just kind of maybe took another step once I got there," said Hawkins, who can throw his fastball at 93 to 95 miles per hour. "Eventually, something stuck, and I kind of just used it to my advantage.
"I think just the increased input from the coaching staff and all that helped a lot."
Throughout his life, Hawkins said baseball was the sport he was always the most passionate about. That passion took root from simple beginnings.
"I kind of just started playing baseball at a young age playing catch with my dad (Ian Hawkins) at home," said Hawkins. "Eventually, I was just playing minor baseball.
"All my friends were kind of doing it at the time."
When he started playing minor baseball, Hawkins said he started to experience success on the mound early on.
"I'd say it happened right away," said Hawkins. "Obviously, I hit and pitched at a younger age, but I kind of had a knack for pitching when I was younger."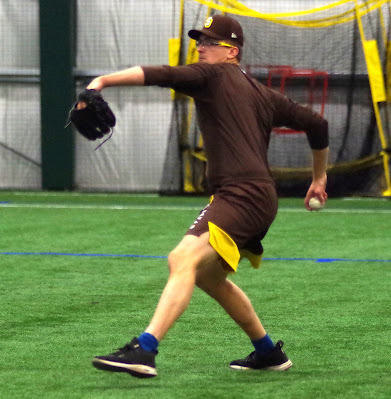 Hawkins ultimately caught the eyes of the high-performance coaches with Baseball Sask. He helped Saskatchewan win gold at the 2016 Baseball Canada Cup in Fort McMurray, Alta., and at the 2017 Canada Summer Games in Winnipeg.
The standout hurler credited Greg Brons, who is the High Performance Director for Baseball Sask, with getting a core group of players playing together or against each other on younger teams and training together in the years heading into those gold medal wins. Hawkins said the players became good friends and a realization grew that they might be able to accomplish big goals together.
"We had a core group of guys that (Greg) Brons kind of brought up together and kind of knew we had the potential to do something like that," said Hawkins. "That group had been together for maybe three years before that, so when it came time to put it all together, I just kind of remember all the guys that we had and just how good we were and how ready we were to kind of be on that stage.
"It was exciting."
Besides those gold medal wins on a national stage, Hawkins enjoyed playing against and with a number of his provincial team teammates in the provincial under-18 AAA league. He has lots of good memories throwing for the Saskatoon Giants at Cairns Field and Leakos Field.
"I enjoyed it just because most of the time it is like Saskatoon team versus a Saskatoon team, so you kind of want to beat the other one," said Hawkins. "I enjoyed my time playing here for sure."
After his season wrapped up with the ACL Padres, Hawkins elected to live in Saskatoon during the off-season in order to train at the Gordie Howe Sports Complex. On top of doing his own training, Hawkins will help out the crew at the Going Yard Training Centre coach young pitchers.
Jordan Draeger, who is one of Going Yard's top instructors, was one of Hawkins past coaches.
"It is pretty cool just seeing (the young pitchers), because I was in those guys shoes kind of when I was in high school," said Hawkins. "It is kind of cool seeing those guys build up and be around them as much as I can trying to help out, if they need it.
"I like going in there and doing my work and getting to watch some other guys do theirs, so it is pretty cool."
Hawkins, who will turn 22-years-old in February, said all the coaches he had through the years have had a big impact in allowing him to have the success he has had.
Going into his second season as a professional, Hawkins said his main focus is improving his consistency.
"I kind of like where my pitches are at now," said Hawkins. "I think just continuing to learn about hitters and stuff like that and just trust myself.
"I just have to continue to get better each day and try and move up."