Baseball BC seeks feedback from parents, coaches, players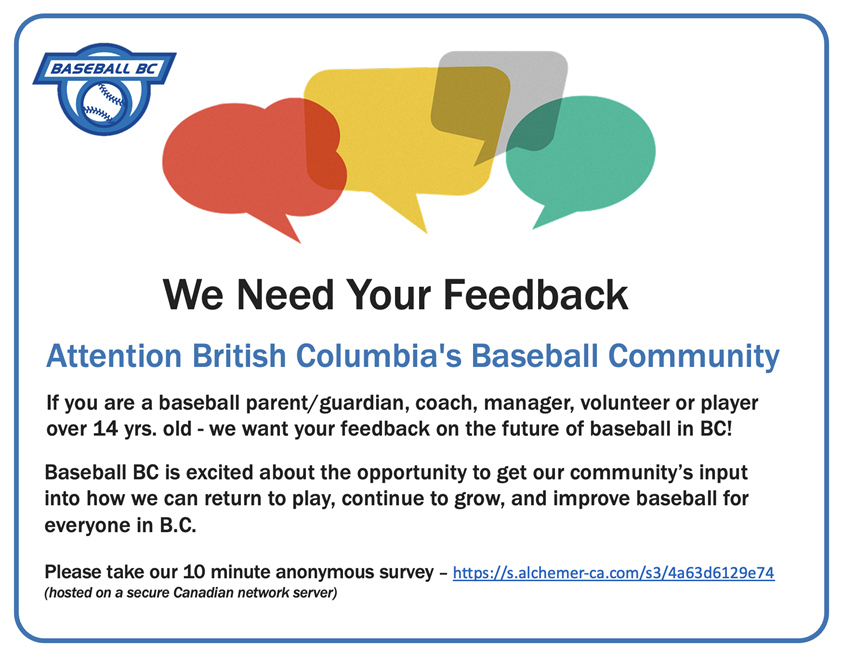 Attention British Columbia's Baseball Community – If you are a parent/guardian, coach, manager, volunteer or player over 14 yrs. old – we want your feedback on the future of baseball in BC!
Baseball BC understands what a difficult year it has been for many, and the important role that sport plays for many of us in B.C. Baseball BC is excited about the opportunity to get our community's input into how we can return to play, continue to grow, and improve baseball for everyone in B.C.
This anonymous survey is hosted on a secure Canadian network server and does not track IP addresses. Please take the survey below as well as pass on to any other parents/guardians, coaches, managers, volunteers or players over 14 yrs old that are in your network or community. We will also post on social media platforms so people can share/re-post the survey invitation as well.
PLEASE Take the Survey NOW – https://s.alchemer-ca.com/s3/4a63d6129e74
If you have any questions about this survey, please contact Baseball BC at "info1@baseball.bc.ca". Baseball BC truly appreciates your assistance with completing the survey.
Prince George Knights happy to get back on the diamonds
U18 AAA team to host Kamloops this weekend at Citizen Field in front of what is hoped to be a large crowd
By Ted Clarke
Prince George Citizen
Two years ago, the Prince George Knights were kings of the province.
The U-15 bantam team thrived on home cooking all week in the provincial double-A tournament at Nechako Park and earned the B.C. Minor Baseball Association crown. The U-18 Knights also brought home the banner as provincial champs from their tournament in Whalley.
Players from both teams would have loved a chance to defend their championships the following year but the pandemic prevented that, and the season was cancelled before the opening pitch was tossed.
That hardball famine is about to end and on Tuesday night the boys of summer will finally get a chance to play a meaningful game again.
"We haven't played since the pandemic hit, but we've been practicing ever since then," said Knights manager Jody Hannon. "We have been playing some exhibition games against men's teams but that's it."
They're about to be fed to the Dogs – the Kamloops River Dogs – in the first of a three-game series at Citizen Field Tuesday at 7 p.m.
The Knights' 14-player roster includes several key components of the bantam team that won the B.C. Minor title and got to the final of the Baseball BC championship in Chilliwack that same 2019 season.
Most of that high-octane Knight team in 2019 who were bantam-aged (under 15) at the time have moved up to the midget ranks (under-18) and they've joined the remaining talent from that powerful U-18 team that ruled B.C. two years ago.
It starts with slugger Preston Weightman, the provincial MVP two years ago, and the list of veterans continues with Jacob Fillion. Zach Fillion, Jacob Ross, Parker McBurnie, Logan Dreher, Chase Martin and James Yando. Tyson Ramsay, Jarron Fillion, Kobe Fulton, Brody LaFavor, Dillon Neufeld and Riley Zummack. Jake and Zach Fillion, Ross and Zummack were on the U-18 team Hannon coached to the B.C. Minor title two years ago.
Collectively, they're good enough to be in the provincial U-18 triple-A mix this season.
"We're going to be pretty strong," said Hannon. "It's our first season back in triple-A (for a Prince George team) since I don't even know when. They're a real tight-knit group and they've come together and have good chemistry. It's definitely one of the stronger teams that I've coached.
"I think we're going to be one of the top teams in the province and I have a lot of confidence going into the game (on Tuesday). Honestly, we're strong all the way around the ball. We have good pitching (10 of the 14 players pitch). We hit well for contact and hit well for power. We have a lot of fast guys and we're good defensively. It'll be tough getting up t game speed after a year-and-a-half off, but I believe in the guys and I think we'll have a good chance to go for my sixth title here."
The Knights coaches are Cole Laviolette, Tommy Kreitz and Scott Walters. They started practicing with the players indoors in February at the Northern Sport Centre.
The River Dogs, who last sent a team to Prince George in 2016, have the benefit of playing teams from Kelowna and the Lower Mainland this summer in the college prep league. The Knights are of similar calibre, but Hannon said they won't be part of the league due to the fact the Lower Manland teams did not want to have to travel to Prince George.
The River Dogs and Knights meet again in a Wednesday doubleheader at 9 a.m. and noon at Citizen Field. Hannon is hoping people will turn out in droves to watch them in action this week.
"We want to pack the stands, there's no restriction for us to fill the stadium," said Hannon. "We want to bring baseball back in a big way because the boys got robbed last year. They're excited and it's going to be college-calibre games."
The Knights will be on the road several times this summer with one tournament in Kamloops and three om Kelowna, including the Final Five championship in August. Prince George has an automatic berth and will face the top four regular-season finishers.
FLY BALLS: The U-18 Knights are part of the five-team Domino's Pizza Prince George Senior Baseball Association, which opens its season on Wednesday at Citizen Field. Each team plays a 12-game schedule which starts with the D.O.B. Contracting Gladiators taking on the Queensawy Auto World Mariners Wednesday evening. On Thursday, the Inland Control & Services Tigers face the Knights. The JRJ Contracting Orioles will have to wait until Friday to play their opener against the Mariners. All games start at 7 p.m…. Hannon and current double-A pro infielder Jared Young were teammates on the powerhouse Knights team that won the B.C. Minor double-A midget championship in 2012 at Citizen Field. Young now plays in the Double-A South League for the Tennessee Smokies.
Play Ball! BC allows expanded game play with move to Step 2 restrictions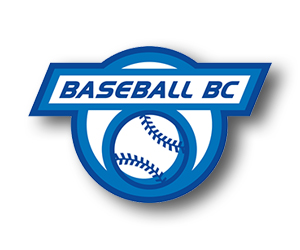 On June 14, 2021 the BC Government announced a move to Step 2 in the British Columbia Restart Plan that takes effect today, June 15, 2021. This movement further allows sport to ease restrictions and permit limited spectators and travel within the province for the purpose of sport. As such Baseball BC is advancing notice that the following activities are now permitted within the sport of Baseball;
Regular game play amongst participating teams province wide – This means leagues like the BC Premier Baseball League (BCPBL) can now resume, with teams freely travelling to play one another. Previously such teams could only hold inter-squad games against themselves.
A maximum of 50 spectators (per field). – Under Step 1 rules, no spectators were allowed at any games.
Tournament play is now allowed
Baseball BC is very pleased with the step forward by the government of B.C.; however, the situation may differ by area, therefore, we must all continue to follow the BC health authority's guidance and require all members and affiliated clubs to do the same. We also understand that each municipality has potentially different restrictions and limitations for bookings/activity, therefore, please work with your local cities/municipalities to adhere to any requirements to ensure you are providing a safe environment for all participants. We would also like to ensure that all organizations defer to their provincial level member organization on programming decisions or sanctioning, should it be required.
We would again like to share the following amateur sport programming reminders (as of June 15, 2021);
The activity must always comply with the general measures, recommendations, and any gathering restrictions issued by the BC health authorities.
Physical distancing not required on the field of play, including dugout area.
2 metres social distancing is still required outside the field of play.
Keep a participant record for contract tracing needs, including symptom screening.
Communicate to participants any hygiene measures in alignment with current information issued by the BC health authorities, including staying home if sick.
Remind all players to bring their own refreshments and do not share water bottles.
Please adjust current safety plans to align with this Return to Play Plan for Baseball and ViaSport's Restart Sport 2.0 Chart, including updating Emergency Response & Outbreak Plans.
We would also like to again remind that some participants may need additional time to fully return to traditional programming. It is required that all participants and member organizations work collaboratively to ensure all stakeholders do so safely and when they are ready. Possible examples of this are as follows;
– There will be some officials who will require time to adjust to traditional positioning mechanics, or will elect to continue with the modified mechanics based on the training they received in preparation for 2021. Return to traditional positioning is not a mandated change and some officials who do not yet feel safe about returning to working behind the catcher, may elect to continue with the modified positioning. Please take direction from the Local Sport Organization (LSO's) Umpire in Chief in this area.
Should any member organization and/or affiliated club wishing to add stricter guidelines, measures and precautions they are able to do so for the baseball activity they oversee within their specific organization.
Please direct any questions you may have on this topic to Baseball BC Executive Director David Laing at 604-586-3312.
BCPBL Welcomes Mike Addy as Executive Director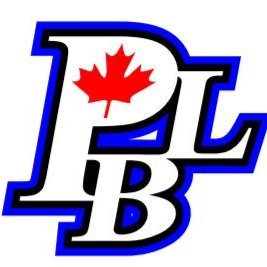 The British Columbia Premier Baseball League (PBL) would like to welcome Mike Addy as the new executive director of the PBL.   Mike will be replacing Clyde Inouye who is one of the founders of the PBL and has served as President of the League from 1995 until 2002 and Executive Director of the League from 2002.
Mike is a person who has been involved with baseball from being a player in the early 1990's to coaching with Little League, BC Minor Baseball, and the PBL.  He was on the coaching staff of the 2008 Senior Little League Canadian World Series team.   In addition, he extensive volunteer experience for major events like the 2010 Olympic Winter Games, 2015 Women's World Cup and billet coordinator/volunteer with the Langley Rivermen Junior A Hockey Club.
Mike has worked with the PBL since 2007 and has been the Webmaster and Pointstreak guru for a number of years.
When he is not working with the baseball community, Mike spends his time as the owner of an Expedia Cruises franchise and is also employed by the Surrey School District.
Mike will be working with Clyde over the summer and fall with the objective of allowing Clyde to retire from this role in December of this year.
As everyone is aware, Clyde has played a leading role in establishing the League and has been instrumental in the operation of the League for the past 26 years.
Ted Hotzak – President, PBL