Victoria HarbourCats – Team Black prevails in Game 1 of Golden Tide Intersquad World Series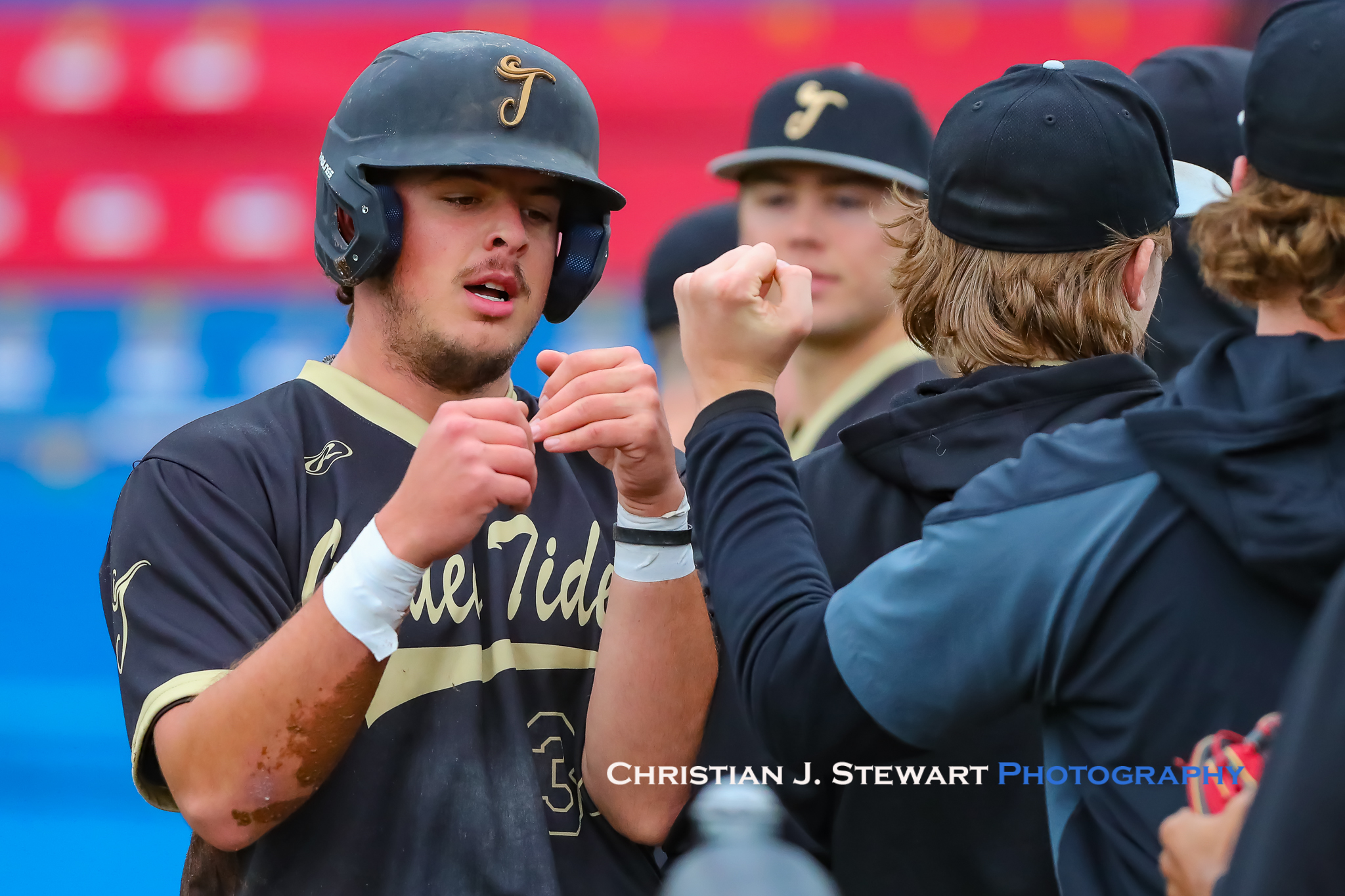 Above: Team Black's Zeke Holt celebrates scoring one of six runs in the second inning against Team Gold Wednesday.
Story and Photos by Christian J. Stewart
October 28, 2021, Victoria, BC – Team Black jumped out to an early 6-0 lead but then had to hang on for an exciting 14-13 win over Team Gold in Game 1 of the Victoria Golden Tide Inter-squad Wold Series on Wednesday afternoon at Wilson's Group Stadium in Victoria.
Team Black shortstop Brandon Green puts the tag on Team Gold baserunner Tyler Burton during this first inning rundown on Wednesday.
The World Series, the first for the inaugural year of Golden Tide baseball, pits Team Gold (coached by Ethan Fox) against Team Black (coached by Kyle Orr) in a best of three series. The winning team not only gets bragging rights, but will be awarded with a night in the Wilson's Transportation Group suite at a Victoria Royals game.
Team Gold's Brody Alexandre had two hits, a walk and two runs scored in the loss to Team Black Wednesday.
The Series is being played under some unique rules, designed to speed up game play and keep the games exciting, as due to other events scheduled in the evenings at the stadium, games have to be completed by 6:30pm.
As such, pitchers are required to pitch within 10 seconds and teams have to hustle on and off the field between innings. Any delays or infractions will warrant a warning from Head Coach Curtis Pelletier and if a team is notified a second time, a run is granted to their opponents.
Team Black left-handed slugger Ryan Deagle had two singles, a double a walk and two RBI to lead the Team Black offence Wednesday.
Batters are also not allowed to call time outs, or a strike will be called, catchers have pinch runners at all times and in all the even numbered innings, teams begin the inning with a runner on second base.
While there were a few warnings in Wednesday's game, there were no penalty runs awarded under the rules, however the runner at second in the even innings had a dramatic impact on the game, with seven of those eight runners ultimately scoring.
Team Gold's Daniel Sawchyn, here celebrating a score, would have three hits and two RBI to pace the Team Gold offence.
This aspect came into effect immediately Wednesday, as Team Black would jump on Gold starter Brady Wilson for six runs in the top of the second inning, thanks to five five consecutive base hits, one of which, by high schooler Ryan Deagle, scored Alex Mclauchlan, the special runner, with the first run of the game.
Team Black's Brett Paterson would be credited with the win in relief on Wednesday.
Team Gold would get one of those runs back in the second, when special runner Brody Alexandre scored despite a 1-2-3 inning and then they would jump into a brief 7-6 lead in the third, when they finally got to Black starter Ethan Dean for six runs on the strength of six hits.
A three-run fourth inning, keyed by an RBI single from Jaxson Cordle, would put Team Black back in front 9-6 and they would extend that lead to 14-9 heading to the bottom of the eighth (the agreed upon final inning due to curfew).
Team Black's Jaxson Cordle slides safely into second base ahead of the throw to Team Gold second baseman Myles Wall.
Team Gold would not go down without a fight however and after a pair of walks and singles from Parker Harris, Daniel Sawchyn and Alexandre, they had closed the gap to 14-13 with the tying run sitting on second base. Reliever Haldon Craig would not be fazed however and struck out Jordan Bond to end the game and preserve the crucial game one win.
Team Gold's Will Podmoroff hustles to third base during action Wednesday against Team Black.
For Team Black at the plate, Parksville Royal product Deagle had a great night, slashing two singles, a double, two RBI and scoring twice. Zeke Holt also had a three hit night with two runs scored, while Cordle, Ryan Whelan and Witt Nevins all had RBI base hits.
On the hill, Dean was picked up with some solid middle-inning relief by Brett Paterson, who gets credit for the win, going three innings and surrendering two runs on one hit and two walks. Nate Major pitched the seventh and part of the eighth innings and Craig would get the save.
Team Gold's Jayden Puri would provide four innings of solid relief in Wednesday's game.
For Team Gold, Sawchyn would lead the offence with three hits, two RBI and a run scored, while Alexandre would chip in with two hits a walk and two runs scored. Tyler Burton was his usual instigator in the leadoff spot, with a single, walking three times and scoring twice, while Victoria Eagle product Ryder Green would single, walk and score three times in the losing effort.
Team Black's Zeke Holt would make a valiant effort to catch this foul pop-up in Wednesday's game.
On the mound, Wilson would pitch through the fourth, taking the loss. Jayden Puri would take over in relief, finishing the game and giving up five runs on five hits and three walks in his four innings of work.
Game two in the series was scheduled for 4:00 pm on Thursday afternoon, but has now been cancelled because of extreme rain and weather. It will now be played Friday at 4:00 pm. Game three then (if needed), would likely then be held Sunday afternoon, with a time to be determined.
Tam Gold's Jordan Bond slides safely into second, ahead of the throw to Team Black second baseman Austin Gurney.
The Golden Tide will also be in action on Saturday for their last formal game of the fall season, when they take on the Ontario Giants at 3:00 pm at Wilson's Group Stadium in a single nine-inning game. Tickets are available at the gate. That game will be preceded by a game at 12 noon between the HarbourCats Players Development Club and the Giants U16 club. That game is included with the ticket for the Tide game at 3:00pm.
Team Black catcher Andrew Baxter puts the tag on Team Gold's Jordan Bond on this play at the plate Wednesday.
NorthPaws Set to Open 2nd West Coast League Season in Victoria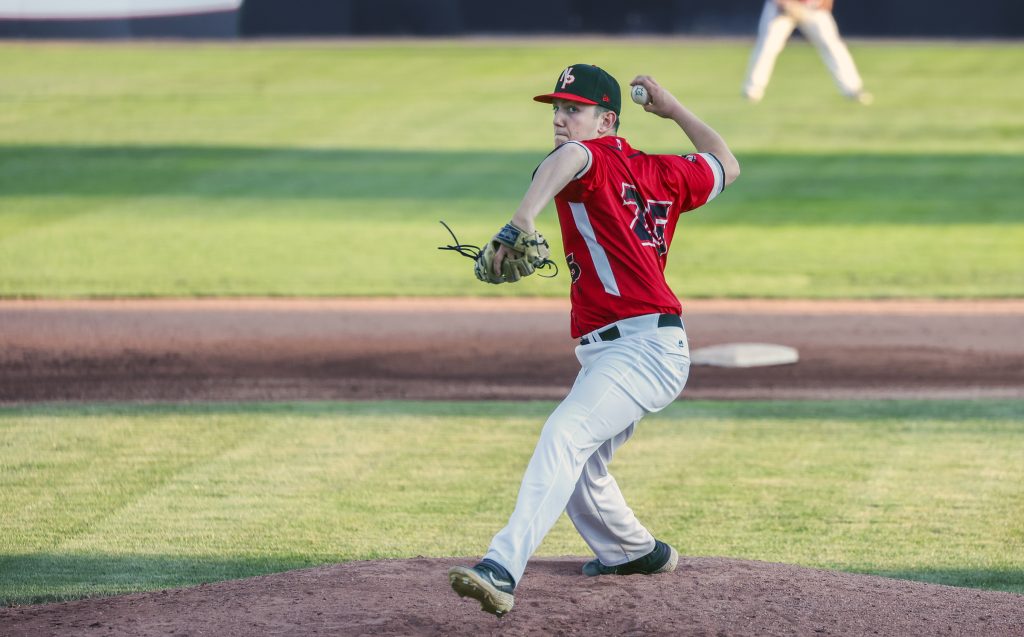 KAMLOOPS, BC—Excitement is in the air as the Kamloops NorthPaws are poised to kick off their second season in the West Coast League.
With the Memorial Cup junior hockey tournament being played in Kamloops, the North Paws asked the West Coast league to begin the 2023 campaign on the road.    The North Paws will open the campaign up at Wilson's Group Stadium in Victoria, BC against the HarbourCats.  The three-game series kicks off Thursday June 2nd and winds up Sunday June 4th. 
Kamloops has 10 veterans back from the team which finished third overall in the WCL North Division (record 26-27).   The NorthPaws have changed managers twice since Cole Armstrong directed them in their inaugural season.   Former Major Leaguer Brian Anderson replaced Armstrong in October 2022 but resigned to take a position with Northwestern University (NCAA Div I).  Keith Francis was named his replacement this past April.   He and Anderson worked together with Pima Community College in Tucson, Arizona and was initially coming to Kamloops as an assistant coach in 2023 before the promotion.
The HarbourCats have 13 players returning from the team which finished fourth in the West Coast League North Division in 2022 (record 26-28).
SERIES DETAILS:
Friday June 2nd  6:35 PM , Saturday June 3rd  6:35 PM, Sunday June 4th  1:05 PM
Games streamed at HCATS.TV
PLAYERS TO WATCH:
Victoria:
1.     Cam Caley – LHP – Baylor University – Sophomore
2.      Harrison Caley – C – Baylor University – Junior
3.      Jesse Brown – OF – UC Santa Barbara
4.       Dallas Macias – 2B/OF – Oregon State – Freshman
5.       Hudson Shupe – SS – Seattle – Freshman  
 Kamloops:
1.      Andrew Stucky   C-OF  University of Texas San Antonio  Hometown: Tucson, AZ  Sophomore
2.      Robin Villeneuve 1B-LHP  Weatherford College   Hometown: Gatineau QC   Sophomore
3.      Tommy Green  SS-INF   Oakland University   Hometown: Courtenay, BC   Senior
4.      Felix Chenier-Rondeau  OF Oklahoma City University   Hometown: Blainville, QC   Senior
COACHES COMMENTS:
Victoria Head Coach Todd Haney:
"We have assembled a top caliber line-up this season and can't wait to get things started Friday against the NorthPaws.  This is the 10th Anniversary season of the HarbourCats, and I'd like nothing more than to celebrate that by bringing the HarbourCats their first ever WCL title.  I think we have the team to do that this year and look forward to the challenges the season will bring us."
Kamloops Head Coach Keith Francis:
Heading into the season you are always a little apprehensive about your roster. Did we get enough pitching is everyone healthy etc. we know we have several still playing in post season play so your not exactly certain who is going to be ready for the opener. Having used all the coaches excuses I am looking forward to the season. I feel like we have an offensive lineup with players who have had very good seasons at their respective schools. I believe that our offense may have to carry else early until the pitching works itself out. Our first series should be mixed bag of a lineup with so many players not expected for another week, but it will give are younger players a chance."
 LAST YEAR'S (2022) SERIES:
The three games were played in Kamloops at Dearborn Ford Field.  The NorthPaws won two of the three games.  They opened the series June 14th with a 5-4 victory. Kolby Lukinchuk (Prince George, BC), came out of the bullpen to strike out the final two batters for the victory in his one inning of work.  Zac Beatty led the way for Kamloops with two runs batted in.
Game two had Kamloops beating Victoria 9-8. Ben Polack was the winning pitcher going three innings with a strikeout. He was the third of three pitchers for the NorthPaws that night. Kamloops had nine runs on 13 hits with four errors.
Victoria won the final game of the series (June 16) by a score of 8-3, scoring three runs in the top of the ninth inning after scoring two in the first frame. Michael Nunez was the winning pitcher going four and a third innings giving up four hits and striking out five. Shay Timmer took the loss for Kamloops. He was the second of four pitchers going three innings with five strikeouts and three walks.
NORTH PAWS NOTABLES:
The North Paws have 11 players from British Columbia on their roster including five players from Kamloops itself (three of them: Tyrelle Chadwick, Jared Sucro, Nolan Austin are veterans).
WOLFPACK CONNECTION:
Kamloops has two players who are currently members of the Thompson Rivers University WolfPack baseball program:  Lukinchuk and first year outfielder Manny Recchi.   Former WolfPack player Adam Filmon has joined the NorthPaws as an assistant coach.  Filmon is the grandson of former Manitoba Premier Gary.
The HarbourCats have one TRU player on their roster this year.  Pitcher Sam Jordan who completed his first season with TRU in 2023.
HOME OPENER:
The NorthPaws will kick off the home portion of their 2023 West Coast League season Tuesday June 6th at Dearborn Ford Field at Norbrock Stadium. It is a three-game series with the Portland Pickles.  Opening pitch on Tuesday, Wednesday (June 7th) and Thursday (June 8th) will be 6:35 PM.  Tuesday's opening night festivities will include a pre-game ceremony.
Tuesday's game will be "Blazers Night" where the NorthPaws will recognize the accomplishments of the 2022-23 Kamloops Blazers.  It is hoped some members of the Blazers hockey club will be in attendance for the contest and will be available to sign autographs.
If you can't make the games in person, NorthPaws home games will be webcast here : https://wcleague.watch.pixellot.tv/.   There will also be a select number of games will be shown on Shaw Cable.
For "Everything NorthPaws – Go to the website : https://www.northpawsbaseball.ca/ "
Kamloops NorthPaws tickets: ticketing@northpawsbaseball.ca
West Coast League: westcoastleague.com.
For more Information:
Jenna Forter
General Manager, Kamloops NorthPaws
Jforter@northpawsbaseball.ca
Insurance against the elements — Maxxam Insurance steps to the plate for Serauxmen Stadium

Baseball folk can be heard to say — "can't control the weather, but you can be prepared for it."
With that in mind, the Nanaimo NightOwls are excited to announce a major addition to Serauxmen Stadium that will not only help the WCL team, but all stakeholder groups that make the refurbished/historic field their home.
.
Maxxam Insurance, the community-driven company that serves the entirety of Vancouver Island and indeed B.C., has stepped to the plate with a legacy partnership, purchasing a full infield tarp, measuring 160ft-squared, to help fend off rain that is undeniably a part of being a baseball program on the moist coast, particularly in spring and fall.
"Maxxam came to us and asked how they could help, what they could do that was meaningful for not just the NightOwls but all Island baseball teams — and the lack of a tarp at Serauxmen impacted everyone's operations in the wet 2022 season," said Jim Swanson, GM and Managing Partner of the NightOwls. "We faced rain on opening weekend, and that whole first month. We wished we had a tarp many times."
.
"Well, now we do, thanks to Bill Rai, Bryson Hill and the people at Maxxam. We are thankful, and excited. It's a major complement to all the work done by the City of Nanaimo over the last two years."
Maxxam is proud to help solve an issue — insurance, if you will, against the rain we all know so well.
.
"For us, it is always about the community and what we can do to contribute," said Rai, the founder of Maxxam Insurance. "Sports is important to people of all ages and working with the NightOwls for this project is exciting to be a part of."
.
The tarp, the same product used at famed Nat Bailey Stadium in Vancouver, arrived this month and will take up a prominent foul-ball area beyond the third base dugout, with a cover featuring the Maxxam logo. In addition, Maxxam has purchased a new cover for the full infield tarp at Wilson's Group Stadium at Royal Athletic Park in Victoria, making that helpful feature look sharp again.
Become A NightOwls Host Family
We have amazing players and they need temporary homes! Elite collegiate scholarship athletes working to earn a shot at pro baseball, representing our area in the West Coast League at historic Serauxmen Stadium.
We plan host homes and players around transportation and rides so they can get to the gym and the field. Some families like to give rides sometimes, but we work to make that rarely needed.
The players generally eat breakfast, go to work out, grab lunch somewhere, then take batting practice etc leading up to the game, and return home after.
The team takes bus/ferry to places around BC, Alberta, WA and OR states, usually gone 3-4 days at a time, sometimes a full week away.
Most importantly— great young men, here to experience the island and face great teams in the WCL! Some of the players will go on to play in the Major Leagues!