Victoria HarbourCats | Seven Former HarbourCats to Participate in 2021 MLB Spring Training Camps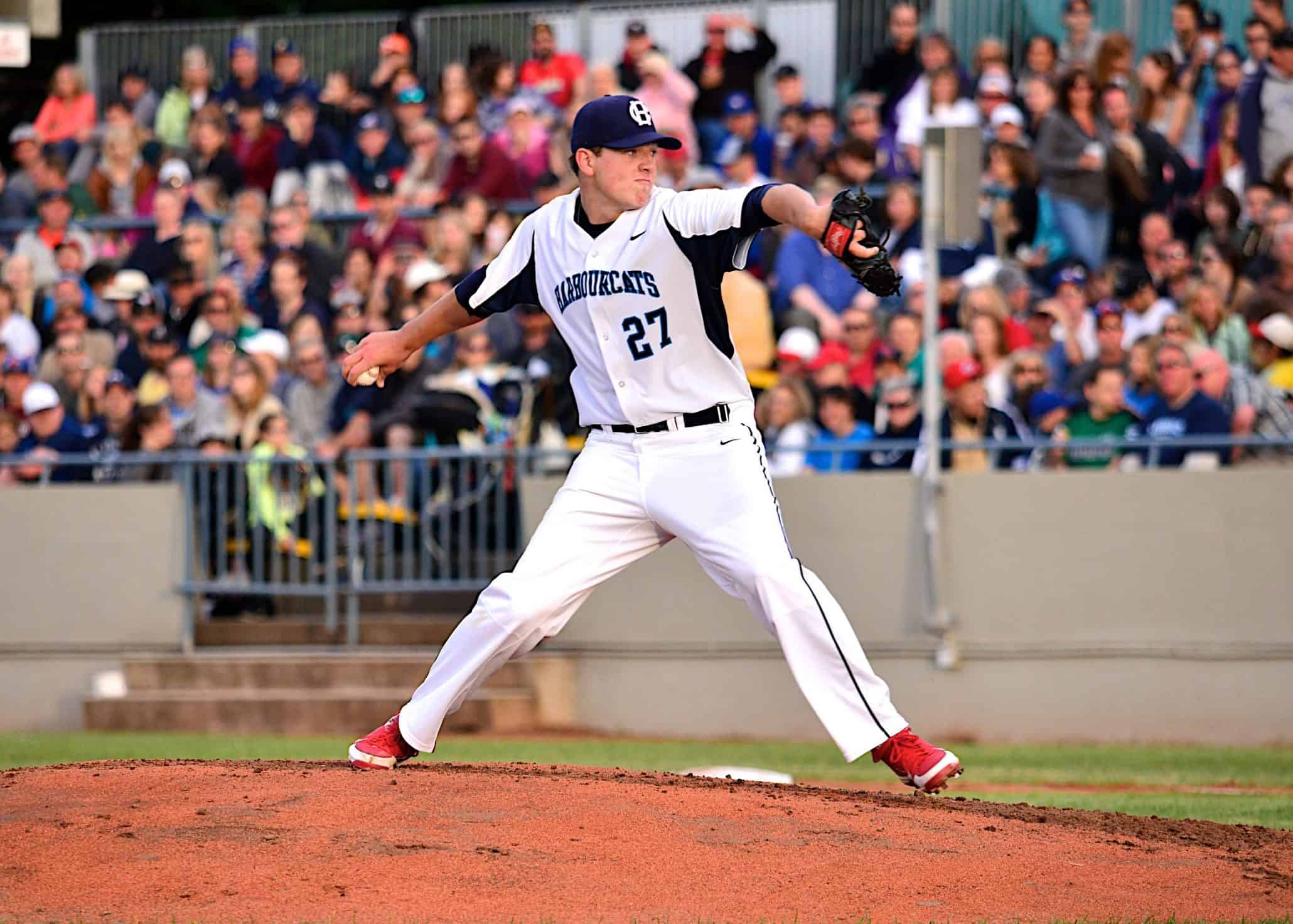 Current Boston Red Sox pitcher Nick Pivetta, here pitching for the HarbourCats in 2013 above, headlines a list of seven former HarbourCats with a legitimate crack at 2021 MLB rosters (Photo: David Nicholls).
by Christian J. Stewart
February 22, 2021 – VICTORIA, BC – Those who may be unfamiliar with the summer collegiate baseball format that is the West Coast League, will often ask staff of the HarbourCats, "What Major League team are the HarbourCats affiliated with?"  The answer usually is, "All of them."
That is because HarbourCats players, once they have completed their third year of college, are eligible to be drafted by ANY of the 30 Major League teams and begin their pro careers.
The HarbourCats have had a number of players over the years meet such good fortune, with just under 20 former players now playing professional baseball at the affiliated MiLB level, and this season, seven of those players will make the trip to the spring training camps of their parent MLB clubs, AKA "Big-League Camp."
That marks the highest number of former HarbourCat players to attend spring training in any one season and highlights the increasing level of talent that both the HarbourCats and the West Coast League have been able to attract over recent years.
For MLB veterans like Victoria's own Nick Pivetta, the HarbourCats first and still only MLB player, now with the Boston Red Sox, the routine of spring training is very familiar, with Pivetta entering his fifth MLB season.  However, after a troublesome 2019 with the Phillies and a late season trade in 2020 to the Red Sox, the mood will be anything but relaxed, as Pivetta finds himself needing to use spring training to prove that he can be part of the regular starting rotation at Fenway Park.
For others like Chicago White Sox prospect Andrew Vaughn and Houston Astros Prospect Alex DeGoti , both heading to their second big-league camps, there is a familiarity, but also the urgency to show their clubs that they are ready to take the next big step.  Vaughn is touted as the next big coming for Chicago White Sox baseball and after a stunning collegiate career, has advanced rapidly in the White Sox system. He should get the call to the bigs sometime this season, but could break with the parent club out of camp if he puts up solid spring numbers.
2017 HarbourCat Andrew Vaughn will participate in his second big league camp with the White Sox this spring (Photo: Christian J. Stewart)
DeGoti has been grinding his way up the ladder in the Astros organization since 2016 and has been on the cusp of a call-up for two years now.  He was on the 2020 alternate training site roster and with his work ethic alone, should get a good look in 2021 camp and have a solid chance to get a call-up at some point in the season.
For Nathan Lukes, Quintin Torres-Costa, Davis Wendzel and Nick Meyer, this will be their first ever big-league camp and they will have to make sure that the wide-eyed excitement of being there does not overshadow what they need to do on the field to impress their parent clubs.
For Lukes, a fleet-footed outfield prospect in the Tampa Bay Rays system, that should be easy, as he has been putting up solid numbers in the minors since being drafted in 2015, playing the full 2019 season with the iconic AAA Durham Bulls, where he hit .219 with eight doubles, four home runs and 31 RBI in 91 games.  A solid spring training might just propel Lukes into a shot with the parent club at some point this year.
2013-2015 HarbourCat Alex DeGoti will head to his second MLB camp this week with the Houston Astros (Photo: Christian J. Stewart)
For Torres-Costa, his climb up the Milwaukee Brewers pro-ladder took a bit of a hit with his second Tommy John surgery in 2019 and the global COVID pandemic in 2020, but he is once again healthy and if he can keep putting up the numbers he has been putting up in the minors, the Brewers may call upon his left-handed arm for pitching help in 2021.
Wendzel (Texas Rangers) and Meyer (New York Mets) are both coming off minor injuries that hampered their first pro-seasons in 2019 and will be eager to show what they can do during their first big-league spring training camp, although their chances of seeing playing time with their big league clubs in 2021 will be slim.  Wendzel is one of seven non-roster infielders to be invited to the Ranger's camp, while Meyer is one of four non-roster catchers in the Met's camp. Neither player has yet to play a game above the Class A level, but clearly their parent clubs saw enough in them to invite them to camp and give them a shot at advancing a rung or two in 2021.
One former HarbourCat player of note that was surprisingly not invited to big-league camp is Minnesota Twins pitching prospect Josh Mitchell.  Mitchell, who pitched two seasons for the HarbourCats, in 2015 and 2016, and was a West Coast League all-star in 2016, was selected by the Twins this past season in the annual Rule V draft for minor league players to be snapped up by other organizations.  He is the first former HarbourCats player to be selected in the Rule V draft process and has now, as per Rule V minor league draft guidelines, been assigned to the Twins AAA affiliate St. Paul Saints for the 2021 season. Mitchell was previously with the Wilmington Blue Rocks, the High-Aaffiliate of Kansas City in 2019.  Despite the non-invite, Mitchell, now at the AAA level, has a chance to impress and should the Twins need a left-handed arm in the bullpen later in the year, he could get the call.
Tampa Bay Rays prospect Nathan Lukes, here playing for the HarbourCats in 2014, heads to his very first MLB spring training camp, after playing a full season of AAA with the iconic Durham Bulls (Photo: Christian J. Stewart)
Further details on each of the seven players invited to 2021 MLB camps can be found below:
Nick Pivetta, 2013 HarbourCat, Boston Red Sox
Pivetta, a Victoria native, was the HarbourCats opening day pitcher in 2013 and was drafted by Washington Nationals shortly thereafter.  After stints with the Nationals Rookie League and Class A affiliates in 2013-2015, he was traded to Phillies in July of 2015, working his way up via the AA Reading Phillies, and then the AAA Lehigh Valley Iron Pigs, before being called up and making his MLB debut in 2017 against the Dodgers.  He pitched with the Phillies – with a brief stint back to AAA in 2019 – through 2020 before being traded to the Boston Red Sox near the end of the season.
In his MLB career, Pivetta is 21-30 with a 5.40 ERA and 434 strikeouts over 406 innings pitched.  He won his one and only start with the Red Sox to close 2020 and now has an opportunity to join the regular rotation at Fenway for the 2021 season.
To date, Pivetta remains the lone HarbourCats player to reach the big leagues, however that could change rapidly this year.
Andrew Vaughn, 2017 HarbourCat, Chicago White Sox
Vaughn played briefly for the HarbourCats in 2017, seven games, amassing a .381 average, before being scooped up by the USA National Collegiate Program squad.  He is now one of the highest rated prospects in the White Sox system in many years. The third overall pick in 2019, this is his second big-league camp.
In 2019 he spent only three games with the White Sox Rookie league team, going 9 for 15, before moving to Kannapolis in the Class-A South Atlantic League. In 23 games there he hit .253 in 103 plate appearances, with seven doubles, two homers and 11 RBI and he finished the year at High-A Winston-Salem, hitting .252 in 126 plate appearances over 29 games with eight doubles, three home runs and 21 RBI.
In 2020, Vaughn was invited to the White Sox alternate training site, where he impressed, but never saw a call-up.  This year Vaughn is the top-ranked prospect in the White Sox organization according to both MLB.com and Baseball America and is listed at No. 13 by MLB.com and No. 21 by BA in their top 100 prospect lists. Speculation is that he will begin the season at AAA Charlotte, but that he could be seeing time with the big league club by early May.
Alex DeGoti, 2013-2015 HarbourCat, Houston Astros
"Mr. HarbourCat," AlexDeGoti, like Vaughn, will also be attending his second big-league camp, after having an impressive spring outing in Florida in 2020 that caught the attention of Houston head coach Dusty Baker.
DeGoti played for the HarbourCats for three summers, 2013-2015 and was drafted by Houston in the 15th round of the 2016 draft. He has steadily worked his way up through the Houston system since then, and in 2019, played a full season at the AAA level with the Round Rock Express, hitting .262, with 15 home runs and 70 RBI over 125 games. He participated in the Astros 2020 alternate training site, but did not receive a call up to the big-league club.
At the break of 2020 spring camp, head coach Dusty Baker told DeGoti to "be ready" in the event he was needed for the strange COVID-impacted 2020 season.
A young Quintin Torres-Costa pitches for the HarbourCats in 2014.  He heads to his first MLB camp with the Milwaukee Brewers this spring (Photo: Christian J. Stewart)
Nathan Lukes, 2014 HarbourCat, Tampa Bay Rays
From Sacramento State, Lukes played for the HarbourCats in the summer of 2014, where he appeared in 42 games, hitting .343, with two home runs and 24 RBI, walking 20 times and scoring 35 runs.  He was drafted by the Cleveland Indians in the seventh round of the 2015 draft, beginning his pro career with the Mahoning Valley Scrappers (Short Season A) and advancing in the Indians organization to the Class A Advanced level before being traded in 2016 to the Tampa Bay Rays.
Lukes began his time with the Rays with the Port Charlotte Stone Crabs, then advanced to the AA Montgomery Biscuits in 2017 and 2018 and was eventually promoted to the AAA Durham Bulls for the full 2019 season, where he hit .219 with eight doubles, four home runs and 31 RBI in 91 games.
In his six-team minor league career to date, Lukes has appeared in 430 games, amassing a .269 average, with 19 home runs and 162 RBI, with 133 walks and 203 runs scored,
Quintin Torres-Costa, 2014, Milwaukee Brewers
A 2014 HarbourCat, Torres-Costa appeared in 10 games, building a 3.19 ERA, over 25.1 innings pitched while walking 10 and striking out 33.  The University of Hawaii alum was then drafted in the 35th round of the MLB draft by the Brewers.
Since then, Torres-Costa has climbed the organizational ladder for Milwaukee, playing at nearly every level, including Triple-A where he's currently listed with the newly minted AAA affiliate of the Brewers the Nashville Sounds. Over the course of six-team minor-league career, Torres-Costa has a record of 20-11 and an ERA of 3.25 over 148 games and 221.2 innings pitched.  He has seven saves and has struck out 286 batters while walking 100.
His track to reach the major leagues for the Brewers, took a bit of a hit with his second Tommy John surgery in 2019 and the global pandemic in 2020, but he is grateful that the Brewers have retained their faith in him and have given him this chance, saying in a recent interview, "I mean, it's just an incredible experience first off for the Brewers letting me just be invited.  It's just an honor to be invited to the big league camp and get the opportunity to show what I can do and how I can contribute to the team."
2017 HarbourCat Davis Wendzel will have a chance to show off his fielding skills for the Texas Rangers when he heads to his first MLB camp this week (Photo: Christian J. Stewart)
Davis Wendzel, 2017 HarbourCat, Texas Rangers
Davis Wednzel flashed his infield brilliance briefly for the HarbourCats in 2017, playing in 10 games  and hitting .316, with one home run and six RBI.  He was a standout at Baylor University where, during his three year career, he hit .326 over 154 games.  He added 48 doubles, 24 home runs and 121 RBIs to his resume, while also slugging .557.
The Rangers liked what they saw and took Wendzel 41st overall in the 2019 draft.  Unfortunately for the Rangers, they did not get to see a full season of Wendzel after he suffered a thumb injury during the NCAA Tournament.  He was activated on August 22 and ended up only getting 19 at-bats between the Arizona Rookie League, where he won the AZL League Championship, and Spokane.  Even in limited action, Wendzel had six hits and five walks over that time.
Wendzel is currently listed with the Rangers High A affiliate the Hickory Crawdads in North Carolina and could start the 2020 season there or with the AA Frisco RoughRiders depending on his performance at camp.
Nick Meyer, 2015 HarbourCat, New York Mets
A product of Cal Poly, Meyer played 25 games for the HarbourCats in 2015, hitting .250, with six RBI, scoring 18 runs and getting on base at a .400 clip.  He was selected by the Mets in Round 6 of the 2018 entry draft, and spent 2018 with Brooklyn Cyclones (Mets Short Season A Affiliate), where, in 43 games, he hit .226 with  nine RBI.
Meyer started 2019 season with St. Lucie Mets (Mets Advance A affiliate) and then was injured.  A brief rehab stint with the Gulf Coast Mets (Rookie League) followed, before he finished the season back up with St. Lucie.
In the 2020 COVID cancelled season, Meyer kept busy playing for the Tully Monsters, an independent pro team that played in a four-team league in Joliet, Illinois.
He is one of four non-roster catchers invited to the Mets 2021 spring camp.
Nick Meyer was solid behind the dish for the HarbourCats in 2015 and will now have a chance to hone his skills even more at his first ever MLB camp this spring with the New York Mets (Photo: Christian J. Stewart)
***
The HarbourCats are scheduled to begin their 2021 season on the road on June 1 against the expansion Edmonton Riverhawks in the first ever West Coast League game played in Alberta.  They will return home for the home opener on Friday, June 4 against their rivals from across the Strait of Juan deFuca, the Port Angeles Lefties.   The HarbourCats will also welcome two other expansion teams to Victoria this season, with both the Nanaimo Night Owls and Kamloops NorthPaws scheduled to make visits to Wilson's Group Stadium.
For details and more information on the season, please visit the HarbourCats website at www.harbourcats.com and follow them on Facebook at  https://www.facebook.com/groups/harbourcats
Veteran outfielder returning for 2023 season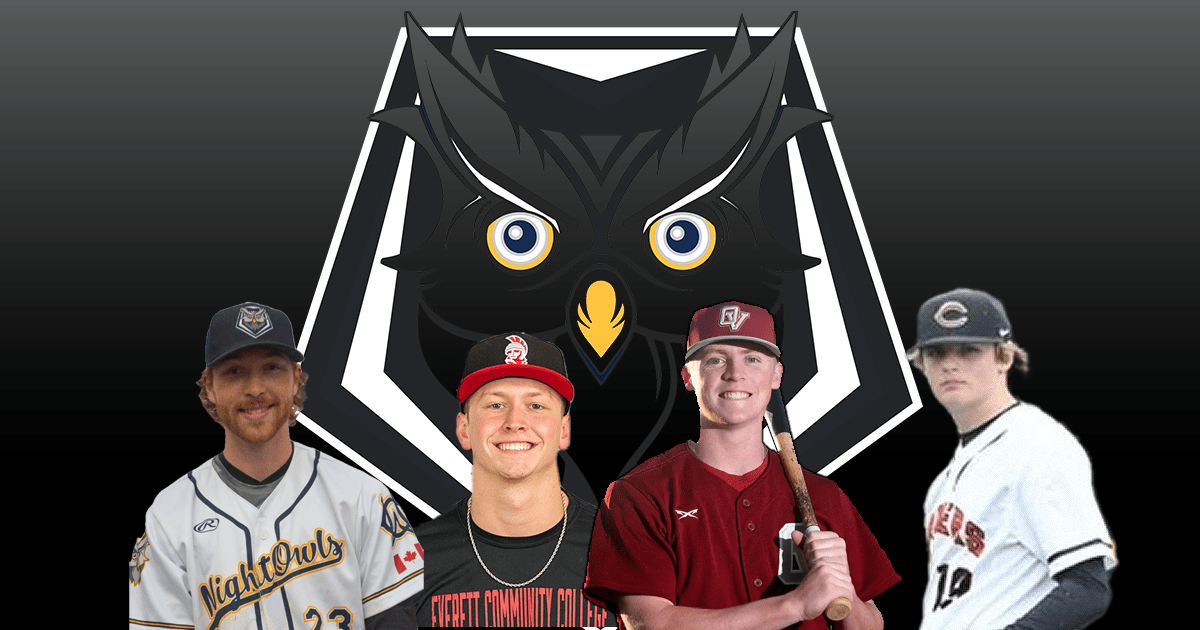 For Brandon Hupe, it felt like unfinished business — and he has a chance to fix that.
The outfielder from Vancouver and the UBC Thunderbirds saw his 2022 summer season cut short following a collision during a game in Port Angeles. But the 6-2/200 pounder, a junior at UBC, will get one last shot to star for Head Coach Greg Frady as the Nanaimo NightOwls are excited to announce his return to the WCL.
The NightOwls are announcing the additions of four players today, the others being infielder Jimmy Legg of Pomona Pitzer, and pitchers Tyson Willis and Ethan Hubbell from Everett CC (NWAC) for Pitching Coach Gorm Heimueller to work with.
Hupe (pronounced who-PAY) was a veteran influence on a young NightOwls team, hitting .283 with two home runs and nine runs driven in over 17 games — coming off a UBC season that yielded 12 home runs and 48 RBIs in 49 games at the NAIA level.
"We missed Brandon when he got hurt, there was a change in our team," said Frady. "Brandon was one of our key leaders, he knew the caliber and nuances of the league (previously played in the WCL with Kelowna), and he helped us as coaches, along with leading our younger players."
In Legg, the NightOwls are getting a 5-11/185 scrappy, switch-hitting shortstop who can also move to second or third — known as a guy who always seems to be on base, comes through in the clutch and runs well. At Pomona Pitzer, he is a glue guy because of how much he loves to play the game.
The two Everett CC arms include Willis, a Snohomish, WA product who pitched in the WCL for Springfield in 2022. The right-hander is touching 90 with a true hard curveball and developing changeup from a 6-4/220 frame. Hubbell, from Camas, WA, is even bigger at 6-5, another righty with upper-80s velocity and command of four pitches and a workhorse mentality.
Victoria HarbourCats – 'Cats sign four, bring back Seward and Luchies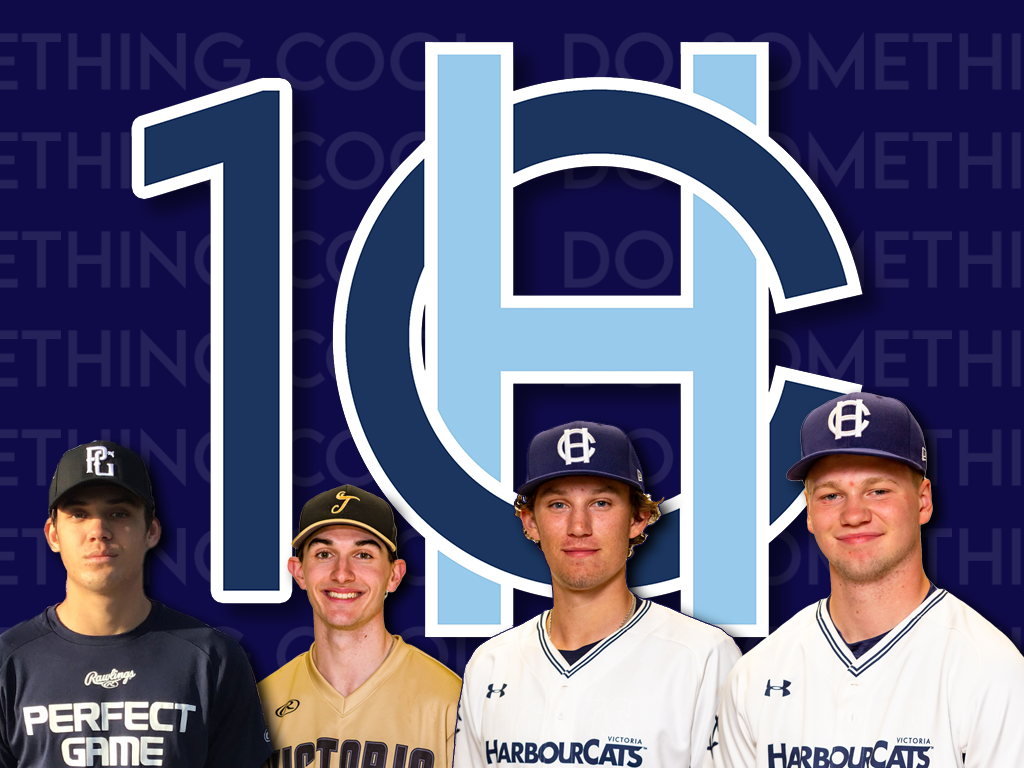 December 7, 2022
For Immediate Release
VICTORIA, B.C. — It's the old baseball adage — you can never have enough arms.
The Victoria HarbourCats have added three arms, two of them returning and one a local product, as part of four more players who have signed on for the 2023 West Coast League season. The fourth player on the roster comes from a dependable source of quality players — Cal Baptist.
Pitchers Jack Seward and Owen Luchies, both parts of the 2022 HarbourCats team that reached the WCL post-season, and Victoria Golden Tide ace Brady Wilson lead the latest signings, with versatile outfielder/second baseman Nick Dumesnil, a right-handed hitter from Huntington Beach, CA, a bat the team will look to for key offensive production. Dumesnil is 6-2/205 freshman and is known for a mix of speed and power that will be welcomed by Head Coach Todd Haney.
"We've spent even more time on pitching this year, it's always a premium but it's never easy to get that right mix for the staff — it's the one area we are constantly looking to get better," said Haney. "We've been known as a strong offensive team since even before I got here, and we know the best arms make all the difference."
Vancouver product Jack Seward, now at Central Arizona, was 1-0 with three saves and a 1.15 ERA in 14 outings last summer, giving up earned runs in only two outings. He surrendered just 10 hits in 23 innings. Luchies, from Victoria, is a 6-2/195 pound freshman at Lower Columbia (NWAC) who started five games and threw 36 innings for the HarbourCats in 2022. He had 25 strikeouts, notched one save, was 2-2 with a 6.44 ERA and earned road wins in Port Angeles and Nanaimo.
Wilson, 6-1/175 from Calgary, was the workhorse for the Victoria collegiate Golden Tide in the spring of 2022, going a combined 3-4 with a 4.06 ERA in nine starts. He then spent the summer in the Western Canada Baseball League with the Fort McMurray Giants, where he was 5-5/4.94.
The HarbourCats celebrate their 10th Anniversary in 2023 and the season kicks off with the home opener against the Kamloops NorthPaws on Friday June 2, 2023.  Single game tickets for that game and all 31 HarbourCats home games in 2023 are now on sale and can be purchased on-line through our one-and-only ticketing partner, Select Your Tickets, at harbourcats.com/tickets.  They can also be purchased at the HarbourCats office at 101-1814 Vancouver Street, or at the Select Your Tickets box office at Save-on-Foods Memorial Centre.  Fans can also call 778-265-0327 to order over the phone.
Season tickets and 10-game flex packs are also now on sale.  For details on all ticketing options, including our special $10.00 Tuesdays, Forces Fridays and Save-on-Food Vouchers, please visit harbourcats.com/ticketinfo
Victoria HarbourCats – You're Invited!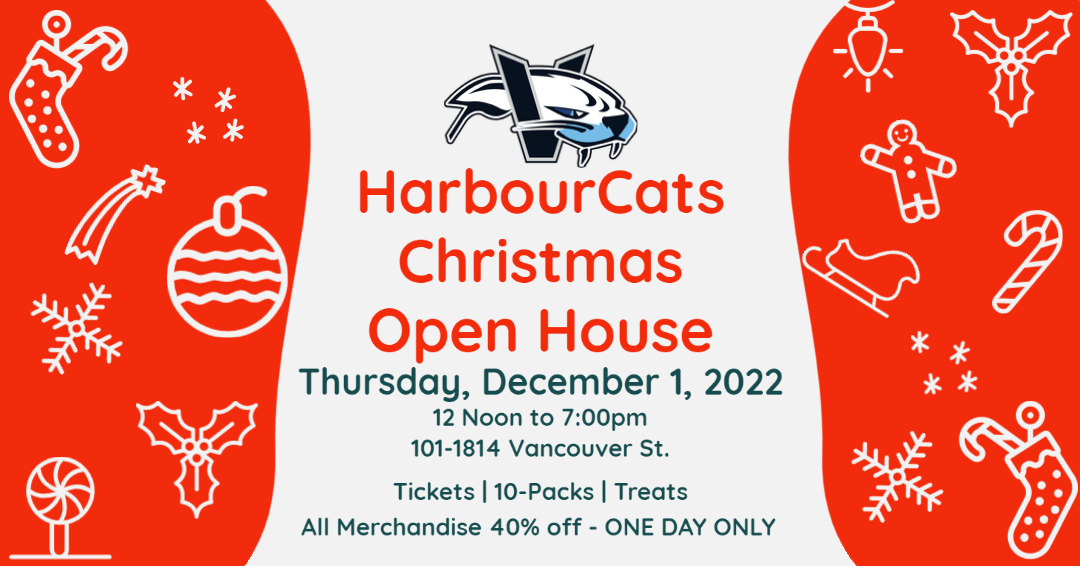 Please join us at the office on Thursday, December 1, 2022 from 12 Noon to 7:00 pm for our annual Christmas Open House!
Join us for some Christmas cheer and to grab Christmas gifts for all the HarbourCats fans on your Christmas list!  Renew or purchase 2023 season tickets, grab some 10-game flex packs, or purchase single-game tickets for 2023 which also go on sale that day too!  Plus ALL MERCHANDISE on sale for 40% off – ONE DAY ONLY!
2023 Single-Game Tickets Also on Sale!