NorthPaws Add Jose Bautista as Pitching Coach
Jose Bautista will mentor the Kamloops NorthPaws pitchers in pursuit of their professional aspirations this summer. No, Blue Jays fans, not that Jose Bautista. Though you won't find any highlight-reel bat flips on his resume, the NorthPaws new pitching coach also has an impressive Major League career like his younger namesake.

Source
NightOwls back at home sweet home against Bells this weekend
Undefeated at home, the Nanaimo NightOwls will be glad to land back to The Nest known as Serauxmen Stadium after three tough losses in Kelowna.
he NightOwls (3-3) dropped three straight games to the Falcons, the latter an 8-3 setback in what was a close game until a three-run home run in the seventh inning. Nanaimo starter Nathan Buchan went five strong innings and had his team within shouting distance that entire time, but the NightOwls failed to take advantage of having runners on base nearly every inning.
.
The NightOwls scattered seven hits Thursday, with no one in the lineup mustering more than one hit.
The NightOwls, who swept the Walla Walla Sweets at home in a three-game series on opening weekend, lost 9-3 on Tuesday in the opener in Kelowna, in a game that was closer than the score indicated, tied going to the bottom of the seventh inning, then dropped a 10-8 decision in a back-and-forth affair on Wednesday.
.
The NightOwls return to face Bellingham on Friday night, Saturday night (both 6:35pm starts) and Sunday afternoon (1pm). After that three-game set, the NightOwls have Monday off then welcome the Yakima Valley Pippins to Serauxmen for a Tuesday-Wednesday-Thursday home series.
Home games are best watched live at the park, but if you can't make it the place to find NightOwls games online streaming is at NightOwls.TV
NorthPaws 'pickled' in home opener against Portland
Author: Larry Read
KAMLOOPS BC—The Kamloops NorthPaws are still in search of their first victory of the young West Coast League season.
The NorthPaws hosted the Portland Pickles at Dearborn Ford Field at Norbrock Stadium in a three-game series Tuesday through Thursday (June 6-8).   Over 500 fans a night were treated to some entertaining baseball but went home a little disappointed as the Pickles swept Kamloops.
The scores were 11-4 Tuesday (June 6), 6-4 Wednesday and Thursday (June 7,8). 
The results leave Portland with a 5-1 record while the NorthPaws dip to 0-6.
The NorthPaws will continue their homestand with the first ever appearance of the six time defending West Coast League champions, the Corvallis Knights to Kamloops.   The Pickles will head down Highway 97 for a three-game set in Kelowna against the Falcons.  Crovallis has a record of 5-1 after downing Yakima Valley 8-1. Wednesday night.
Portland and Kamloops will tangle once more this season when the NorthPaws visit the Pickles for three games beginning June 27th.
All West Coast League games are available via their website: https://wcleague.watch.pixellot.tv/
SERIES RECAP:
Tuesday, June 6, 2023-Portland Pickles 11 Kamloops NorthPaws 4
Portland broke open a 1-1 tie scoring four runs in the third inning before adding two more in the fifth and three runs in the sixth. Kamloops scored twice in the bottom of the seventh to reduce the deficit to 10-3.  New Zealander Maclain Roberts was tagged with the loss as he started the game and went three innings giving up four hits, four runs, had one walk and one strikeout.   
Left fielder Andrew Stucky (Tuscon, AZ) and Right fielder Felix Chenier-Rondeau (Blainvile, QC) each had runs batted in.
The Pickles were led by Jackson Waller (San Marcos, CA) who was two for two and three runs batted in. Two of the runs coming in on a single in the sixth.   Jack Metcho (Fairfield, CA) was one for two with three runs scored.  Starter Aiden Garza (Ventura, CA) was the winning pitcher tossing a no hitter for three innings, giving up two runs, striking out two and walking three.
Portland moved to 3-1 on the year.  The NorthPaws dropped their fourth in a row.
Link to Scoresheet:  http://baseball.pointstreak.com/boxscore.html?gameid=598675
Wednesday, June 7, 2023-Portland Pickles 4 Kamloops NorthPaws 4
All the scoring in this game occurred in the first three innings.  Portland rallied from a 2-0 first inning deficit to tally three in both the second and third. 
The NorthPaws were led offensively by first baseman Nolan Austin (Kamloops, BC).  He was two for four at the dish with two runs batted in.  Designated hitter Landon Clark was one for four with an R.B.I.. 
Matthew Romero started for Kamloops and was tagged with the loss going two and a third innings, giving up nine hits, six earned runs, with two walks and a strikeout.
Murphy Gienger (Castle Rock, CO), who came into the game after an inning and two thirds was the winner. He threw a three hitter with eight strikeouts.  Morris Austin (Keller, TX) earned the save as he came on in the ninth inning and struck out the side.
Offensively, the Pickles had three R.B.I. from left fielder Xiage Lancaster (Hilo, HI).  He was two for three with two runs scored.  Jack Metcho was three for five with two runs scored and two runs batted in.  Right fielder Nicky Markantanatos (Portland, OE) was three for five.
Link to Scoresheet: http://baseball.pointstreak.com/boxscore.html?gameid=601034
Thursday, June 8, 2023-Portland Pickles 6 Kamloops North Paws 4
The NorthPaws jumped out to a 3-0 lead in the first inning on the basis of a home run by Jude Hall (Chilliwack, BC).  It was Kamloops' first home run of the season.  
The home team held a 4-1 lead until the sixth inning when the Pickles scored twice and then added three more in the seventh inning.  They wound up with six runs on six hits and one error. Kamloops had four runs on seven hits and one error.
Kamloops was threatening in the bottom of the ninth.  They had the bases loaded with two outs, but Felix Chenier-Rondeau (Blainville, QC) hit a long flyball which was caught in left field.
Sakemi Sato (La Quinta, CA) was the winning pitcher as he threw two innings of one hit ball with four strikeouts.  Portland was led offensively by Jack Metcho.  He was two for five with three runs batted in.  Nicky Markantanatos was two for five with an RBI.
Joey Adge (Parker, CO) was three for four for Kamloops with an RBI.   Hall was two for four with three runs batted in.
Christian Spitz (Overland Park, KS) was the losing pitcher.  He went three and a third giving up four runs (3 earned), striking out three and walking three.  Kamloops resident Tyrelle Chadwick had his second start of the year for the NorthPaws. He pitched three innings giving up two hits, four walks and one earned run.
Link to Scoresheet: http://baseball.pointstreak.com/boxscore.html?gameid=598677
HEAD COACH KEITH FRANCIS:
"It is always the little things in baseball that come back to haunt you. We run the bases improperly. We don't get the right hit at the right time. Can't throw the strike when we need it the most. Those things add up. I am telling them we need to win inning by inning.  This has been the underlying theme all season. There is just one inning where an error was started and the pitcher can't come back from it.  We aren't hitting. We haven't scored more than four runs in any game. That is tough. "
FIRST BASEMAN NOLAN AUSTIN (KAMLOOPS, BC):
"It is not the start we wanted to have. We were in the game again tonight.  Just small little errors are keeping us from getting over that hump.  Once we can get the first one we will start to figure it out we are going to start to cruise and get some more dubs."
NEXT UP:
The NorthPaws will conclude their six game homestand with the Corvallis Knights.  The Knights and NorthPaws will play a three-game series starting tomorrow (Friday June 7th).  It is the first time that the two teams will have ever met in West Coast League play. As mentioned earlier in this release, the Knights have won the league title the last six years in a row.   In 2022, they beat the Bellingham Bells in the final.
PLAYERS TO WATCH ON THE CORVALLIS KNIGHTS:
#5, Tyler Quinn, Inf./C, Pacific University, Oregon. He was the Knights MVP in 2022
# 7, Luke Thiele, Inf., Central Arizona College, he's going to Purdue in the fall.
# 16, Blake Avila, Central Arizona, he's going to Grand Canyon in the fall.
#17 Sean Wiese, LHP, Hawaii. A four-year Knight, he was the Knights top pitcher in 2022 as our closer.
# 20 Sam Stem, OF, Gonzaga. He hit over .300 for the Zags this spring as a freshman.
# 37, Neil Feist, RHP, Cal State-Northridge. A returnee and a key player from the 2022 champions.
If you can't make the NorthPaws games, they are all webcast on  https://wcleague.watch.pixellot.tv/ .   Some home games will also be shown on Shaw TV in Kamloops (Cable 10 or 105 with Blue Curve).
TAILGATE PARTY:
The Molson's Tailgate Party is hoppin' before every NorthPaws home game.   It runs Tuesday through Saturday 5-630 PM.  The Party runs Sundays noon-1 PM.  Hotdogs and a Pilsner are sold for $ 12.00 plus tax.
For Everything NorthPaws – Go to the website : https://www.northpawsbaseball.ca/ 
Kamloops NorthPaws tickets: ticketing@northpawsbaseball.ca
West Coast League: westcoastleague.com.
Victoria HarbourCats – Island not so Sweet for Walla Walla, 'Cats win sixth in a row!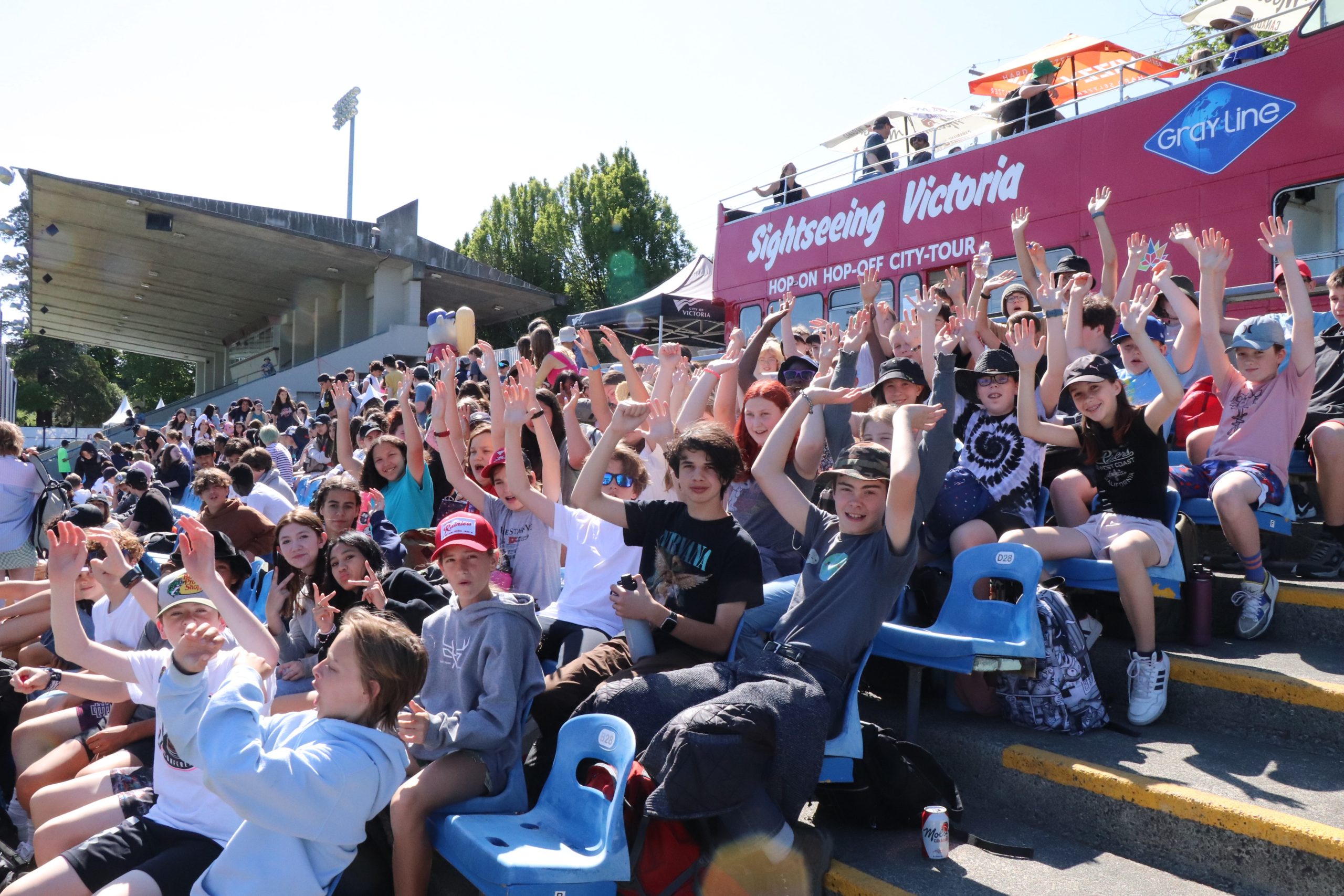 A packed house of just over 5,000 fans, including these students from Spencer Middle School, enjoyed the HarbourCats 11-1 win Saturday (Photo: Don Descoteau)
June 7, 2023, VICTORIA, B.C. — The pitchers are pitching, the hitters are hitting, and the defence is defending.
That pretty much tells the tale of a season-starting hot streak for the Victoria HarbourCats (6-0), who completed a second straight series sweep at home with Wednesday afternoon's 11-1 victory over the Walla Walla Sweets, at Wilson's Group Stadium in Victoria.
The game, played in front of 5,008 on School Spirit Day sponsored by Mayfair Optometric Clinic, left onlookers with happy eyes indeed. A bases-clearing triple in the third inning by Jack Johnson (Baylor) started the onslaught of runs, and Victoria never looked back.
Johnson finished the day 2-4 with four runs driven in. Tyler Davis (Fresno State) was 4-5, and schoolmate Marco Pirruccello was 2-5 with two doubles — all part of a 14-hit attack, drawing six walks to spur the scoring.
HarbourCats starter Jack Seward delvers a pitch in front of a packed house Wednesday against Walla Walla (Photo: Don Descoteau)
Another Jack, as in Seward (Central Arizona), held Walla Walla bats silent for four effective innings, giving way to Josh Berenbaum, who was credited with the win. Chase Marshall, Loreto Siniscalchi and Darius Opdam Bak each threw an inning to complete the victory, with Walla Walla's 10 hits and three walks scattered enough to prevent runs crossing the plate.
Landon Webb took the loss with four runs allowed in as many innings.
Most of the fans on this special time-game arrived in school buses, which lined the streets around Wilson's Group Stadium at RAP. Food trucks were wiped clean, and the main concession sold out of hot dogs. There was no ice cream to be had by game's end in the Sub Zero truck.
The HarbourCats have Thursday off before heading out on a six-game road trip — three games in Wenatchee starting Friday, then moving to Port Angeles for three more. The next home action in Victoria is Friday, June 16, the start of three games (Friday-Saturday evenings and Sunday afternoon) against the Yakima Valley Pippins. The Edmonton Riverhawks then visit for a Tuesday-Wednesday-Thursday (June 20-22) series at RAP.
The HarbourCats lead the North Division, while the Sweets (0-6), who were swept last weekend by Nanaimo, will be happy to get off of Vancouver Island and head home to regroup and add players to their roster in advance of their Friday home opener at Borleske Stadium.
Tyrus Hall is all smiles as he scores one of Victoria's 11 runs Wednesday (Photo: Don Descoteau)
Tickets for all remaining games are available on-line ONLY at our official ticketing partner Select Your Tickets at https://harbourcats.com/tickets.   Tickets are also available at the HarbourCats office at 1814 Vancouver Street or by calling 778-265-0327.