Dearing Deepens NorthPaws Canadian Talent Pool
The Kamloops NorthPaws newest pitcher adds to the depth of Canadian talent on the 2021 roster.
Tate Dearing, a 6'2" right-hander from Surrey, will bring his deceptive mix of pitches to the mound at Norbrock Stadium.
Dearing throws five pitches: a four-seam fastball, two-seam fastball, 12-6 curve, slider and circle changeup.
"I'm not the kind of guy who's going to come in, light up the radar gun and blow it by you at 95 or 96 so I have to take a step back and get crafty," he said. "I utilize a lot of off-speed pitches and keep pitchers relatively off balance."
Dearing began his collegiate career at Polk State College but returned home after his first season for personal reasons. He joined Douglas College for the 2020 season, starting one game before the COVID-19 pandemic brought the season to a halt. He had committed to Georgia Gwinnett College for this season, but with the uncertainties of international travel opted instead to stay in B.C.
Photo Credit: Polk State College
"Tate is a guy who figures into our starting rotation. He's a great competitor and is able to get guys out in multiple ways," said head coach Cole Armstrong, who first coached Dearing on a little league travel team about a decade ago. "He's been on the big stage with the Junior National Team and at a powerhouse Junior College program. He's battle tested and hungry for an opportunity like this one."
Staying close to home was one of two key reasons for Dearing to want to join the NorthPaws.
"The second part that was the icing on the cake was my grandpa lives in Kamloops. I haven't seen him for a couple years so it will be nice that he can come out and watch me play every game," Dearing said.
Growing up playing baseball, hockey and soccer, Dearing said it felt they he was in Kamloops every other weekend for a tournament.
One visit when he was in grade 11 stands out in particular because his phone rang, and Team Canada was calling.
"I remember the morning I got my phone call, we were at Best of the West. I pitched at Norbrock at a night game and I woke up the next morning to a phone call from [head coach Greg Hamilton] saying I'm on the team," he said.
His stint with the Junior National Team took him to Florida, Panama, Dominican Republic and across Canada.
"It's surreal being able to wear that Canada across your chest and do it consistently and create bonds with guys across the country. The first time I wore the jersey and went out and pitched I don't think I was able to stand still. I was so shaky and so nervous," Dearing recalled. "Obviously you're there for a reason, but that doesn't matter in the moment. I was shaking out of my pants, so hopefully nobody noticed."
Dearing comes to the NorthPaws as one of the few players on the roster with past experience in the West Coast League. He posted a 1.42 ERA across five appearances for the Bellingham Bells in 2019.
The Kamloops NorthPaws are an expansion West Coast League franchise bringing the highest calibre baseball Canada's Tournament Capital has ever seen. The West Coast League, founded in 2005, has 15 teams across Oregon, Washington, British Columbia and Alberta featuring some of the top collegiate players during a 54-game summer season. Find the NorthPaws online at www.northpawsbaseball.ca, @northpawsbaseball on Instagram and Facebook, or @northpawsbb on Twitter.
Help Us Name Our New Canine Friend
Our newest friend is dreaming of full stands at Norbrock Stadium.
The newest member of the Kamloops NorthPaws is dreaming of full stands today, on what was supposed to be our inaugural home opener.
This large brown and white canine was adopted from the BC SPCA Kamloops & District Branch to keep us company leading up to our first season at Norbrock Stadium next summer.
This quiet doggo is very playful and loves to make new friends.  This dog is very well-trained and can shake a paw, roll over, play fetch in the outfield and even walk on two legs.
Our new companion has been settling in and has already been spotted bounding through the outfield, dancing in the bleachers, and chasing geese and marmots around Mac Island. Although puzzled by the lack of fans to play with, this friendly canine is excited to explore the Kamloops region this summer.
Keep your eyes out for your chance to meet our new friend this summer, and when you do, please be gentle and don't play too… ruff.
The new pup does not yet have a name and we need your help. Send us your best, creative ideas.
NorthPaws Co-Owner to Receive Honourary TRU Degree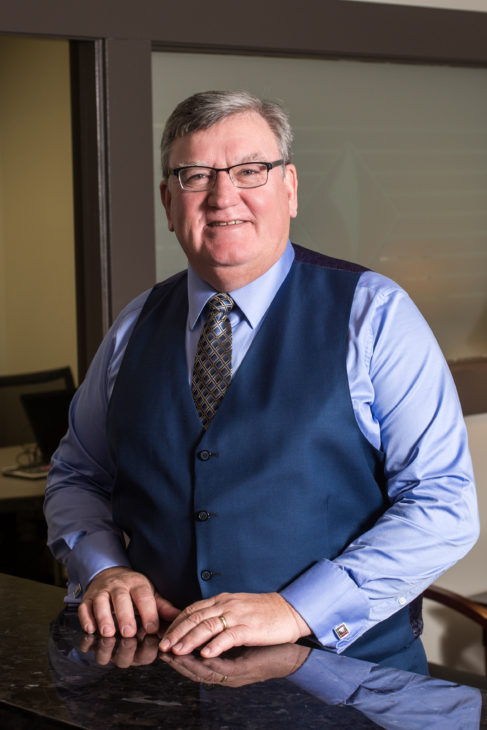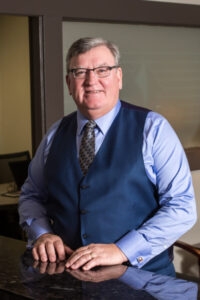 NorthPaws co-owner Norman Daley will be one of four recipients of an honourary degree from Thompson Rivers University in their spring 2021 convocation ceremonies in June.
Daley will be recognized by the university as a community-minded chartered accountant, according the a press release.
In addition to bringing the West Coast League to Kamloops, Daley has been involved in volunteerism in the community for decades. His volunteerism includes co-chair for the 2016 Women's World Hockey Championship, chairman of the Kamloops Blazers Advisory Board, volunteer chair for the 2014 Tim Hortons, local media chair for the World Junior Hockey Championship, helping the campaign to open the Sussex Insurance Centre indoor baseball facility, community sponsorship co-ordinator for the Kamloops International Baseball Tournament, and working with the Kamloops Centre for the Arts Society.
He was previously awarded the Kamloops Chamber of Commerce Businessperson of the Year, Kaizen Award from Sport BC for Innovative Leadership, Community Service Award from the Institute of Chartered Accountants of BC, and the Pioneer Spirit Award from Kamloops Mayor and City Council.
He was also the founding partner of Daley & Company LLP, Kamloops' largest independently owned and operated accounting firm, which recently merged with Grant Thornton LLP.
Journalist Andre Picard, computer scientist Maria Klawe and lawyer Marving Storrow are the other honourary degree recipients. Click here for the full press release.
Job Opening: Mascot Performer – Kamloops NorthPaws
Job Description:
Are you looking for an exciting, out of the ordinary gig? Do you love having fun an engaging with other people? Do you find the urge to dance irresistible when a good song comes on? This is the job for you!
Kamloops' newest sports franchise is looking for someone to serve as a costumed brand ambassador to interact with fans and community members in a lively, safe and professional way. You will foster a positive and fun atmosphere at all NorthPaws home games and at community events throughout Kamloops and the surrounding region. The ideal candidate is a high-energy, active performer who will help develop a character persona and bring it to life. You must promote fun, spread cheer and ignite energy everywhere you go without ever uttering a single word.
This is a part-time, year-round position.
Qualifications:
Strong non-verbal communication skills
Must work well with children
Must be able to work flexible hours, including weekends and evenings
Must be dependable and organized
An outgoing personality, including:
Enthusiastic
Energetic
Charismatic
Friendly
Loves to interact with others
Previous performance or acting experience is an asset
Previous baseball/softball or other athletic experience and abilities are assets
Stamina and physical fitness are assets
Valid driver's licence and own transportation is an asset
About Us:
The Kamloops NorthPaws is an expansion baseball team in the West Coast League, bringing the highest calibre of baseball Kamloops has ever seen. The West Coast League, founded in 2005, will have 16 teams for the 2022 season across Oregon, Washington, British Columbia and Alberta featuring some of the top collegiate baseball players from across North America during a 54-game season from June to August. The NorthPaws will play all home games at award-winning Norbrock Stadium on Kamloops' beautiful McArthur Island Park along the shores of the Thompson River.
How to Apply:
Submit your resume, cover letter and a 60-second audition video showcasing your talents, dance moves and mascot skills to jshinkewski@northpawsbaseball.ca.
A Criminal Record Check will be required for this position.