By Curtis Pelletier
Assistant Coach, Victoria HarbourCats
Recruiting has changed during the pandemic.
The ability to get to different towns and travel to recruit and scout players has been very challenging.  With that, we have begun to rely not only on video, but the references of coaches, stats and data.
I get that coaches are excited to get their players to the next level, but it must be done with integrity. When someone recommends a player to me, there are a lot of factors I look at.  The reference doesn't tell the whole story.  The data doesn't tell the whole story. The game stats don't tell the whole story. The video doesn't tell the whole story.
As a recruiter/scout I have had to determine my own formula as to how to combine these four factors based on my needs. That's how I get my "whole story".  Don't be scared to be honest. Many traits and flaws are fixable in young athletes.
Bottom line is that relationships are more important than ever in the recruiting game right now.  If you send a player who is not the player you "sold" it's going to be tough to move future players.
Curtis Pelletier is Assistant Coach (hitting/catching/recruiting/development) for the Victoria HarbourCats of the West Coast League, and the Head Coach of the Victoria Golden Tide of the CCBC, which will begin play officially in spring of 2022, along with being an associate scout for the Miami Marlins. He is a former national junior team, college and pro catcher, and runs the HarbourCats Players Club development program out of the Edwards Family Training Centre in Victoria.
Help Us Name Our New Canine Friend
Our newest friend is dreaming of full stands at Norbrock Stadium.
The newest member of the Kamloops NorthPaws is dreaming of full stands today, on what was supposed to be our inaugural home opener.
This large brown and white canine was adopted from the BC SPCA Kamloops & District Branch to keep us company leading up to our first season at Norbrock Stadium next summer.
This quiet doggo is very playful and loves to make new friends.  This dog is very well-trained and can shake a paw, roll over, play fetch in the outfield and even walk on two legs.
Our new companion has been settling in and has already been spotted bounding through the outfield, dancing in the bleachers, and chasing geese and marmots around Mac Island. Although puzzled by the lack of fans to play with, this friendly canine is excited to explore the Kamloops region this summer.
Keep your eyes out for your chance to meet our new friend this summer, and when you do, please be gentle and don't play too… ruff.
The new pup does not yet have a name and we need your help. Send us your best, creative ideas.
NorthPaws Co-Owner to Receive Honourary TRU Degree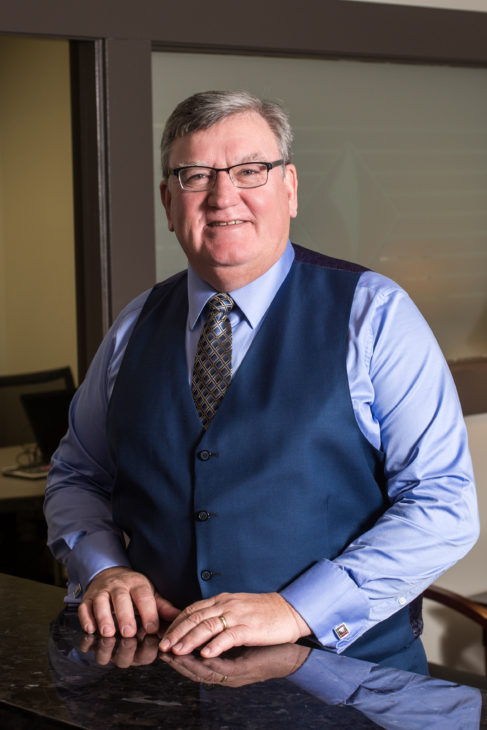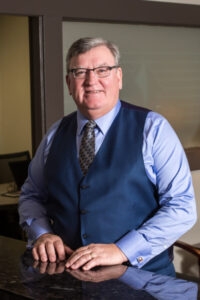 NorthPaws co-owner Norman Daley will be one of four recipients of an honourary degree from Thompson Rivers University in their spring 2021 convocation ceremonies in June.
Daley will be recognized by the university as a community-minded chartered accountant, according the a press release.
In addition to bringing the West Coast League to Kamloops, Daley has been involved in volunteerism in the community for decades. His volunteerism includes co-chair for the 2016 Women's World Hockey Championship, chairman of the Kamloops Blazers Advisory Board, volunteer chair for the 2014 Tim Hortons, local media chair for the World Junior Hockey Championship, helping the campaign to open the Sussex Insurance Centre indoor baseball facility, community sponsorship co-ordinator for the Kamloops International Baseball Tournament, and working with the Kamloops Centre for the Arts Society.
He was previously awarded the Kamloops Chamber of Commerce Businessperson of the Year, Kaizen Award from Sport BC for Innovative Leadership, Community Service Award from the Institute of Chartered Accountants of BC, and the Pioneer Spirit Award from Kamloops Mayor and City Council.
He was also the founding partner of Daley & Company LLP, Kamloops' largest independently owned and operated accounting firm, which recently merged with Grant Thornton LLP.
Journalist Andre Picard, computer scientist Maria Klawe and lawyer Marving Storrow are the other honourary degree recipients. Click here for the full press release.
Job Opening: Mascot Performer – Kamloops NorthPaws
Job Description:
Are you looking for an exciting, out of the ordinary gig? Do you love having fun an engaging with other people? Do you find the urge to dance irresistible when a good song comes on? This is the job for you!
Kamloops' newest sports franchise is looking for someone to serve as a costumed brand ambassador to interact with fans and community members in a lively, safe and professional way. You will foster a positive and fun atmosphere at all NorthPaws home games and at community events throughout Kamloops and the surrounding region. The ideal candidate is a high-energy, active performer who will help develop a character persona and bring it to life. You must promote fun, spread cheer and ignite energy everywhere you go without ever uttering a single word.
This is a part-time, year-round position.
Qualifications:
Strong non-verbal communication skills
Must work well with children
Must be able to work flexible hours, including weekends and evenings
Must be dependable and organized
An outgoing personality, including:
Enthusiastic
Energetic
Charismatic
Friendly
Loves to interact with others
Previous performance or acting experience is an asset
Previous baseball/softball or other athletic experience and abilities are assets
Stamina and physical fitness are assets
Valid driver's licence and own transportation is an asset
About Us:
The Kamloops NorthPaws is an expansion baseball team in the West Coast League, bringing the highest calibre of baseball Kamloops has ever seen. The West Coast League, founded in 2005, will have 16 teams for the 2022 season across Oregon, Washington, British Columbia and Alberta featuring some of the top collegiate baseball players from across North America during a 54-game season from June to August. The NorthPaws will play all home games at award-winning Norbrock Stadium on Kamloops' beautiful McArthur Island Park along the shores of the Thompson River.
How to Apply:
Submit your resume, cover letter and a 60-second audition video showcasing your talents, dance moves and mascot skills to jshinkewski@northpawsbaseball.ca.
A Criminal Record Check will be required for this position.