Baseball Saskatchewan hopes for earlier return to play in 2021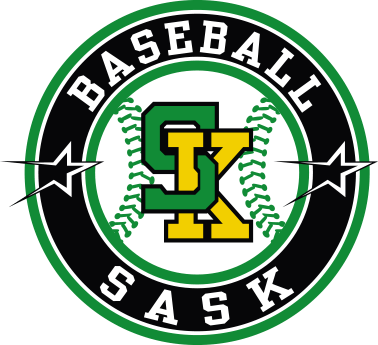 Regina, SK – After successfully playing games in 2020 under strict protocols, Baseball Saskatchewan is hoping to do the same in 2021, but is hoping for an earlier return to play date this year.
In a recent interview with Global News, Baseball Sask's executive director, Mike Ramage said he is looking for the green light to start playing ball sooner than the third week of June, which is the timeframe that the province has set for allowing sports to return in full swing.
Ramage cites the safe and successful return to play that was executed in 2020, as a main reason for their hope to begin earlier in 2021.  "We've shown that we can get the games played. We can do it in a safe manner with sanitization and social distancing as we're a non-contact sport. It's a little easier that way for us."
"We've got the roadmap from last year anyway, so we know how to do this again this year. We just hope we can kind of get it going a little sooner than we did last year."
The province has lumped all sports in to that end of June start date, but with baseball being an outdoor sport, with no contact, or very little contact, and one that has social distancing easily built in, Baseball Sask is hoping too that those factors will allow for an earlier start date.
In addition to their successful and safe play in 2020, Baseball Sask has prepared a comprehensive set of return to play guidelines for the 2021 season and has that readily available on their website for all organizations and individuals to download and follow.
Saskatchewan's Pothakos leads Greece into A pool of European Baseball Championship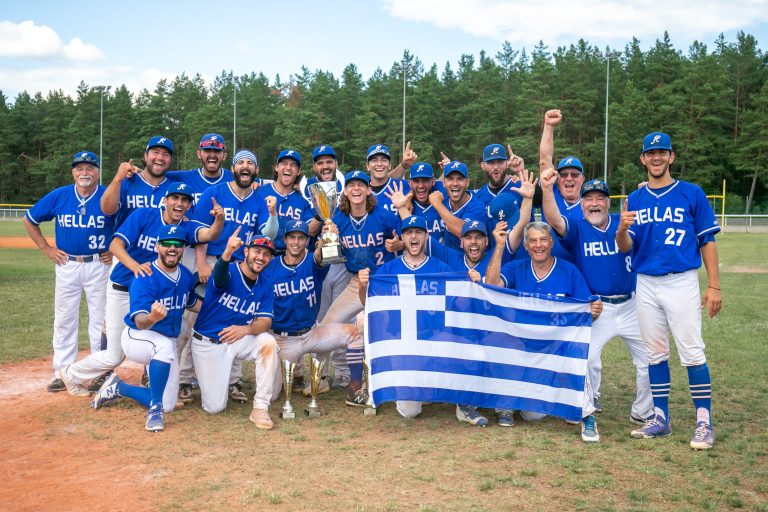 Saskatoon's Rye Pothakos earned his first tournament championship as manager of the Greek National Baseball team.
Pame Elladara!!!!! The Greeks did it! Hellas defeated host Lithuania 8-4 in the championship game to win the WBSC Utena Qualifier to punch their ticket back into Europe's top level of baseball, the European Championship A Pool. Russia, Ukraine and Slovakia also punched their tickets in the other 3 B-Pool qualifiers.
Hellas went 3-1 on the week defeated Poland and Romania by a combined scored of 21-0. Entering Friday's game vs Lithuania, Hellas and Lithuania had already clinched a spot in Saturday's championship game, so both teams entered it playing for home field advantage in the title game. Lithuania scored 6 unearned runs off 5 Greek errors to win 9-7 Friday night. Saturday Greece was in control all game eventually holding an 8-0 lead in the 7th inning before securing the win 8-4. Dimitri Kourtis was the winning pitcher with 6 shutout innings along with 8 strikeouts. John Kountis earned the save after pitching the final 3 innings allowing 1 earned run.
Greece claimed all 3 post-tournament honors as Thomas Roulis (Best Hitter), Dimitri Kourtis (MVP) and John Kountis (Best Pitcher) all took home their respective awards.
Hellas is now preparing for the European Championship in Torino, Italy Sept 12-19 2021. Hellas is in Group A with host Italy, Austria and Belgium (see below). This is the first time Greece has been in A pool since 2016 Honkball Championship in Amsterdam, Netherlands. Since 2016, Hellas has played in four different tournaments (Belgrade, Dublin, Bulgaria, Utena) fighting their way back into Europe's top level, a tremendous honor. Rye Pothakos earned his first tournament championship as manager.
For all information, please follow us on Twitter and Instagram @GreekBaseball.
Youth Baseball Set to begin again May 30 in Saskatchewan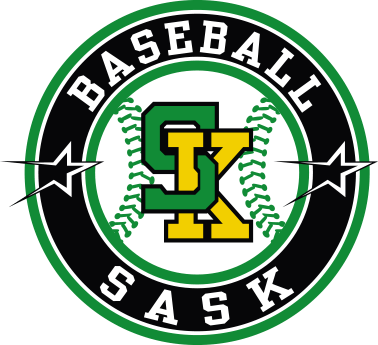 The Government of Saskatchewan has announced that public health measures around outdoor sporting activities, including baseball, will be eased as part of Step One of the Re-Opening Roadmap, set to commence on Sunday, May 30, 2021. Outdoor sports, originally included in Step Two of the Re-Opening Roadmap, will now be added to Step One. Easing of measures for indoor sports remains in Step Two of the Re-Opening Roadmap.
The adjustment to the Re-Opening Roadmap is being made recognizing the lowered risk of transmission in outdoor settings along with the successful uptake in Saskatchewan's COVID-19 vaccination effort in reducing the transmission of the virus. Beginning May 30, 2021, competition and game play for outdoor team sports can proceed with a number of requirements, such as:
• Participants may not compete if they are feeling unwell.
• Players and coaches should be encouraged to screen for COVID-19 symptoms prior to arriving to practice and play, using the self-assessment tool on the government's website.
• No interprovincial travel. Teams competing in regional interprovincial leagues need to contact the Business Response Team prior to beginning play.
• Individual and protective equipment should not be shared. When helmets and bats or other equipment are shared, cleaning and disinfecting must occur between each use.
• Commonly touched equipment used for game play (e.g. game ball, football) is routinely replaced or disinfected during the course of practice or play.
• Coaches, officials, umpires, referees and players who are not on the field are not required to wear masks outdoors under the public health order. However, masks may be worn if they are more comfortable with that layer of protection.
• No shaking hands, high-fives, etc.
• Hand sanitizer approved by Health Canada (DIN or NPN) or soap and water handwashing stations should be available for participants and spectators.
• No sharing of water bottles.
• Public washrooms, when available, are cleaned and disinfected regularly, and soap and water or hand sanitizer is available.
• Contact information of the coaches, officials and players should be recorded by the home team and maintained in order to assist with contact tracing for 30 days in the case of a confirmed case of COVID-19.
Unlike recent announcements in British Columbia, spectators (up to 150) will be allowed at the games, as long as they are following social distancing protocols with their "bubbles", with masks optional for all.
Baseball Saskatchewan Executive Director Mike Ramage, in a recent interview with CKRM radio, said if the delay lasted any longer the results could have been catastrophic, especially when it came to their rural members.
"The fact that they opened it up to start this Sunday, (May 30) probably saved Baseball Sask about 60 percent of our membership base," Ramage said. "Last year, once the long delay was there until July 1, we lost about 60 percent of the rural base, based on the fact that they are usually done by the end of June," he added.
Ramage said those leagues are done around Canada Day to give the opportunity for family time during the summer months.
"Once July 1 hits they're gone, they don't play anymore ball because they're gone to the cabin with their parents, and on other holidays, most minor ball is done by that point." "So with the fact that we can start playing games on May 30, it gives these kids at least a month to practice play games, we're over the moon about that," Ramage added.
Full details on the Baseball Sask re-opening protocols may be downloaded from their web page HERE.
Moose Jaw's Helland off to solid start at Monterey Peninsula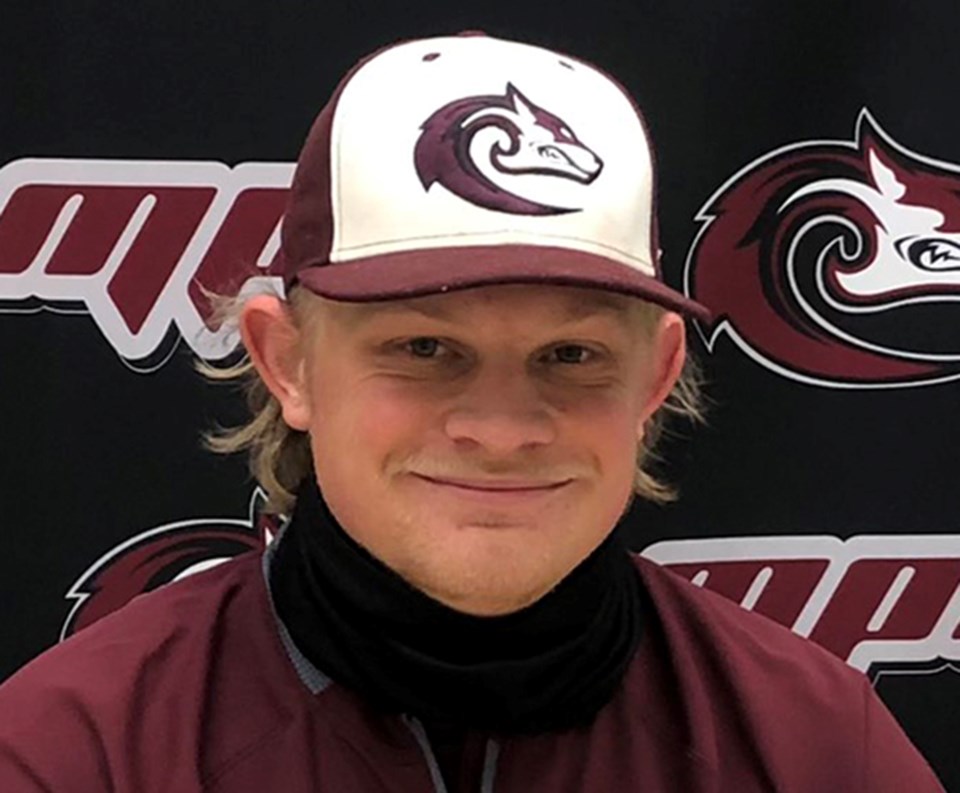 Sophomore relief pitcher yet to allow an earned run, but bad luck keeping saves from adding up
– By Randy Palmer
Moose Jaw Today
By looking at the stat line for Moose Jaw Minor Baseball product Reece Helland at Monterey Peninsula College, you'd think he was off a near-perfect start to the season.
Three appearances, no earned runs and a single hit against his ledger — the kind of numbers that normally indicate all sorts of positive things happening.
But baseball is a game where the stats don't necessarily tell the story, and Helland has seen a bit of the good and a bit of the bad through the early going of the 2021 California Community Colleges Athletic Association season.
The 21-year-old right-handed pitcher made his first appearance of the campaign on April 17 against Cabrillo College, and it was as solid as it needed to be.
Coming on in relief of starter Nic Bouillerce in the fifth inning, Helland would face six batters over two innings of work, allowing a single walk in the fifth but forcing the next batter to hit into a double play. He'd tack on a strikeout and leave with the score tied 3-3 in the seventh, after which Monterey would put up a pair of runs in the eighth and go on to a 5-3 win.
Helland picked up his first save of the season on April 24 against Hartnell College, entering the game with two outs, runners on first and third and a 3-1 lead in the bottom of the seventh and final inning. Helland would give up a single, allowing the run to score from third, but the trailing baserunner attempted to go first-to-third and was gunned down by the right fielder to end the game.
Helland's most recent appearance was on May 1 in a rematch with Cabrillo, and it ended up being the strangest of all.
Once again called in to put out a fire, Helland took the mound with runners again on first and third while holding a 4-3 lead. This time it was a passed ball that would do the damage, with the tying run scoring on the play.
Helland would come back out for the 10th, and with the CCCAA using the international tiebreaker rule, started the inning with a runner on second. A flyout to centre advanced that runner to third, and two batters later a fielder's choice would see the go-ahead run score. Helland retired the rest of the side in order, but Monterey wouldn't be able to respond and dropped a 5-4 decision.
Monterey now hold a 7-3 record overall after winning their first seven games to start the season, including a 5-3 mark in the Coast-South Conference. All three of their losses came in the series this past weekend against Cabrillo.
The Lobos have 18 games remaining in their regular season, which will be Helland's final in California as he heads out to NAIA MidAmerica Nazerene in Olathe, Kansas next season.