Baseball Canada mourns the passing of Amanda Asay
OTTAWA – The Baseball Canada family is shocked and deeply saddened to learn of the passing of longtime Women's National Team member Amanda Asay who succumbed to her injuries following a skiing accident in Nelson, British Columbia.
The Prince George, BC native was 33 years young.
Asay was the longest serving member of the Women's National Team program having joined the squad in 2005 and recently participated in the Women's National Team Showcase last summer in Trois-Rivières, Québec.
She was part of national teams that captured five WBSC Women's Baseball World Cup medals including bronze in 2006, 2012 and 2018 and silver in 2008 and 2016. She was also part of Canada's historic silver medal performance at the 2015 Pan Am Games in Toronto – the first time that women's baseball was included in a major, multi-sport games.
"This is really difficult news for our Women's National Team program," said Baseball Canada's André Lachance who managed Asay on various national teams from 2005-2018. "Amanda was an amazing person who meant a great deal to our program. She was a competitor who possessed all of the characteristics that you look for in a baseball player. She was versatile, intelligent and competitive who rose to the challenge on many occasions.
"Above all, she was a terrific person who will leave a lasting impact on many people, not only with the Women's National Team program but all of those who were lucky enough to meet her."
"On behalf Baseball Canada's Board of Directors and national office, I offer sincerest condolences to Amanda's loved ones including her parents Loris and George and her brother Brad," said Baseball Canada President and CEO Jason Dickson. "Her contributions to women's baseball and our national team will be remembered forever and will serve as inspiration for future generations."
A talented athlete who also excelled in the classroom, Asay played hockey and softball for Brown University in Providence, Rhode Island for three seasons (2006-2009) while earning a Bachelor's in Science. She continued her studies at the University of British Columbia where she attained a master's in science and PhD in forestry while playing two seasons for the Thunderbirds hockey team.
Baseball was her first love however and her talent and hard work caught the eye of Women's National Team evaluators when she was just 17 years old in 2005. In 2006, playing in her first Women's Baseball World Cup in Taiwan, Asay earned all-tournament honours at first base and later took home the Women's National Team Most Valuable Player Award.
She would go on to capture MVP honours again in 2016 but this time it was for her dominance on the mound as she shutdown a powerful Chinese Taipei squad at the Women's Baseball World Cup in South Korea with a complete game, 2-1 victory to send Canada to the gold medal contest.
Asay was loved by her coaches and teammates alike for her positive attitude and the way in which she went about her business on the field, always being in control and setting an example for others with her play.
"Amanda was a one-of-a-kind teammate, the type of player and person who you loved to compete with every game," said Ashley Stephenson who played 14 seasons with Asay on the national team and coached her for two. "Under the circumstances, I cannot put into words how tragic this loss is for everyone who knew Amanda. My thoughts at this time and my heart go out to her family."
"The loss of Amanda is felt in so many places it's hard to put into words," added former teammate Nicole Luchanski who also lived and worked with Asay in the forestry profession. "She was a truly exceptional athlete, leader, friend, family member, and forestry professional.
"She improved everything she touched and the loss of such a positive, smart, hardworking, and loyal person is unbearable."
Ridge Meadows Rises to Championship Form!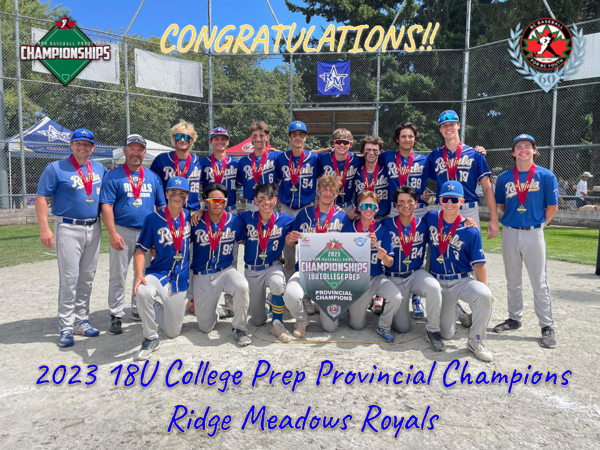 It would be fitting to see the top two teams from the Regular season' the #1 North Fraser Nationals and the #2 Ridge Meadows Royals, go head-to-head for the 2023 18U College Prep Provincial Championship! 
North Fraser entered the final tilt undefeated through the round-robin and their semi-final match, while Ridge Meadows had only stumbled once on the way there. 
In the end, it was Ridge Meadows and their ability to push runs across the dish that put them on top 6-1 when the dust finally settled handing North Fraser their only loss of the weekend. 
Congratulations to the Ridge Meadows Royals and all of their fans and supporters. You are the 2023 18U College Prep Provincial Champions!
Congratulations to the North Fraser Nationals and all of their fans and supporters on a stellar run to the top of the Regular Season Standings. 
Congratulations to all of our 2023 18U College Prep Players, Coaches, and Families. It's been a ride! See you in the Fall!
Ladner takes the 2023 John Main 13U Invitation Crown!
Ladner takes the 2023 John Main 13U Invitation Crown!
By BCMBA, 05/28/23, 4:00PM PDT
Share
Cole Hudie finishes it with a 3-run shot to lift Ladner to a 5-2 W over Chilliwack and claim the BCMBA 2023 John Main 13U Invitational Championship Title! Thank you to our hosts and their families, Ridge Meadows and Cloverdale, our BCMBA Volunteer Directors, and everyone who participated!!
The 2023 John Main 13U Invitational is underway!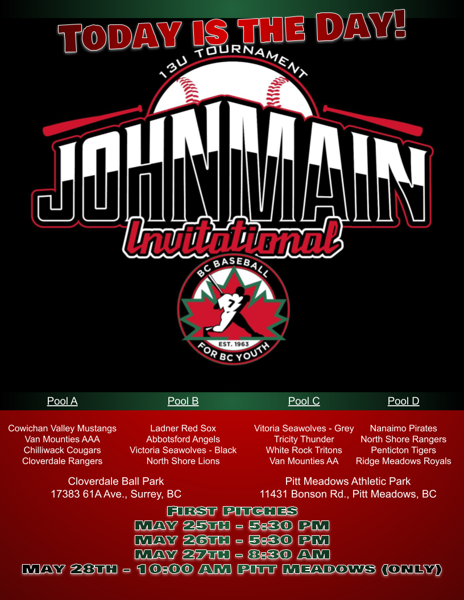 The 2023 John Main 13U Invitational is underway!
By BCMBA, 05/25/23, 9:00AM PDT
Share
The 2023 BC Minor Baseball John Main 13U Invitational has arrived. All weekend long, come down and check out some of the future stars of our game! Dates, times, locations, and results can be found here:
2023 John Main 13U Invitational