Victoria HarbourCats – Pirates invade Victoria for pair against Golden Tide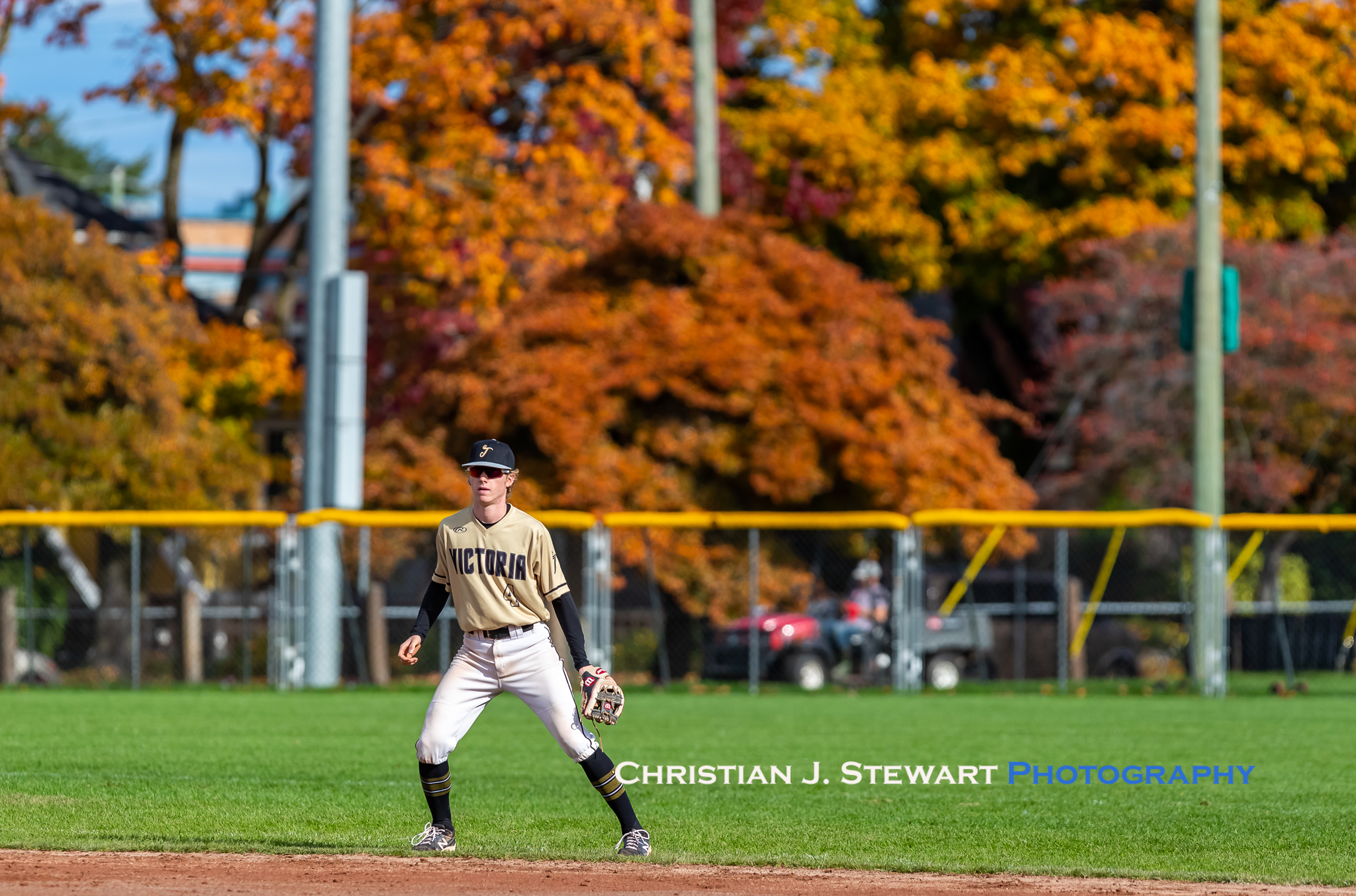 Story and Photos by Christian J. Stewart
October 16, 2021, Victoria, BC – The Victoria Golden Tide entertained the Mid-Island Pirates on a beautiful fall day Saturday afternoon, with the teams splitting a doubleheader at Wilson's Group Stadium at Royal Athletic Park.
Victoria's Jaxson Cordle hustles to first against the Pirates on Saturday.
In game one, the Pirates would score four runs in each of the second and third innings and then four more in the sixth to cruise to an easy 14-3 win over the Golden Tide.
Victoria catcher Andrew Baxter readies himself for a pitch in game one against the Pirates Saturday.
Nick Robinson was solid on the mound for the Pirates, holding the Tide to just one run and one hit in his four innings of work.  He would be supported by an offence that had five different players that scored two runs each.
Mid-Island's Nick Robinson was solid over four innings in the Pirates 14-3 win over Victoria Saturday in game one.
Austin Wall heads to first after getting a base hit in game one Saturday.
Witt Nevins would be the offensive catalyst for the Golden Tide, with a pair of singles and two runs scored. Daniel Sawchyn would also walk twice and score the other Victoria run.
Victoria's Witt Nevins gets caught in no man's land as he was tagged out on this play at third Saturday.
Thomas Plant would have a first inning base hit in game two Saturday.
In game two, Victoria would rebound, having their own four-run inning in the bottom of the third and going on to a 6-2 win. The big hit in the third was a RBI triple from Brody Alexandre, his second of three hits on the day.  He would also score twice.
Victoria's Jackson Leatherman delivers a pitch against the Pirates in game one Saturday.
The Tide's Brody Alexandre would have three hits, including an RBI triple, and score two runs in the 6-2 win against the Pirates in game two Saturday.
Daniel Sawchyn would also be a spark in the leadoff spot having a walk, single and pair of runs scored.
Wyatt Mohr-Royer got the start in game two and would give up a pair of Pirate runs in the second on two hits, but some solid shutout relief work from Jayden Puri and Ethan Dean over the final five innings would keep the Pirates off the board the rest of the way and preserve the Golden tide win.
Jayden Puri was perfect in his two innings of relief in game two Saturday.
Mid-Island side-armer Jackson Marriot delivers a pitch against the Golden Tide Saturday.
Next up for the Golden Tide are the UBC Thunderbirds, Canada's top college baseball program, who weather permitting, will stroll into Victoira on Sunday for a pair of nine-inning games.  First pitch is scheduled for 1:00 pm. Tickets are $5.00 and $10.00 and are available at the gate.  The streaming broadcast is also available for purchase for $7.50 and can be found at https://tinyurl.com/3kafv83r
Tide third baseman Ryder Green makes a play Saturday.
Victoria HarbourCats – Two key returnees among three Canadians signed for 2024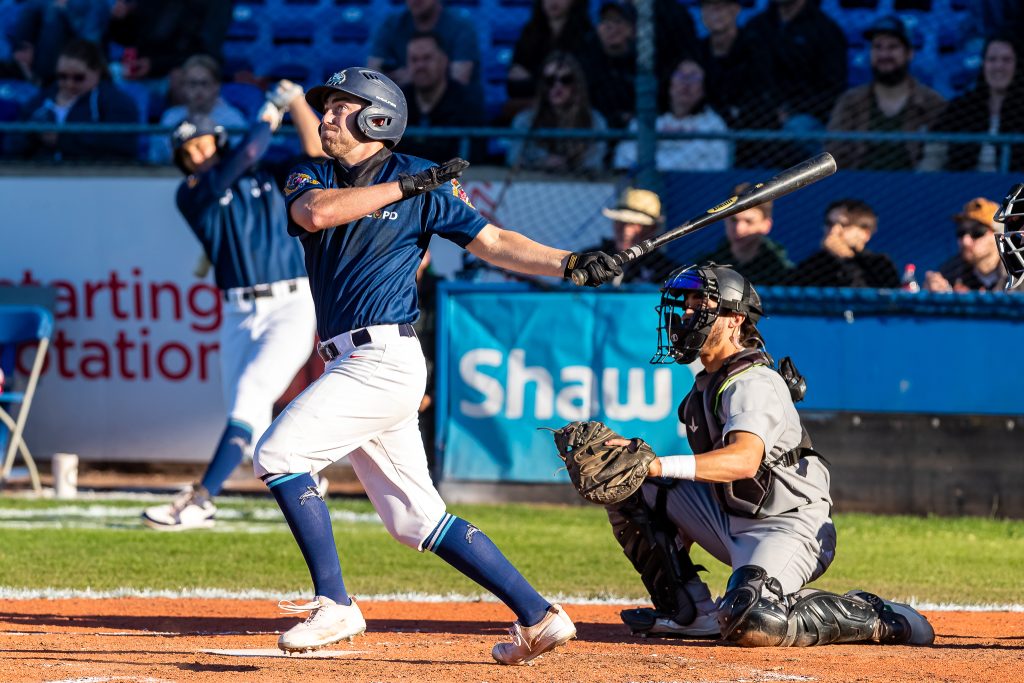 Green (above), Hall and former Canadian junior team star Chee-Aloy join Cats
September 20, 2023
VICTORIA, B.C. — The reloading of the 2023 North Division champion Victoria HarbourCats has started — not surprisingly, given the team's history of finding local and Canadian talent — with three players who have maple leaf passports.
Returning infielders Brandon Green of the Victoria Golden Tide and Tyrus Hall of Bossier Parrish JC are joined by prized Illinois recruit Cameron Chee-Aloy of Toronto as the HarbourCats, who have posted just one sub-.500 record since 2014 and have made the playoffs in five of the last six seasons, get ready for the 2024 campaign.
Hall, primarily a shortstop, is a Victoria product who came through the Eagles program, while Green, who can play any infield position, is in his third year with the Golden Tide, hailing from Olds, Alberta. Both played with the HarbourCats in 2023, part of the team that set a WCL record with 25 home wins in 27 home regular season games — 27-2 counting playoffs.
HarbourCats infielder Ty Hall will return to the HarbourCats in 2024 (Photo: Christian J. Stewart)
"Ty Hall has tremendous potential and a pro-level arm, with blazing speed — and we saw so much improvement with him under WCL coach of the year Todd Haney," said Jim Swanson of the HarbourCats. "He will get better yet in college and being back with us next summer. And Brandon, he was one of the great stories of our season, unceremoniously dumped before the season by a summer team in another league in Alberta and given a chance to stay in Victoria at the WCL level, and all he did was earn the trust of Todd and the staff. He had the summer of his life, and he's not done."
Green became the first product of the third year Golden Tide program to have a notable impact on the WCL club, part of the mandate of the CCBC entry.
In 24 games, Green had two doubles, two home runs and drove in 10 runs, batting .222 and earning stretches of time at second base, with just one error. Hall got into 26 games, his speed of great value off the bench, and hit .250 with 13 stolen bases — caught just once. Hall was a featured part of a league record 150 stolen bases as a team.
Chee-Aloy (pictured right), a product of the Ontario Terriers, is best described as a plus-speed outfielder who plays the game hard, getting the most out of his 6-0/180 pound frame. The right-handed hitter with a right fielder's arm had two stints with Team Canada, where he was teammates with Hall.
"We are exited to add Cameron to the 2024 team," said Head Coach Todd Haney. "His speed will be an asset both offensively and defensively."
The HarbourCats 2024 schedule in anticipated to be released in late October or early November 2023.  Stay tuned to our website and social media channels for news on that once it becomes available.
Season tickets are now on sale and can now be renewed for the 2024 season of HarbourCats baseball!  Lock in and renew your existing seats, or purchase new seats by October 31, 2023 to guarantee Early Bird Pricing at the 2023 rates:
General Admission – $375 ($385 after October 31)
Premium Reserved (Sections 6-9 and 11-12) – $475 ($495 after October 31)
Grandstand Reserved (Section 10 Rows E and up) – $525 ($550 after October 31)
Campbell Real Estate Club Seats (Section 10 Rows A-D) – $675 ($700 after October 31)
Diamond Club Field Level – $750 (WAIT LIST – CALL FOR AVAILABILITY) ($775 after October 31)
Season tickets offer the best per-game value per seat and come with the following benefits:
Includes all regular season WCL league home games, and all pre-season and exhibition games
Incudes FREE PLAYOFF TICKETS
Season ticket holders get first right of refusal to purchase tickets for other special events (eg. concerts)
Season-ticket holders do not pay additional Fireworks Game pricing
Service fees and all taxes included in above prices
Please call the office at 778-265-0327 or e-mail chris@harbourcats.com to renew, or to purchase new seats.
You can also stop into the office to take care of this at 101-1814 Vancouver Street.  We are open in the off-season Tuesday – Friday from 10AM to 5PM.
Cats merchandise is also on sale now at the office at The Cat Shop, or online at https://victoria-harbourcats-official.myshopify.com/
2023 Fan Experience Survey – Kamloops NorthPaws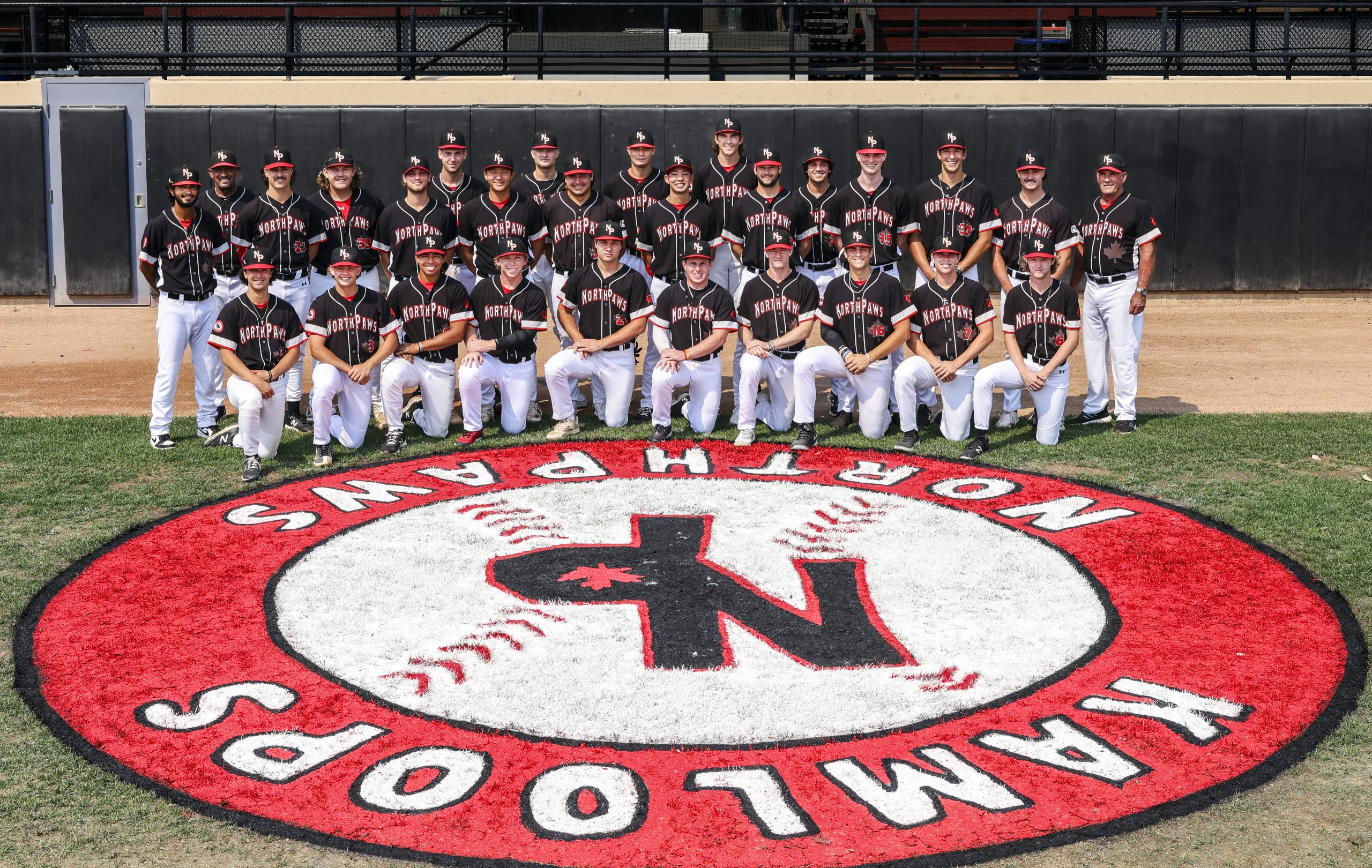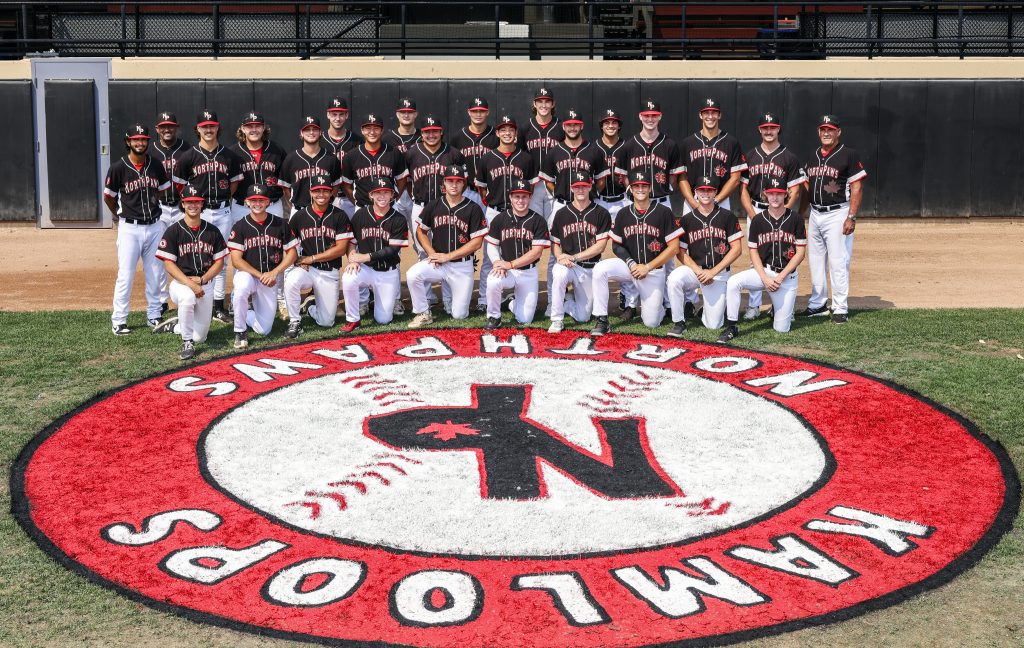 Photo by: Allen Douglas
The Kamloops NorthPaws wanted to thank our fans for another great season at Norbrock Stadium – THANK YOU 'PAWS FANS!!!
The organization is looking to fans to share their experiences in order to make improvements for 2024. Fans who choose to include their email will be entered into a draw for a 2024 10-game flex plan, the winner will be contacted on October 6, 2023. All anonymous users will not be entered into the draw. The NorthPaws thank you for your reviews and support of our team, we look forward to improving our operations and welcoming you back to the ballpark in 2024!
You can complete the form below:
https://forms.gle/YBfFHvp6eDyRuoUR6
Top player in 2023 returns for third season as a NightOwl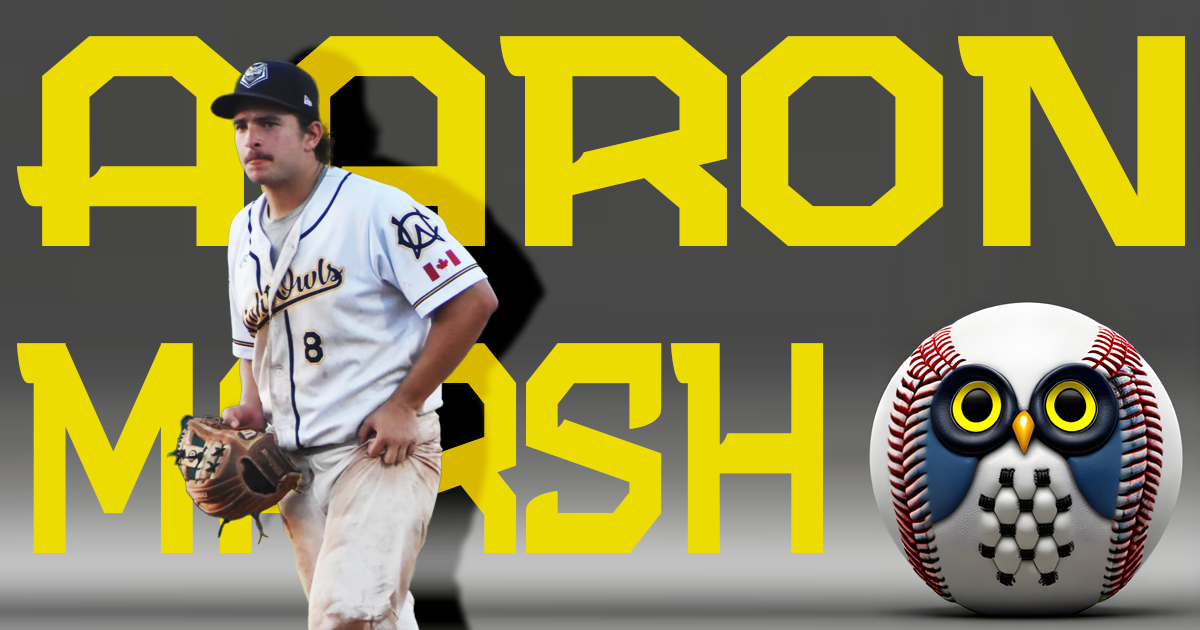 Marsh

the first NightOwls' signing for 2024 WCL season
An original NightOwl is coming back for a third season at historic Serauxmen Stadium.
Infielder Aaron 
Marsh
 of the UBC Thunderbirds, who shared the 2023 player of the year award with keystone partner Elijah Ickes, will be the key offensive piece that Head Coach Greg Frady will build his lineup around in the summer of 2024.
The Nanaimo product, a former Pirate, has been the picture of consistency for the NightOwls for the team's first two seasons in the West Coast League. In 2022, 
Marsh
 batted .309 and was among team leaders with 38 hits and 20 runs driven in, and followed that up in 2023 with 39 more hits, 24 RBIs, and batting .287 while playing both second and third. He hit two home runs both seasons.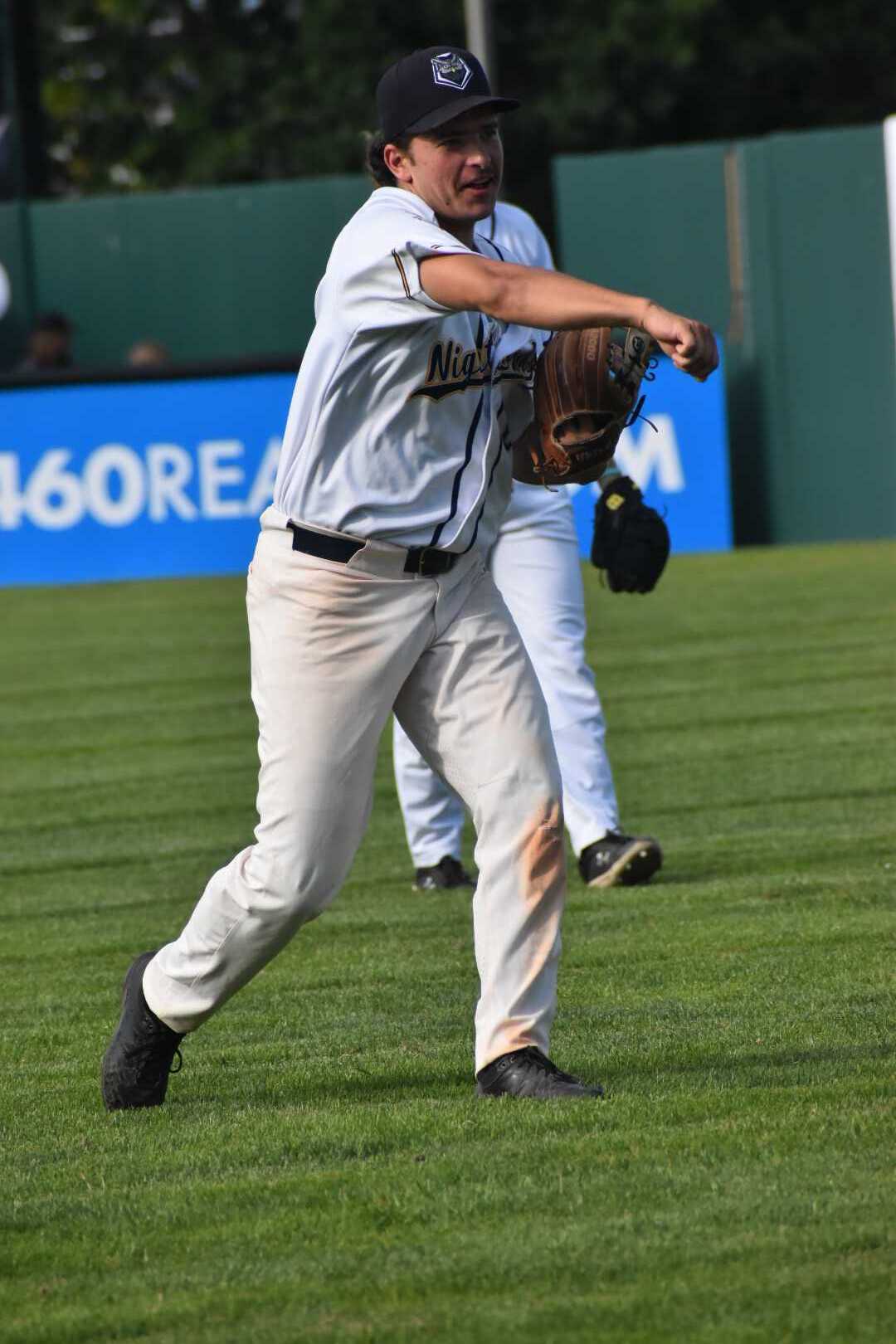 "Aaron is a tough out, gives the team gritty at-bats and is so reliable on defence," said Jim Swanson, GM of the NightOwls. "He brings so many intangibles to UBC and to the NightOwls, is a leader and you can tell he loves to play the game, and loves to play in front of our great crowds in Nanaimo, in front of people who watched him grow up in our city. He's the ideal player to have as our first signing for the 2024 season."
A left-handed hitter with extra-base power, a valuable asset with the exciting fence configuration at Serauxmen Stadium, the 5-10/185 
Marsh
 has played 73 games as a NightOwl, so will be looking to become the first player to play in 100 games for Nanaimo's young WCL franchise.
"Recruiting is very much underway, between myself and the coaching staff, looking to build a team that can get us to the playoffs and be the first Canadian team to win the WCL title," said Swanson. "Our 2023 team played everyone hard, one game below .500 — and known for being scrappy and playing the game the right way, with the right approach of effort and sportsmanship. We are building future pro players here, we are also building young men who will be successful in whatever they advance to in life. Aaron is definitely one of those people."
Season tickets are now on sale for the 2024 campaign — renewals and new fans, the best seats at the park available for as low as $400 for the season (roughly $12.50 per seat per game). Included in season tickets are gratis playoff tickets, with the NightOwls in the hunt for a post-season spot until the final week in both of the team's initial seasons.
"If you haven't yet made it to a game — you're missing out on a great spot and a special energy that only Serauxmen creates," said Swanson.
Team merchandise is also in hot demand, find the shop site at 
nanaimonightowls.com
 for a variety of offerings from hats to hoodies to shirts and miscellaneous items.