Victoria HarbourCats – Golden Tide defeats Wolfpack, advances to CCBC semi-finals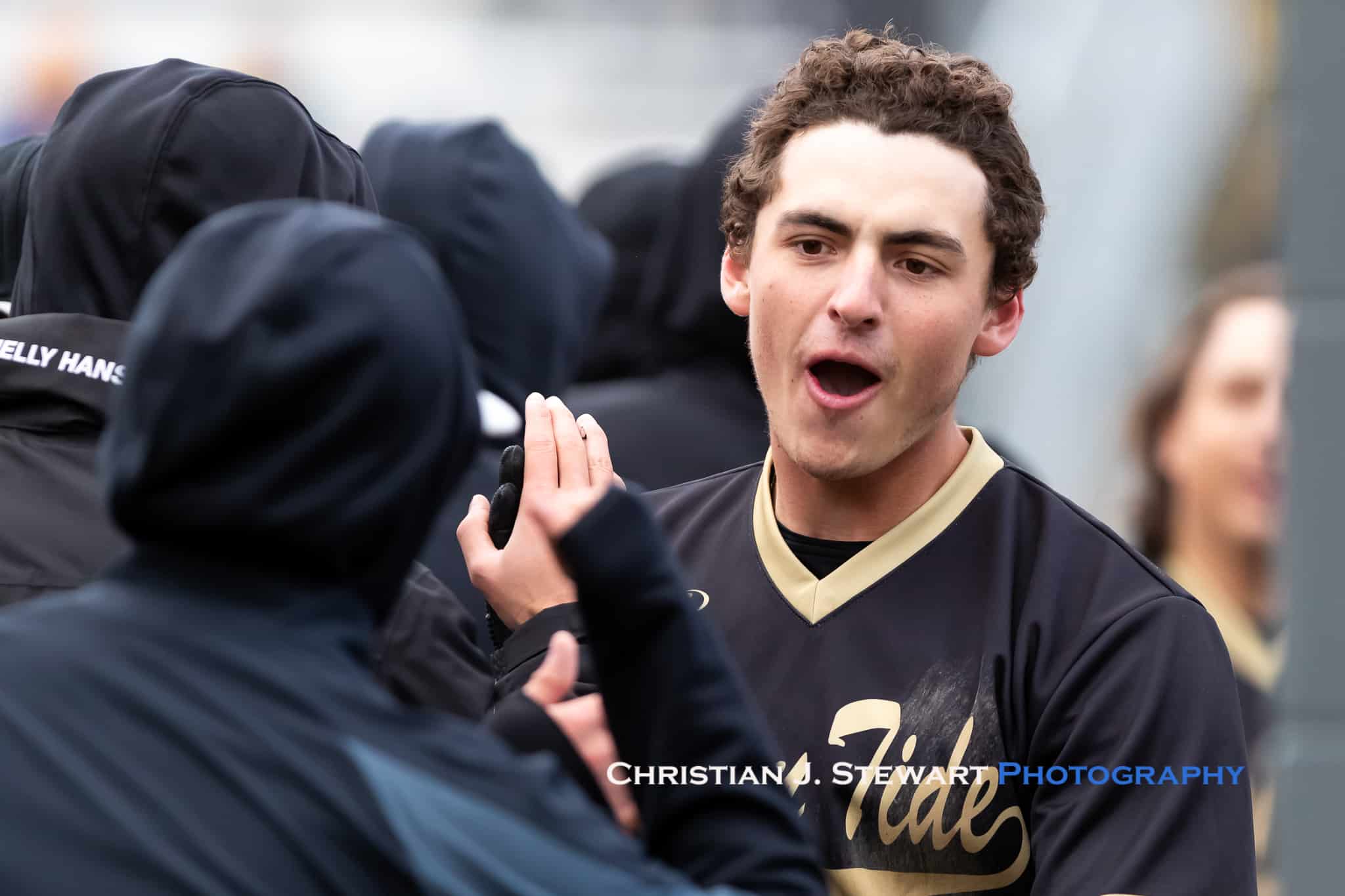 Story and Photos by Christian J. Stewart
October 10, 2021, Kelowna, BC – Jordan Bond had a double, three-run home run and three-RBI triple to lead the Victoria Golden Tide to a come from behind 13-4 win over the Thompson Rivers University (TRU) Wolfpack Sunday morning in round robin play at the Canadian College Baseball Conference (CCBC) Fall Championship Tournament at Boucherie Field in West Kelowna.
Jordan Bond watches his three-run home run head toward the left field fence in the seventh innng.
The win moves the Tide record to 2-1 and vaults them into the Championship semi-finals at 4:00 pm Sunday where they will face the Okanagan College Coyotes at Elks Field.
The Tide dug themselves a bit of a hole against TRU early Sunday when starter Cameron Dunn struggled off the top and an error loaded the bases for TRU's Matt Olsen who promptly put the ball over the leftfield fence to give the Wolfpack a 4-0 lead after half an inning of play.
Matt Olsen and his TRU team celebrate his first inning Grand Slam that gave the Wolfpack an early 4-0 lead.
Dunn would settle in nicely after that and in the bottom of the fourth, his offence would reward him, as Bond led the inning off with a double to the fence. The Wolfpack would then play some sloppy defence and suddenly the Tide had tied the game 4-4 with Bond's hit being the only ball out of the infield.
Alex MacLauchlan would then stroke and RBI-single and the Tide took a 5-4 lead into the fifth inning.
Victoria starter Cameron Dunn, had a rough first inning, but the settled in nicely, pitching into the seventh inning and getting credit for the 13-4 win.
In the top of the seventh, after cruising nicely from the second inning on, Dunn found himself in trouble with TRU runners on first and second with just one out. He would be lifted in place of reliever Brett Paterson, who promptly induced an inning ending double-play ground ball and the Tide kept their 5-4 lead intact.
Victoria Will Podmoroff is congratulated after scoring for the Golden Tide.
That seemed to motivate the offence even more and in the bottom of the seventh, Brendan Morrison laced an RBI double down the third baseline to put Victoria up 6-4. After an intentional walk to Zeke Holt, Bond crushed his home run over the leftfield fence to extend the lead to 9-4.
the Golden Tide used some good defence Sunday, turning a number of double plays to get out of trouble against TRU.
Paterson kept the Wolfpack off the board in the top of the eighth and the Tide then continued their offensive roll, scoring once to go up 10-4 and then loading the bases for Bond, who then tripled to the fence in left-centre, clearing the bases and giving the Tide the 13-4 mercy rule win.
Victoria reliever Brett Paterson reacts after getting an inning-ending double play in the seventh to preserve a 5-4 lead over TRU.
The Tide now face the OC Coyotes in the semi-finals and with a win, can advance to the Championship finals at 12 Noon on Sunday.
In the other semi-final the Fraser Valley Cascades (the number one seed in Pool B) will take on the Prairie Baseball Academy who defeated Edmonton Collegiate 10-2 Sunday morning to advance. That game will go at 7:30 pm Sunday night.
Victoria's Brendan Morrison strokes an RBI double down the third baseline against TRU.
Tide catcher Parker Harris would snag a great throw from Tyler Burton in centerfield to nail TRU baserunner Kiesten Evans in a key defensive play in the 8th inning.
The semi-finals and finals will be streamed via the OC Coyotes You Tube channel at https://www.youtube.com/c/okanagancollegebaseball
NorthPaws Name Francis Head Coach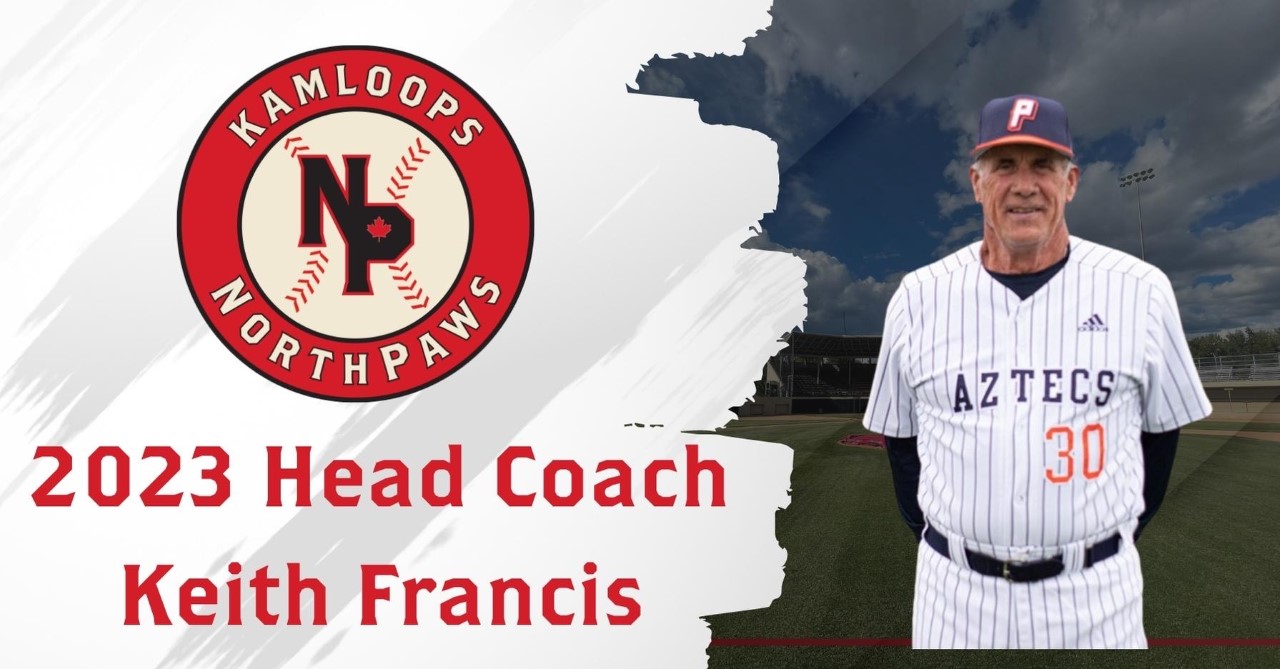 KAMLOOPS, BC—The Kamloops NorthPaws didn't have to look far when searching for their newest head coach.
Original article written by Larry Read.
Just days after learning that Brian Anderson had taken a job with NCAA Div I Northwestern University (Illinois), The NorthPaws have named Keith Francis as the third head coach in the teams history.
Francis and Anderson have been working with the Pima Community College Aztecs (National Junior College Athletics Association) in Arizona. Both were looking to come north to Kamloops for the Westcoast League season in early June. Francis had committed to being Anderson's assistant. He was Anderson's coach in high school.
"I am looking forward to the coming season," he says. "My teams are aggressive and play the right way. I never play the other team. If you play the game and play the right way, usually good things come your way. It's my intent for the NorthPaws to play that way too."
Francis is currently the assistant coach with Pima. A number of the players on Aztecs roster had been recruited by Anderson to play this summer for the NorthPaws already.
"It will make the job easier (familiarity with the players)," he says. "I will continue to implement a lot of things that we have here. I know those players' strong points and weak points. We have a couple of pitchers coming up which will be very important. "
The newest NorthPaws skipper has a solid baseball background. His resume includes coaching at Maple Woods Community College (1997-1998), third place in the 1998 Junior College World Series at Grand Junction, CO. Canyon del Oro High School (2000), Assistant Coach, CDO won the 5A State Championship. Canyon del Oro High School (2001-2004), Head Coach, CDO won the 5A State Championship in 2002. Pima Community College (2005-2006), Assistant Coach.
In addition, he was an assistant coach at the University of Arizona (2007-2010) where they made Regionals three of the four years and made it to the Super Regionals in 2008 where they lost to the University of Miami.
"We are going to approach the West Coast League aggressively," Francis adds. "We will steal a lot of bases, do a lot of hit and runs. That is West Coast baseball. That is the way we will play."
Francis is looking forward to coaching players that he normally doesn't see from the West Coast of North America.
'I can't wait to get there (to Kamloops) and see the fan base and meet them," he adds. "As a player having fans behind you makes it fun to come to the ballpark."
NorthPaws co-owner Norm Daley says, ""We're really excited to be able to move on so quickly with Keith's hire. We know that Keith has a wealth of experience and a great knowledge of players and are looking forward to another great NorthPaws season."
Francis hopes to be in Kamloops at the end of May or early June. His arrival depends on how deep his Pima team goes in the National College World Series. They are currently ranked in the top 20 and have won 14 games in a row.
In the meantime, he will be reaching out to players who have already committed to the NorthPaws this summer and will be securing at least one assistant coach.
The North Paws went 26-27 in their inaugural West Coast League season (2022) under head coach Cole Armstrong. They wound up third in the North Division. Kamloops opens up their 2023 season Tuesday June 2nd in Victoria against the Harbour Cats. Their home opener at Dearborn Ford Field at Norbrock Stadium is Tuesday June 6th when the Portland Pickles come to town.
Ticket information and the complete schedule is available on the NorthPaws website: www.northpawsbaseball.ca.
Victoria HarbourCats – Major events coming in 2023  thanks to Peninsula Co-op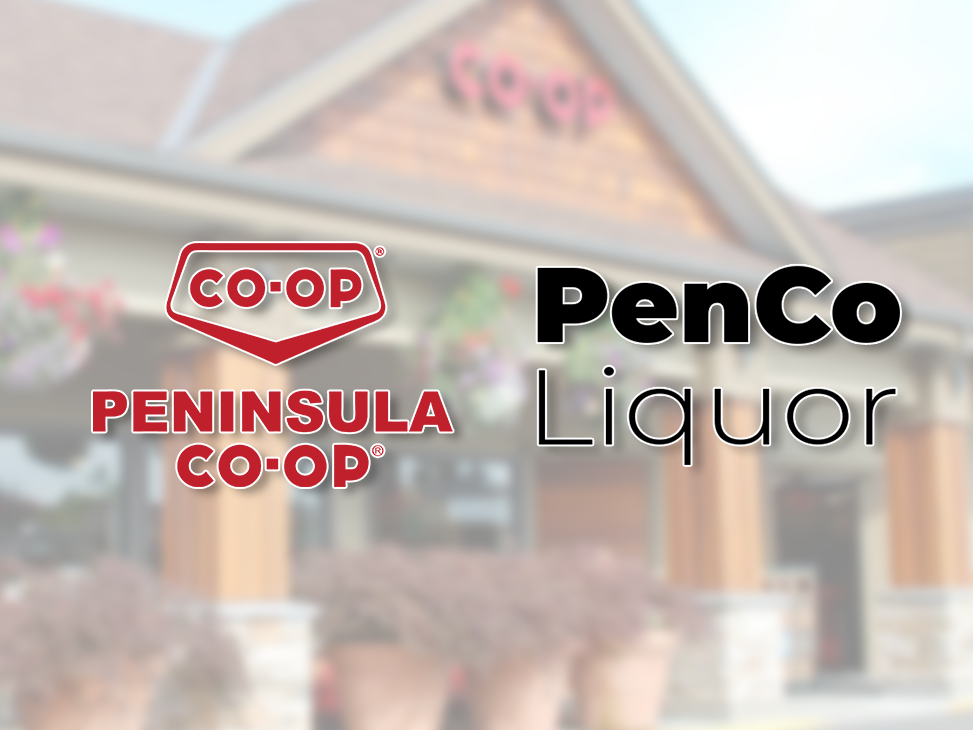 Slo-pitch returns to RAP, and kids free weekend!
For immediate release
Tuesday, March 28
VICTORIA, B.C. – Anyone who knows Peninsula Co-op knows they are all about community. Same goes for the Victoria HarbourCats – which is why a few events this summer should get everyone's attention.
First, The Wilson's Group Stadium at Royal Athletic Park will welcome back top slo-pitch teams for two great events – to a facility that was a staple for local leagues until the early 2000s. A special evening with the Greater Victoria Mixed Slo-Pitch Association (GVMSA) on Wednesday, May 31 will feature two games, starting at 6:35pm, with the teams and players treated like HarbourCats for a night, with full game production, food options, and more. Tickets for this event are just $10.00 for all seating areas and can be purchased on-line HERE, or available at the gate. Tickets are included for all HarbouCats season ticket holders.
Then, on Monday, June 5, in the half-hour leading up to the HarbourCats game vs. the Walla Walla Sweets (tickets available here), the top bashers in the GVMSA will showcase their power in a home run derby – both these events sponsored by Peninsula Co-op and PenCo Liquor.
Then, a great weekend for the kids – all kids aged 12 and under are admitted FREE for the series July 21, 22 and 23, featuring the Coquitlam Angels, and all Peninsula Co-op members can gain entry for just $10, with further Co-op member (JOIN HERE!) discounts at the merchandise tent.
Peninsula Co-op also brings back the oh-so-fun annual Special Olympics game, set for Thursday, July 13, with the Special O players showing their talents on the field before the HarbourCats take on the Port Angeles Lefties. (tickets available here)
"We have a lot of fun working with our partners to come up with great ways to involve the community, and that's definitely the case with Peninsula Co-op," said HarbourCats GM Christian Stewart. "It's great to be aligned with them on ways to engage people and bring the community together."
The Kids Free Weekend is just one of many family affordable ways that fans and families can take in a HarbourCats game this season. Also back for 2023 are "$10 Tuesdays", where all general admission and premium reserved seats are available for just ten dollars!  Our $11 Save on Food General Admission vouchers are also back, as is our ever popular Forces Fridays, where Military and first responder families can get general admission tickets for just $7.50.  Click HERE for details on all these promotions and more!
The HarbourCats celebrate their 10th Anniversary in 2023 and the season kicks off with the home opener against the Kamloops NorthPaws on Friday June 2, 2023.  Single game tickets for that game, all four fireworks nights, and the remainder of our 31 HarbourCats home games in 2023 are now on sale and can be purchased on-line through our one-and-only ticketing partner, Select Your Tickets, at harbourcats.com/tickets.  They can also be purchased at the HarbourCats office at 101-1814 Vancouver Street, or at the Select Your Tickets box office at Save-on-Foods Memorial Centre.  Fans can also call 778-265-0327 to order over the phone.
Season tickets and 10-game flex packs are also now on sale.  For details on all ticketing options, including our special $10.00 Tuesdays, Forces Fridays and Save-on-Food Vouchers, please visit harbourcats.com/ticketinfo.
HOST FAMILIES!  The HarbourCats are in need of host families for 2023!  If you are interested, you can find more details HERE, or contact Cindy Kent, our Host Family Coordinator by e-mail at hostfamily@harbourcats.com.
ATTENTION 2022 SEASON TICKET HOLDERS!  If you have not yet renewed and paid in full for your seats for the 2023 season, they have now been released and are now available for sale to the general public.  Chances are good that they are still available, so if you would like to renew, contact chris@harbourcats.com or call 778-265-0327 ASAP to have the best chance to grab the same seats as last year.
Single Game Tickets ON SALE NOW!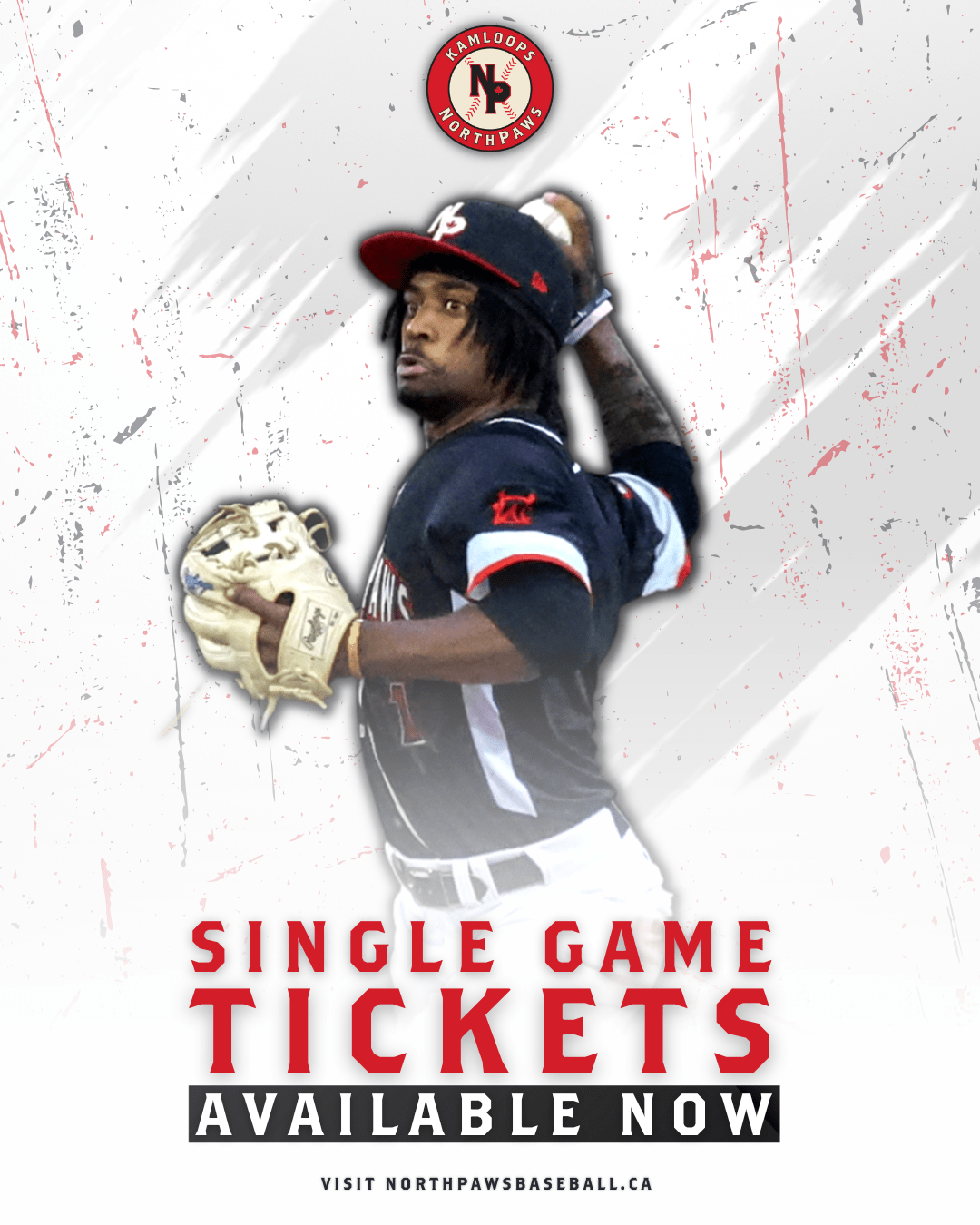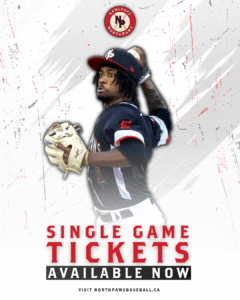 Hey 'Paws fans! Only 75 more days until home opener, and tickets for the Kamloops NorthPaws 2023 regular season are now available!
Join the crowd and help cheer your Kamloops NorthPaws as they look to make the playoffs in back-to-back seasons! The 2023 season schedule features multiple three-game series from early June through early August. The NorthPaws will host the following nine opponents at Dearborn Ford Field at Norbrock Stadium this summer:
Portland Pickles: June 6, 7, 8
Corvallis Knights: June 9, 10, 11
Port Angeles Lefties: June 16, 17, 18
Wenatchee AppleSox: June 20, 21, 22
Kelowna Falcons: July 1, 2
Edmonton Riverhawks: July 11, 12, 13
Bellingham Bells: July 21, 22, 23
Victoria HarbourCats: July 25, 26, 27
Kelowna Falcons: Aug 1
Nanaimo NightOwls: Aug 4, 5, 6
This season will also feature a variety of theme nights, each with unique contests, giveaways, and vendors; stay tuned for more info.
Tickets for all 27 home games are live online at https://tickets.northpawsbaseball.ca.
The NorthPaws are also looking for host families for the 2022 season. If anyone is interesting in hosting NorthPaws players, please contact billeting@northpawsbaseball.ca or visit https://www.northpawsbaseball.ca/host-families for more information.
The Kamloops NorthPaws is an expansion West Coast League franchise bringing the highest calibre baseball Canada's Tournament Capital has ever seen. The West Coast League, founded in 2005, has 16 teams across Oregon, Washington, British Columbia and Alberta featuring some of the top collegiate players during a 54-game summer season. Find the NorthPaws online at www.northpawsbaseball.ca, @northpawsbaseball on Instagram and Facebook, @KamloopsNorthPaws on Tiktok or @northpawsbb on Twitter.