The Cats Report (Vol.1) – '10 Years of HarbourCat History with Jim Swanson')
Good morning to all of my fellow Islanders and HarbourCats faithful spread around the globe. Here is hoping that you all managed a productive week filled with restful sleep & woke up inspired for yet another season with our beloved HarbourCats squad. How sweet it is! Although you may be more familiar with my fan-focussed…
Good morning to all of my fellow Islanders and HarbourCats faithful spread around the globe. Here is hoping that you all managed a productive week filled with restful sleep & woke up inspired for yet another season with our beloved HarbourCats squad. How sweet it is!
Although you may be more familiar with my fan-focussed rumblings regarding the Victoria Royals, I couldn't be more excited to launch the 1st Annual 'The Cats Report'.
What can the reader & community expect from The Cats Report this summer? Well, this platform has two specific purposes. Firstly, this creative outlet is both a fabulous & fun as heck method to sharpen my pen. That's it. Secondly, as has always been the goal with The Royals Report, this website has been established to further connect this great organization with this incredible gathering of support on the Island. I love Sports. I love this community. So, without further adieu, let's get this analysis rolling.
With this being the 10th Anniversary Season of the HarbourCats, I wanted to begin The Inaugural Cats Report with a 10th Anniversary-inspired bang. What would be the best way to accomplish that, you ask? I looked to none other than the man himself, Managing Partner, Head Honcho, & all-around good guy, Jim Swanson. We spoke at length & in detail for our first article, a Ten-minute / Ten Year historical analysis of the Victoria HarbourCats.
10-Minute History with Jim Swanson
Last week, I sat down with Jim Swanson to pick his brain about the last ten years of both his life & his memories of the HarbourCats. This 10-Minute History will be a continuous theme throughout this anniversary season, and I figured there was no better candidate to open up this segment with. So, let's get it popping.
2013 – Inaugural Season (22W – 32L / Finished 9.5 Games Back / Missed Playoffs)
The 2013 HarbourCats season came and went without any involvement from Jim himself. During the inaugural campaign, the original ownership & management group struggled to navigate the collective complexities of launching & heading a WCL franchise. These complexities & the resulting falling-out of the two ultimately opened the door to Jim's arrival on the Island in late '13.
Outside of the Wins, fallouts, & Losses, Jim accredits that opening season to building a remarkably stable foundation for the Franchise on the Island. At a time when the sustainability of a baseball Franchise in Victoria was highly questionable, Victorian fan support was remarkable. Not only were large, knowledgeable, and vocal crowds a regular feature of the inaugural HarbourCat season, the fan base set an attendance record that year when hosting the WCL All-Star Game (4,200).
Jim's Life: In 2013, Jim was living & working in Prince George, post his career as a renowned Sports journalist, investing his passion for baseball into coaching the Team BC Baseball PeeWee All-Stars to the World Series (Finished 3rd Place). In addition, Jim was busy in his third stint as the chairman of the World Baseball Challenge, which PG also hosted that year. At the end of 2013, Jim admittedly knew very little about Victoria, & less of the HarbourCats before receiving a call 'out of the blue' late that orbit.
'Jim, what do you think about the idea of Victoria & baseball?' was the question at the core of that unexpected call, and as one could expect, it was difficult for him to turn away and not be interested. Luckily for Victoria & the entire Island community, Jim wasted little time & accepted the offer to take over as GM, & later as owner, of the Franchise less than a year into its existence.
Headed into 2014, the Cats were under the new guidance, ready to take the organization to a whole new level by combining terrific talent on the field with a community-first focus off the field.
Franchise Highlights (2013):
—> Hosted the All-Star Game, set a then attendance record of 4,200 fans
—> Roster was Highlighted by Nick Pivetta (Boston Red Sox) & Alex De Goti (Minny Twins)
2014 – (25W – 29L / Finished 12 Games Back / Missed Playoffs)
Jim admittedly had a lot to learn at the onset of 2014. His first time living in Victoria. His first time running a baseball organization. His first time meeting long-standing members of the island community. Moving his family & life out to the Pacific coast. There were plenty of firsts to navigate throughout those initial steps of growth.
Despite all the uncertainties & difficulties of transition, Jim instantly understood the depth of baseball talent he had agreed to manage. Nathan Lukes & Alex De Goti headed an incredibly talented team that season, which admittedly, by Swanson, underachieved due to a lack of cohesion & style of play. Head Coach that season, Bob Miller & a young staff of assistants couldn't harness the talents to achieve a winning record as the Cats missed the Playoffs by 12 games.
Off the field, the HarbourCats engagement & presence in the community flourished in 2014. Victoria's beloved mascot, Harvey the HarbourCat, combined with several community focussed initiatives, helped grow attendance & establish long-standing roots.
At a time when the future of the Franchise was uncertain due to behind the scene issues & ownership changes, a new ownership group headed by Swanson took over, got down to business, and made some necessary changes to stabilize and save baseball once again on the Island. The stability established in the wake of this organizational turnaround ultimately set the tone for the Franchise headed forward into the 2015 season, both off & on the field.
Franchise Highlights (2014):
—> Roster was highlighted by Alex De Goti (Minny Twins) & Nathan Lukes (Toronto Blue Jays)
—> New Ownership Group takes over Franchise, saved organization from folding.
—> Graig Merritt (former Tampa Rays scout of 7 years) takes over HC duties.
2015 – (29W – 25L / Finished 3.5 Games Back / Missed Playoffs)
As with any significant alteration in life, there is always a feeling-out period that follows any massive adjustment. What happens at the top ultimately affects the rest. With the organizational & HC changes, the team on the field underachieved to begin the 2015 campaign going a fizzled 8W – 16L in their opening 24 games. What happened after that goes down in the lore of a now reputable winning organization. Not only was the respected & invigorating new coaching staff rounding the corner into becoming a Franchise focussed on developing winners, but the organization was now drawing players from major American Colleges & Universities. Once the community catches wind of UCLA, Arizona, and Texas being represented on the GameDay Program & over the loudspeakers, attention and excitement spike. Combine those two elements amid a beautiful Summer on the Pacific Coast, and you've immediately built a healthy recipe for stability & success. That's exactly how it played out over the next 24 months.
The HarbourCats finished 2015 going a sizzling 21W – 8L, led by LHP Josh Mitchell (Minny Twins), but the red-hot Cats couldn't qualify for the postseason, missing the Playoffs by 3.5 games. Despite the lack of mid-August ball, the community, staff, and returning players knew what 2016 had in store for the Franchise.
Franchise Highlights (2015):
—> Roster was highlighted by Josh Mitchell (Minny Twins), Alex De Goti (Minny Twins)
—> First time the Franchise finished over 0.500 Win %
2016 – (40W – 14L / Finished 1st Overall in WCL / Lost in Playoffs)
Not only did the HarbourCats end the 2015 campaign as hot as a pistol, but the organization & staff made it a focus to push their recruiting to a new level in 2016.
Despite stumbling out of the gates, mired with behind the scene chaos, and losing their first three games in Walla Walla, the Cats miraculously rattled off 19 consecutive Wins (a WCL Record) to finish off the 1st half of the Season 21W – 4L. Not only did the Cats clinch a playoff spot only 21 games into the season, but the Island also set a WCL attendance record on June 30th, when 5,240 faithful blessed Royal Athletic Park.

As the success continued, the community's excitement & attendance surged in response. Victoria is not an ideal town for a struggling sports franchise to call home. Why? As the current cost of living can attest, failure is not a virtue looked upon with understanding on this Island.
Luckily for Victoria, the Cats cruised through the 2nd half of 2016 excellently, ending 17W – 10L, fully primed for a Championship run.
Victoria did end up being defeated in a pair of heartbreakers to Bellingham, ultimately falling short of the Championship lore. Despite the sting of the losses to close out 2016, the Franchise, as a success story, was now carved in both WCL & Victorian legend.
Franchise Highlights (2016):
—> Roster was highlighted by an incredible pitching Staff… Josh Mitchell went 7W – 0L leading the charge, AJ Alcantara (Cal. Irvine). Notably, Josh Mitchell went down with an injury in the 2016 Playoffs.
—> The HarbourCats set several league records that year, highlighted by an incredible 19-Game winning streak. Jim is on record stating that the 2016 winning streak will never be broken, and I won't argue. That is an incredible number to marvel at.
—> Jim won WCL Executive of the Year in 2016 & named to Canada's Top 100 in Baseball List.
—> After compiling a record of 69W – 41L at the helm, the Cats relieved HC Graig Merritt of his duties. Merritt was replaced by Brian McRae (Kansas City, among others in MLB).
2017 – (29W – 25L / Qualified for the Post-Season / Beat Kelowna 2 – 0 in Round One / Lost in Championship)
Under the tutelage of former MLB standout Brian McRae, HarbourCat baseball was at high tide at the outset of 2017. In addition to the impressive signing of a former MLB standout as HC, the Cats also signed a uniquely talented left-handed pitcher. Unlike most off-season signings in the WCL, this specific addition to the roster created a significant buzz in both the community & the baseball world when announced. Claire Eccles, the first-ever female to play in the WCL, joined the already stacked HarbourCats roster. Her presence, as well as her funky, swinging, left-handed delivery, caught the attention of everybody within the island's limits.

With Eccles & Company in tow, the HarbourCats battled through the 2017 campaign to finish 29W – 25L, qualifying for the Playoffs & a 1st Round matchup with Kelowna.
Using the memory of 2016's elimination as fuel, the Cats swept Kelowna, booking their ticket to the Franchise's first-ever WCL Championship.
In what Jim describes as 'The most exciting game in the team's history', facing the Corvallis Knights in Game One of the Championship series, The Cats rallied in the bottom of the 9th inning to win dramatically. Cats' legend, Po Hao Huang aka Bernie! (First Taiwanese player in WCL History) drove home the game's winning run with a laser over the CF's head, locking in the City's first-ever Championship Series Game win in front of the Island's faithful.

Despite the heroic win in Game One at home, the Cats failed to complete the Championship run amid the next two games in Corvallis. Both games were nail-biters coming down to critical moments that could've gone either way in hindsight, yet weren't meant to end in Victoria's favour.
Jim made it precise that his squad overachieved in 2017, yet ultimately & remarkably, that resilient bunch was one swing away from a WCL Championship title. One thing for sure is the acknowledgement of an ongoing rivalry with Corvallis that is alive & well, and The Cats Report is here for that type of Tea in 2023.
Franchise Highlights (2017):
—> Roster was highlighted by Claire Eccles (Team Canada), Po Hao Huang 'Bernie' (Wei Chuan – CPBL), Andrew Vaughn (Chicago WhiteSox), Adam McKillican (Colorado Rockies)
—> The Cats featured two WCL 1st's that year, with Eccles (1st Female Player) & Huang (1st Taiwanese-born Player) setting a standard of inclusivity & professionalism.
2018 – (27W – 27L / Finished 3rd in Conference / Missed the Playoffs)
In what would be HC Brian McRae's last season at the helm, another deep bullpen featuring Eccles & Company, and a full-powered lineup featuring the likes of Hunter Vansau, Harrison Spohn, and Caleb Ricketts, the HarbourCats were in Championship or bust mode.
Unfortunately, being bluntly clarified as both a disappointing & underachieving campaign for the Islanders, the team meandered to a 27W – 27L record, missing out on the 2018 Playoffs in frustrating fashion in Portland, facing the rival Pickles on the last evening of the season.
Although Jim's description of that season was tainted with the lingering frustration & bitter memories from how it ended early, he reiterated the following. The HarbourCats Organization intends to win & make the playoffs every year, and results like 2018 are not to be accepted as typical for the HarbourCats franchise. You've got to love that as a fan.
Franchise Highlights (2018):
—> Roster was highlighted by Claire Eccles (Team Canada), Hunter Vansau (Miss. State), Harrison Spohn (Miami Marlins), Caleb Ricketts (Philadelphia Phillies).
—> Hunter Vansau set a Franchise record for Home Runs that year by notching 14 spanning 2017-2018.
—> Brian McRae was relived of his HC duties in the fall of 2018, and was replaced by current HC Todd Haney, the Franchise.
2019 – (39W – 15L / Finished 1st in Conference / Qualified for the Playoffs / Beat Wenatchee 2 – 1 in Round One / Lost in Championship)
The lead-up to the 2019 season saw an offseason filled with top-heavy organizational transition. As is usually the case with the talent on the field in the WCL, the HarbourCats brass was also privy to a complete makeover that year.
Current General Manager Christian Stewart was brought on board, solidifying the front office. A significant feather in the cap of this already dedicated staff.
Victoria also brought Curtis Pelletier into the fold that offseason, who continues to have a significant impact in both the Front Office & the betterment of the players on the field in 2023.

On the field, out was HC Brian McRae, and in, was another long-time MLB veteran and current HarbourCats HC, Todd Haney. During our interview, Jim made it exceedingly clear that there was only one candidate in his pursuit of the new HC, and he didn't offer a discussion to anybody else but Haney in that regard. In his words, 'Todd was absolutely the right coach, and he can stay as long as he wants.'.

As a team in 2019, the HarbourCats went a spectacular 39W – 15L. Despite their incredible record, Victoria still had to wait until the final hours of the regular season, a make-up game to be exact, to know their playoff fate due to the competitive nature of the WCL.
Regardless of the tight finish, they managed to sneak into the post-season, facing Wenatchee in the 1st Round. In the face of elimination after losing Game 1 on the road, the Cats took Games 2, and 3, once again qualifying for the Championship series.
Of note, Jim made sure to point out that if anybody, especially a Victoria baseball fan, needs to watch an incredible game on YouTube, watch the final four innings of Game 3 of that North Final. A rollercoaster of a Win that's forever cemented in Franchise lore.
In their second Championship Series, the Cats faced none other than Corvallis, whom they played for all the marbles back in 2017.
Victoria did end up losing that hard-fought series 2-1 to their perennial nemesis.

Nonetheless, outside the W's & L's, there were a few significant & notable moments that took place in the finals for Jim's family, and ultimately the connections of those moments to what ensued globally in the following months.
Firstly, Jim's son, Zach Swanson (Park University-Gilbert), got the starter's nod in Game 1 of the Championship Series. Truly an incredible Family achievement for the Swanson's, one that would be celebrated as a player, executive and loving family.
In a weird twist of reality, by starting Game 1, Zach would end up in the history books as the last pitcher to start a baseball game on the mound in Victoria until almost three years later. And thus, we jump ahead to 2020.
Franchise Highlights (2019):
—> Roster was highlighted by Harrison Spohn (Miami Marlins), Dakota Hawkins (Washington State), Griffen Paxton (UTSA), Ryan Watson (Georgia State), Nick Plaia (California Baptist)
—> Cats solidify their front office with hiring of Christian Stewart, Curtis Pelletier, and HC Todd Haney
—> Victoria qualified for the 2nd Championship Series Final in its brief 6-Year history as an organization. Impressive stuff.
2020 / 2021 – (The HarbourCats paused all organizational activities due to the Covid- 19 Virus)
Ten days before the World shut down to a complete halt of all things related to normalcy, Jim was busy birthing another baseball Franchise on the beautiful Pacific Island.

On March 5th, 2020, the WCL awarded Jim his second WCL Franchise, and thus the Nanaimo NightOwls came to life. Not more than ten days later, the World was under the grip of the Covid-19 Virus, and baseball on the Pacific Coast & around the planet came to a screeching halt.
Despite the absence of live sports & entertainment opportunities during that stretch, the fans & community still rallied around the HarbourCats & the WCL.
Buy-in offers were abundant, and within the chaos created by the Virus, the pause, & its handling, true philanthropic empathy was on display.
Jim mentioned that the organization was much closer to folding in 2014 than it ever was during the 2020/21 pandemic years, and he thanked the community for that respect.
The entire WCL paused all activities in 2020 as a whole, yet put together a schedule for 2021 that didn't include the HarbourCats. Why? Due to a last-minute decision by the Canadian government to keep the U.S./Canada border closed due to Covid-19 restrictions, the Cats were obligated to opt out of their second consecutive season. This after they had successfully recruited & signed complete rosters for both years.
One major accomplishment of the HarbourCats organization, and Jim's most critical takeaway from the Pandemic years, was the reality that they managed to keep everybody within the franchise employed & working towards the inevitable return to baseball, not just the operations. As we all were privy to the chaos & unemployment that became a reality in those years, this was borderline a heroic response by this much-heralded franchise.
After the World returned to normalcy, it became clear that the HarbourCats survived the pandemic in unprecedented fashion. This survival was especially triumphant, considering it occurred in a city that had cycled through numerous baseball & sports franchises spanning the previous 30+ years. Yet another reason to ride full-tilt with the Cats in 2023.
2022 – (26W – 28L / Qualified for the Playoffs / Lost out in 1st Round)
After the chaos of the pandemic years, the Cats were back to business in 2022. Despite fielding a team for the first time in two years, the organization felt a bit of a pinch establishing a winning culture lost during the previous 24 months. With that said, Victoria got out to a slow start but rounded into typical HarbourCats form down the final stretch of the playoff push. Despite a lack of depth in the bullpen & on the mound, multiplied with incomprehensible roster adjustments due to the transfer portal & collegiate commitments, Victoria still managed to rally late in the season to make the Playoffs last year.

In the Post-Season, Victoria ended up getting swept in the opening round by Bellingham, but the core of this talented roster & returning 2023 players gained some invaluable experience that can only bode well headed into this year.
Franchise Highlights (2022):
—> Roster was highlighted by Joseph Redfield (Sam Houston St.), Andre Duplantier II (Texas), Grady Morgan (Fresno St.), Jesse Brown (Santa Barbara), Cooper Crompton (Iowa Western)
—> A significant number of talented players from 2022 will be returning for the 10th Anniversary of the Franchise.
—> The Cats renewed their City of Victoria lease with Royal Athletic Park, solidifying their homebase for the next 5+ years.
—> Todd Haney will return in 2023 furthering his quest to bring a WCL Championship to the Island.
In Conclusion:
Let me conclude by thanking Jim Swanson and the HarbourCats for granting me such an incredible interview & piece of local Victoria lore. Despite my best efforts to condense this almost hour-long interview into a blog/social media format, there were numerous gems that I had to leave out of the article and save for future fodder. With that said, I will be interviewing Jim again several times throughout this 10th Anniversary Year, and I can't wait to keep bringing HarbourCats content your way from here on out. It's truthfully my pleasure.
PS. Send me a message if you'd like to hear the full audio.
If you've read this far, thank you very much for your time & concentration. Let's go, Cats.
A new 10-Minute History with HC Todd Haney is dropping next Week.
Like this:
Like Loading…
Strong returning core taking shape for NightOwls for 2024
Easter, Fleury, Buchan and Waters excited to be back in Nanaimo
Building a team is also about building a culture, with character people who have leadership skills — and that culture is important.
The Nanaimo NightOwls are pleased to announce the return of four key players from the 2023 team, the second season of WCL baseball at historic Serauxmen Stadium, and it's a group of four that especially has veteran pitching coach Gorm Heimueller smiling.
.
Two quality arms, a big bat and a second-team All-WCL catcher will be back in the navy and yellow — Michael Easter behind the dish, part of the catching crew that will receive pitches again from Nathan Buchan and Jake Fleury, along with a strong hitter in Wylie Waters. They join local infielder Aaron Marsh, last year's co-player-of-the-year, as the first group confirmed for 2024.
Nathan Buchan, LHP, University of Redlands, from Mercer Island, WA
Jake Fleury, RHP, Skagit Valley College, from Burlington, WA
Wylie Waters, IF, South Mountain CC, from West Vancouver, BC
Michael Easter, C, Azuza Pacific, from Arcadia, CA
The WCL schedule was announced earlier this month — the regular season home opener for Head Coach Greg Frady and the NightOwls is Tuesday, June 4 against the Cowlitz Black Bears.
.
Easter, who has moved from East LA CC to D-1 Azuza Pacific, was part of a strong catching core in 2023, walking more times than he struck out (26BB, 18K) and hitting .315 (16th in the WCL in average) with 21 runs driven in. His nine doubles tied for third on the team.
.
Buchan, the opening day starter in 2023, is a warrior and a throwback, often going deep in games and going 3-3 with a 4.09 ERA over nine starts — a pitcher's pitcher who struck out 32 batters in 37.1 innings.
.
Potent hitter Waters, who played some infield, some outfield and DH in 2023 for Coach Greg Frady, is at South Mountain CC in Arizona, and had a strong summer in the WCL in which he hit .317 (14th in the WCL) with two home runs, 21 RBIs and 10 doubles, second on the NightOwls, in 42 games. He struck out just 22 times, matching his total of 22 combined base on balls (17) and hit by pitch (5).
Victoria HarbourCats – HarbourCats add to 2024 roster, some names familiar to fans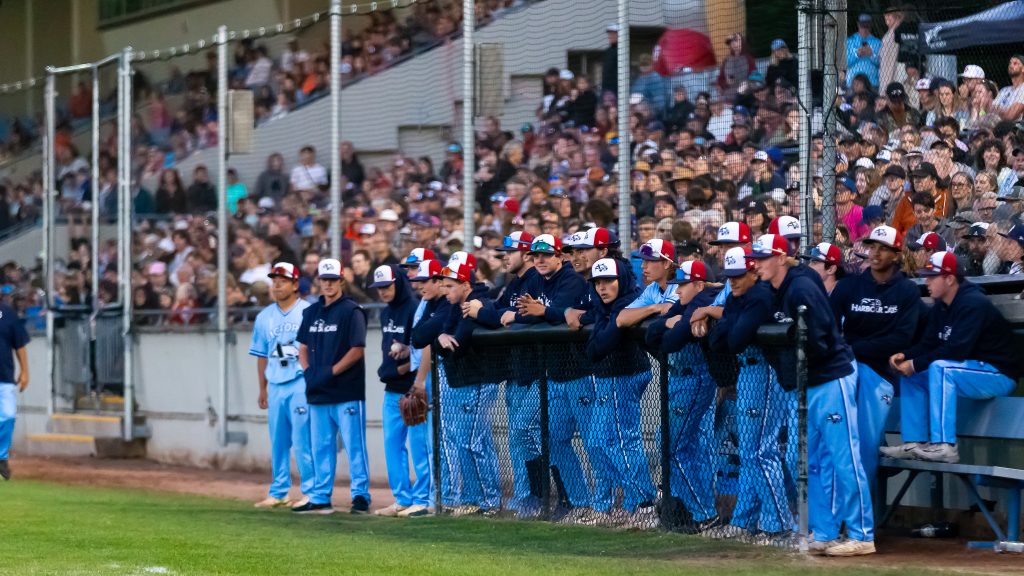 November 28, 2023
VICTORIA, B.C. — The season may feel far away, just over six months to be exact, but plans are well underway for filling Head Coach Todd Haney's 2024 Victoria HarbourCats roster.
ALERT!  2024 SINGLE GAME TICKETS GO ON-SALE, Friday, December 1, 2023 at 9:00AM
Included are returning pitchers, and local products via the Victoria Eagles program, Sam Jordan and Ryder Green, along with the next Magdic (mag-DEECH) power-hitting prospect.
Kyle Magdic, IF, Lincoln, ON, 6-3/230, Marshalltown CC
Brooks Brewster, RHP, Carthage, TX, 6-2/205, Paris JC (Texas)
Wyatt Anderson, RHP, Cochrane, AB, 6-3/205, Hill JC (Texas)
Kade Douglas, RHP, Trinidad, CO, 6-2/185, CSU Pueblo
Ryder Green, RHP, Victoria, BC, 6-0/185, Park-Gilbert (AZ)
Sam Jordan, RHP, Victoria, BC, 6-3/190, Trinidad State (CO)
Magdic is the younger brother of 2023 fan favourite Ryan Magdic, a big corner infielder with huge power potential. Anderson is a power pitcher who will benefit from working with HarbourCats pitching coach Scott Anderson (no relation) and the staff.
Brewster is yet another Texas recruit by Haney, with a fastball in the low 90s, a college freshman who had great success at the top high school level in a very competitive state.
Douglas, a lanky right-hander with swing-miss stuff, pitched in the Northwoods League and WCBL, advancing from Allen CC to CSU-Pueblo. Green, who has been around the team for many years including being a batboy many moons ago, is in the midst of his freshman NAIA season in Arizona and returns for a second season working with Anderson.
Jordan returns for a second season, this time after spending a year at Trinidad State in Colorado (previously at Thompson Rivers in Kamloops). He made six appearances including two starts for the HarbourCats in 2023, going 2-0 with a 2.76 ERA and walking only four hitters.
Now that the 2024 HarbourCats schedule has been released, HarbourCats staff are very busy behind the scenes getting ready for the upcoming year.  Season Tickets are now on sale, as are 10-Game Flex packs and SINGLE GAME TICKETS WILL BE AVAILABLE ON-LINE starting THIS Friday December 1st, 2023 at 9:00 AM.
As always, single game tickets will be available through our one and only ticketing partner Select Your Tickets at http://harbourcats.com/tickets.
SINGLE GAME TICKET PRE-SALE SPECIAL!
Fans who want to get a jump on their single game ticket purchases may do so by dropping into the HarbourCats office on Wednesday or Thursday November 29th and 30th between Noon and 7PM as the HarbourCats are holding their annual Christmas Open House at the office at 101-1814 Vancouver Street.
Other Christmas Open House specials include season ticket renewals or new purchases at 2023 pricing (a savings of $20-25 per seat) plus 20% off all in store merchandise!  Food and beverage will also be provided.
Victoria HarbourCats – HarbourCats Annual Christmas Open House Nov. 29th and 30th!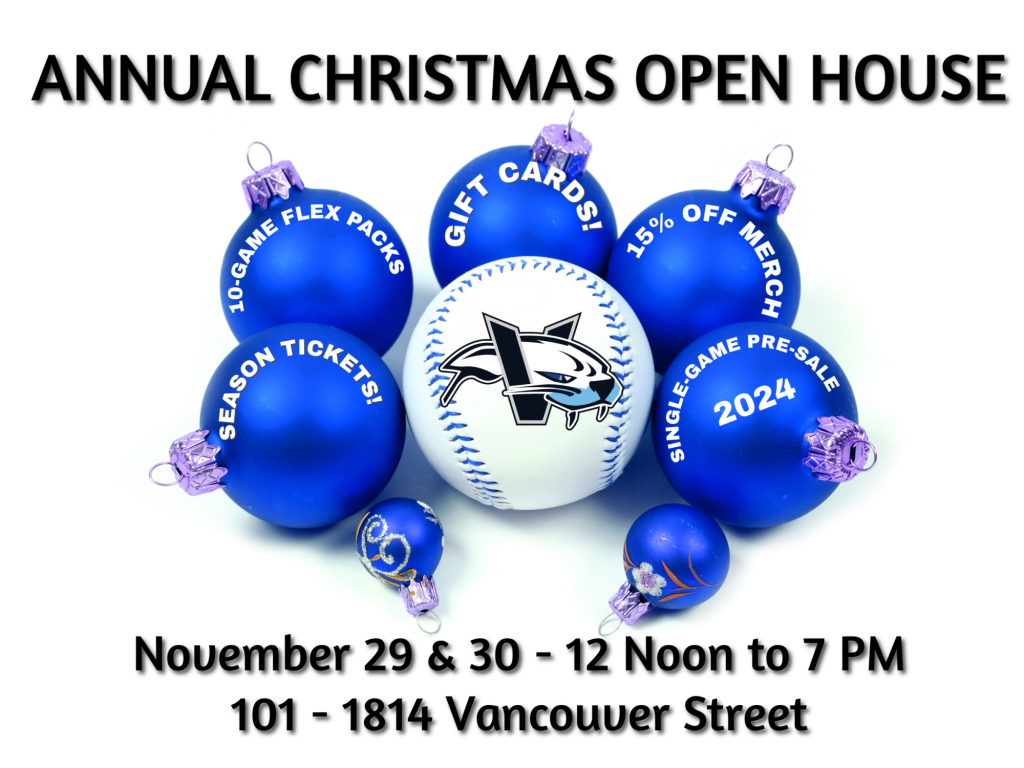 YOU ARE INVITED!
Please mark your calendars and join us, as we usher in the 2023-2024 Holiday season with our annual HarbourCats Christmas Open House, this year expanded over a two day period!
November 29th and 30th, 2023
12 Noon to 7:00 pm both days
at the HarbourCats office
101-1814 Vancouver Street (just around the corner from the park!)
We will have our usual assortment of treats and holiday beverages on hand, plus plenty of great deals on tickets and merchandise for the baseball fan on your Christmas list.  Come on in and take advantage of the following offers:
15% off ALL in store merchandise
including new 2023 North Division Champion shirts, game worn jerseys, new kids apparel and plenty more!
2024 Single Game Ticket Pre-Buy
Be the first to get your single-game tickets for 2024 before they go on sale on-line and to the general public on Friday December 1st!
2024 Voucher Exchanges 
If you have ticket vouchers, be first to exchange them for your preferred seats before single game tickets go on sale to the general public!
Early Bird Season Ticket Pricing! 
Even though our Early Bird deadline on Season Tickets has passed, come in either day to renew your 2023 seats or set up new season tickets and we will give you those at our 2023 pricing!
Get a 2024 Schedule
Pick up a copy of our 2024 Schedule, one that includes 32 home games, 4 fireworks nights and all the excitement of another West Coast League season!  Home Opener, Friday, June 7, 2024 6:35 pm against the Wenatchee AppleSox
We will look forward to seeing you on the 29th and 30th!
Stay tuned to all of our social media for updates and more details as they become available.
Web: www.harbourcats.com
Facebook: https://www.facebook.com/harbourcats
Facebook Fan Community: https://www.facebook.com/groups/harbourcats
Twitter: https://twitter.com/harbourcats
Instagram: https://www.instagram.com/harbourcats