Host Families Needed for 2022
Host families are an integral part of any summer collegiate baseball team and are the lifeblood of the team's success.  The NorthPaws roster is comprised of college athletes from across North America, who will call Kamloops home for two and a half months in the summer.  As a host family, you are providing a 'home away from home' for your players during the NorthPaws season.  In return, you will gain a memorable summer experience and most likely, a long-lasting friendship. Host families often refer to their players as an adopted member of their family, as you form a bond that will last far beyond the end of the season.
The NorthPaws receive great media coverage and the team presents an opportunity for these young adults to learn how to be professional baseball players.  The NorthPaws' season is relatively short but is very demanding.  The West Coast League (WCL) season sees the NorthPaws play a minimum of 54 games, plus playoffs.  During this busy season, your NorthPaws players will have 27 of these games on the road.
Should the team qualify for the WCL playoffs, the season could be extended into mid-August.  Accordingly, host families are required for our players from the beginning of June until mid-August.
Expectations of a Host Family
Your primary role as a host family is to provide a safe and pleasant home environment for your player(s) for the duration of the season.  Players will require comfortable sleeping quarters and access to a bathroom (with bedding & towels) as well as laundry equipment for their personal clothes (the team launders their uniforms).  Families should be prepared to provide food for 2 meals per day (breakfast & dinner).  Transportation to and from the field is not required but is gratefully appreciated if and when you are able.  The majority of home games start at 6:35 pm and typically players are expected at the field early afternoon.  When they arrive home late after the game, they will most likely need access to the shower.
Let your player know your house rules as they apply to your player and feel free to include them in family gatherings, dinner, outings, etc.
Compensation
In addition to NorthPaws season tickets, a small stipend is provided to assist with the cost of groceries.
If you are interested, please contact the Host Family Coordinator at billeting@northpawsbaseball.ca or call the office at 250-299-5247.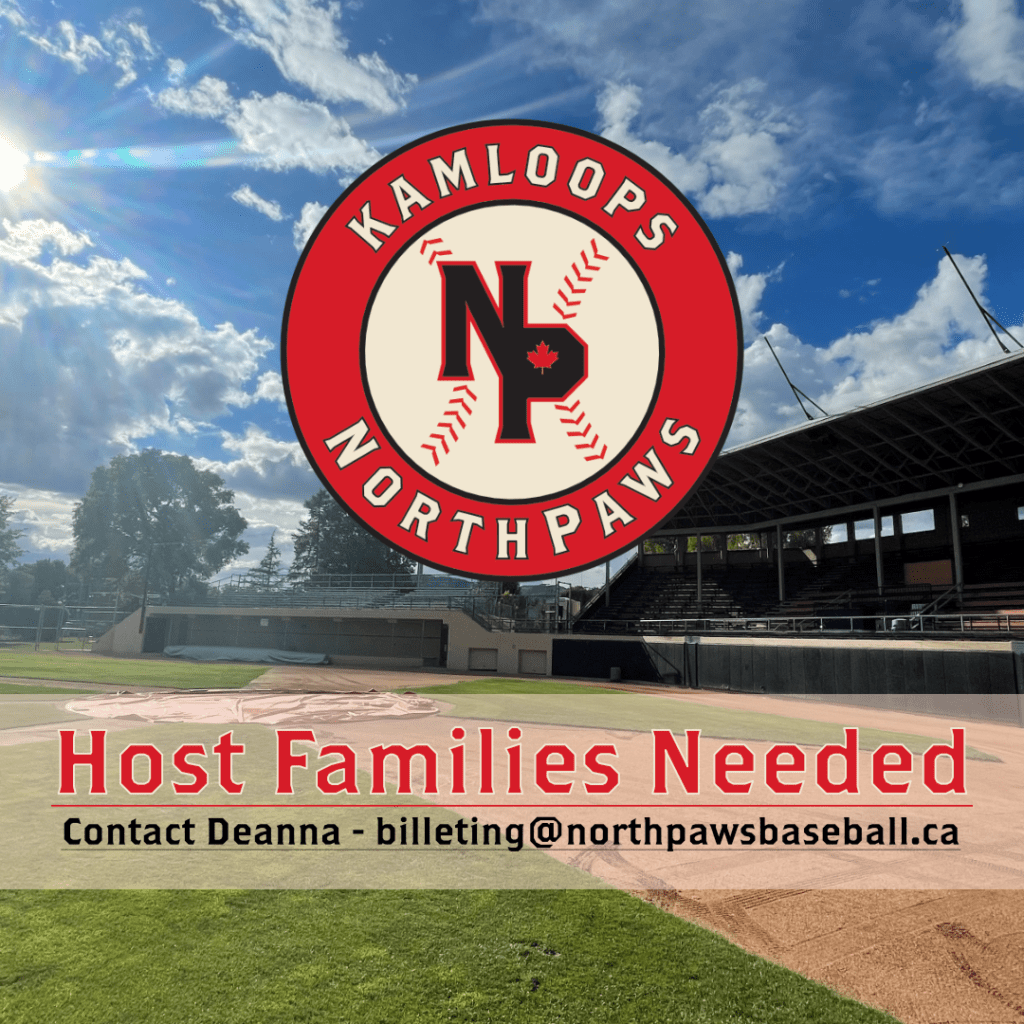 Strong returning core taking shape for NightOwls for 2024
Easter, Fleury, Buchan and Waters excited to be back in Nanaimo
Building a team is also about building a culture, with character people who have leadership skills — and that culture is important.
The Nanaimo NightOwls are pleased to announce the return of four key players from the 2023 team, the second season of WCL baseball at historic Serauxmen Stadium, and it's a group of four that especially has veteran pitching coach Gorm Heimueller smiling.
.
Two quality arms, a big bat and a second-team All-WCL catcher will be back in the navy and yellow — Michael Easter behind the dish, part of the catching crew that will receive pitches again from Nathan Buchan and Jake Fleury, along with a strong hitter in Wylie Waters. They join local infielder Aaron Marsh, last year's co-player-of-the-year, as the first group confirmed for 2024.
Nathan Buchan, LHP, University of Redlands, from Mercer Island, WA
Jake Fleury, RHP, Skagit Valley College, from Burlington, WA
Wylie Waters, IF, South Mountain CC, from West Vancouver, BC
Michael Easter, C, Azuza Pacific, from Arcadia, CA
The WCL schedule was announced earlier this month — the regular season home opener for Head Coach Greg Frady and the NightOwls is Tuesday, June 4 against the Cowlitz Black Bears.
.
Easter, who has moved from East LA CC to D-1 Azuza Pacific, was part of a strong catching core in 2023, walking more times than he struck out (26BB, 18K) and hitting .315 (16th in the WCL in average) with 21 runs driven in. His nine doubles tied for third on the team.
.
Buchan, the opening day starter in 2023, is a warrior and a throwback, often going deep in games and going 3-3 with a 4.09 ERA over nine starts — a pitcher's pitcher who struck out 32 batters in 37.1 innings.
.
Potent hitter Waters, who played some infield, some outfield and DH in 2023 for Coach Greg Frady, is at South Mountain CC in Arizona, and had a strong summer in the WCL in which he hit .317 (14th in the WCL) with two home runs, 21 RBIs and 10 doubles, second on the NightOwls, in 42 games. He struck out just 22 times, matching his total of 22 combined base on balls (17) and hit by pitch (5).
Victoria HarbourCats – HarbourCats add to 2024 roster, some names familiar to fans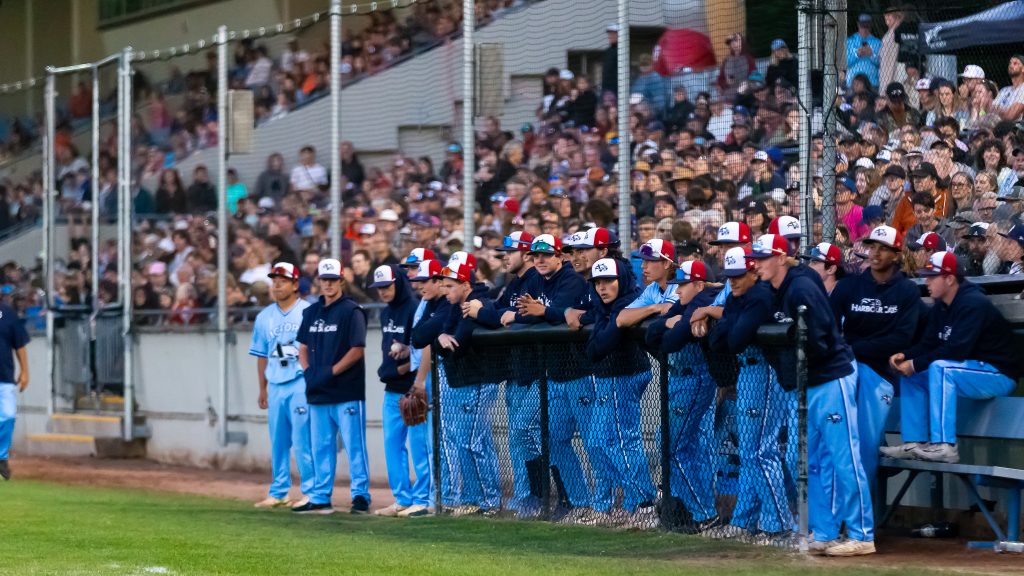 November 28, 2023
VICTORIA, B.C. — The season may feel far away, just over six months to be exact, but plans are well underway for filling Head Coach Todd Haney's 2024 Victoria HarbourCats roster.
ALERT!  2024 SINGLE GAME TICKETS GO ON-SALE, Friday, December 1, 2023 at 9:00AM
Included are returning pitchers, and local products via the Victoria Eagles program, Sam Jordan and Ryder Green, along with the next Magdic (mag-DEECH) power-hitting prospect.
Kyle Magdic, IF, Lincoln, ON, 6-3/230, Marshalltown CC
Brooks Brewster, RHP, Carthage, TX, 6-2/205, Paris JC (Texas)
Wyatt Anderson, RHP, Cochrane, AB, 6-3/205, Hill JC (Texas)
Kade Douglas, RHP, Trinidad, CO, 6-2/185, CSU Pueblo
Ryder Green, RHP, Victoria, BC, 6-0/185, Park-Gilbert (AZ)
Sam Jordan, RHP, Victoria, BC, 6-3/190, Trinidad State (CO)
Magdic is the younger brother of 2023 fan favourite Ryan Magdic, a big corner infielder with huge power potential. Anderson is a power pitcher who will benefit from working with HarbourCats pitching coach Scott Anderson (no relation) and the staff.
Brewster is yet another Texas recruit by Haney, with a fastball in the low 90s, a college freshman who had great success at the top high school level in a very competitive state.
Douglas, a lanky right-hander with swing-miss stuff, pitched in the Northwoods League and WCBL, advancing from Allen CC to CSU-Pueblo. Green, who has been around the team for many years including being a batboy many moons ago, is in the midst of his freshman NAIA season in Arizona and returns for a second season working with Anderson.
Jordan returns for a second season, this time after spending a year at Trinidad State in Colorado (previously at Thompson Rivers in Kamloops). He made six appearances including two starts for the HarbourCats in 2023, going 2-0 with a 2.76 ERA and walking only four hitters.
Now that the 2024 HarbourCats schedule has been released, HarbourCats staff are very busy behind the scenes getting ready for the upcoming year.  Season Tickets are now on sale, as are 10-Game Flex packs and SINGLE GAME TICKETS WILL BE AVAILABLE ON-LINE starting THIS Friday December 1st, 2023 at 9:00 AM.
As always, single game tickets will be available through our one and only ticketing partner Select Your Tickets at http://harbourcats.com/tickets.
SINGLE GAME TICKET PRE-SALE SPECIAL!
Fans who want to get a jump on their single game ticket purchases may do so by dropping into the HarbourCats office on Wednesday or Thursday November 29th and 30th between Noon and 7PM as the HarbourCats are holding their annual Christmas Open House at the office at 101-1814 Vancouver Street.
Other Christmas Open House specials include season ticket renewals or new purchases at 2023 pricing (a savings of $20-25 per seat) plus 20% off all in store merchandise!  Food and beverage will also be provided.
Victoria HarbourCats – HarbourCats Annual Christmas Open House Nov. 29th and 30th!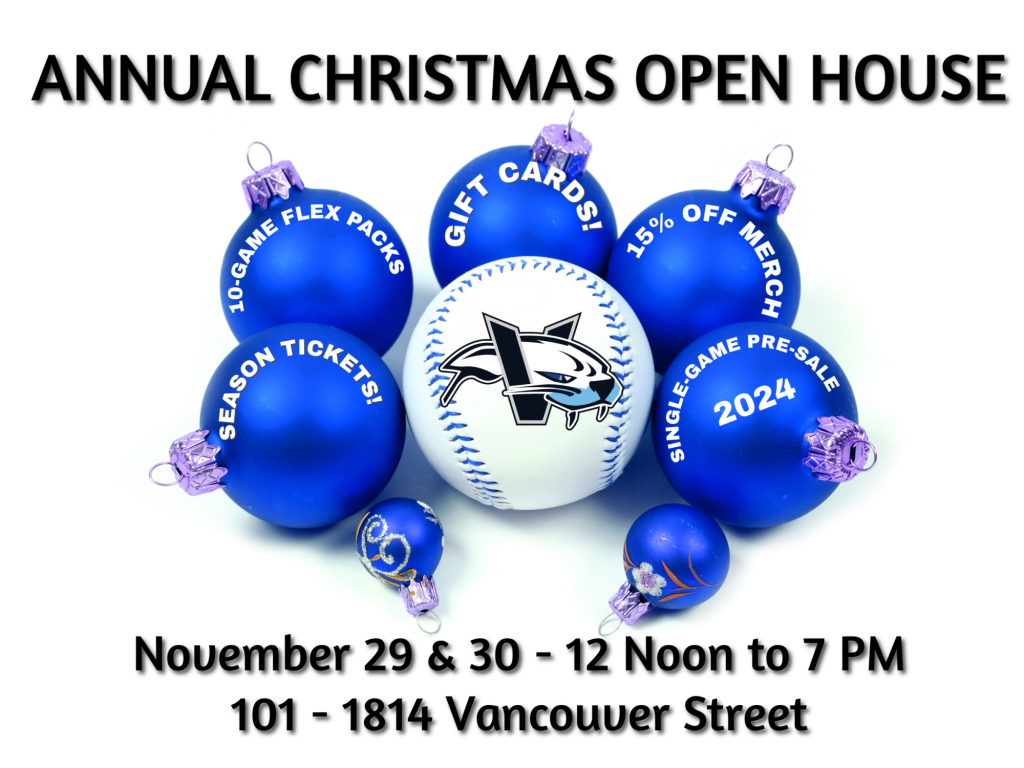 YOU ARE INVITED!
Please mark your calendars and join us, as we usher in the 2023-2024 Holiday season with our annual HarbourCats Christmas Open House, this year expanded over a two day period!
November 29th and 30th, 2023
12 Noon to 7:00 pm both days
at the HarbourCats office
101-1814 Vancouver Street (just around the corner from the park!)
We will have our usual assortment of treats and holiday beverages on hand, plus plenty of great deals on tickets and merchandise for the baseball fan on your Christmas list.  Come on in and take advantage of the following offers:
15% off ALL in store merchandise
including new 2023 North Division Champion shirts, game worn jerseys, new kids apparel and plenty more!
2024 Single Game Ticket Pre-Buy
Be the first to get your single-game tickets for 2024 before they go on sale on-line and to the general public on Friday December 1st!
2024 Voucher Exchanges 
If you have ticket vouchers, be first to exchange them for your preferred seats before single game tickets go on sale to the general public!
Early Bird Season Ticket Pricing! 
Even though our Early Bird deadline on Season Tickets has passed, come in either day to renew your 2023 seats or set up new season tickets and we will give you those at our 2023 pricing!
Get a 2024 Schedule
Pick up a copy of our 2024 Schedule, one that includes 32 home games, 4 fireworks nights and all the excitement of another West Coast League season!  Home Opener, Friday, June 7, 2024 6:35 pm against the Wenatchee AppleSox
We will look forward to seeing you on the 29th and 30th!
Stay tuned to all of our social media for updates and more details as they become available.
Web: www.harbourcats.com
Facebook: https://www.facebook.com/harbourcats
Facebook Fan Community: https://www.facebook.com/groups/harbourcats
Twitter: https://twitter.com/harbourcats
Instagram: https://www.instagram.com/harbourcats